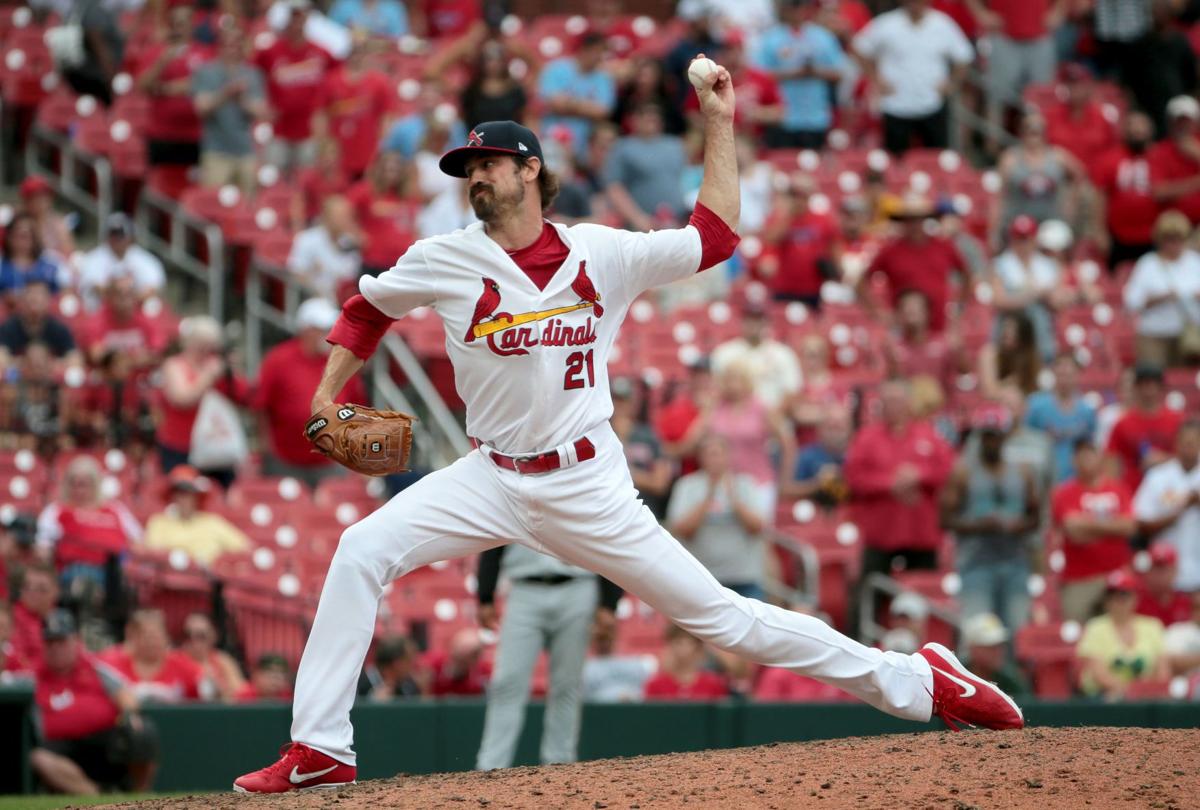 Andrew Miller knows bullpens, of which he has been a part of many.
There were the 2013 World Series champion Boston Red Sox (Miller was hurt and didn't pitch in the postseason). There were the 2014 division champion Baltimore Orioles, headed by Zack Britton. There were the 2016 New York Yankees, who had Miller, Aroldis Chapman and Dellin Betances at the same time before trading Miller and Chapman. And the 2016 American League Cleveland Indians with the three-headed monster of Miller, the league championship series Most Valuable Player; Cody Allen and Bryan Shaw.
And now comes the 2019 Cardinals' bullpen, which leads the league or even the majors, in many categories, and has kept the team afloat much of the season.
"They're hard to compare," said Miller, the lefthanded ace of this bullpen. "I've been real lucky. I doubt that too many people have played on as many good ones as I have. I kind of fall into these groups that are pretty incredible.
"But the talent here is just unreal.
"The stuff that these guys bring every single game . . . I didn't know these guys before this year. I didn't know what the expectations were for Gio (Giovanny Gallegos) or John Gant. I know that (John) Brebbia had some good runs but I know he, unfortunately was put on the shuttle to Memphis the last couple of years.
"They're getting better every day. Can you imagine what it would be like if we had Jordan (Hicks) with us? You've got the best arm in the game that's unfortunately not a part of it right now.
"Carlos (Martinez) could be in a rotation just about anywhere in baseball. He's had a couple of moments in the bullpen but, for the most part, he's been a starter. He's only going to get better. His stuff is as good as anybody's in baseball. We see that every time he pitches.
"The depth is there. (Tyler) Webb has done an incredible job for us. I don't know that he's gotten (much) recognition but he deserves a lot."
Webb, getting a key out in the sixth, received credit for his first big-league win on Tuesday. The Cardinals' bullpen gave up four runs in five innings, with two of the runs coming in a meaningless eighth inning of a 9-4 game. But that did little to disturb the relief corps' ranking in both National League and major league relief statistics.
Before Wednesday's games, the earned run average was 3.77, lowest in the National League. The batting average against was .216, lowest in the majors. The hits allowed were 338, lowest in the majors. The 39 saves ranked second to San Diego in the National League, but the 78 percent save ratio was the best in the majors, well ahead of Tampa Bay's 75 percent.
The 50 home runs allowed by relievers were the second least in the majors, just one more than Cincinnati. Only 25 percent of inherited runners had scored, also ranking second in the National League to Arizona.
But, some of these cumulative statistics take on more meaning when compared to the fact that the Cardinals rank 20th (out of 30) in most bullpen innings pitched.
"It's a really good group," said Miller, who also cited buzz-bombing Memphis call-ups Ryan Helsley and Junior Fernandez.
Helsley, who has been up and down a couple of times, particularly has made an impact on the 34-year-old Miller.
"He's really kind of put his foot on the gas," Miller said. "His stuff is going to be unmatched, coming in and throwing strikes at 100 miles an hour. He threw a 3-0 fastball 100 miles an hour (Tuesday) night. That's something you don't see every day. Shildty (manager Mike Shildt) has a lot of toys he can play with right now.
"Outside of me, they all throw multiple innings all the time. The guys that come up are ready to go. And their stuff is just off the charts."
That included Hicks, of course, the 100-mph-plus closer who underwent Tommy John elbow surgery after bagging 14 saves in 15 tries. "It's an unfortunate thing," said Miller. "He's obviously got a great future ahead of him.
"But it doesn't do us any good to sit around and weep and cry that we lost a guy like Jordan. That doesn't do us any favors. We've got to find a way to move on."
It appears that they have. "The bullpen's been a huge part of our success, clearly," Shildt said. "It's a group that can pass the ball around as 'Mad Dog' (pitching coach Mike Maddux) would say."
O'NEILL BEGINS REHAB
Outfielder Tyler O'Neill (strained left wrist) began his injury rehabilitation in Memphis Wednesday night and was slated for three at-bats. "We don't have a magic number," but (the assignment) will probably be more than a couple of games," said Shildt. O'Neill, hitting .279, but hasn't played all month.
Outfielder Jose Martinez (right shoulder sprain) has begun throwing and is likely to go on a rehab option later this week.
WONG MOVES UP
Second baseman Kolten Wong, the top average hitter on the club who has spent much of the season in the bottom third of the order, hit second, as Tommy Edman didn't start on Wednesday. "He's clearly earned the opportunity to advance up in the lineup," said Shildt. . . . The Cardinals were 33-22 against NL Central clubs before Wednesday, including 18-5 since before the All-Star break.
Keep up with the latest Cardinals coverage from our award-winning team of reporters and columnists.