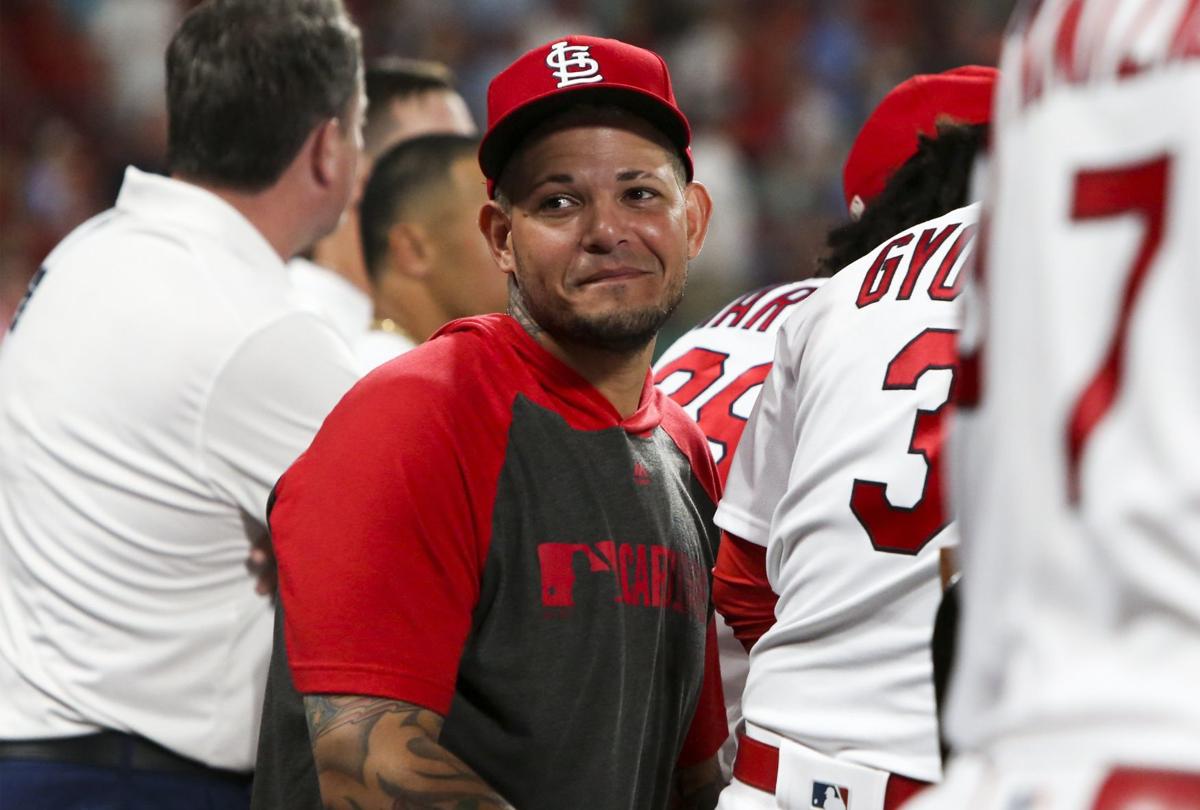 As the Cardinals try to make some headway in the National League Central Division rather than running in place, they will have to do so without two regulars for the next two or three weeks.
Left fielder Marcell Ozuna already was out — and will be for likely another week or two with fractured fingers in his right hand. The Cardinals did get one player back from the 10-day injured list Thursday when they activated third baseman Matt Carpenter (lower back strain). But another player headed for the IL when catcher Yadier Molina, who never has shaken a right thumb strain, was moved onto the 10-day IL.
That IL assignment was backdated three days to Monday but manager Mike Shildt said Thursday night, "You're looking beyond the 10 days.
"(The injury) is similar to what he had. It hasn't increased or decreased . . or is more problematic. It just hasn't healed as well, so he's kind of back to where he was.
"He just needs time. What that time looks like. . . you're probably looking in a three-week range."
President of baseball operations John Mozeliak abhors guessing length of time injuries might entail but he conceded that Shildt's estimate "sounds like one of the versions I've heard."
Andrew Knizner, who was to have played in the Class AAA All-Star Game on Wednesday night, instead prepared to join the team as Matt Wieters' backup when the Cardinals resume play Friday night against Arizona.
Molina had missed 12 games the first time he went on the IL and has knocked in only three runs since his return, without hitting a homer, compromised at bat but not in the field.
"He's going to need more time to heal so he can become more offensively competent consistently — to his capabilities." Shildt said.
Molina, who last played on Saturday, poking a single to right field as a pinch hitter, saw a doctor Monday and, Mozeliak said, "the doctor agreed that it would be in his best interests to give it some time."
Molina historically has been one of the Cardinals' most dogged competitors and perhaps could have stayed out longer than 12 days the first time. "I hate characterizing someone as not patient," Mozeliak said. "Players like Yadi are always trying to get back on the field.
"We admire that. We respect that. But, sometimes, maybe it's best when you hit the pause button."
OZUNA MAKING STRIDES
Mozeliak said he hoped both Molina and Ozuna would be back before the end of the month. Third baseman Jedd Gyorko, who had wrist surgery, won't be far behind, he said.
Shildt said of Ozuna, "We're encouraged by his work and encouraged by his strength. He's still got some inflammation that needs to be cleared up a little.
"He's optimistic how he's feeling. The staff's optimistic how he's feeling."
TRADE WINDS BLOWING?
The July 31 trading deadline is on the horizon and Mozeliak understands the urgency has stepped up because there is no waiver trading period immediately afterward, as there used to be. "Teams are going to be having to determine if they're 'in,' or 'out,' much earlier," Mozeliak said.
Mozeliak made it clear, though, that no matter what the games behind say in the standings, a .500 mark, which is where the Cardinals are now, isn't optimum. "If we're still hovering around .500, it might be a different course of action," he said. "You could be at .500 and leading your division but. . . that probably means we haven't changed a whole lot."
CARP RETURNS; WHAT OF EDMAN, MUNOZ?
Rookie infielder Tommy Edman and second-year utilityman Yairo Munoz have contributed significantly when Carpenter was out and Shildt said the pair have "earned more opportunity. We're all in a performance-oriented world here. Also, the fact of the matter is that Matt Carpenter has earned his opportunity to come back and play again, based on his sustained success he's had. We need a pillar like 'Carp' to anchor this offense."
Whether Carpenter, batting .216 with a .325 on-base percentage, hits leadoff when he returns Friday, Shildt wasn't ready to reveal. "We'll see tomorrow," said Shildt. "If I haven't given the lineup to the players, I'm not going to give it to the general public."
REYES NOT PROGRESSING
Righthander Alex Reyes, out with a pectoral muscle strain, threw a bullpen session for Memphis earlier this week and Mozeliak allowed, "It didn't go as smoothly as we had hoped. I'm not at the point where it's a red flag but I don't think it put him on pace to be here in a week or two. He still needs to get back pitching down there and he needs to get back to pitching with success."
LEFTY SHREVE UP, LEFTY WEBB DOWN
The Cardinals purchased lefthanded reliever Chasen Shreve from Memphis and optioned lefthander Tyler Webb to Memphis. Shreve, acquired with righthander Giovanny Gallegos from the New York Yankees last year for first baseman Luke Voit, had been outrighted to Memphis this spring after a poor camp.
Shreve takes the 40-man roster spot of reliever Jordan Hicks (elbow surgery), who was moved to the 60 day IL from the 10-day IL. Additionally, first baseman Rangel Ravelo was optioned to Memphis.
Shreve, who turns 29 Friday, had posted a 1.72 ERA with 21 strikeouts and just three walks in 15 games at Memphis since June 1.
For much of the season, Webb had held lefthanded batters under .200 but, in his last outing Saturday in San Francisco he allowed three consecutive hits to lefthanded batters, mixed with a two-run homer by switch-hitting Pablo Sandoval, whom Shildt didn't mind hitting righthanded.
"That didn't help, for sure," said Shildt. "The homer to Sandoval was the big blow."
The Giants had used a righthanded hitter earlier in the game who might have been a pinch hitter for Sandoval so Shildt was confident Sandoval "would take the at-bat. He took it. Be careful what you ask for," said Shildt, with a half smile.
ETC.
Only five Cardinals players — Kolten Wong, Edman, Wieters, Daniel Ponce de Leon and Saturday starter Dakota Hudson worked out in a very optional workout Thursday night at Busch Stadium. There were more coaches than players.
---
Cardinals work out after All Star break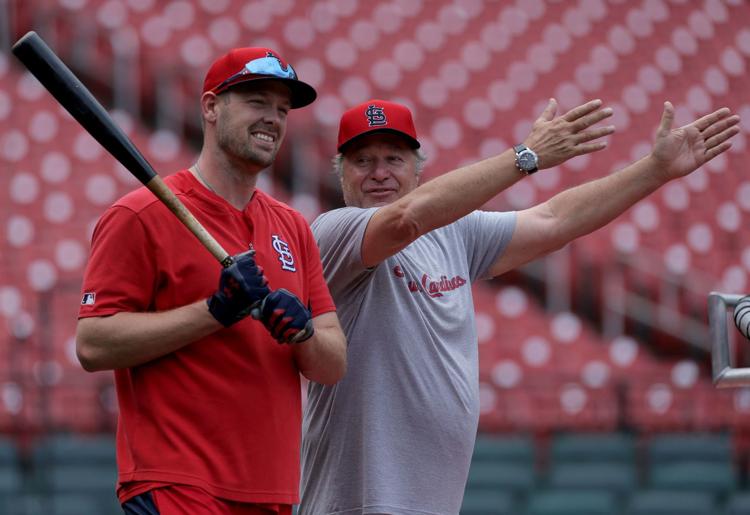 Cardinals work out after All Star break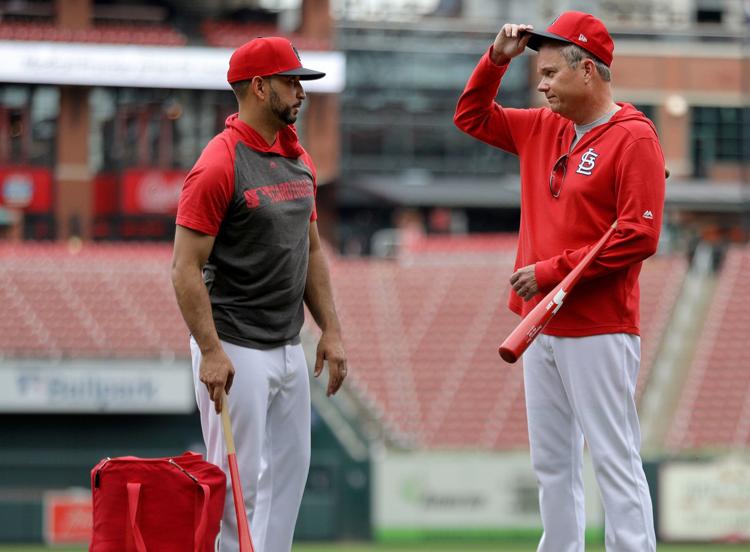 Cardinals work out after All Star break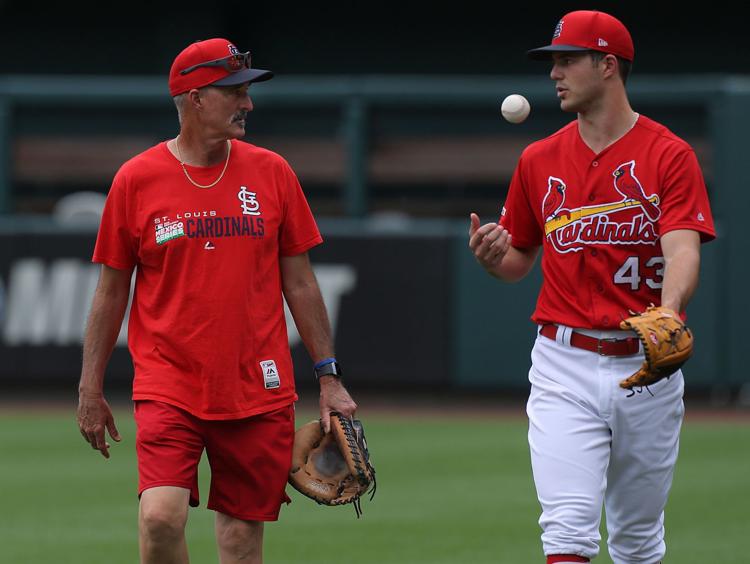 Cardinals work out after All Star break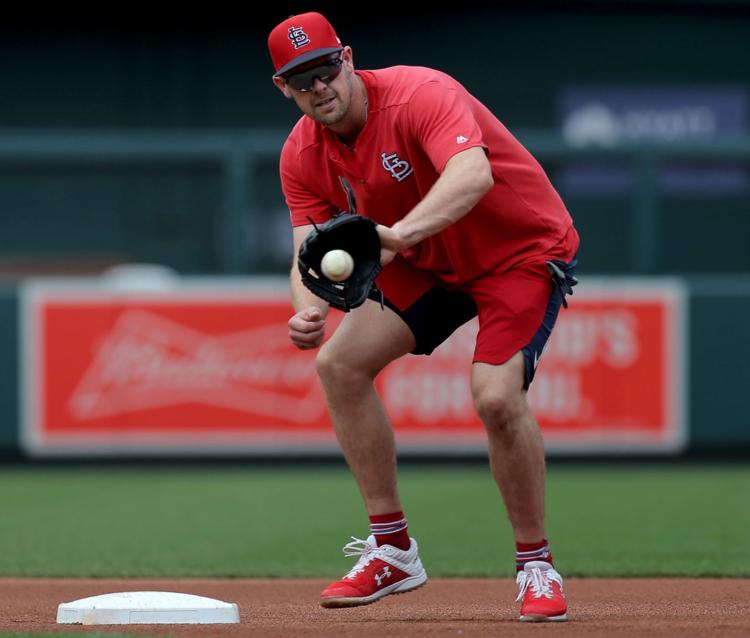 Cardinals work out after All Star break
Cardinals work out after All Star break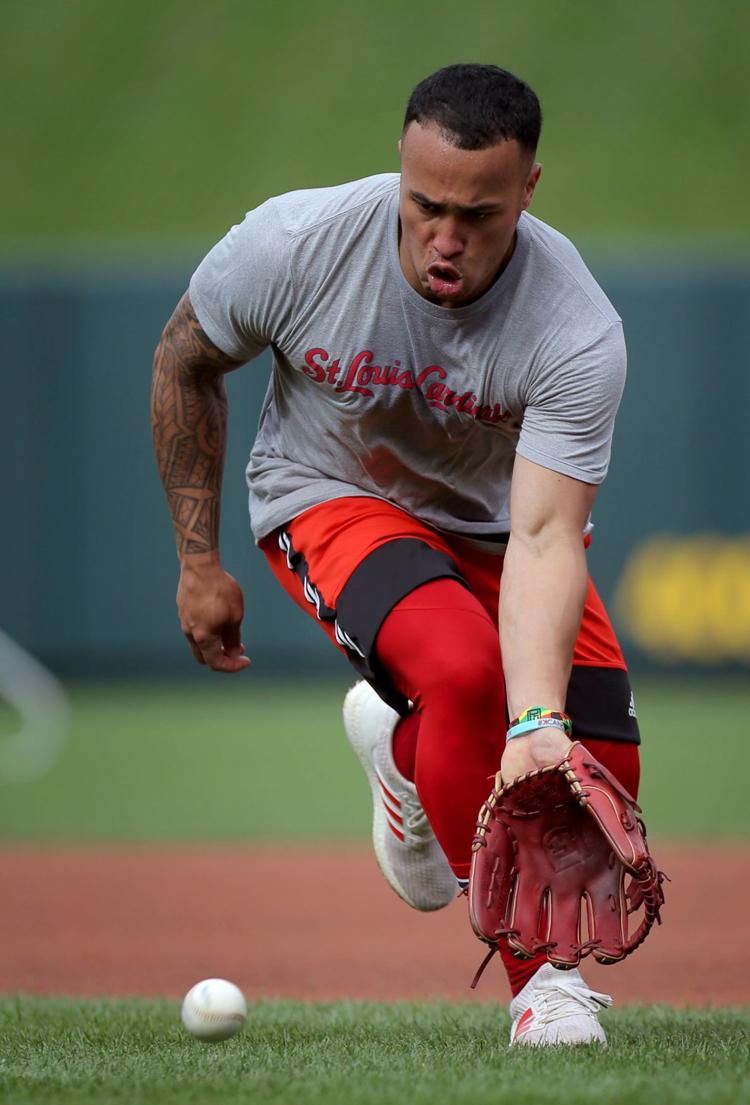 Cardinals work out after All Star break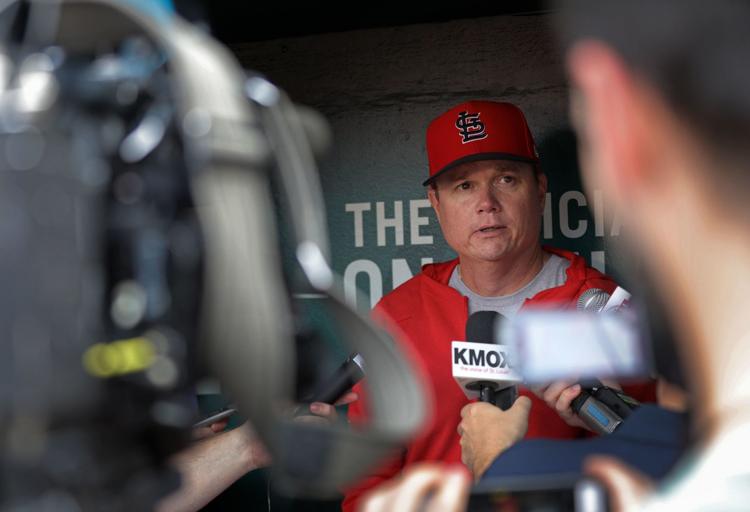 Cardinals work out after All Star break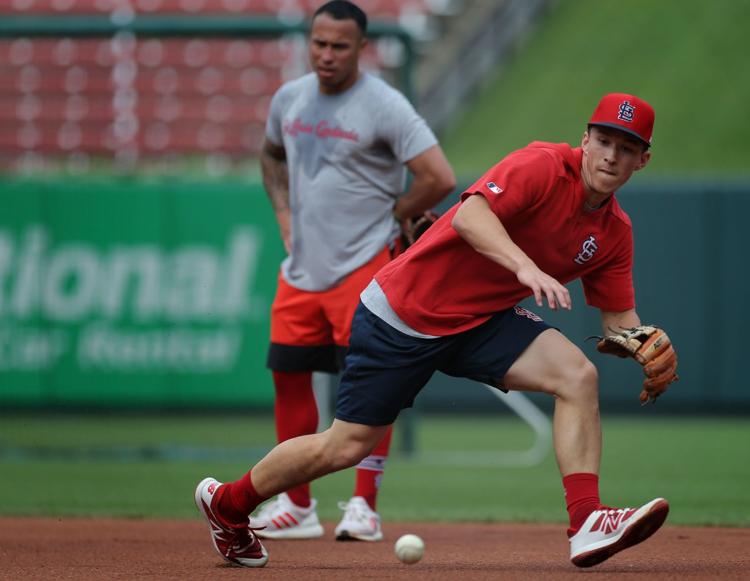 Cardinals work out after All Star break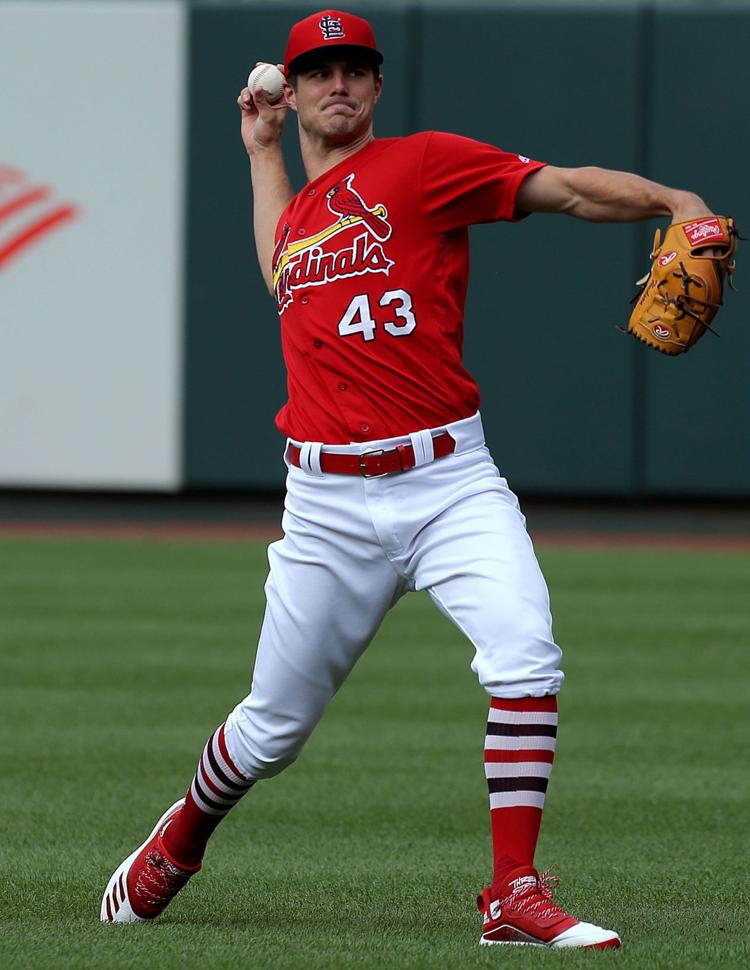 Cardinals work out after All Star break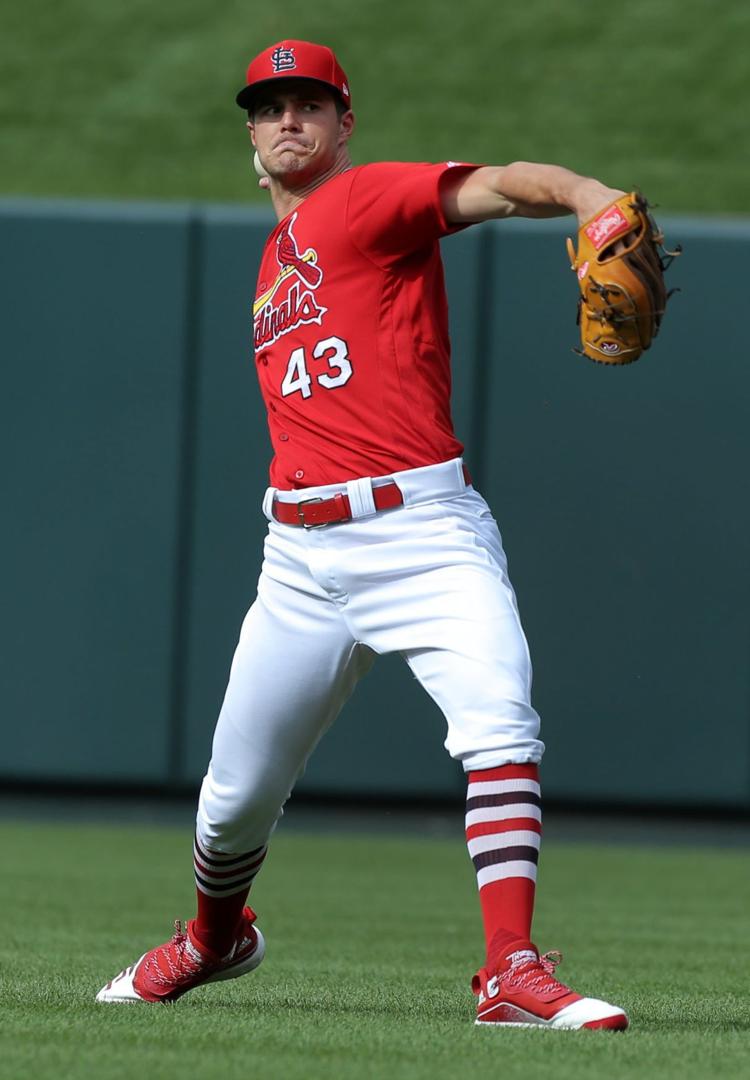 Cardinals work out after All Star break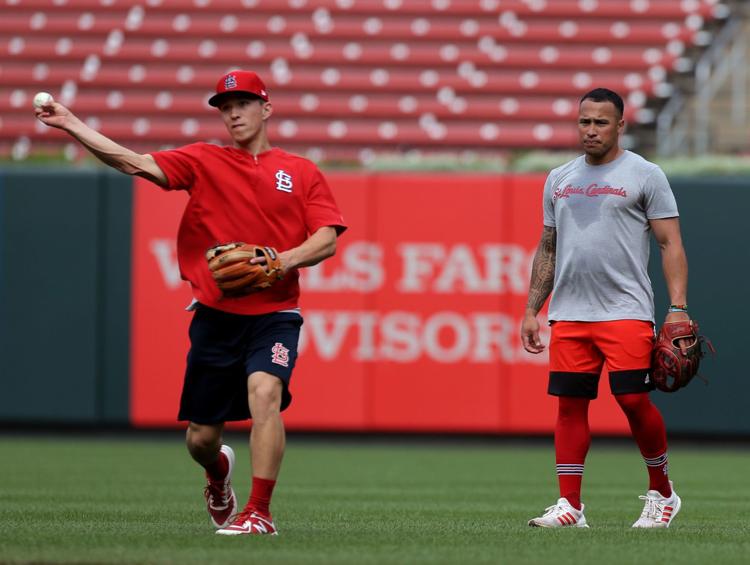 Cardinals work out after All Star break