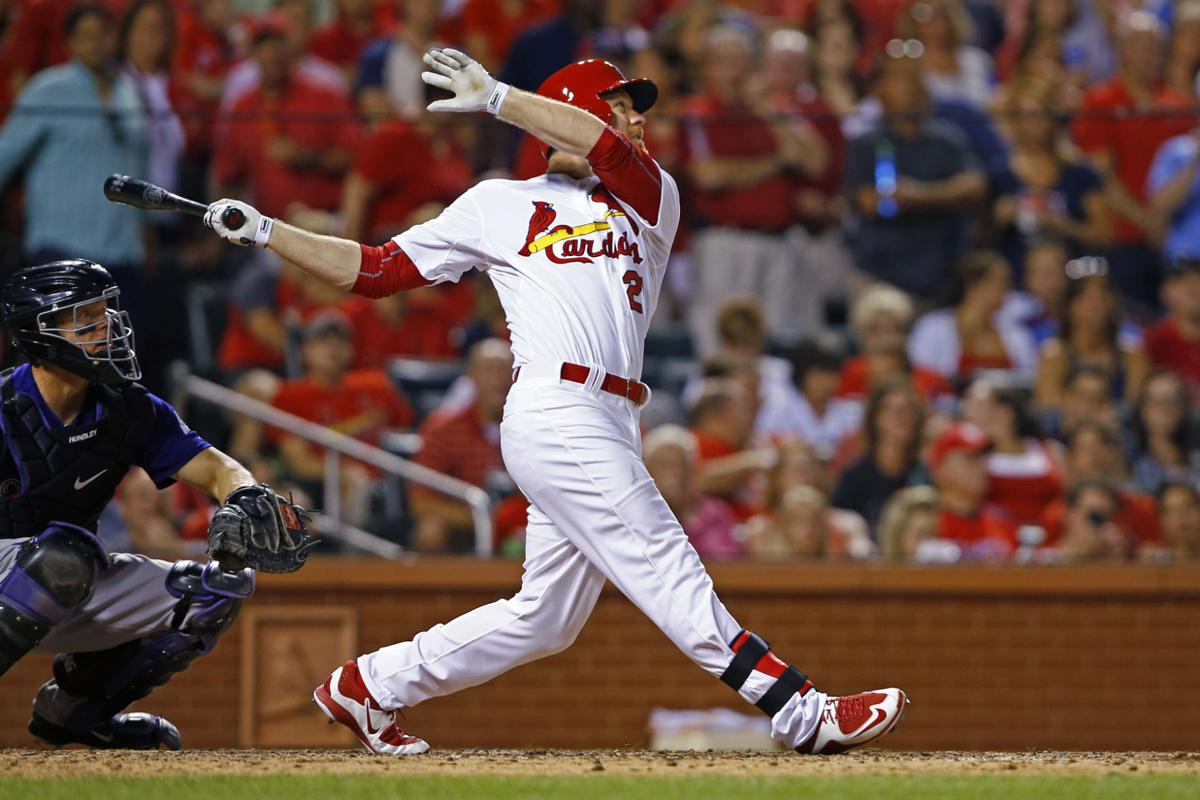 CINCINNATI • There were times with Cleveland this season when Brandon Moss whipped a pitch and, having hit a few home runs in his career, felt it would leave the ballpark, five, 10 rows deep.
And then it wouldn't. It would come five, 10 yards short.
"I was hitting balls kind of like I've been doing here (with the Cardinals) — to the track or just to the wall," Moss explained. "Man, you know when they leave the bat I thought I got all of it, no doubt. The ball just must not carry here, right? That's what I thought. But for some reason it didn't dawn on me until a little bit later: Well, you know, it's probably not that. It's probably that there is a modest amount of power lost this year because of the fact that my legs are pretty weak."
Moss, who came to the Cardinals from Cleveland at the trade deadline, had offseason hip surgery to repair a torn labrum and ease an impingement of the joint. The surgery meant he spent most of the winter rehabbing and working on mobility, just so he could be ready for spring training and move comfortably in the outfield. It wasn't until after last month's All-Star break that he gained clearance to begin more aggressive strength training with his legs.
Cardinals outfielder Peter Bourjos had offseason hip surgery that included a microfracture procedure and labrum repair, and he described similar feelings that Moss had. Bad habits that infiltrated his swing to protect the hip had to be broken.
Asked how much of his swing-mechanic work related to the hip, Moss was blunt.
"All of it," said Moss, who has hit around .200 since last summer's midpoint. "It was definitely a battle just to be consistent and to take a consistent swing. Definitely all of that was attributed to the hip. The hip hasn't bothered me since mid-May. It hasn't even really gotten tight. … I like the ball down, but it's like I kept fouling it off, fouling it off, pulling it away, pulling it away. It's not that they don't look good to hit, it's that the body won't let you."
Once he was able to reconnect with his swing at the plate, Moss traced that dip in power back to his legs. The week after the All-Star break he asked the doctor to remove some of the restrictions on his weightlifting so that he could do some deeper squats and build strength in his upper leg – where his drive comes from. He got the OK, but to proceed with caution.
He doesn't expect to have to be cautious this winter.
"I have to have it to have power," said Moss, whom the Cardinals control for 2016. "The one to left-center (on Saturday), that's one of the balls I wouldn't even question before. It's 10 rows deep. In the past, it's gone. It's kind of a buzzkill when it gets caught at the wall. I know that I did everything right on that swing. This year it hasn't been a homer. Next year, it's a no-doubter."
Reliever Jordan Walden, who has spent most of the season trying to recover from a shoulder injury, was recalled from his rehab assignment by the Cardinals so that he could focus on regaining strength. That puts a halt to his appearances in minor league games for now and pauses the clock with 21 days remaining of the 30-day rehab maximum.The move was a response to how he's recovered from his work."Something didn't feel entirely right," manager Mike Matheny said. "Keep taking a step forward, a couple back."
Walden made four appearances and pitched 3 2/3 innings before the stop. He struck out six. He had soreness in his recovering biceps and shoulder the day after his first appearance. A planned full-inning outing with Class AAA Memphis was abbreviated because Walden experienced heat exhaustion. General manager John Mozeliak suggested that Walden could spend this time improving his conditioning and overall strength for a return.
The Cardinals named outfielder Anthony Garcia, 23, their minor league player of the month, in part, because of the performance he put on for Puerto Rico's national team at the Pan-American Games. Garcia hit .393 (11 for 28) with five homers, 17 RBIs and a tournament-best .964 slugging percentage. He added that performance to a July during which he hit .327 with a homer for Class AA Springfield. He brought a streak of 27 consecutive games reaching base safely into August. Luke Weaver, the Cardinals' first-round pick in 2014, received the pitcher of the month award after going 3-1 with a 0.94 ERA at Class A Palm Beach.
Keep up with the latest Cardinals coverage from our award-winning team of reporters and columnists.