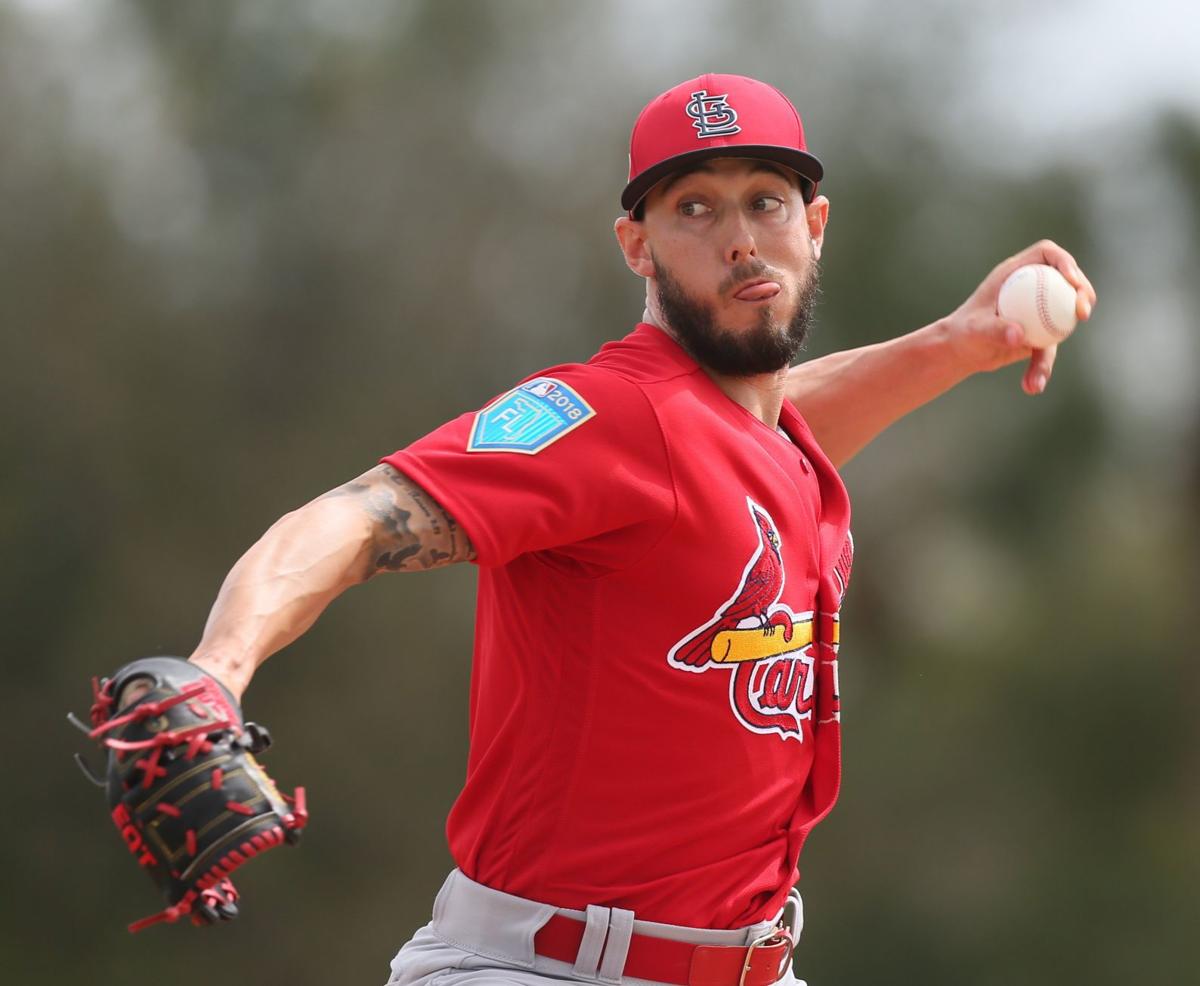 JUPITER, Fla. • The second part of the experiment had been scrapped earlier this spring. Thirty-one-year-old Jordan Schafer, who nearly made the Cardinals' club as a pitcher and outfielder last spring before suffering an elbow injury that required surgery, did not participate in any outfield drills in the first few weeks of camp.
"We need to see him get outs," said manager Mike Matheny. Schafer, who had five years' experience as a big-league outfielder, got two outs in two games.
The lefthanded reliever allowed seven hits and walked three of the 12 hitters he faced and his earned run average was a stratospheric 94.50. That got him returned to the minor-league complex Sunday as the Cardinals lost to the Houston Astros 4-1.
"He doesn't have a great feel for his pitches right now," said Matheny. "He's still in the process of figuring that out. He hasn't even been doing this that long."
Matheny said Schafer now "will take a couple of days to gather his thoughts. He's still trying to sort it out."
This could mean any number of things, including going to Memphis as a pitcher. Schafer's days of strictly being an outfielder — he hit .228 in the majors with several teams and stole 103 bases — probably are over in this organization because of the glut of young outfielders who need to play.
Also returned to the minor league complex were righthanded pitchers Daniel Ponce de Leon and Jake Woodford, who on Sunday worked a scoreless eighth and ninth inning, respectively; catchers Jeremy Martinez and Dennis Ortega; righthander Hector Mendoza; and second baseman Max Schrock, a former Oakland prospect who has been set back by an oblique strain and has fallen well behind his competitors.
Matheny admires the comeback of Ponce de Leon, who was hit in the head by a liner while pitching for Memphis last year.
"Last year cost him some time," said Matheny. "You make sure he knows it, that it's an incredible story that he's in this camp and competing like he is. I'm happy for him, but he doesn't want to hear any of that."
HUDSON NEEDS A HARNESS
Rookie Dakota Hudson, who has had two rocky appearances, allowed three hits and walked three in 1 2/3 innings. But with the bases loaded in the fifth, Hudson caught Evan Gattis looking at a third strike for his final out. Matheny said that Hudson's ball has been moving so much he hasn't been able to control it.
"I've (talked) to a number of people who have faced him," said Matheny, "and they don't like it at all. He is nasty. Heavy and hard and it's running all over the joint. It's hard to catch, too, because it's moving that late with that much stuff. You're seeing hitters get into fastball counts and he's throwing sinkers in the middle of the plate that they're consistently missing."
Matheny said Hudson, a first-round pick out of Mississippi State in 2016, needs to "trust" his sinker more where he can use the entire plate. "He'll harness that," said Matheny. .
"When he does, you're still talking 95, 96 (miles an hour). It's a swing-and-miss pitch. If you do get on it, you're likely to hit a ground ball.
"But I've told him twice now he's giving big-league hitters too much credit and himself not enough. He's got stuff that plays here. He's got a ball that's starting in the middle and it's a buzz-saw running to third base and then his cutter's a buzz-saw running in the other direction."
LUCAS CONTINUES TO SHINE
Side-wheeling righthander Josh Lucas fanned two in a scoreless seventh. Lucas has been unscored on in four outings, covering 5 2/3 innings, giving up four hits and one walk and striking out eight. He had an 8-1 record and 17 saves at Memphis last year after having 16 saves the year before in Class AA Springfield.
"His nemesis last season was lefthanded hitters. Today he put three of them away," said Matheny. "He's been very conscientious about how to bring something to those lefties ... to make it a little more difficult."
Lucas, 27, a 21st-round choice in 2010, said he had worked this winter, including the Arizona Fall League, on positioning himself more on the first-base side of the rubber and trying to come directly to the plate.
The 27-year-old said, "With the way I throw, it's harder for righties to see me. I work off the first-base side because it's easier for me to throw strikes that way."
He appeared in five games for the Cardinals last year and Lucas said, "I have shown I have the ability to pitch here. Now it's time to actually go out there and do it."
Lucas is one of eight or nine righthanded relievers who have a chance to make the club.
"I don't look it as a challenge," he said. "I want everyone to do well. We're all here trying to help the Cardinals win. If somebody can do better than me, then he gets the job, it's that simple."
EXTRA BASES
On a back field, Alex Reyes, in his continuing comeback from Tommy John elbow surgery, faced minor league hitters for the second time in four days and threw well, sticking to 20 pitches, all fastballs and changeups.
• Chunky utilityman Yairo Munoz had two more hits, raising his average to .360 and showed a strong arm at third. Munoz has appeared at three positions so far and Matheny, asked what his best one, said, "The hitting position.
"He's moving around real well everywhere. You could tell right field was a little foreign to him. He looks most comfortable at short but you could definitely see his arm strength at third. He's much more athletic than he looks."
• Matheny said he hoped that injured first baseman Matt Carpenter (back) will be playing by the middle of the month. "He took the resin bag out (Sunday). That was encouraging," joked Matheny.