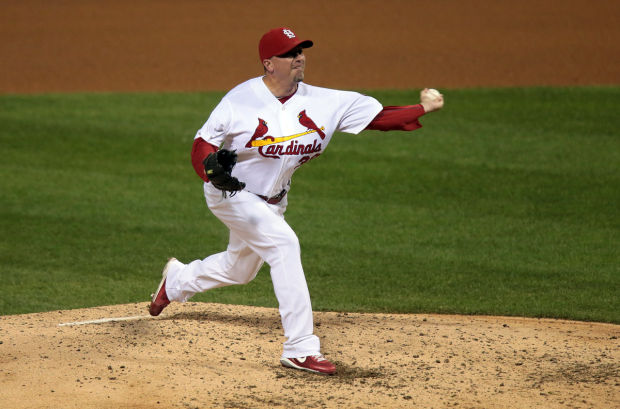 LOS ANGELES • As much as this is a chance to advance to his first World Series since 2001, Cardinals lefty Randy Choate sees this series as a personal referendum on this past winter.
As a free agent, he chose between two teams.
Those teams are now playing each other for the pennant.
"I mean obviously we're playing them for the World Series," Choate said as the Cards prepared to meet the Los Angeles Dodgers, who host the Cardinals in Game 3 of the National League championship series tonight at Dodger Stadium. "There's a little bit more reason to want to win, though — so that you know you picked the right side."
A series like this was one of the chief reasons the Cardinals pursued the 38-year-old lefty specialist with a three-year, $7.5 million deal. They saw Joey Votto in Cincinnati, Pedro Alvarez in Pittsburgh and the handful of lefties who could challenge them in a postseason series and wanted a proven reliever to neutralize the lefties, a role the Cardinals hadn't filled well in recent years.
Choate finished last season with the Dodgers but selected the Cardinals' offer over LA's. Choate expected to get ample appearances as the Cardinals' LOOGY, on Lefty One-Out Guy. He's found his role to be more than the one on the mound.
"He was our go-to lefty before Kevin (Siegrist) really established himself," manager Mike Matheny said. "I do have to give Randy a lot of credit how much he's helped a young Kevin Siegrist and Sam Freeman and Tyler Lyons … trying to prepare them for the left-left matchup. Randy has been a great addition to a very young bullpen where we needed some leadership, some experience."
This series brings some more opportunities.
The Dodgers lineup, at its healthiest, features three lefties whom Choate could face in the late innings – leadoff hitter Carl Crawford and middle-order hitters Adrian Gonzalez and Andre Ethier. Choate has two outs on four pitches already this series in the specialist role. Ethier is one for 10 in his career vs. Choate with three strikeouts, and as a group the three lefties are three for 23 against Choate. Crawford hasn't reached base in six plate appearances against Choate, a former teammate with Tampa Bay.
Choate retired Crawford on one pitch in Game 1, and got him again in Game 2. Both times the Dodgers' leadoff hitter popped up.
"When it comes to playoff baseball every at-bat is so big that it can become a little more specialist at times," Choate said. "Those opportunities are going to present themselves a little bit more here for me."
Cardinals general manager John Mozeliak said he would welcome the chance to talk with veteran ace Chris Carpenter about joining the organization in some capacity once his playing career is over. Carpenter has said he doesn't expect to pitch next season but does not want to utter the word "retirement" until a discussion with his family this offseason.
"If he wants to do something with the St. Louis Cardinals, we would certainly welcome that," Mozeliak said. "When the time comes to discuss that my door will be open. I look forward to that conversation. He is someone who is so competitive and so passionate about this game that I don't know if working in the front office is going to appease that. But we'll see."
Cardinals closer Trevor Rosenthal claimed his first career NLCS save in Game 2 by striking out the side in the ninth inning on 14 pitches. All 14 were fastballs. One zipped in at 101.2 mph, according to the Pitch F/x technology, and he averaged 99.0 mph on the 14 fastballs. In three scoreless innings so far in this series, Rosenthal has thrown 47 pitches; all but five have been fastballs.
"There are power arms (now), one right after another," Matheny said. "Every team you face, they seem to be bringing up somebody else that is touching 100. It's amazing what's going on. Some of these guys like (Carlos) Martinez – you look at him and you wonder where he can generate that. But we've got a situation in the game right now where there's a lot of power coming out of these young arms. We're fortunate to have some that not just have good stuff but know how to use it."
In addition to the fantasy football league he runs for charity, Adam Wainwright has been the commissioner of a fantasy football league that includes many big-league players. He has, however, had to outlast some coup attempts.
"We've tried (to impeach him), but we don't want to hurt his feelings," said Dodgers outfielder Skip Schumaker, one of the players in the league. "He's one of the worst commissioners in the history of fantasy football. He's always late. The draft time's always an hour later. He's horrible."
Matheny expects to go with the same lineup he had against lefty Clayton Kershaw in Game 2, with Yadier Molina at cleanup and lefty Matt Adams shifting to No. 6. … Carpenter, a noted hockey nut, led a group of players to nearby Anaheim, Calif., for Sunday evening's Mighty Ducks-Ottawa game. He and others also took in a Penguins game in Pittsburgh during the NL division series. … With a 1-0 win on two hits in Game 2, the Cardinals became the first team to win a game with two or fewer hits and no home runs since Oakland in the 1974 American League championship series, said ESPN.