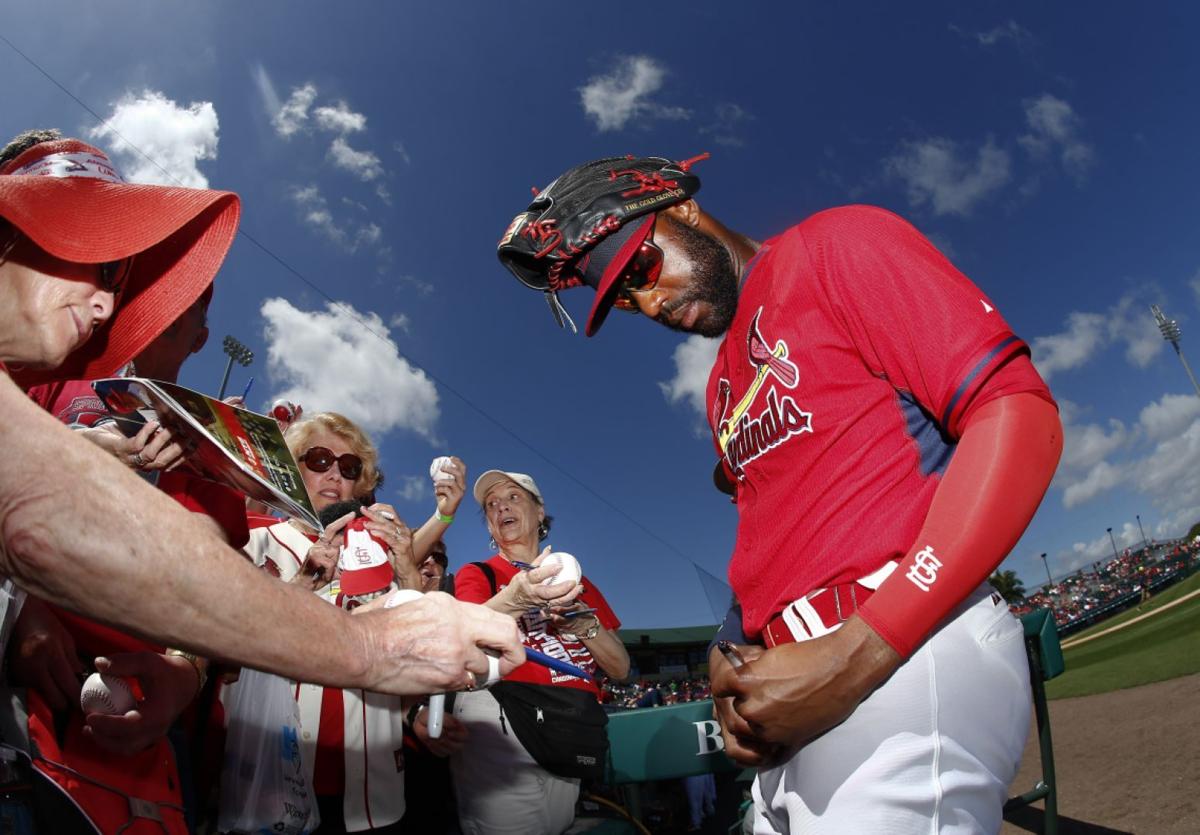 JUPITER, Fla. • Cardinals manager Mike Matheny, before Thursday's exhibition game, wondered aloud if the babble about Jason Heyward having not hit a home run this spring, or any official extra-base hit, was bothering him.
"Hopefully, he's not going to start trying to do too much because of all the talk," said Matheny. "I'm not concerned about it at all.
"You (media) are the only ones worried about that. Internally, no one's even thinking about that. He's going to have his extra-base hits (Heyward had a double rained out last week). He's hit about three hard liners the opposite way that could have easily been away from an outfielder and been extra-base hits."
In his first at-bat Thursday of a 5-3 Cardinals loss to Miami, Heyward launched a 420-foot homer off righthander Henderson Alvarez. And, no he hadn't been bothered by the concern over his lack of power.
Parroting his manager, Heyward said, pleasantly but firmly, "You guys are making way too much of this.
"I'm not too worried about it. In 2010, I hit one home run (in the spring) and I hit 18 in the season, so ... big whoop. I'm all about progression and getting ready for the season, trying to repeat a swing and be aggressive on pitches in the (strike) zone.
"I got into a hitter's count and didn't miss it."
Matheny said, "There wasn't much doubt about that one."
Adam Wainwright, who was cuffed by Miami, mostly by Giancarlo Stanton (homer and double) for four runs and six hits in 3 2/3 innings, said he did his best pitching afterward.
While the game was being delayed for 55 minutes by a couple of rain showers in the fourth inning, Wainwright went to the covered batting cage mounds at the Cardinals' complex. There he threw under the watch of pitching coach Derek Lilliquist so Wainwright could run his pitch count higher than the 65 with which he left the game.
After Wainwright had thrown 10 or so fastballs, Lilliquist suggested Wainwright stay back a bit longer on his right leg. Wainwright immediately saw he had more power with his fastball as he threw 25 more pitches.
"It's the best I've felt all spring. I know it's not against hitters, but it translated for me," said Wainwright.
"Those (pitches) were very productive. I went from being kind of frustrated at the way I pitched to (where) I left the cage thinking I'm ready for next time. I was driving the ball for the first time all spring."
On Thursday, when he knew he was out of synch a little, he said he had backed off trying to throw too hard.
"Today was much more important for me to get mechanically sound than it was to try to fire balls," he said. "It doesn't do me any good to go out there and fire as hard as I can if (the count) is going to be 2-0 or 3-1 all the time."
Crediting Lilliquist, Wainwright said, "The great thing about pitching coaches is that they see you every fifth day, they see our bullpens, they see where there's something a hair off or when it's not. It was a good spot by him."
Lilliquist said, "He was getting a little out of whack trying to be too aggressive out front and he was losing his power off his back side.
"He wasn't behind the ball all the way and I told him to get on his back side a little more. It was good."
Matheny hasn't officially announced his first-night starter, wanting to make sure of the good health and endurance of Wainwright, who was set back by an abdominal strain. But Matheny said, "We want to make it possible to have Adam out there. He's our ace."
The Cardinals' staff has been working with lefthander Kevin Siegrist not only on his breaking stuff but on being quicker to the plate, so that opposing base runners couldn't take advantage, and for much of the spring he has been successful.
Pitching the ninth, when he allowed a run, Siegrist allowed hits to a couple of lefthanded hitters and two stolen bases.
"He was a little slower than he's been," Matheny said. "I think he was thinking a little more about his stuff.
"Those were things we hadn't seen much from him this spring. He got to two outs pretty quick and then a couple of lefties getting him ... that's not what he wants."
The Cardinals will play two games on Friday, with Matheny managing one squad at Viera against Washington and bench coach David Bell making his Cardinals managing debut here against the New York Mets. Lilliquist will remain here to watch starter John Lackey and others while Carlos Martinez will pitch against the Nationals, with bullpen coach Blaise Ilsley observing.
• Cardinals Hall of Fame manager Tony La Russa will be honored as a Missouri Sports Legend by the Missouri Sports Hall of Fame in a ceremony in Springfield, Mo., on May 27. The Arizona Diamondbacks, whose baseball operations La Russa took over last May, will be playing the Cardinals in St. Louis that week.
• Third baseman Matt Carpenter, pulled after two innings on Wednesday when he was hit in the right quad by a pitch, started on Thursday and will go to Viera Friday.
• A post-game thunderstorm flooded the field and dugouts, making for a lot of work for the grounds crew before Friday's game can be played.