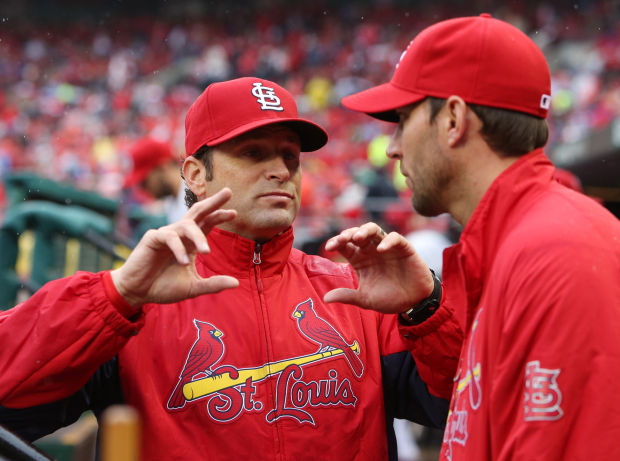 There is a good chance that Cardinals manager Mike Matheny will at least take a battery with him to Minneapolis for this year's All-Star Game. What other Cardinals accompany likely All-Stars Yadier Molina and Adam Wainwright could be in Matheny's hands as he shapes the roster for the National League.
That job has given him a new view of the statistics.
"I've been looking at them different all season long, watching guys and keeping track of some of the seasons the players are having," Matheny said. "It's a great challenge to do what's right for each individual and each club and I'm looking forward to that challenge."
The first report of current NL voting was released Wednesday by Major League Baseball, and Yadier Molina leads all NL catchers with 640,464 votes. The next-closest catcher, San Francisco's Buster Posey, is 200,000 behind. The only other Cardinal to crack the top vote-getters at his position is Matt Holliday, who is 11th in the outfield.
Voting continues through June. Cardinals' votes will rise with more home dates.
Matheny made invitations to two NL managers this past winter to join the All-Star staff, though their names have not been made public. Matheny said he wanted some All-Star experience on his staff. For example, Clint Hurdle, whose Pirates the Cardinals ousted in the division series, managed the NL in the 2008 All-Star Game.
Each league will have a 34-man roster, with eight NL starters being elected by the fan vote. A player vote helps determine some of the pitchers, like Wainwright, who make the team and the reserve position players. The actual picks selected by the manager once he assures all 15 teams have a representative can be minimal. The fans will choose the 34th player from a group selected by the manager.
Matheny allowed that he'll have some latitude to choose a setup man instead of a closer if the setup man serves a role and has the numbers that elevate him above a closer. His own righty, reliever Pat Neshek, a Twin Cities native, leads all NL relievers with a 0.57 WHIP and has 20 consecutive scoreless appearances.
"For the obvious reason that we do want to win this game and everybody who is going to be involved in this game believes it could affect them hopefully (in October)," Matheny said. "It's more important to use the game as it was intended — to honor the guys who stood out. If there are guys in those roles who have exemplary years and are standing out, then I think that's something you have to take into consideration."
The day off for shortstop Jhonny Peralta on Wednesday was scripted, planned in the week beforehand. The break for Matt Adams was not expected. Adams felt his left calf muscle tighten during the late innings of Tuesday's shutout, and though he was able release the pain in the muscle before leaving the ballpark it had returned the next day.
Adams said the tightness "flared up."
His absence led Matheny to start Peter Bourjos and Jon Jay in the outfield, moving Allen Craig to first base. Adams said he expected to be available to hit, if needed, later in the game Wednesday.
"They don't want me going out there and blowing it out," Adams said. "Cautious with it. … Day to day."
It took Cardinals leadoff hitter Matt Carpenter to do what an MVP-era Alex Rodriguez and the New York Yankees never could — move Derek Jeter to third base. The Yankees, unlike any team that faces Carpenter on a regular bases, used an extreme defensive shift on the lefthanded-batting infielder. Jeter stationed at third base, marooned on the left side of the infield while the rest of the Yankees fielders moved to the right side.
Carpenter, who had 199 hits last season, is not known for being a pull hitter. The Pittsburgh Pirates, the most shift-happy team in the league, have used shifts for specific counts with Carpenter. The lefthanded hitter said the shift he saw from the Yankees was not a tell how they planned to pitch him.
He saw two sinkers on Wednesday, one he poked to where Jeter usually plays.
He turned on a cutter on Tuesday and put it over the shift for a triple.
"I don't think it changes the way they pitch; it's just that they're taking the bet you're going to hit it on the ground or hit it the other way," Carpenter said. "I know that typically when I go the other way it's in the air. I know that. I just didn't see myself as a shift guy because I put the ball in play a lot. You'd think the more times you do that, (the shift) will get beat."
• Yankees infielder Brendan Ryan made his first start of the series at shortstop, his first start at the position here since he was the Cardinals' everyday shortstop in 2010. Ryan credited his chance to play regularly behind that groundball-getting pitching staff as a reason he's remained in the majors as a defensive whiz. "I don't think I was the ideal choice," Ryan said. "I got to showcase what it is I do best, getting all those opportunities in the field and all different kinds of ground balls. Getting to make those plays, to be run out there every day. I felt like there was some unfinished business here. They took care of it the next year (in 2011)." 
• In his final regular-season day at Busch Stadium, retiring Yankees captain Derek Jeter had a table loaded with autograph requests. It included more than 50 jerseys.