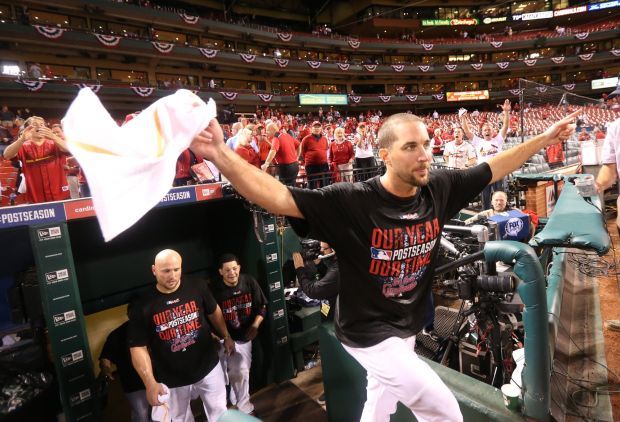 The Cardinals intend to start ace Adam Wainwright for Game 1 of the National League championship series on Saturday, as scheduled, but they have prepared Lance Lynn as an alternative if the club does not feel Wainwright is ready for the game or is unable to pitch deep into it.
Manager Mike Matheny announced after his team's win Tuesday night in the National League division series that Wainwright would start the next round's opener. He offered a qualifier earlier Tuesday, saying the club had to be ready because of concerns for Wainwright's health. The rest is valuable, the manager said. Wainwright has pitched for several months through some tendinitis and discomfort around his right elbow, a condition that caused him to miss a start back in June but did not inhibit his ability to go 5-0 with a 1.38 ERA in September.
The concerns, Matheny said, were renewed after Wainwright's Game 1 start against LA.
"Just making sure that Waino feels right," Matheny said. "We've got two guys on regular rest it wouldn't be a stretch to have either one of them go. There's no question that Waino has been fighting it. I haven't made that a secret and neither has he. It's all going to come down to how he feels. The likelihood of him saying 'I can't go' is very slim. But it is a possibility that something might not feel right."
Wainwright indicated he did not expect any issue and would start Saturday.
In Game 1 of the NLDS, Wainwright allowed six runs on 11 hits, only the second time in his postseason career that he's allowed as many runs in a start. He did not have a feel for his fastball and had to rely heavily on the curveball. Matheny said the use of the curveball "caught my eye; caught the Dodgers' eyes too, obviously." LA was able to eliminate Wainwright's fastball and, the righthander said, wait for the offspeed pitches.
He said when he got to pitch again to "expect a different look."
Asked what treatment could be awaiting Wainwright at the end of the season, Matheny said he has not heard anything from the medical staff beyond rest. Matheny linked any ailment Wainwright had simply to workload. Including the postseasons, Wainwright has thrown 508 innings the past two years, more than any other starter in the National League.
The Cardinals' concern for Wainwright is not new to October. When Pittsburgh lost on the last day of the regular season, clinching the division for the Cardinals, they pulled him from his scheduled start at Arizona. The club wanted to get its standard-bearer extra rest for October ahead of a 21st win or innings to remain sharp.
"You guys could tell when we were quick to pull him out of Arizona," Matheny said. "He's just been grinding. There are days when you're grinding when you just can't get it right. He was having trouble with that in Game 1. He's thrown a lot of innings. He's had a lot of work. That's what your ace does."
The ace also starts when scheduled, Wainwright has said.
It has been nearly seven years since he and the Cardinals came to the conclusion he could not finish his career, as planned, with them, and he would have to be traded. On Tuesday, the Cardinals welcomed Scott Rolen back. The former third baseman described himself as "caught off guard" when a Cardinals official phoned him and invited him to throw out the ceremonial first pitch before Game 4 of the NLDS.
Rolen joked that he had to remember how to get through traffic, had to brush his teeth, and had to put on a pair of jeans — put retirement on pause.
"This is special place for it being St. Louis and also just (representative) of a special time for my family," said Rolen, who brought with him both of his children, Raine (9) and Finn (7). They were both born when he was with the Cardinals. "I signed to finish my career here. I signed an eight-year contract with a complete no-trade clause and after 5½ years, six years, we mutually parted ways. It was the best thing at the time for both parties. I believe it was an untenable situation. It was going to be a situation because you don't want to be a bad teammate, you never want to be that guy.
"We were headed in the same direction but on different tracks," Rolen continued, referencing his irreparable relationship with manager Tony La Russa. "It shouldn't have been awful, but it just went the wrong way. And it escalated."
Rolen drove from his home near Bloomington, Ind., with his wife and two children to attend Game 4. Adam Wainwright, a teammate on the 2006 World Series team, caught the ceremonial first pitch, and Rolen visited with some teammates before the game. It was his first time at a big-league ballpark since retiring after the 2012 season with the Cincinnati Reds.
"We had such good teams here for so long, and when I say good I mean on the field obviously but we were friends and when we were here it was a good group of grown adults, playing baseball and growing up together," Rolen said. "Glad I came back."
Dodgers manager Don Mattingly made his first major decision of Tuesday's Game 4 before some of his players were even at the ballpark. He benched outfielder Yasiel Puig, the kinetic talent who had struck out eight of his previous nine at-bats coming into Game 4. Puig had been the fulcrum of the team's lineup for much of the season, but Mattingly reduced the second-year outfielder to a pinch-run appearance Tuesday. He entered the game in the ninth as the potential tying run and never got to swing the bat.
"He's healthy," Mattingly assured. "Pretty simple: We just feel this gives us the best chance to win today, just the best chance to win today."
Rookie Marco Gonzales joined Adam Wainwright (2013), Chris Carpenter (2006) and Jeff Fassero (2002) as the only Cardinals pitchers with two wins in a division series. … Michael Wacha, cast as a long reliever in the NLDS, threw a light side session Monday to "get a feel for the mound," Matheny said. Wacha has not pitched in more than a week. … Trevor Rosenthal had three saves in the series, the first Cardinals closer to do so since Dennis Eckerslsey did in 1996.