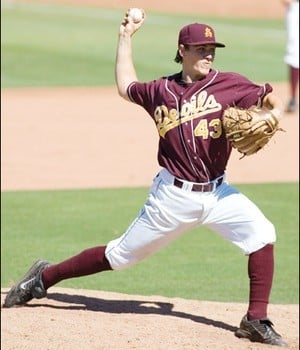 On the first day of what Seth Blair expected to be the season he reasserted his claim as a prospect in the Cardinals' system, the righty felt a sharp pain in his pitching hand during a bullpen session. The pain, located around the top knuckle on his middle finger, continued through another 20 pitches and when he tried to play catch the next day the pain became, in his words, "excruciating."
A scan revealed the reason. Blair had a tumor in the knuckle of his middle finger.
"It caused these microfractures,'' he said. "The tumor rubbing against the bone — that was the pain."
Before his season began it ended as Blair had surgery to remove the tumor and then spent the next four months recovering. On July 23, he felt comfortable enough to grip a baseball, and on Aug. 5 he was back at High-A making the first of five starts to close the season. Blair, 23, was able to salvage 19 2/3 innings from the season and had a 5.40 ERA.
"I had a lot of expectations going into the 2011 season — starting in Low-A and then doing as badly as I did was the most frustrating thing in my life," Blair said. "I was a first-round pick and that's a not a ticket to say everything is going to be OK. When I didn't perform I felt it was more than a burden to me but also a burden to the people who invested money, time, interest in me. All those things. It was a downward spiral."
Blair, the 46th selection in 2010, went 6-3 with a 5.29 ERA in 21 starts (81 2/3) innings for Quad Cities in 2011. He walked 62, struck out 70, and, in the words of one scout, "pitched distracted." When the River Bandits stormed the postseason for a Midwest League title, Blair was not with them, having been excused from the team and sent home for violating team rules. He called the experience "humbling" and explained that he "didn't make decisions that I should."
While he struggled in 2011 and healed in 2012 others surged, and Blair now finds himself in a thicket of starters who will be competing for few open spots at Class AA. But he has an opportunity others do not. Blair has been selected for the Arizona Fall League, where he'll be tested against other invitation-only talents at what officials call a "finishing school" for prospects.
It's a chance to recoup innings lost to the finger surgery as well as reprove his standing.
"I really felt like I was on top of my game coming out of spring training, exactly where I needed to be," Blair said. "Then 2012 became this kind of what-could-have-been season. But it's not done."
The Cardinals and other major-league teams received a complete list Friday of minor-league franchises that are without a big-league club to call their own. Thus begins the annual game of affiliates musical chairs.
Shortly after renewing their contract with Class AAA Memphis, the Cardinals alerted Low-A Quad Cities and short-season Class A Batavia that they would explore other options at those levels. In the past the Cardinals have sought to tighten their influence on their affiliates by owning them, as they've done at Class AA and High-A and tried to do with Memphis. An official said the team does not plan to go that route this time. More likely is some window shopping for better facilities.
In the Low-A Midwest League, the Cubs are reportedly going to leave Peoria for Kane County, which would Peoria, a former and longtime Cardinals' affiliate, available to the big-league club that developed players like Albert Pujols there from 1995 to 2004. At the short-season New York-Penn League, the Cardinals could seek an upgrade in stadium over Batavia. The Cardinals were last with State College in that league and a reunion is possible -- and increasingly likely -- as State College (Pa.) reportedly ended talks with its previous parent club, the Pirates.
Teams are not permitted to discuss specific destinations, though deals between major-league club and new affiliates could become final early this coming week.
"We want our minor-league teams to provide a great working environment and obviously any time we can improve upon that we want to try," Cardinals general manager John Mozeliak said without addressing specific openings. "It really becomes a sales pitch from both sides.''
Low-A outfielder Anthony Garcia had one of the best breakout seasons in the Cards' minors and he was the only hitter to finish in the organization's top five for home runs, RBIs, slugging percentage, and on-base percentage. Garcia had 19 homers (third), 74 RBIs (third), a .525 slugging percentage (second), and a .408 on-base percentage (fourth). …
• Lefty John Gast allayed any lingering concerns about his left shoulder by winning his final start with one run allowed, no walks, and four strikeouts in seven innings. He had missed a start because of a fatigued shoulder and struggled in his first game back despite an insistence he was healthy.