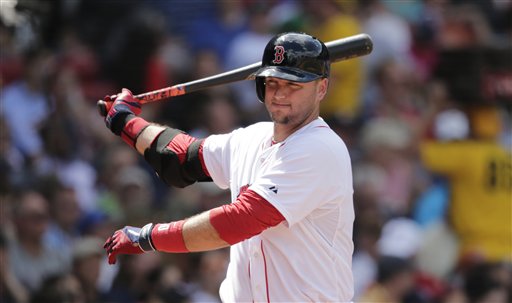 CHICAGO • The Cardinals' attempt to find a catcher who will click while Yadier Molina recovers from surgery continued Friday night and took them in an unexpected direction.
The team finalized a deal with veteran catcher A.J. Pierzynski in time for the catcher to join the Cardinals today at Wrigley Field, multiple sources told The Post-Dispatch. The team announced the deal officially Saturday morning. Pierzynski was in Cooperstown, N.Y., on Friday, according to a source, and he left the Hall of Fame induction ceremonies to travel to Chicago, where he'll be available for the afternoon game against the Cubs.
George Kottaras, who joined the Cardinals just before the All-Star break, packed his bags and left the Cardinals after their 7-6 loss to the Cubs on Friday afternoon. The Cardinals designated Kottaras for assignment to clear a spot on the active roster for Pierzynski.
Pierzynski, 37, was released by the Boston Red Sox before the All-Star break, and at the time the Cardinals expressed little interest in the veteran catcher. He has a reputation for being a polarizing presence on teams, meshing well with the Chicago White Sox club he backstopped to a World Series title in 2005 and fitting in poorly with a team like this year's Red Sox.
Pierzynski hit .254 with a .348 slugging percentage and four home runs in 72 games before Boston had to move him to make room on its active roster.
The Cardinals claimed Kottaras off waivers from Cleveland as a lefthanded complement to Tony Cruz, who has inherited Molina's starting job. Kottaras made one start for the Cardinals before the move Friday.
Pierzynski also bats lefthanded.
Molina tore the ligament in his right thumb, and he had surgery July 11. The Gold Glove-winning catcher has been prescribed at least three more weeks of inactivity, and the Cardinals do not expect him to return for another six to 10 weeks.
Having 16 days between starts has given Cardinals righty Shelby Miller a chance to rest his sore lower back and address his mechanics, if not determine which of the two drags on his pitching came first.
Miller will rejoin the rotation this afternoon at Wrigley Field with his first start since July 10 and only his second appearance in a game since allowing four runs on five hits and four walks in that night's loss. The Cardinals have lost his past five starts, and he has failed to complete the sixth inning in all five of them. In each appearance, Miller's mechanics have failed him after a few innings, and several times he had to leave games with stiffness in his lower back or discomfort radiating from the area.
"My mechanics were so bad it could have stressed out my lower back," Miller said.
"You're putting all that load on it, falling off the left side of the mound. My mechanics feel good right now. The biggest thing is just keeping the ball down and feeling strong through the whole game. … I would be strong for four or five innings and go out for the fifth or sixth and kind of get tired, I guess. The biggest thing for that is to get that consistency going deep into games."
The Cardinals repeatedly insisted Miller's reassignment to the bullpen for a fortnight was to give him rest, just as they did at the same point last season. He used the time to strengthen and work on the area around a weakness in his back and rebuild his mechanics. The drift in his mechanics was causing his pitches to lose command and bite. His ERA ballooned from 3.42 to 4.29 in five starts as a result.
"I feel like I'm back to normal," he said.
Cuban outfielder Rusney Castillo will hold a workout for interested teams today in the Miami area, and MLB.com reported that he'll play both center field and shortstop in the drills. The Cardinals reached out to express interest to the righthanded hitter's representative when he was ruled a free agent earlier this summer, a source confirmed, and many teams are expected to have a scout attend the showcase. … The Cardinals have hit a league-high eight batters since the All-Star break, including Anthony Rizzo twice Friday. … Manager Mike Matheny said usually there are several people on the field — such as umpires — and in the dugout who recognize when a pitch count is incorrect, as it was Wednesday night when Jon Jay struck out on a 4-2 pitch. "We've got a whole bunch of guys (paying attention) and all it takes is one," Matheny said. Replay doesn't "make it any different this year than any other year. It takes something for somebody to bring it to our attention. There were no flags that I saw. I take that personal. I need to be on top of that."