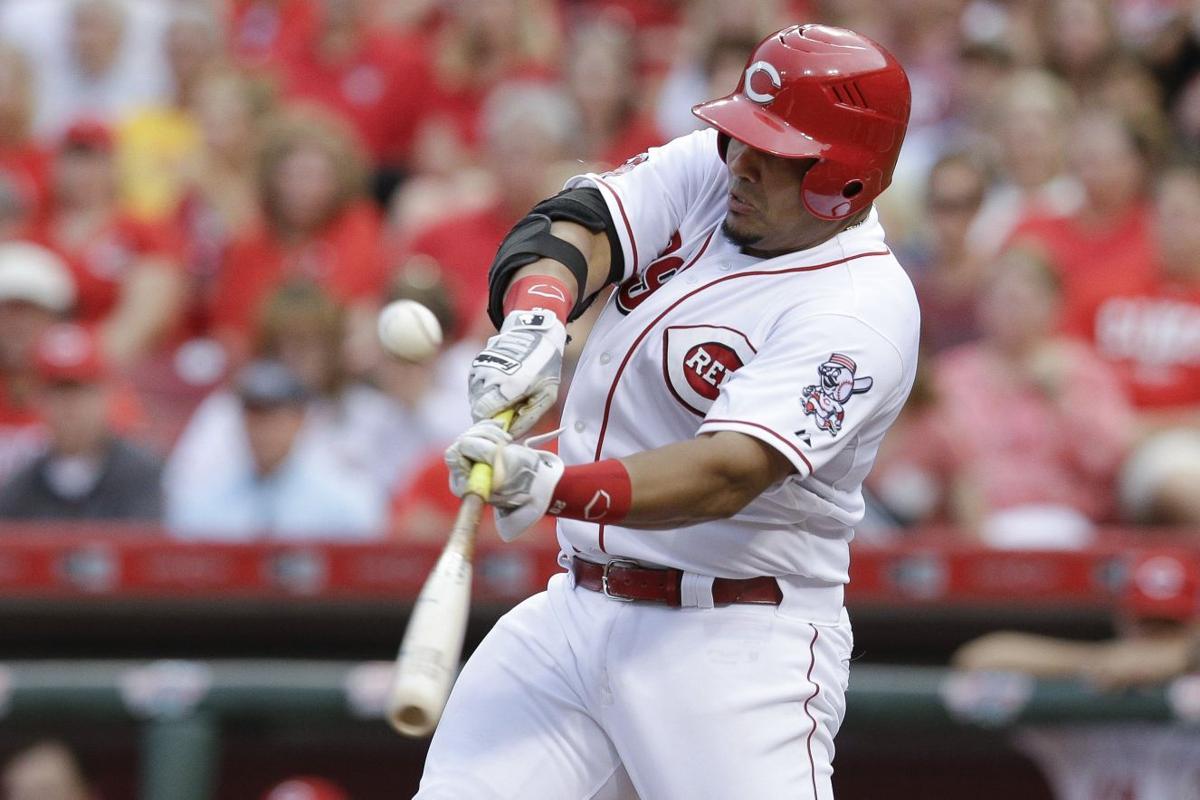 After several years of talking about finding a more proactive way to reduce the workload on cornerstone catcher Yadier Molina, the Cardinals made a financial commitment to it Monday.
The club lured veteran Brayan Pena to fill the backup role and finalized Monday a two-year, $5-million contract with the switch-hitter. Pena, 33, has been a backup for most of his big-league career, and his success in 2015 as a lefthanded hitter makes him an appealing complement to Molina. General manager John Mozeliak called him "our best alternative."
"The No. 1 thing is you have to embrace your opportunities in this role," Pena said after the deal was announced. "You have to know who it is in front of you, and right now for me it happens to be a future Hall of Famer, in fact. But you have to be ready all the time as a backup. You have to prove to your teammates and to your manager and to the starter that you're always ready. It could be a double-switch, could mean playing first base, it could mean catching, or it could be a pinch-hitter in the ninth. I know what goes into being a backup. Your name can be called at any time."
Mozeliak offered many of the same roles Pena could fill for the Cardinals off the bench, but most of all the team wants a catcher manager Mike Matheny will use to spell Molina.
The Cardinals advertised Pena as the "primary" backup for Molina entering the 2016 season, and it marks the first time since 2011 that Tony Cruz won't be in that role. The Cardinals will spend the next two days trying to trade Cruz before Wednesday's deadline to offer him a contract. By mid-afternoon Wednesday, the Cardinals must choose whether to present Cruz a contract for 2016 and allow his salary to be set through arbitration. He could make as much as $1 million. If they are unable to trade him, the team might allow him to become a free agent by not giving him a contract, or non-tendering him.
Cruz, 29, has proved a capable defensive catcher and in limited duty he hit .220 with a .310 slugging percentage over 259 games for the Cardinals. Cruz and Molina are close, and Molina has often lauded Cruz's contribution to the team's preparation for opposing batters. Cruz has been pressed into increased starts by Molina's hand injuries each of the past two seasons. Molina has not entered the postseason without some nagging or significant injury since 2011, and the Cardinals have often suggested workload is the reason.
Molina was on pace for a career-high in innings caught this past season before he tore a ligament in his thumb that eventually required surgery to repair.
Pena's "strength is from the left side, where we could use some help to balance Yadi's workload," Mozeliak said. "We're not making lineups today but (Pena has) much more usable resources and one of our goals is to balance Yadi's playing time for his own benefit."
Pena, a native of Cuba, has spent 11 years in the majors but only once started more than 60 games at catcher in a season. That was this past year when he started 84 games for the Cincinnati Reds. He threw out 43 percent of attempted base-stealers in 2014, but only 18 percent last season. He hit .273 overall with a .324 slugging percentage and a .659 OPS. In 241 at-bats against lefties, Pena hit .295 with a .347 on-base percentage and a .700 OPS. Asked if the switch-hitter's success as a lefthanded hitter allowed the Cardinals to more easily schedule a day off for Molina against a righthanded pitcher, Mozeliak said "it's possible."
The Cardinals approached several free agents about the role, but they have in years past found it difficult to sell a free agent on such limited playing time. Mozeliak said many free agents do "the internal math" and realize it would be difficult to create value on a one-year deal with few starts. To address that with Pena, the team offered a two-year deal.
During a phone interview Monday, Pena repeatedly expressed excitement about joining the Cardinals and playing alongside Molina, who he called "a role model for all Latin players, especially us catchers." Pena said he intends to report early to spring training to get to know the pitchers.
The Cardinals' cut from the playoff players' pool of a record $69.9 million was $34,223.65 per share, according to Major League Baseball. The Cardinals voted to award 59 full shares, 7.143 partial shares, and two cash awards.