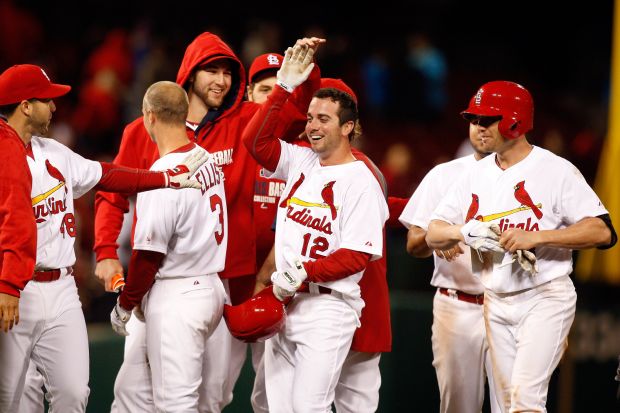 The Cardinals and Chicago Cubs weren't exactly the best practitioners of extra-inning baseball before Tuesday night's fray dragged deep into the night and almost into this morning at Busch Stadium. The Cardinals, the only team in the National League not to have won in extra time, had been 0-3 in games past nine innings and the Cubs 1-4 with their only bonus-frames win over the Cardinals here in April.
But the Cardinals finally attained a milestone of sorts. They scored their first extra-inning run of the season in the 12th inning, equating to their first extra-inning win. It came in bizarre fashion as rookie Greg Garcia allowed himself to turn into a 1-2 pitch with the bases loaded and one out to enable the Cardinals to ease past the Cubs, 4-3, in 4 hours 39 minutes.
Jhonny Peralta singled to open the 12th against Justin Grimm and, after Matt Holliday fouled out, both Allen Craig and Yadier Molina walked.
Garcia, batting for winning pitcher Seth Maness, who pitched for a fourth straight day, was plunked in the upper back by a 1-2 pitch. And he said he was hoping to be hit once the ball left Grimm's hand.
"I saw the pitch out of his hand and I knew it was in(side)," said Garcia. "I knew it had a chance to hit me. I'm wearing that one 100 percent of the time."
Garcia, who has been up only a couple of weeks, also has been hit two other times in games — he leads the club in that department — and then he was hit in his first day of batting practice against batting practice pitcher Dennis Schutzenhofer.
"I just want to get on base any way I can," said Garcia, the grandson of East St. Louis native Dave Garcia, a former big-league manager and longtime scout, coach and minor league manager.
He allowed that his grandpa, 93 years old, if he was still up in San Diego watching on television, would appreciate how this game ended.
"He likes those hard-nosed plays," said Greg Garcia.
"My first instinct was to get hit. I wanted to get hit. I knew that meant the game was over. When I saw that pitch coming at me, there was no doubt in my mind that I was going to get hit."  
A half hour after the game, it didn't even hurt. "I can't feel it," said Greg Garcia.
"It's been an unorthodox start for me. I got a walk in my first at-bat. I got on base on a strikeout."
And how he has his first RBI without his bat being involved.
Maness' win was his first, much different from last year when he piled up three wins in his first five appearances.
"He absolutely deserved that win today," said manager Mike Matheny.
The Cardinals, looking for any sort of elixir to rouse them from their lethargy in the standings, turned to a tried and true remedy from baseball's days of yore Tuesday. The tonic was called 'small ball.'
After being bashed 17-5 by Chicago's 'big ball,' the night before, the Cardinals found themselves in arrears to the Cubs at 2-1 in the sixth inning of a tight, but extremely slow-paced game before a paid house of 43,627. But then they mixed an equal dose of speed and patience to score two runs, taking a 3-2 lead. They were one out from turning that into a regulation victory before Trevor Rosenthal suffered his first blown save of the season in 11 chances.
With one out in the ninth, Rosenthal allowed a single to JuniorLake and walked Darwin Barney. He fanned Chris Coghlan but Emilio Bonifacio dropped a single in front of right fielder Joey Butler, seeing his first time in the outfield for the Cardinals, as Lake came home with the tying run.
Rosenthal took himself to task for the walk to Barney. "That definitely hurt me," said the righthander, who escaped a bases-loaded spot in Pittsburgh to gain a save on Sunday. Earlier, Kevin Siegrist and Carlos Martinez had combined for two scoreless innings.
Gold Glove catcher Molina threw out his second runner of the night and ninth in 17 tries this season to help keep the Cubs off the board in the 10th inning as Sam Freeman, recalled from Class AAA Memphis earlier in the day, struck out two hitters after issuing a leadoff walk. Molina turned Freeman's first strikeout into a double play.
Veteran Pat Neshek, unscored on in his last 14 outings, pitched a perfect 11th and Cubs center fielder Bonifacio made a good running catch near the wall to deprive Matt Carpenter of a potential double to end the Cardinals' 11th.
Before the late-inning activity, the key inning for the Cardinals was the sixth. Peter Bourjos beat out a bunt for a hit off the Cubs' Carlos Villanueva and then the cat-and-mouse game began.
Mark Ellis fought through an 11-pitch at-bat, not counting a handful of throws to first by Villanueva, before grounding to first, with Bourjos taking second.
Jay, pinch hitting for Wainwright, worked a 10-pitch walk from Villanueva. On ball four to Jay, Bourjos stole third.
With lefthander Wesley Wright relieving, Carpenter hit a slow roller past third baseman Luis Valbuena to shortstop Starlin Castro, who tried for a force at second but threw errantly as Bourjos scored and the other two runners were safe.
Peralta, only three for 31 (.091) with men in scoring position, singled to left, the only ball that left the infield in the inning, to put the Cardinals ahead.
Gradually,  Bourjos, who started the season nothing for 13, is showing his game, whether he's stealing or threatening to.
"It does create a distraction for pitchers that aren't exactly quick," said Matheny.
As for the start of the inning, Bourjos said, "Bunting is something that has gotten away from me a little this year. The last few days, talking (to assistant hitting coach David Bell), I've been working on it a lot and making it more a part of my game."
Bourjos, besides his own ability to distract, could appreciate the toll Ellis and Jay took on Villanueva during their at-bats.
And perhaps it took its toll on the Cubs' infield, too, on Carpenter's mishandled ball.
"When there's a slow pitcher and there's a lot of time between plays, defensively it can be tough," Bourjos said. "That's why it's so important for the pitcher to work quick because usually that's when the best defense is behind him."
Wainwright wasn't at his sharpest but still managed to hold the Cubs to seven hits and two runs over six innings, both the runs coming on Valbuena's two-run homer in the third.
The home run surprised Wainwright, he said. " Not that his power surprised me, but that he hit that pitch and it was a decent location." Wainwright said.
Cubs starter Jake Arrieta, who walked five and fanned five in four innings, started the scoring in the third with a single to left. Bonifacio struck out but Valbuena cracked his second homer over the right-field wall. Valbuena, hitting .207 at game time, was seven for 16 (.438) against Wainwright after his drive which bounced back onto the field, prompting Matheny to discuss the matter briefly with first-base umpire Will Little before conceding the home run.
The Cardinals ran themselves out of a potentially big inning in the third but managed to scratch across one run.
Arrieta, barely matching strikes with balls (he threw 42 strikes out of 82 pitches), walked both Peralta and Holliday to open the inning.  Craig fanned on a breaking ball but  Molina singled to left. Peralta, upon approaching the ball, jumped to let it pass between his legs but lost his balance, fell and had to stop at third. When Holliday saw the ball get into left field, he roared around second only to have to brake when he saw Peralta had halted at third.  
Cubs left fielder Junior Lake alertly threw behind Holliday, who headed toward third, forcing Peralta to start for home. In the ensuing rundown, Peralta was tagged out, Holliday made third and Molina second.
Matt Adams hit a grounder over third and by the time overshifted third baseman Valbuena got to the ball, Adams had a full head of steam going and beat the play at first as Holliday scored to make it 2-1.
The Cardinals have reached the 40-game pole at 20-20. It wasn't the most stylistic of triumphs but Wainwright said, "A win is a win and we need wins right now. We'll move on to tomorrow and hopefully play a flawless game and win – quickly.
"We haven't had the life we normally have in the dugout. We're trying to get it going in there. We never quit, which is the mark of a champion-caliber team. We have a champion-caliber team. We just have to go out and play better.
"Sometimes you go through stretches that are very tough, and we're lucky enough to go through a very rough stretch and be a .500 team. There's a lot of teams out there that are having hard times that wish they were .500. We know that we're well over that."
(Tom Timmermann of the Post-Dispatch contributed to this report).