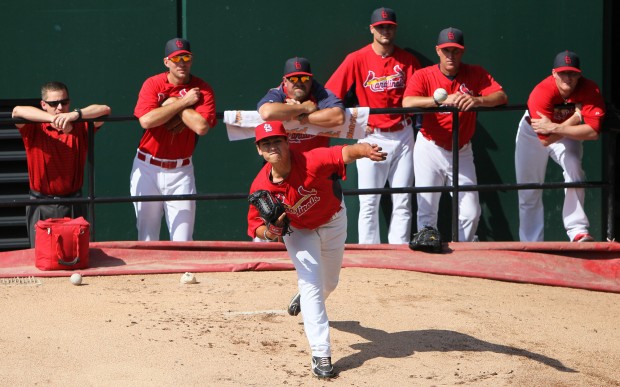 With Adam Wainwright and former 19th-overal selection Shelby Miller watching, Cardinals' first-round pick Marco Gonzales threw a brief bullpen Wednesday afternoon at Busch Stadium.
Gonzales, the 19th overall pick earlier this month, passed a physical and signed his first contract before receiving a Cardinals jersey and showing his changeup to a crowd of big-league pitchers, scouts, and general manager John Mozeliak.
"I hadn't given any thoughts to being nervous or anxious until I got on that mound," said Gonzales, a lefty from Gonzaga University.
Gonzales received a bonus of $1.85 million, and the Cardinals expect to eclipse their assigned bonus cap of $6.91 million. The team hopes to have an agreement with fourth-round pick Mason Katz as soon as today.
Lefty Ian McKinney (fifth round) and shortstop Malik Collymore (10th round) are scheduled to visit Busch today. Collymore, who had committed to Mizzou from an Ontario, Canada high school, will finalize his deal with the team and could take batting practice on the field.
After signing Katz, the Cardinals will move closer to deals with 11th-round pick Steven Farinaro and any other late picks who will command bonuses beyond the suggested value of their pick. Scouting director Dan Kantrovitz said the team is willing to pay the penalty for going less than 5 percent over the assigned bonus.
Gonzales, 21, will report to the Cardinals' Gulf Coast League team today to begin his pro career at the team's lowest domestic affiliate. First-rounder Rob Kaminsky and second-rounder Oscar Mercado will also be at GCL. They plan to room together. Like Michael Wacha, the 19th overall pick in 2012, Gonzales will start at GCL to control his innings.
"The only similarity they have is from the talent standpoint they're both clearly above the level of competition in the GCL," Kantrovitz said. "We're sending him there so we can carefully manage that workload."