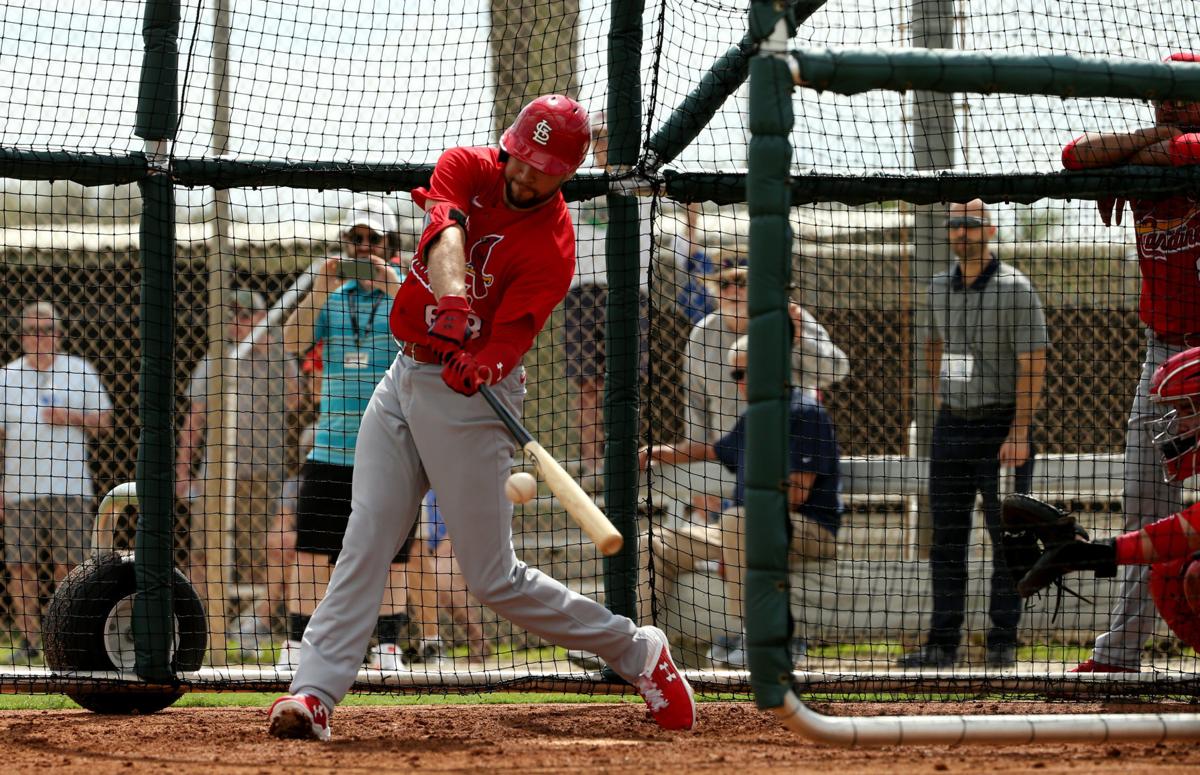 The season will be 60 games, rather than 162, and 21-year-old Dylan Carlson did hit .313 as one of the most impressive Cardinals in Florida spring training this year. But president of baseball operations John Mozeliak had made a point then of saying that he wanted to see what young outfielders Tyler O'Neill, Lane Thomas and Harrison Bader could do before potentially moving Carlson, the Cardinals' top prospect, into a regular outfield spot.
In a coronavirus-infected time where nothing seems sure and the normal isn't normal any more, Mozeliak is taking the same approach as summer camp officially will begin at Busch Stadium on Friday.
Carlson, not surprisingly, was one of seven non-roster players added to the Busch Stadium group, which will consist of 44 players—the Springfield portion of young players, or "Summer Camp South," will be announced later in the week or early next week, Mozeliak said. But the many-tooled switch-hitter's status remains roughly the same, although Carlson no longer would get regular at-bats in the minor leagues because there will be no minor leagues this year.
"We went into this camp trying to give O'Neill, Lane Thomas and others playing time," Mozeliak said.
"In terms of when Dylan gets his opportunity will depend on how things are going. But, whether it's 60 or 162, our strategy still was to always see what we had with O'Neill and Lane Thomas and that's how we're going to approach the next three to four weeks."
Young relievers Kodi Whitley and Johan Oviedo were other significant non-roster additions to the St. Louis camp roster. Both opened eyes this spring and are "future book" pitchers for the Cardinals, but Mozeliak said the club needed as many as 22 pitchers in camp to provide depth to give hitters enough work, especially in intrasquad games. The Cardinals so far are not planning any exhibitions against other clubs before the start of the season on July 24.
The 25-year-old Whitley, who has been a reliever throughout his three-season minor league career, raced through the ranks in 2019, appearing at Class A Palm Beach, Class AA Springfield and Class AAA Memphis, posting an aggregate earned run average of 1.60 with 78 strikeouts in 67 1/3 innings.
"He really put himself on people's radar, being someone who could potentially help a major league club," said Mozeliak on Sunday night. In the Cardinals' spring camp this year, the righthander reeled off six consecutive scoreless outings of one inning apiece, giving up three hits and striking out eight.
The hard-throwing Oviedo worked in four spring games, notably striking out seven in 5 2/3 innings. This past season, the 22-year-old Cuban righthander fanned 163 in 146 2/3 innings, mostly as a starter, for Palm Beach and Springfield. He did walk 76.
"He was always someone from a scouting/player development side that we were excited about," Mozeliak said. "But this is what you were dreaming about when you were thinking about him. Over the last year or so, it's really come together for him. Now, he's certainly one who's going to be given real consideration if we need help.
"We need to decide how we can get him some work. If he doesn't make the big club on July 24, then ultimately he'll be someone that will get a lot of work in our Summer Camp South in Springfield."
That camp will begin on July 14 and so far would have no more than 16 players, given that the total pool allotment for every team is for no more than 60.
Young righthander Alvaro Seijas, who had a strong season while pitching for both Class A Peoria and Palm Beach this past season, and third baseman Elehuris Montero, hurt for about half the 2019 season, were 40-man roster players who will not be in the Busch camp this week.
"Seijas (only 21 years old), needs ultimately to get down to Summer Camp South to begin his summer training," said Mozeliak, "and Montero is somebody we might have in the St. Louis camp at some point. We're still working on his travel from the (Dominican Republic)."
First baseman John Nogowski and infielder Max Schrock, both of whom showed well this spring after playing at Memphis last year, were non-roster position players added to the camp. "Both helped themselves by how they performed in front of the major league staff," Mozeliak said.
Non-roster catching prospects Ivan Herrera and Jose Godoy also will be on hand. Not active will be reliever John Brebbia, who had Tommy John elbow surgery three weeks ago and was placed on the 45-day injured list.
As for holding off on announcing the Springfield invitees, Mozeliak said he would prefer to wait to see how the COVID-19 testing goes this week for the 44 players at Busch. He said he knew of no positive tests to date for Cardinals players and staff but, if there were some, then prospects that would have been at Springfield might have to be moved here.
Mozeliak reiterated that there will be plenty of adjustments that need to be made by all for these three weeks and, really, for the season.
"Everybody involved is going to have to realize that things have changed," Mozeliak said. "Interaction and how you work on the field, how you get dressed in the clubhouse to how to eat ... all these things are going to be different.
"The people who adapt and adjust quickly will most likely be the most successful. We're all sort of day to day at this point because there's a lot of unknowns.
"I do feel that at some level you do have to think about the future and how to plan for it. (Manager) Mike Shildt understands that we need a day-to-day schedule that is about preparing for a 60-game season but there's also that higher-level view making sure people are healthy and safe."
And, as Friday approaches, a higher level of excitement, Mozeliak said, "because (a), it's different from what we've dealing with day to day and (b), it's going to be nice to see friendly faces. It's going to be nice to be back together because that's what we're used to doing.
"There will be some normalcy but there's also going to be that reality that the world has changed and we have to accept that.
"We're going to have to recognize social distancing and get in the habit of wearing masks and making sure we practice the right things we need to do to make sure we keep this league opened and our team healthy."
Cardinals' 44-man player pool
Pitchers (22): Genesis Cabrera, Brett Cecil, Junior Fernandez, Jack Flaherty, Giovanny Gallegos, John Gant, Austin Gomber, Ryan Helsley, Jordan Hicks, Dakota Hudson, Kwang Hyun Kim, Carlos Martinez, Miles Mikolas, Andrew Miller, Johan Oviedo, Daniel Ponce de Leon, Alex Reyes, Ricardo Sanchez, Adam Wainwright, Kodi Whitley, Tyler Webb, Jake Woodford.
Catchers (5): Jose Godoy, Ivan Herrera, Andrew Knizner, Yadier Molina, Matt Wieters.
Infielders (10): Matt Carpenter, Paul DeJong, Tommy Edman, Paul Goldschmidt, Brad Miller, John Nogowski, Rangel Ravelo, Max Schrock, Edmundo Sosa, Kolten Wong.
Outfielders (7): Harrison Bader, Dylan Carlson, Austin Dean, Dexter Fowler, Tyler O'Neill, Lane Thomas, Justin Williams.
Keep up with the latest Cardinals coverage from our award-winning team of reporters and columnists.