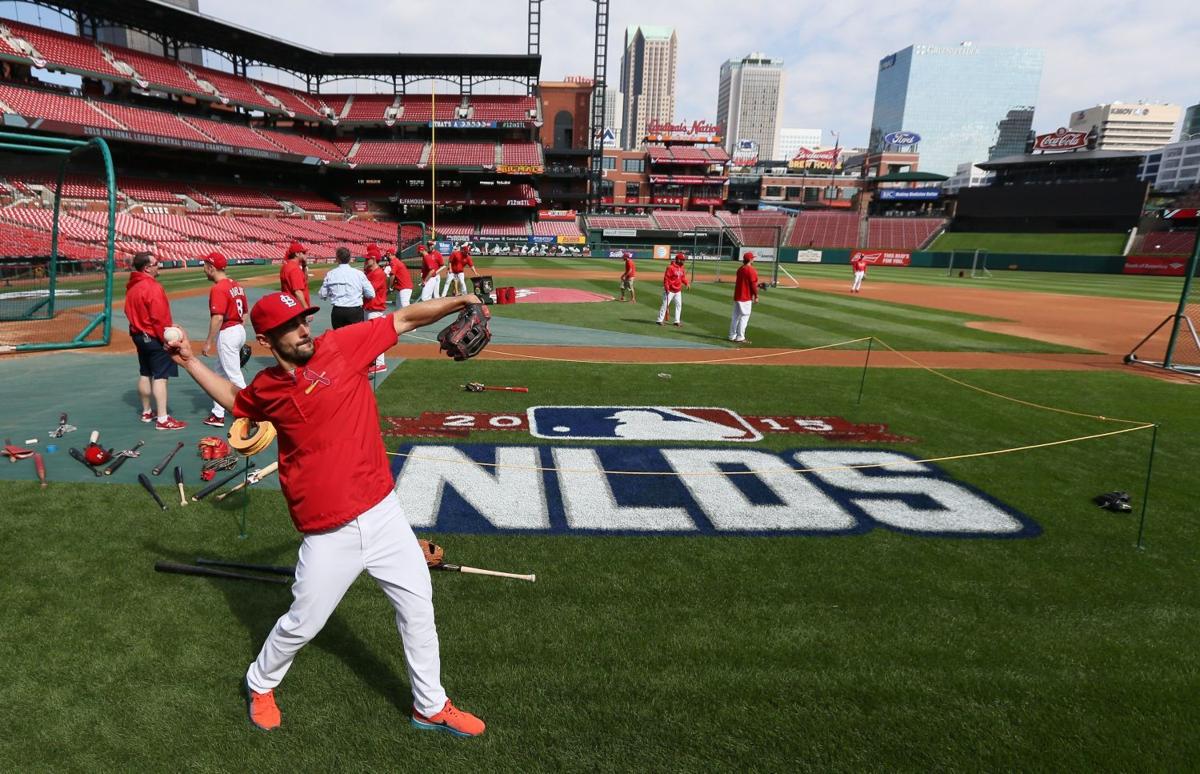 This past winter, one of Matt Carpenter's groomsmen made his annual trip to Fort Worth, Texas, to spend some time with Carpenter's family and work out with his former Texas Christian University teammate.
Carpenter started peppering his pal with questions about his year, how it was in his first full season with a new team, and how he refined that pitch he didn't have back in college. As they worked out one day Carpenter asked one of his closest friends in baseball if he could go out and repeat his 2014.
"Oh no," Jake Arrieta replied. "I'll be better than that."
"And here he is," Carpenter said.
With a historic run his manager likened to Bob Gibson, Arrieta has compelled his Chicago Cubs into the National League division series that begins Friday against the Cardinals at Busch Stadium. The Cubs' righthander followed one of the finest second halves in baseball history with a shutout victory Wednesday in the wild card game at Pittsburgh. A Cy Young Award favorite and one of those October aces who can propel a team, Arrieta has made good on his pledge to his friend. He's not just better. He may be the best.
"He's a real confident guy," Carpenter said.
The two Texans met each other at TCU. Carpenter had been there. Arrieta came from a junior college. Immediately they clicked. They exercised their competitiveness with challenges in workouts and around campus. They grew tight as friends and as teammates, and when Carpenter got married he asked Arrieta to get a tux and stand near him at the front of the church. During the champagne-drenched celebration late Wednesday night, Arrieta, about to light a victory cigar, described Carpenter as "like a brother to me." Their careers have mirrored each other – complete with being budding stars in their late 20s.
Arrieta came to the Cubs as part of a July 2, 2013 trade that sent starter Scott Feldman to Baltimore. With the Orioles, Arrieta had been lauded enough to be an opening day starter, but not trusted enough to avoid having his delivery tinkered with. He was 20-25 with a 5.46 ERA in four years with Baltimore, and watching from afar Carpenter saw how his friend was struggling. At TCU, Arrieta had been the guy who "every time he got on the mound we were going to win." He didn't recognize the righthander Baltimore had.
"He's totally different now," Carpenter said. "He kind of evolved. I think the combination of the change of scenery was good for him. Combination of getting some confidence. When he got to Chicago it was like they were, 'Hey, you're our guy.' That confidence started to rise. The biggest thing was he developed that cutter. He didn't really have that cutter in Baltimore. That's been a game-changer for him."
What the Cubs did was allow Arrieta to slide back into a more comfortable delivery, one that involved some crossfire from his arm. They shifted him on the rubber. And he developed the pitch. With the hard, sharp cutter playing off his biting sinker, Arrieta can, as Carpenter described it, effectively cut the plate in half.
He's got a fastball that goes one way.
He's got a fastball that breaks the other.
"He doesn't walk anybody," Carpenter said. "He used to have issues with that, getting behind in counts. He got to be more himself. In Baltimore, they kind of had some cookie-cutter technique for him. It didn't work for him. With a new team, he needed to be himself."
The Cardinals got a glimpse of what was coming in Arrieta's final start of 2014. On Sept. 24, at Busch Stadium, the righthander allowed one unearned run on two hits in seven innings. He struck out 10. One of those was Carpenter. After the game, the Cardinals described Arrieta's assortment of pitches and more than one suggested that they had just seen the Cubs' next ace. Carpenter probably saw it coming first – not just as a friend but also a hitter who, in his career, is zero for 16 with four strikeouts against Arrieta.
This season, Arrieta went 22-6 with a 1.77 ERA. He'll receive ample support for the Cy Young Award against the Dodgers tandem, Clayton Kershaw and Zack Greinke. Arrieta will also receive votes for the National League MVP, partially because his rise coincided with the Cubs'. In the second half of the season, he won his final 11 decisions and had a 0.75 ERA. That's the lowest ever after the break.
He kept rolling into the postseason by shutting out the Pirates. Arrieta engaged Pirates fans on social media before his start Wednesday, and then quieted them with his start. That start in the wild card game is the reason Arrieta will only get one start in the best-of-five division series. But it was the start that got the Cubs there. Manager Joe Maddon said removing Arrieta from his start Wednesday would have been akin to "taking Bob Gibson out of … a World Series."
"Jake is a different cat, man," Maddon said. "I could just think of (Joe) Namath 'guaranteeing' the Super Bowl victory, that's all I could think of the last few days. Just sitting in the lounge chair by the pool with all those reporters surrounding him."
Arrieta wasn't lounging by the pool when he promised Carpenter he'd be better. They were working out or had been. It was Arrieta whom Carpenter credits with showing him the importance of nutrition and conditioning, who urged Carpenter to lose weight and gain strength during college – and set the example for the fiend Carpenter has become.
That influence is one reason Carpenter wants Arrieta to get better.
"I'll tell you this," Carpenter said. "It used to be hard because he wasn't that successful in Baltimore and then he goes to Chicago and he's a new guy and I wanted him to do well. Now, it's like he's done plenty well. … I want him to have a successful time in Chicago, but that was also when they had no chance of making it into the postseason. Now things have changed. I can't root for him anymore."
---