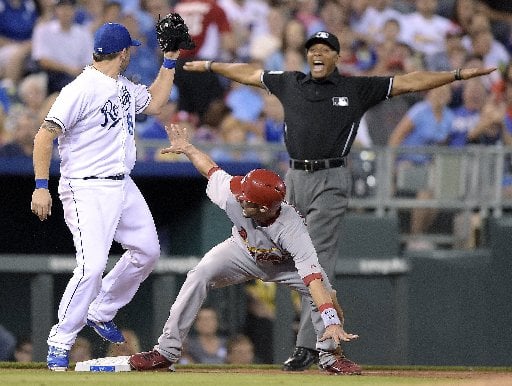 KANSAS CITY • Matt Carpenter simply wouldn't let the staggering Cardinals lose yet again. And he wasn't bashful about letting his feelings be known Wednesday night.
After the Kansas City Royals spoiled a potential shutout by Adam Wainwright with the aid of a strike three that got away in the ninth inning to help them tie the score 2-2, Carpenter, according to manager Mike Matheny, "came into the dugout screaming, 'We're not giving this away. This is our game. It's not going to end like this.'
"When you see a guy who's vocal and then he gets out there and does it with production, too, it's fun to watch," Matheny said. "It's special to see someone say, 'We need someone to step up here and I'm going to do it. Let's go.'''
Carpenter became the first Cardinal since Ryan Ludwick on Sept. 4, 2009 to get five hits in a game when he doubled off reliever Kelvin Herrera with one out in the 11th inning. It scored Peter Bourjos, who had walked and stolen second base and propelled the Cardinals a 5-2 victory, just their third in their last 10 games.
Carpenter, who also walked, raised his average to a season-high .307, and has reached base 10 times in the last two games with seven hits and three walks.
"That's a really good week for some guys," said Bourjos.
"Hope I can keep it going," Carpenter said. "The odds are against me, but who knows? I'm getting back to the way I felt when I was at my best last year."
An admiring Wainwright said, "What I love about him is he never gets out of his approach. He is very confident in who he is as a hitter.
"He puts in countless hours of dry swings — in the stinking shower and the batting cages and in the tunnels. I saw him last year he was eating with a fork and he brought it up and he took the fork and acted like it was a bat."
After Carpenter untied the game, pinch-hitter Jon Jay worked a 12-pitch at-bat and singled, with Carpenter stopping at third base.
Lefthander Tim Collins relieved and hit Matt Holliday with a pitch and allowed a two-run single to Allen Craig, who had chased two outfielders to the track with long fly balls earlier in the game.
Local product Trevor Rosenthal blew his third save but rookie Sam Freeman earned the win with a scoreless 10th as Pat Neshek gained his first career save, in his 255th career appearance.
The win was the Cardinals' first in three interleague jousts with the Royals this week. But it raised their career mark at Kauffman Stadium to 30-15.
"Sometimes it takes an emotional victory like this to jump-start a team," said Carpenter, a .440 hitter at Kauffman Stadium. "Maybe this will be the one for us.
"We very easily could have packed it in and lost this game. But we didn't feel sorry for ourselves and found a way to win the game."
Discussing his outburst after the ninth, Carpenter said, "I was pretty emotional that point. That was one of those games we have to win. We were winning the whole time."
Wainwright seemed headed to his third shutout of the season and was clinging to a 2-0 lead in the ninth inning when he fanned Eric Hosmer for the fourth time in the game. But Hosmer reached base when strike three, which was in the dirt, got away from catcher Yadier Molina and bounced off umpire Tripp Gibson. Molina desperately chased after the ball but missed Hosmer at first.
Were the Cardinals going so bad they would lose on a strikeout?
"I wouldn't let my mind go there," Matheny said. "I can just see us getting out of it. Sometimes, I feel I can will it to happen. I guess I didn't have enough will."
Billy Butler then singled and Matheny moved decisively at 111 pitches for Wainwright to bring in Rosenthal.
Wainwright said he didn't know he was coming out until he looked at shortstop Jhonny Peralta, who was holding the ball.
"I could tell by Jhonny's body language that Mike was on his way out," Wainwright said.
But Rosenthal walked Alex Gordon on a close 3-2 pitch to fill the bases.
Rosenthal then shattered Salvador Perez's bat as Perez grounded weakly to third. Carpenter fired to second to get the force. But as Gordon slid toward the bag, second baseman Mark Ellis — jumping over him — decided it was unwise to risk a throw to first.
Hosmer scored on the forceout and Butler later scored when Lorenzo Cain singled. Rosenthal maintained the tie by striking out Mike Moustakas and getting Alcides Escobar on a liner to short.
Freeman, impressive since being brought back from Memphis, worked a perfect 10th and the game went to the 11th tied at 2-2.
After Wainwright had his worst start of the season last Friday when he allowed seven runs in 4 1/3 innings against San Francisco, he properly castigated himself and then announced, "I know that the next start I'll be a much different pitcher."
He was a no-hit pitcher through five innings, a one-hit pitcher through six, a two-hit pitcher through seven and a three-hit pitcher through eight before a decidedly mixed house of 22,126.
"I'm ecstatic that we won that game," he said. "But, for me, personally, it feels kind of like a loss almost because you give up a couple of runs in the last inning."
Meanwhile, Neshek has another box on his career stat sheet checked off.
"That was only about my second real chance (at a save)," he said. "My first was when I came in with the bases loaded and no outs in 2012 in Yankee Stadium and I gave up a homer to (Raul) Ibanez.
"No, I didn't see (a save chance) happening tonight."
A lot of things happened Wednesday that you wouldn't necessarily expect.
"The last few days haven't been real fun,'' Craig said. "This was one of those gut-check games."