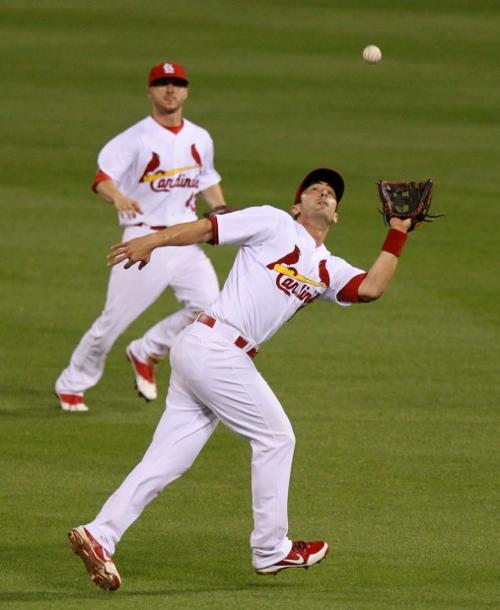 The third time Cardinals second baseman Matt Carpenter got hit by a pitch Tuesday night, it pushed him to the point of incredulity.
"I think my exact words were, Three times? Really?" Carpenter recalled before Wednesday's game. "Three times?"
By the end of Wednesday's 10-3 loss by the Cardinals, Arizona pitchers may have been shaking their heads. "Four hits? Really?"
Carpenter showed no ill effects from Tuesday as his amazing home stand moved on. He went four for five on Wednesday, extending his hitting streak to 14 games, and raising his batting average to .333. In his hitting streak, he's hitting .450, and in the seven games he's played in since the Cardinals got back from their road trip, he's at .483, with 15 hits in 31 at-bats. It was his fourth straight game with more than one hit.
Carpenter did all this one day after getting hit by a pitch three times, including one to his hand that could have meant big trouble but didn't.
"He's tough," manager Mike Matheny said. "You see a guy get hit three times and he wants to come out the next day and show them something and I think he did that. He got right back into his game. In the first at-bat he rolled over a little bit but after that, it looked like the same guy we've seen all season. He's not varying from what he knows works for him and it's working."
What happened to Carpenter in Tuesday's 14-inning marathon is something you don't see very often. Carpenter got hit on the hand in the seventh, on the forearm in the ninth and on the shoulder in the 13th, as Diamondbacks pitchers gradually worked their way up his body.
The three HBPs set the Cardinals' record for a game and tied the major-league record, last accomplished by Austin Kearns of the Indians in 2010. It's the first time a player has gotten hit by pitches three times after the sixth inning and someone told him before the game the first time a player had been hit by pitches three times and gotten two hits.
"Really?" he said. "That's a cool stat. I hope I never do it again."
Indeed, it could have been messy. The first time, Carpenter got hit came as he pulled back from a bunt attempt and the ball caught him on the hand. Those can be dangerous since there's little meat on the finger to cushion the impact and the bone is compressed between the ball and bat. Many times, something has to give.
"You never want to get hit in the hand," he said. "That's a scary thing. … It hit the back side of my (right) hand, this pinky and knuckle. … I think it helped that I was pulling (the bat) back as it hit me. "
One thing that Carpenter and the Cardinals were sure of was that none of the pitches was intentional. Each time he got hit, it put the go-ahead or winning run on base, and each time Carpenter moved into scoring position, always stranded, however. He got as far as third in the 13th.
"It is what it is," he said. "Obviously they're not doing it on purpose, putting the tying run, the winning run on base. But they were definitely trying to make pitches inside and I got hit three times. It's just an unfortunate deal.
"That was their game plan. After every at-bat, I checked the video and they're setting up inside, trying to get outs inside. That's what they wanted to do to me and a couple of other lefthanders. I wouldn't expect anything different. You miss in two spots. Either you miss over the plate or you miss and hit somebody. It's just the way it is when you pitch inside. If their game plan is to pitch inside tonight, I may get hit three more times. You never know."
Getting hit by pitches has not been part of Carpenter's game. He had been hit just once this season before Tuesday and just three times in 121 big-league games going into this season. When he was going to high school in Texas, his team practiced getting hit by pitches and Carpenter said it was something the team took pride in. But even then, he never had a game like he did on Tuesday.
"Honestly, any way I can to get on I'll try to do it," he said, "but I'll try to avoid those three hit-by-pitch games."
The way he's swinging the bat, he seems to be getting on just fine the conventional way.