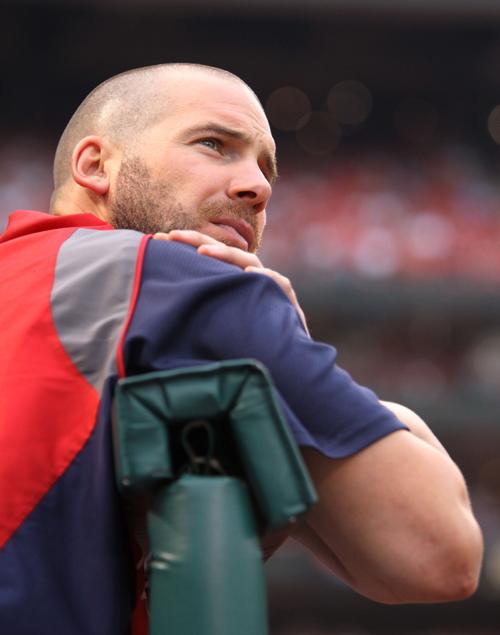 Cardinals co-ace Chris Carpenter projects for a normal offseason after undergoing an unusual surgery Thursday to release a bundle of nerves that have caused him trouble for at least the last four seasons, according to the club.
Less than a month after recurring shoulder weakness and discomfort forced him to abandon hope of pitching this season, Carpenter had the first rib on his right side removed and two scalene muscles released in order to alleviate pressure on nerves running from his neck to upper arm.
The procedure performed by Dallas specialist Dr. Gregory Pearl addressed a neurological version of thoracic outlet syndrome.
A recovery of 2-3 months was prescribed, allowing Carpenter to carry out a normal off-season program, barring complications.
"The doctor is very confident that he should be able to pitch again," said general manager John Mozeliak, who exchanged text messages with Carpenter following Thursday's surgery. Mozeliak noted that the surgery was of a non-vascular nature. Vascular thoracic outlet syndrome, experienced by former Cardinals pitcher Kip Wells, can be a life-threatening condition.
"You can come back from the vascular surgery but it's a much longer recovery," said Mozeliak, who received information Thursday through the Cardinals medical and training staff.
"The kind of procedure 'Carp' had also enjoys a much higher success rate," Mozeliak said.
Mozeliak described the post-operative report as "fairly standard" and that nothing unexpected occurred during the procedure.
"What we anticipated was going to happen, happened," Mozeliak said.
Carpenter refused such surgery after the 2008 season, opting instead of rest and rehabilitation. The decision proved correct as Carpenter returned to finish as runner-up in balloting for the 2009 National League Cy Young Award. However, when symptoms returned this spring, Carpenter experienced loss of sensation in one side of his face in addition to loss of strength in his shoulder upper arm. He admitted pitching with numbness in his right forearm for much of the last four years.
Pearl informed Carpenter during a consultation that it was very possible the condition could encroach on everyday activities without surgery. Insistent that he wants to pitch again, Carpenter this time opted for surgery.
The Cardinals signed Carpenter to a two-year extension last September and hope to have a better understanding of his availability next season before free agency opens in November.
Carpenter, 37, will return to St. Louis in several days and perform his rehab here.
"Based on what we're hearing, we should have a good idea by the early part of Fall if Carp's going to have some sort of issues," Mozeliak said. "It's not as if we're going to be blindfolded going into next spring. This is a two- or three- month recovery and he should be throwing fine. The timing is actually very good for our organization."
Carpenter did not pitch this season after working more than 273 innings in 2011. Much of the burden occurred during the Cardinals' unlikely push to a World Series title. Carpenter pitched on three days' rest for the first time in his career while pitching the Division Series and World Series clinchers.
In addition to Carpenter, the Cardinals have starting pitchers Adam Wainwright, Joe Kelly, Lance Lynn and Jaime Garcia under control for next season. However, a negative outlook regarding Carpenter could move the club to pursue additional starting pitching this winter.
Garcia, sidelined for more than a month due to shoulder discomfort, returned to the mound Wednesday for the first time since being placed on the disabled list. The club retains hope that Garcia can rejoin the rotation in August.