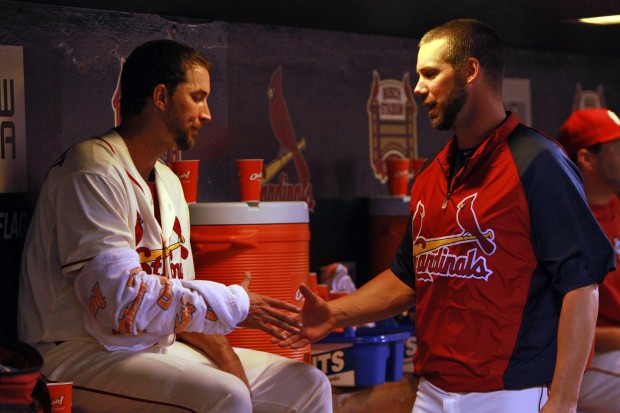 If veteran ace Chris Carpenter wants to attempt to pitch in 2014, the Cardinals have said he "deserves" a conversation about making that try with them.
It's just not a conversation he's ready to have now, if ever.
Carpenter abandoned more than a month ago the idea that he would pitch this season, even a cameo in relief, because of recurring issues maintaining strength and feeling in his throwing arm. He has traveled with the team on recent road trips and remained a mentoring presence for starters, such as Lance Lynn.
"The way everything has gone this season, I don't think much is going to change for me," Carpenter said Saturday. "I'm going to enjoy this time with the guys, my family, and at the end of it we'll sit down and process where we're at, where we want to go forward as a family. As long as we keeping winning (now), I'm having fun."
Carpenter, 38, had surgery last season to remove a rib and free up pressure on nerves that were squashed in his right shoulder and causing problems. The troubles returned in February. Before spring training, the Cardinals announced that he would not pitch this season, but during the first half of the year he made an attempt. His rehab reached a starter in Class AAA, but the lack of strength and numbness persisted. He cannot be sure another attempt wouldn't have the same results.
"There's not going to be a sign," he said. "I'll start working out before spring training, get off the mound like I always do and see what happens — and it's not time to say whether or not I want to do that. That's not on my mind right now."
The Cardinals will roll with their rotation into Denver this week and there is no plan to deviate from schedule in the season's final weeks, manager Mike Matheny said.
"Barring anything coming up, that's kind of the intention — unless there's something glaring that we need to make an adjustment," Matheny explained. "Somebody comes up sore, somebody doesn't look sharp — we can change it on the fly."
The Cardinals have ace Adam Wainwright set to be available for the final game of the regular season or whatever game the Cardinals have to open the playoffs, a one-game wild-card playoff or the first game of a division series. Clinching a berth or the division title early would allow the Cardinals to adjust the rotation. The plan to roll with the same five pitchers leaves veteran Jake Westbrook without a planned spot in the rotation. He has been relocated to the bullpen, though his role as long reliever is less necessary in September with expanded rosters.
"When he gets a chance, he just needs to be the Jake that we've seen him be," Matheny said. "Right now, we've got a lot of arms down there. You don't want to see anything happen in our rotation. We'll give him opportunities when we can."
In the ninth inning Friday night, Yadier Molina caught two Mariners attempting to steal second — a rarity mainly because so few teams attempt to run at all on the Cardinals' catcher. Molina was the first Cardinals' catcher with two caught stealing in the same inning since May 2001, when Matheny did it against the Marlins. In 2000, Matheny had two innings with two caught stealing in the span of three games.
"They don't normally try more than once," Matheny said of his Gold Glove-winning catcher. "I think he's earned that reputation."
Rookie reliever Trevor Rosenthal returned to the club Saturday afternoon a first-time father and recited the statistics for his newborn daughter: Chloe Elizabeth Rosenthal was born at 1:10 a.m. St. Louis time Friday, weighing in at 7 pounds, 4 ounces.
"She's got a 0.00 ERA," he joked.
Rosenthal missed two games so that he could be with his wife, Lindsey, as she had the couple's first child. He described the experience of watching the games on television as "weird" and far more difficult than watching from the dugout or bullpen. He was "eager to get back," he said, "and keep on trucking."
Cardinals' fourth-round pick Mason Katz hit a two-run homer for short-season Class A State College in the ninth inning of the decisive playoff game Thursday, but it wasn't enough to rally the Spikes for the league time. The Cardinals' affiliate lost the best-of-three New York-Penn League Championship Series this past week, two games to one. … Mariners shortstop Brad Miller left the game Saturday in the fifth with a mild hamstring strain, according to the team. … Hours before first pitch, Matheny and Molina spent some time working with catchers Tony Cruz, Rob Johnson and mostly prospect Audry Perez on throwing drills. … The Cardinals' 33 victories by rookies this season, entering play Saturday, are the most for the organization since 1952's 34, according to the Elias Sports Bureau. … The surging Nationals took a seven-game winning streak into Saturday's game and, just before a visit to Busch Stadium in the final home stand of the regular season, are making a late push for a wild-card berth. Matheny called the Nats, who lost the division series to the Cardinals last October, the "most athletic lineup" in the league. "We knew they just weren't going to go away," he said.
During spring training, second baseman Daniel Descalso fielded a ball and turned as if to throw to first base. Instead, he held onto the ball and fired behind the runner at third base to catch the runner off guard for the quick tag out. It was a play Matt Carpenter, a novice second baseman, quickly quizzed Descalso about. Carpenter pulled off a similar play Friday night when he made a diving stop up the middle and, unable to get the runner first, threw behind the lead runner to create a rundown. The play saved the Cardinals a run in a 2-1 victory.