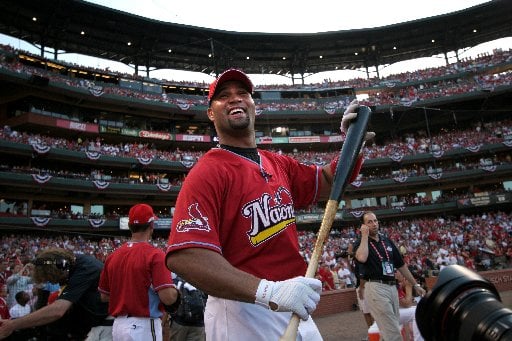 He was known as "Jack the Ripper" during his playing days because of his power hitting, and Jack Clark has come out swinging hard in his new sports-radio position. He has accused former Cardinals slugger Albert Pujols of using a performance enhancing drug.
And Clark, who still hasn't completed his first full week as co-host of the afternoon drive-time with Kevin Slaten at WGNU (920 AM), isn't just some former athlete who has been out of the loop for decades and shooting from the hip. He was the hitting coach of the Los Angeles Dodgers in the early 2000s when he said he was told by Chris Mihlfeld, who for a time was Pujols' personal trainer, that Mihlfeld "shot him up."
Clark has brought Pujols' situation up at least twice already on the air. The first time, after Slaten said last Friday that he long has believed that Pujols "has been a juicer," Clark jumped in before Slaten finished his thought and said, "I know for a fact he was. The trainer that worked with him, threw him batting practice from Kansas City, that worked him out every day, basically told me that's what he did."
Clark then talked about a conversation he had about a dozen years ago with Mihlfeld, who has worked as a conditioner with several major-league organizations. (Both men were with the Dodgers then, and Pujols was early in his career.)
Mihlfeld "had told me what he was doing with 'Poolie' — threw him batting practice, worked him out, shot him up, all that stuff," Clark said on the air.
Dan Lozano, Pujols' agent, declined comment when reached Thursday about the allegations.
In 2006, Pujols addressed reports about Mihlfeld, when the trainer emerged from relative obscurity to national attention.
That occurred when one of the players he trained, pitcher Jason Grimsley, admitted using performance-enhancing drugs and was suspended by Major League Baseball.
Innuendos followed that Mihlfeld's name had been one that was blacked out in a federal affidavit regarding the matter.
Because of his connection to Pujols, some eyebrows were raised about a player who at the time was in the middle of his Hall-of-Fame caliber 11-year run with the Cardinals before moving to the Los Angeles Angels last season.
"I don't resent this as much for myself as I do for Chris," Pujols said then of Mihlfeld, who was the baseball coach at the Kansas City junior college Pujols attended in 1998. "He's got no way to defend himself against somebody who puts something out there that's not true."
It later was reported that the affidavit did not have Mihlfeld's name.
And Pujols defended himself.
"I've said before I have nothing to worry about," he said amid the Mihlfeld controversy in 2006. "If they want to test me … then let's go. I'll do it tomorrow. No problem. But Chris has been put in a really unfair position. I know it bothers him. I hear it every time I talk to him."
In a phone interview Thursday, Clark said that he and Mihlfeld spent a lot of time together in 2000 when they were with the Dodgers.
"I had asked him about conditioning and working me out, what he would do for me, and he asked me whether I had ever thought of taking some steroids," Clark said. "... He just told me that he wanted me to get started on steroids and he had some other guys that were doing it. He told me that's how he's conditioning this guy that he met out of high school and college and he looked like he was going to be a star, keep an eye on him.''
Clark said he was looking for a nutrition program, not steroids.
"He told me, 'Well you couldn't do what I do with Albert Pujols, he's on this real strenuous workout deal.' I said, 'I wouldn't want to try to do that.' Every day he kind of came to me and says, 'you ready to do it? I'm ready to do it.' I said, 'Well I'm just not a needle guy, I've had enough surgeries and injuries over the years. I don't like needles ... I'm not going to do that ... I'm not a player anymore.
"He had told me he had done that with Pujols, with steroids, and I really never thought too much about it because steroids were really not on my radar screen at that time."
Pujols, who never has been known to have failed an MLB performance-enhancing substance test and is not known to be under any investigation, also said then of breaking the rules:
"Why would I do something like that to my family? Why would I do something like that to God? Why would I do something like that to my team?" Pujols asked. "Just to try to gain some small extra? It's part of what I believe: What you do in the dark will come into the light. I have nothing to fear. I'm just tired of hearing about it."
On Monday, Clark reiterated his allegations on the air.
Mihlfeld "had told me what he was doing with 'Poolie" and used the term "shot him up" again.
"I had a little smirk on my face when Albert came out of the clear blue when he ... said, 'Believe me' when steroids issues were in the news again several years ago. Believe you about what, Albert?'' Clark asked. "We always believe you. You're a Christian guy, there's nothing not to believe you about."
Clark on Thursday said some people have questioned him about his allegations and stood firm.
"The fact is (Mihlfeld) told me," Clark said. "I never saw him'' inject Pujols.
Clark, whose 18-year big-league career included a memorable stint with the Cardinals from 1985-87, also has discussed baseball's ongoing performance-enhancing drug problems.
"I like Albert, he's a friend of mine," Clark, now 57, said. "I don't believe that none of these guys haven't cheated just because everybody hasn't been caught. I personally know some other situations from down in Kansas City from when I was with the Dodgers. To me, nobody gets a free pass."
He says ballplayers in general are suspect.
"They got the money, that's what they went for," Clark said. "But when they get off the juice and that stuff's not around, their body starts breaking (down) and obviously you start seeing some results going away."
Pujols, still with the Angels, has had declining production in recent seasons and now is on the disabled list because of a lingering foot ailment.
Clark also touched on Detroit pitcher Justin Verlander, who after four dominant seasons is having a lesser year now after having agreed to a huge contract extension his spring.
"Verlander was like Nolan Ryan, he threw 97, 98, 100 miles an hour from the first inning to the ninth inning," Clark said on the air. "He got that big contract, now he can barely reach 92, 93. What happened to it? He has no arm problems, nothing's wrong. It's just the signs are there.
"The greed ... they juice up, they grab the money and it's just a free pass to steal is the way I look at it."
He also has called out Shawn Green, who was an outfielder for the Dodgers during Clark's tenure as the club's hitting coach.
"I've seen Shawn Green leaving the clubhouse with a bunch of acne on his back and I walk past him (and say,) 'Hey Greenie, see you later.' He turned around to me and said (stammering) 'I have an irritation.' I said,' I didn't ask you (about the acne), I just said 'See you later.'"
"These guys that fake you out it's very disappointing, especially when they are breaking records. Here I am in LA as the hitting coach and Shawn Green is breaking Duke Snider's record (for home runs in a season while) cheating on steroids. It's just disappointing to me.
"That's one reason why I don't want to coach, I can't stand it," he added. "I can't stand to coach the guys that are cheating and faking, (are) phonies and frauds, for a game that I love when guys played it the right way and guys like (former Braves standout) Dale Murphy can't get into the Hall of Fame, a quality guy and a great player and an MVP.
"He has to take a back seat to these creeps and lowlifes like (Mark) McGwire. It just makes me sick and I just can't be a part of that anymore."