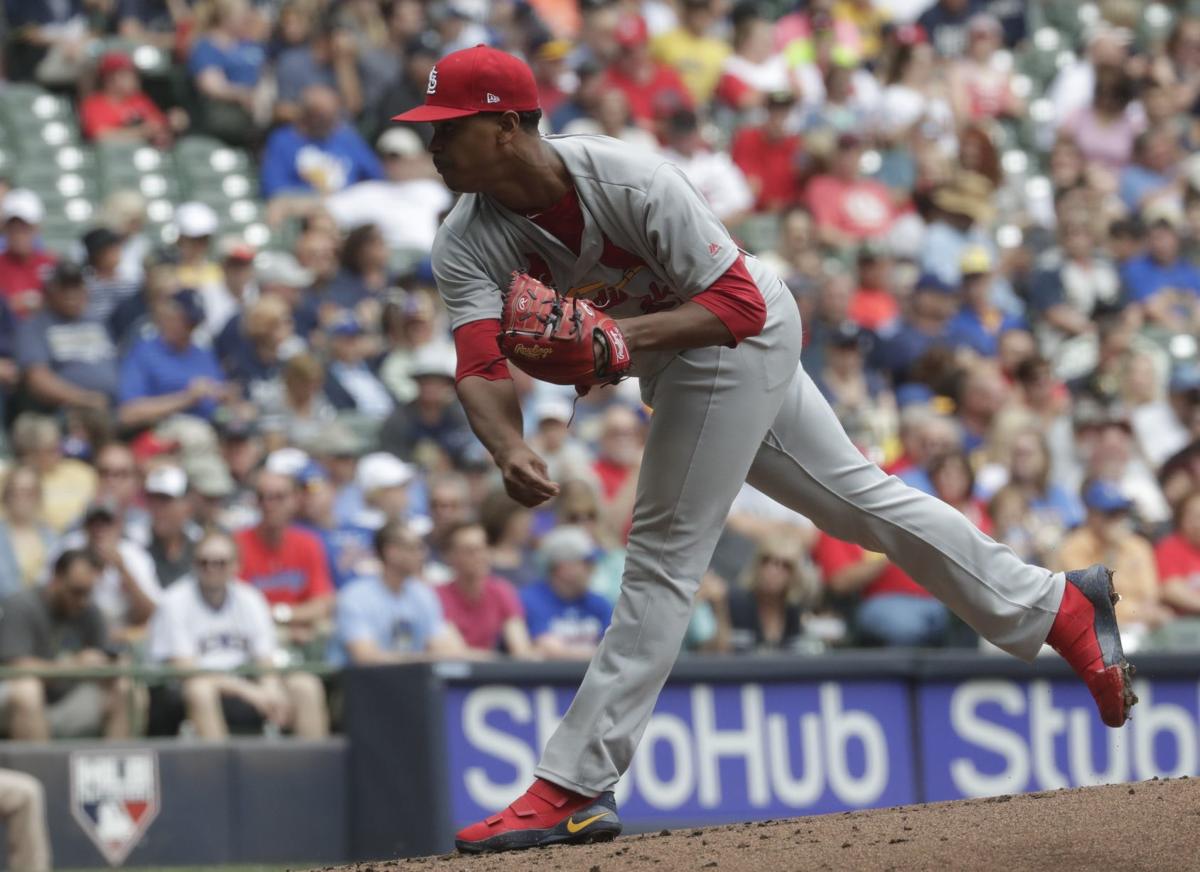 Rookie pitcher Alex Reyes and Cardinals president of baseball operations John Mozeliak agreed on the adjective to describe the importance of this coming season for the longtime prospect who hopes to have health on his side.
"My first comment on Alex Reyes should be: It's a huge season for him," Mozeliak said Saturday at the Cardinals' Winter Warm-Up. "In other words, when you've had two lost years, the clock is ticking."
Reyes, 24, missed 2017 recovering from elbow surgery, and four innings into 2018 his shoulder came undone. Another surgery ended his season. Reyes threw off a mound twice this past week — his first throws from the rubber since surgery. By Feb. 1, the Cardinals intend to have a feel for whether he can start spring training with the other pitchers or be on a slower throwing program than others.
The Cardinals intend to prepare Reyes as a starter so that he can handle multiple innings, but his role will be dictated by team need and his readiness. Mozeliak said the team does not want to reach the end of the year and have Reyes shoulder only 50 innings. The Cardinals intend to get him the workload necessary to be a factor in 2019 and as a starter in 2020.
"I would love to be a starter — that's what I've been doing my whole career," Reyes said. "But whatever the team needs, whatever is going to land me on that 25-man roster is what I'm willing to do."
FOWLER: STOCK IN BONDS
No longer encumbered by a foot injury that lingered or a "rut" that sank his season, Dexter Fowler has returned to full baseball activity and recently got an encouraging text from his mentor, Barry Bonds.
"He goes, 'It's perfect. Your swing is perfect,'" Fowler said, recalling the message. "Any time you have one of the greatest to ever play the game say your swing is perfect, you're doing something right."
Fowler had sent Bonds video of his swing work and asked for feedback after the two had spent some time working this winter. The Cardinals right fielder had to return to a protective boot around his foot in October, and that delayed his offseason workouts by a month, though it didn't cut into the time he usually spends hitting in the offseason. Fowler hit .180 with a career-low .278 on-base percentage this past season — nearly 100 points below his career .360 OBP.
With Bonds and in conversations with the Cardinals, Fowler has wanted to resume where he left off – in 2017. He had a power spike for a career-best 18 homers and a .488 slugging percentage in his first season with the Cardinals, and Bonds had long suggested that his swing could produce pop.
"I think you get into a rut and you start changing some things," Fowler said. "I hit the reset button, and it's going in the right way."
EXTRA BASES
Kolten Wong returned home to Hawaii this offseason and saw the damage from volcanic lava that blazed across the island, about 25 miles from his boyhood home, and he stressed that the extent of the destruction wasn't conveyed by coverage. "TV does a really good job of playing down such a traumatic event like that," he said. ... Justin Williams, the outfielder acquired from Tampa Bay in the Tommy Pham trade, arrived at Winter Warm-Up with a splint on his right hand. He fractured fingers and injured his hand punching a television in mid-December — a lashing out that he said was "personal." A member of the 40-man roster, he will be late to join full workouts at spring training. ... Asked to identify a prospect who could emerge and contribute this season, Mozeliak mentioned the other player the Cardinals got from Tampa Bay in the Pham trade: lefty Genesis Cabrera. The 22-year-old with snappy velocity will get a long look as a reliever in spring training.
As part of a planned visit to the Dominican Republic to mark a milestone for the organization's future, Cardinals executive John Mozeliak inte…
Keep up with the latest Cardinals coverage from our award-winning team of reporters and columnists.