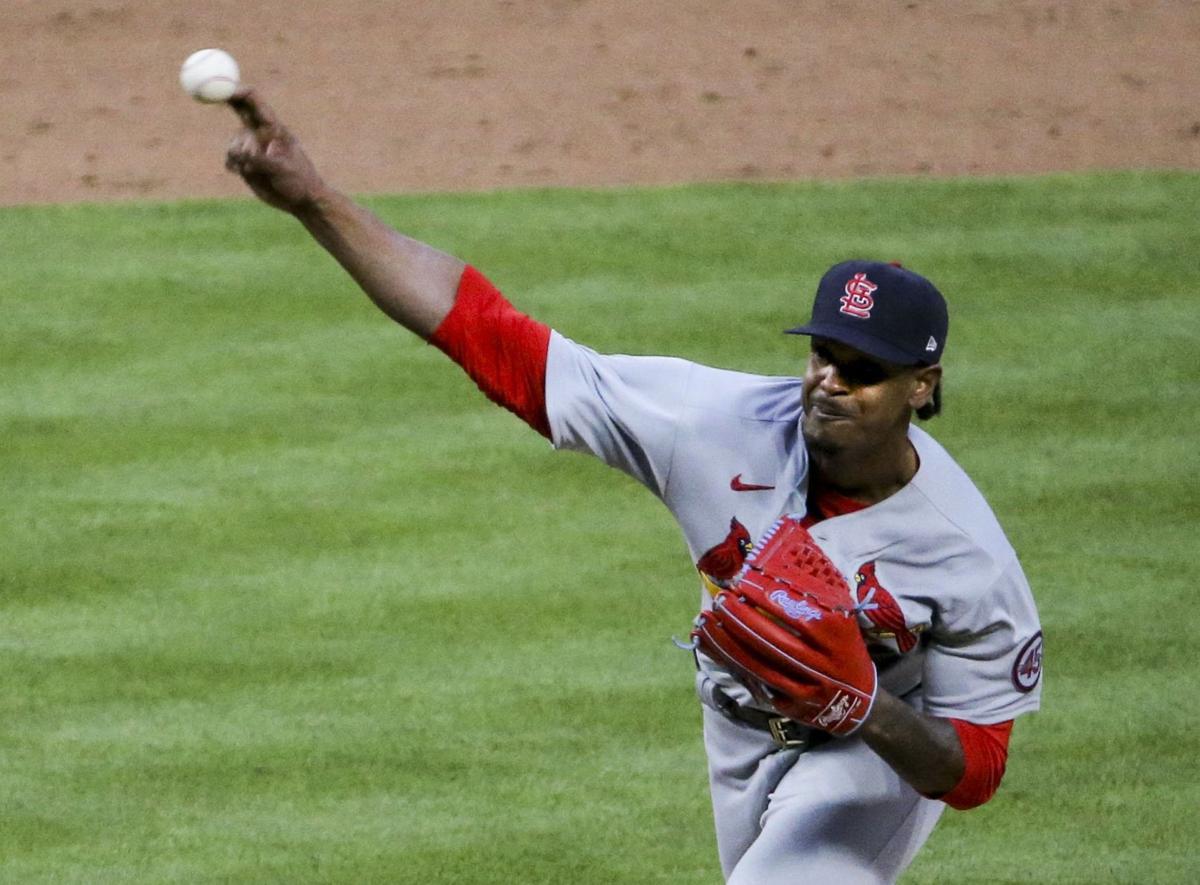 CINCINNATI — They may not call him closer by name but when they dial the bullpen to get someone ready for the ninth inning, the Cardinals will be asking for Alex Reyes.
The Cardinals' righthander, a reliever this season to prepare to be a starter next, will open this season in the same role he had at the finish of last season. Reyes rose from mid-inning fireballer to the Cardinals' closer in the playoff series against San Diego, and on Thursday, even with a five-run lead, the club had Reyes handle the final three outs.
"I wouldn't be surprised if you saw Alex Reyes at the back of the game," manager Mike Shildt said. "You know — finish the eighth, get the ninth. That setup. … Proved he can do it. Likes the big movement. Didn't back down. Had a great spring. Stuff is elite. You want the guy who can be in that spot."
The 4 2/3 innings relievers covered in Thursday's 11-6 opener victory against Cincinnati hinted at how the bullpen will be utilized and the roles cast during spring.
Lefty Tyler Webb fished the Cardinals out of a bases-loaded mess in the fifth when a lefty was at the plate. When lefthanded hitter Joey Votto led off the seventh inning, lefty Genesis Cabrera was there to greet him, fresh from the bullpen. Giovanny Gallegos, one of the options with closing experience, got the win for his two strikeouts in the eighth, and that carried the game to Reyes. He pitched around a hit and walk in a non-save situation.
As revealing as the usage that afternoon were the comments earlier from Shildt about "easing" former closer Jordan Hicks into games. More than 20 months removed from elbow surgery, Hicks will move back toward the closer role he had at the time of injury but do so in lower-leverage assignments to open the season.
"Get him in good spots — to start," Shildt said.
Waino on ATL All-Star issue
An open discussion through Major League Baseball is whether to keep the 2021 All-Star Game in Atlanta this July or relocate it as part of a clear, public stance in opposition to new voting laws passed in Georgia. President Joe Biden said he would "strongly support" the removal of the All-Star Game from Atlanta, and Major League Baseball has begun seeking input from teams, players, and holding what commissioner Rob Manfred told AP were "substantive conversations."
A Georgia native and former starter at the All-Star Game, Cardinals veteran Adam Wainwright acknowledged the bind baseball is in — and hoped the game could be a unifying bridge across what he described as the country's political "split divide" and not plunge into it.
"As a fellow Georgian, I know there are a lot of wonderful people on both sides of whatever political fence we're talking about — who would miss out on having some great commerce, some great business coming in their shops, and bringing a lot of exposure to Atlanta," Wainwright said. "I hate to see my state brought up in a negative light. …
"I am sensitive to everybody's opinions on this matter," he also said. "If guys want to use their own personal platforms to go out and speak into this — I think that's great. They should be able to do that. That should be welcomed. But Major League Baseball has a responsibility to its fans — in my opinion — and we need to be entertainers and go out and bring smiles and happy faces to lots and lots of people. I understand it's an important issue, I really do. … (Baseball) should be America's pastime for every single person in this country."
Kim, Bader updates
Lefty Kwang Hyun Kim, slowed early in spring by back trouble, threw 51 pitches and a little more than four innings during a simulated game against Cardinals' minor-leaguers back in Jupiter, Fla. The lefty struck out nine, according to the report that pitching coach Mike Maddux received from the game.
Kim will throw a bullpen session this weekend, advance to second and longer appearance against hitters in a simulated setting, and then be considered for the active roster.
"Here we go kind of thing," Shildt called it.
Center fielder Harrison Bader will move to the Cardinals' alternate-site camp in Sauget this weekend as the club elects to relocate his rehab to the St. Louis area. The Cardinals chose proximity to their medical staff ahead of the reliable weather and available pitchers that Bader would have at the Roger Dean Stadium complex in Jupiter, Florida. Bader continues to rest and ease into activity after receiving a plasma injection to facilitate healing of a flexor tendon strain.
Cards claim lefty
The Cardinals added an additional lefthander to their pitching depth by claiming Bernardo Flores Jr. off waivers from the White Sox. Flores, 25, made two appearances for the Sox during the 2020 season after pitching nearly 100 innings total at three different levels the previous summer. In 20 starts in 2019, Flores had a 3.57 ERA and 82 strikeouts in 93 1/3 innings. The Cardinals immediately assigned Flores to their alternate-site camp, and his acquisition fills the Cardinals' 40-man roster. If they need an additional spot, the Cardinals can now move a player, like pitcher Dakota Hudson (elbow), to the 60-day injured list.No DH, no foolingSometime before the pitchers were scheduled to take their swings in pregame batting practice, bullpen catcher and coach Jamie Pogue found Wainwright and tried to break the news gently. His bat, Pogue said, had been retired while he was sleeping.
"They just agreed to terms – the DH is now fully in effect and expanded playoffs," Wainwright recalled Pogue telling him. "Are you serious, right now? Twenty-third hour! I got all up in arms."
"He got me," Wainwright said. "Got me good."
Despite the possibility of a last-minute change to NL rules, Jack Flaherty hit for himself Thursday and Wainwright, a former Silver Slugger eyeballing a .200 career average, will hit for himself Saturday. He'll also hit every day he can this year. The veteran righthander took aim at the seats at Great American Ball Park throughout batting practice Wednesday, and during what's expected to be the last year without a DH in the NL, he will relish the afternoon swings.
"There is no guarantee how many times I'm going to be a 7 o'clock or 8 o'clock or 9 o'clock hero at the plate offensively," Wainwright said. "But I'm dang sure going to be a 5 o'clock hero every time. It won't be for lack of trying. I'll tell you that."
Extra basesReds outfielder Nick Senzel left Thursday's game with a left shoulder injury after making a diving catch in the fourth inning. … The Cardinals do not plan to schedule any games against other teams for their alternate-site camp, Mozeliak said. … The Cardinals' improved to 60-68-2 all-time in opening day games and 11-8 against the Reds.