JUPITER, Fla. — The job opening isn't posted on the corkboards inside the Cardinals' clubhouse this spring, but every day the candidates are — and by now they know the qualifications.
A few made their pitch for the vacancy as recently as October. Others have either done the job in the past or the club sees it in their future. With Jordan Hicks recovering from elbow surgery and unavailable until midseason and Carlos Martinez eyeing the rotation, the Cardinals are in the market for a closer and intend to hold auditions all spring. In the clubhouse Sunday, reliever John Brebbia, who has submitted a resume for consideration, described what qualities the bulwark at the backend of the bullpen must have.
It's actually in the name.
"The first thing that comes to mind when I think of a closer is someone who is a bull — competitive and never backs down," Brebbia said. "I think good stuff is always going to play into that because a lot of times teams appear to pick closers based on who they believe their best pitcher is out of the bullpen. But to make it successful in high-leverage situation you have to be more on the aggressive side, the more proactive pitcher, not a read and react pitcher. You lead the game."
With a week of workouts before Grapefruit League play opens Saturday, how the Cardinals intend to conduct the contest for closer is crystallizing — and so is the circumstance. Miles Mikolas, the opening day starter a year ago, has had his spring interrupted by soreness in his forearm, and the delay could yet infringe on his availability for the regular season. That underscores the importance of Martinez returning to the rotation, leaving the ninth inning unoccupied. Several closer candidates, like Ryan Helsley, will open spring games on a starter's program with the intent to get them innings and prep them, pitching coach Mike Maddux said, for multiple-inning appearances in relief. Even a closer needs to pitch two innings "out of the gate — in a tie game," Maddux explained.
In the first week of games, priority innings are also planned for Andrew Miller, John Gant, Giovanny Gallegos, Brebbia and starter contender Kwang-Hyun Kim.
Any, all, or none could emerge as the closer by April.
"There are multiple ways to look at it," manager Mike Shildt said. "We can have the guy (who) again on any given day is down. And then we could have multiple guys who are capable."
A year ago, the Cardinals spent spring training prepping relievers to be used at any time, in any role, and suggesting they would, to start the season, go with closer by matchup. They didn't want to earmark Hicks for the ninth when the middle of the opponent's order was coming up in the eighth, and they wanted Miller available in the ninth if Christian Yelich or Joey Votto or Anthony Russo loomed. It wasn't too long before the possibility of having Hicks as Thor's hammer in the ninth was too tempting to delay, so the Cardinals didn't. When Hicks' elbow came unwound, Martinez took over — and buttressed one of the league's best bullpens. Only the Dodgers' bullpen had a lower ERA in the National League than the Cardinals' 3.82, and the Cardinals had the best bullpen ERA in the NL in the postseason, 3.48. Cardinals relievers allowed the fewest hits and fewest homers of any bullpen.
Former pitching coach Dave Duncan would argue how a surefire closer is a thunderhead for any team — it gives the other relievers cover and thus confidence, and the opponent comes to the ballpark knowing if they don't have a lead after eight innings that a storm's a-coming. The goal, as Maddux described, is to find ways to shorten games. The entire bullpen can do that.
"Having one guy who is a lock down guy is fine," Shildt said. "If we don't have that then clearly the multiple options are going to be necessary."
Shildt called it "just free-throwing" as he listed some of those multiple candidates. Giovanny Gallegos was the Cardinals' most reliable setup man all season with a 1.89 ERA and 13 holds in the second half, and "two elite pitches," Shildt said. Miller has been an All-Star and a closer before. Gant was the team's leading setup man in the first half, flirted with being the team's candidate as an All-Star reliever, and then stumbled down the stretch with 19 walks in his final 21 2/3 innings. Brebbia "goes and gets it," Shildt said. He struck out 37 batters in his final 32 1/3 innings last season, including the playoffs. Shildt added there are "guys with good arms who can emerge," and eventually that could be Alex Reyes, if he shows command and health.
With access to multiple innings to start spring, Helsley has been sharpening his secondary pitchers — reintroducing a curveball to his mix and test-driving a changeup. He mimicked the grip two-time Cy Young Award winner Jacob deGrom uses for his changeup. Including a late-game, high-leverage role in the playoffs, Helsley struck out 28 and walked only eight in his final 31 2/3 innings. He had a 2.27 ERA in the second half.
Now he's trying to double his pitches to play off a 100 mph fastball.
The variety and versatility available in the bullpen permits a closer by committee approach, which is traditionally avoided. The success the group has already had together gives it a twist, gives them all added trust in each other. It's closer by collaboration.
"Closer by collaboration — that's very cool," Brebbia said. "Let's say they don't name a closer to start the season. We're not a team that wouldn't have a closer because there isn't someone who can close games. We're a team that doesn't have a closer because we have so many people who can close games. That's where we can draw our strength. We're not just aimlessly wandering out there — pirates without a captain. I can look to my left and to my right and see people who will have tons of success in that role."
The opening the Cardinals have isn't some temp work.
They see it as a full-time role, complete with benefits. They're hoping a reliever seizes the promotion to the ninth — by the end of March, by May, by midseason — and keep it, not keep it warm for Hicks. They hope not to ask that much of Hicks that soon after returning from Tommy John surgery.
"The players will define their roles," Maddux said. "They'll help you make the decision. It would be nice to have multiple choices."
It's even better to have the answer.
---
Closer Candidates
Who's in the running to be Cards' closer?
CLOSER CASTING CALL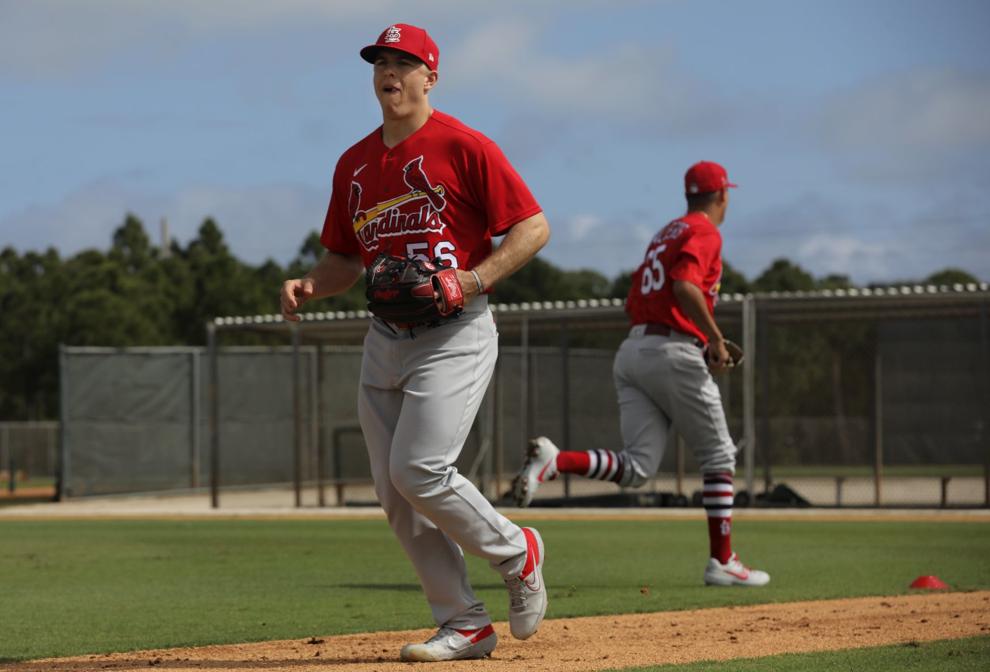 JUPITER, Fla. – In his first season as a reliever, Ryan Helsley followed his supercharged fastball into increasingly more important and more challenging innings, and along the way came to understand the Pavlovian experience of being in the bullpen when a phone rings.
"I like the action," he explained. "You get your adrenaline rush every time your name gets called on the phone for the game. I look at it like this, like any other way, whether you're throwing the sixth inning or the ninth inning, you're trying to throw up zeroes."
Who gets to do that for the Cardinals is now an open set.
As Carlos Martinez makes his claim to a spot in the rotation and Jordan Hicks continues recovering from elbow surgery, the Cardinals are seeking a closer.
Here are six evident candidates for the job and a handful of others who have the next month to stake their claim to being the Cardinals closer for 2020 — or eventually.
GIOVANNY GALLEGOS, Righthander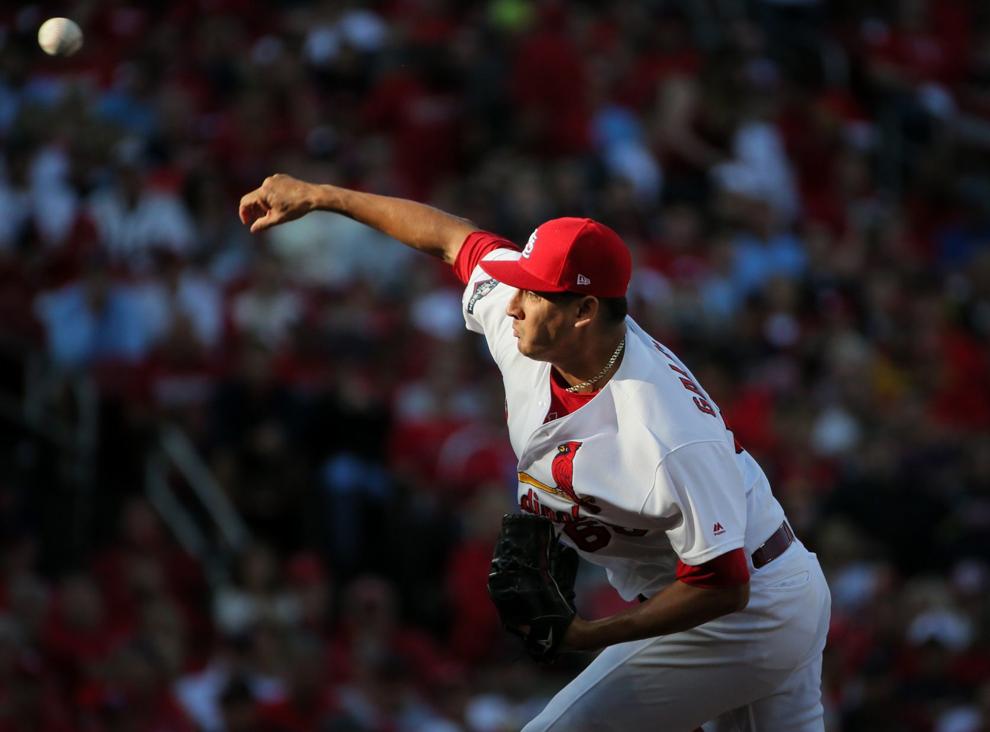 2019 Stats: 3-2, 1 Save, 2.31 ERA, 66 Games, 74.0 IP, 16 BB, 93 K, 0.811 WHIP, 11.3 K/9
GOOLD'S TAKE: A revelation in relief, Gallegos was one of the first pitchers dismissed from major-league camp a year ago – a decision the Cardinals later admitted they made too hastily. He had yet to get a chance to flaunt his elite pitch, and once he did, joining the team in his native Mexico, Gallegos never went back to the minors and soon was a late-inning regular for the Cardinals. He struck out 41 and walked 12 in his final 37 2/3 innings, including the playoffs. He was one of the best righthanded relievers in the game, and his 0.811 WHIP ranked along the best all-time for a Cardinals reliever. Gallegos' 1.974 Win Probability Added – a statistic that measure how much his performance had to do with increasing the Cardinals' odds of winning – was second on the pitching staff to Jack Flaherty's 4.241.
He brings an intriguing mix for a closer given the movement of his changeup, that strikeout rate, and a lack of walks – the latter of which plays especially well in the pinch of the ninth.
RYAN HELSLEY, Righthander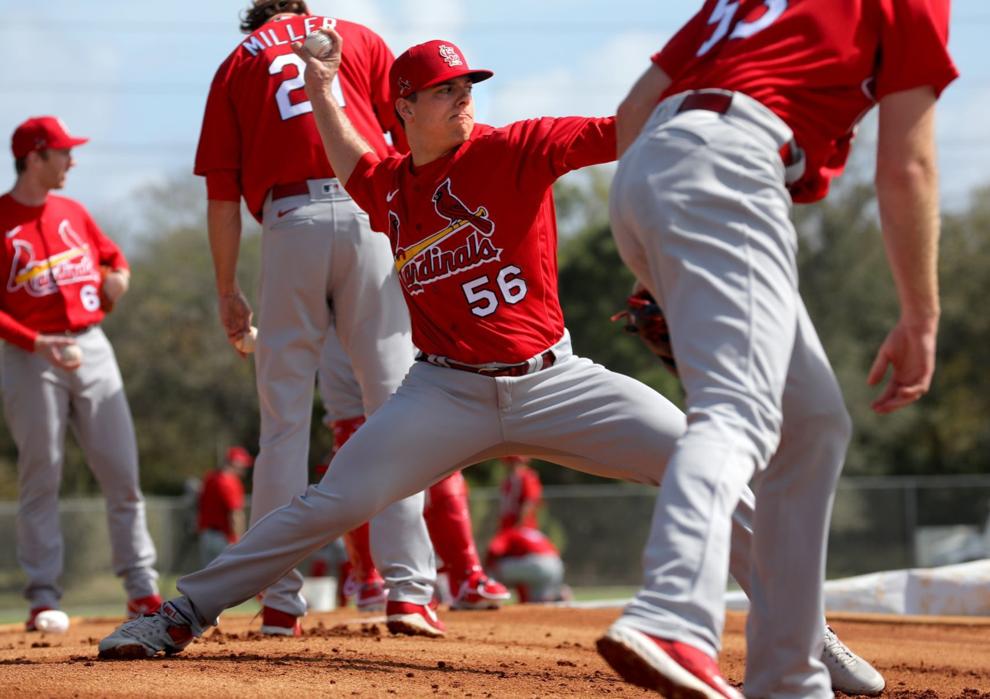 2019 stats: 2-0, 0 Saves, 2.95 ERA, 24 Games, 36.2 IP, 12 BB, 32 K, 1.255 WHIP, 7.9 K/9
GOOLD'S TAKE: Of the group, the righthander from Oklahoma stands out as the closer prospect – if he's not being groomed for a starter's job down the road. Helsley sports a four-pitch mix that keeps him in the starter's conversation for later in the career, and it adds to what he calls the "four directions" he can throw at hitters as a reliever.
This spring, Helsley will start getting multiple-inning outings in part to give him more chances to work on more pitches. He's brought his curveball out of mothballs for the spring, and he's experimenting with a new grip on his changeup – Jacob deGrom's grip. He already has a 100-mph fastball that the Cardinals thought played up enough to use him in pivotal relief roles in the postseason. He struck out eight batters in 5 1/3 innings in the playoffs and did not allow a run.
The way the Cardinals used him in the playoffs hints at the trust he's already gained for being counted on in the ninth inning. Helsley said he has warmed to relief and that being in the rotation or the bullpen "has its perks."
JOHN GANT, Righthander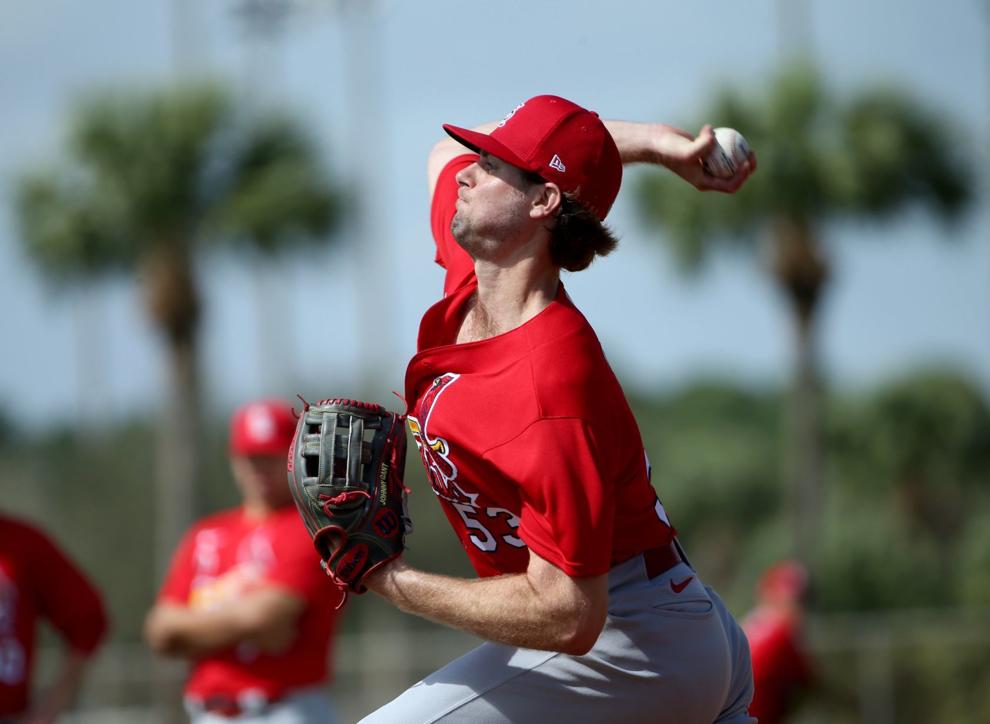 2019 stats: 11-1, 3 Saves, 3.66 ERA, 64 Games, 66.1 IP, 34 BB, 60 K, 1.281 WHIP, 8.1 K/9
GOOLD'S TAKE: Regardless of who was the closer, Gant quickly established himself as the Cardinals' leading setup man for the first half of the season. He plucked off 11 wins by being used in close/tied games, and there was a stretch during June when it appeared he might be the team's best chance to be an All-Star. A rash of walks undermined his innings late and cost him a spot in the postseason bullpen. He allowed 16 runs and 19 walks in his final 21 2/3 innings.
The chance for a flurry of walks would be costly in the closer role, putting a premium on Gant showing two things this spring to make his case: efficiency and accuracy. Gant's Vulcan-grip changeup can have similar results as Gallego's pitches when it comes to strike outs, and the righthanded Gant does have some deception that allows his fastball to play above its velocity.
JOHN BREBBIA, Righthander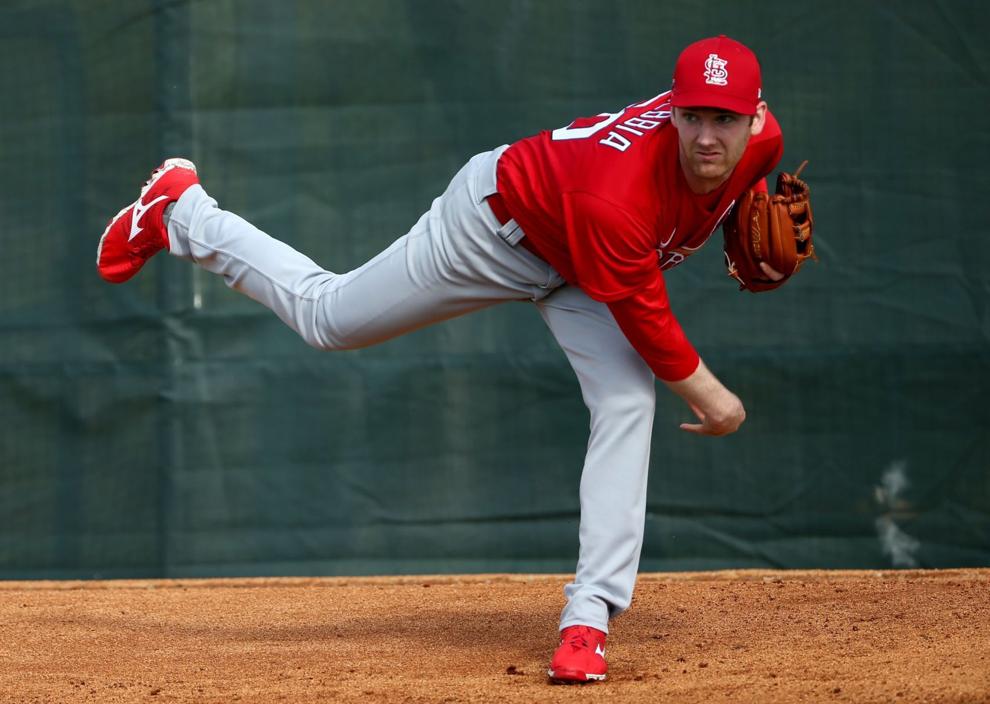 2019 stats: 3-4, 0 Saves, 3.59 ERA, 72.2 IP, 27 BB, 87 K, 1.183 WHIP, 10.8 K/9
GOOLD'S TAKE: In 161 games spread over three seasons with the Cardinals' bullpen, Brebbia has proven steady – and that is the backbone of his bid to inherit the ninth. Brebbia's WHIP in 2018 (1.164) was close to his WHIP in 2019. His strikeout rate didn't vary. What did was his usage. Brebbia spent the season in the majors as a constant for the Cardinals' bullpen – just without a constant role. He was used to absorb leftover innings and asked to hold close games.
Brebbia's durability and affability could put him back in a similar role as his service time chugs steadily towards arbitration, but his performance invites a look for a high-leverage spot, and the ninth. He did not get a save last season (one of the few yearlong relievers who didn't), but he was upper-crust when it came to getting swings and misses on his fastball and he was one of the best on the team at first-pitch strikes. He attacks. Hitters rarely square up his fastball. He gets hit in the air, but he's not hit hard.
He's not going to defy the hitter with Helsley's velocity or Gallego's movement, rather there's a clockwork like aspect to Brebbia's claim.
ALEX REYES, Righthander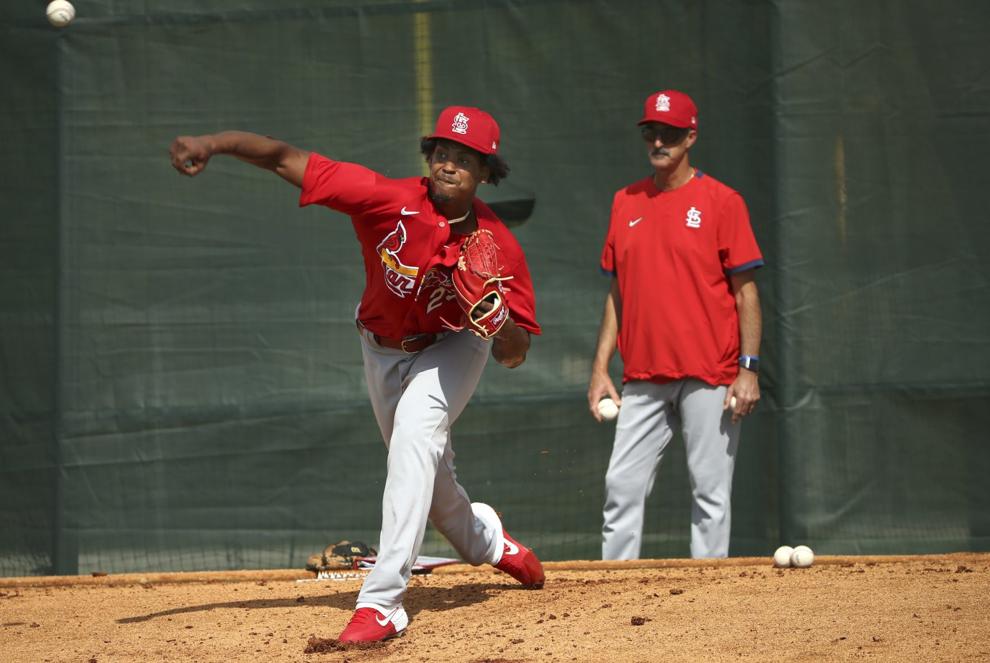 2019 stats: 0-1, 0 Saves, 15.00 ERA, 3.0 IP, 6 BB, 1 K, 2.667 WHIP, 3.0 K/9
GOOLD'S TAKE: The longtime top prospect for the Cardinals has as much raw ability as any other pitcher in camp. He's got to show he has the health to unleash it. So far, the righthander has impressed in bullpen sessions with his fitness, arm strength, and the feel he's already shown for his off-speed pitches. That's all prelude. The Cardinals need to see it translate into games – and over a long stretch.
If Reyes is going to contribute in the majors this season it will be as a reliever. If he's a starter, that means he's been sent to the minors for innings and to find his command or his stuff and resurface later. The Cardinals are still open to him being a starter in the future. That sets the stage for an apprenticeship season like Adam Wainwright or Dakota Hudson had and Wainwright's rather famously ended with him as closer.
The Cardinals would be thrilled to see Reyes storm the division in the first six weeks or so of the season and make it impossible to ignore his ability in high-leverage spots, with the ninth eventually there for his taking.
ANDREW MILLER, Lefthander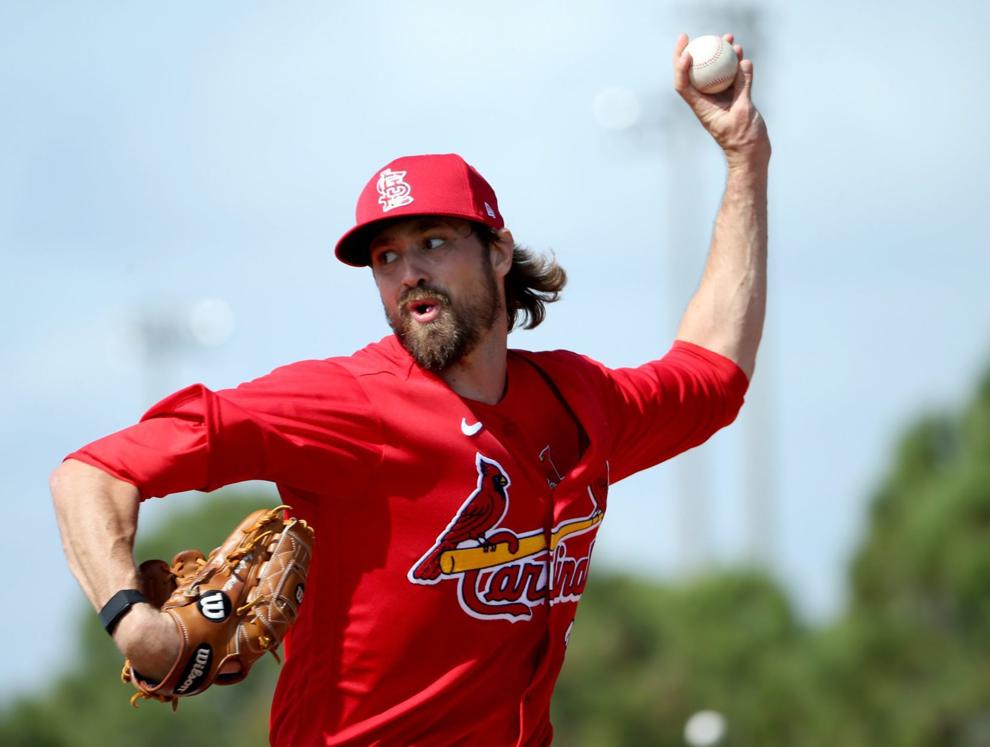 2019 stats: 5-6, 6 Saves, 4.45 ERA, 73 Games, 54.2 IP, 27 BB, 70 K, 1.317 WHIP, 11.5 K/9
GOOLD'S TAKE: The veteran of the group enters his second season with the Cardinals, and he can vest the option for a third season with enough appearances. Miller is one of the finest lefty setup men of his generation, and his work in the postseason has rewritten how relievers are used, especially in the postseason. Miller is five years removed from a 36-save season with the Yankees, and he has 59 saves in his career.
Miller's inconsistencies in 2019 kept the Cardinals from utilizing him exactly as planned. They saw Miller as the neutralizer for all the lefties in the division, from former MVPs Christian Yelich and Joey Votto to antagonist Anthony Rizzo. The idea was to have Miller ready to close games when the toughest lefty was going to hit in the ninth inning. That could be the recipe this season, especially with the three-batter minimum being added. Miller's ability to get righthanded batters will be a major factor in his assignments, especially when they come in the ninth inning.
Miller's willingness to pitch at any time in any assignment and in any inning is a tone-setter for the other relievers, and it became a strength for the bullpen.
CANDIDATE TBD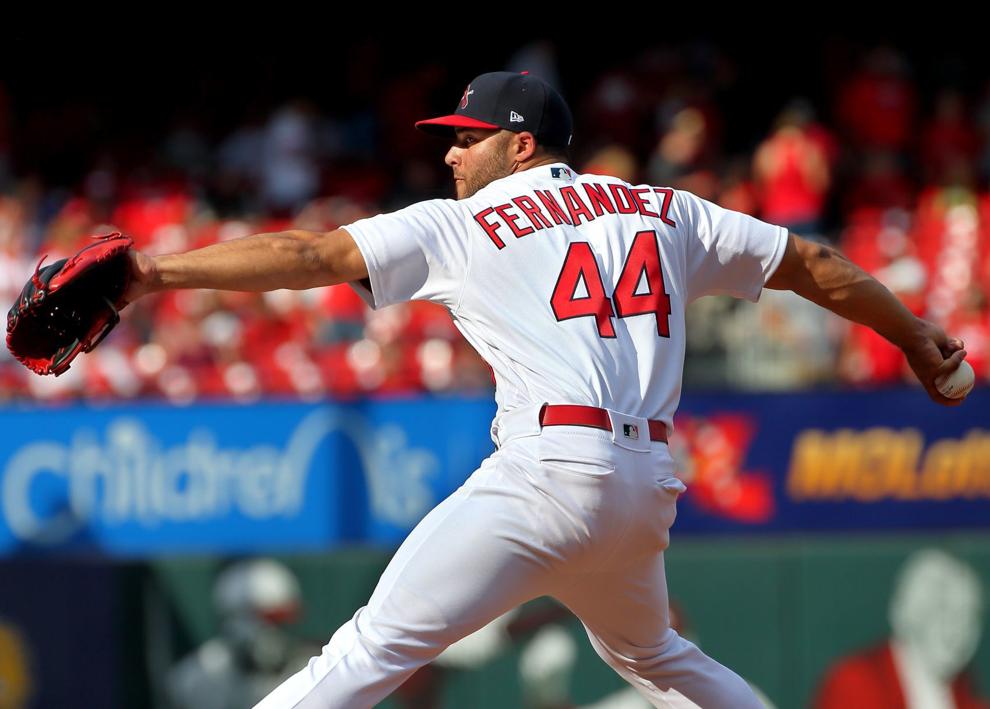 GOOLD'S TAKE: Estimates on how many pitchers are in the running for the closer role ranged from four to six or seven to 15, depending on who was asked Sunday at the Cardinals' final workout for pitchers and catchers alone. There are some candidates on the periphery who, by mid-March, could have asserted their place in the conversation or been moved into the bullpen derby because of the spots filling up in the rotation.
Kwang-Hyun Kim comes to the Cardinals as a successful and athletic starter in the KBO, but as a lefty with consistency and command there's a path to the ninth for him.
Daniel Ponce de Leon is currently positioned on the depth chart as a starter and he could join Austin Gomber back in Class AAA Memphis as the next-men-up starters should there be an injury. But his competitiveness and his deceptive velocity plays in the ninth, if he's able to get the consistency that's a prerequisite and reduce the walks. Ponce de Leon's stuff was enough to earn him a spot in the postseason bullpen without pitching much in September.
Junior Fernandez has some of the sharpest pitches in camp, and he struck out 16 in his 11 2/3 innings in the majors. More seasoning is likely going to be prescribed, but he'll contribute at some point during the season, and it could be late in games.