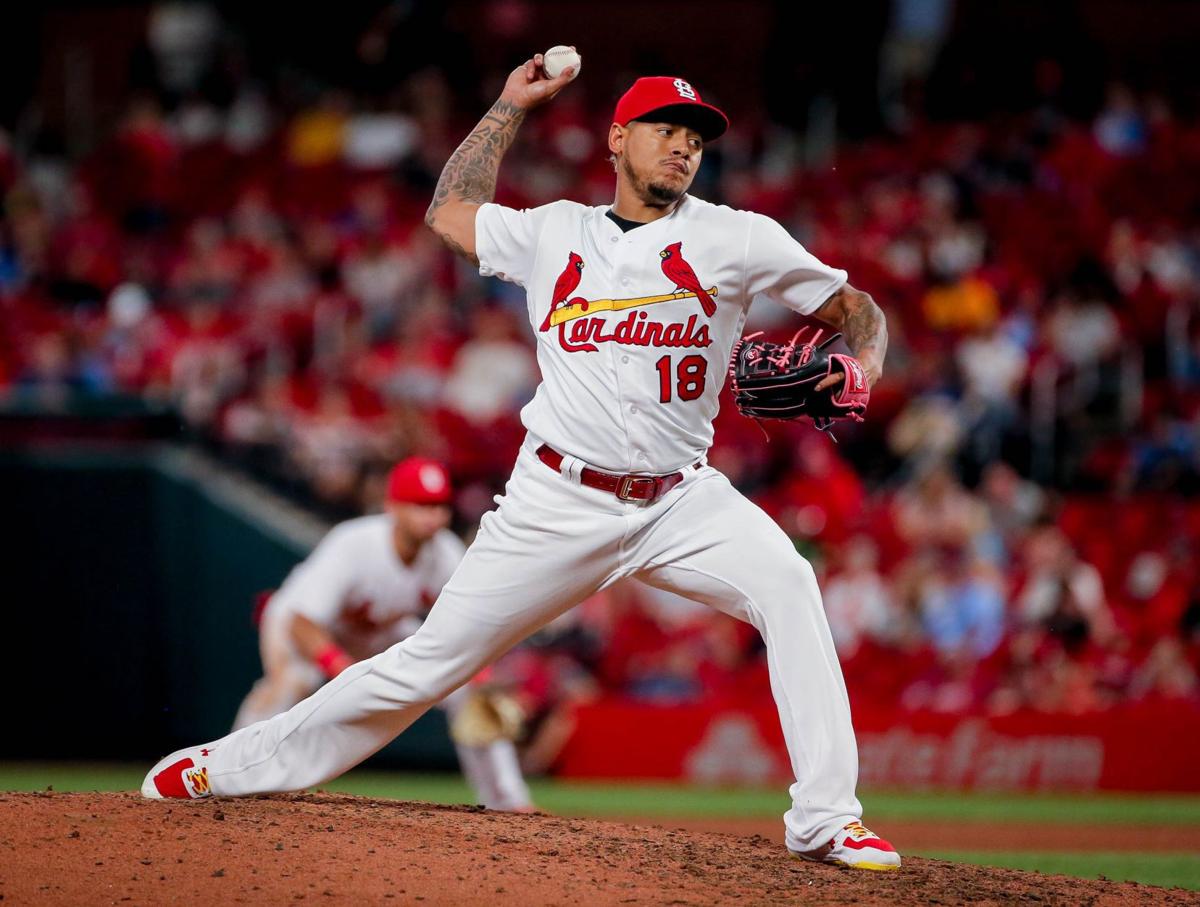 SEATTLE — There was a time in his career when Carlos Martinez, lightning bolts at his fingertips and faith in that spring-loaded shoulder, would rely on velocity to race from trouble. If an inning got hard, he would throw harder. When things got harder, he threw his hardest.
Experience has taught him a different response.
"Take a little breath," Martinez said this past week at his locker. "I would try to throw hard and be crazy and something would happen weird. If I lose my focus now and want to throw hard, I take a moment. I take a breath. I never lose my focus quickly, like sometimes before. Right now, I feel comfortable. I feel … ready."
As the Cardinals rallied Sunday against San Diego to score five unanswered runs and end a five-game losing streak, Martinez got his first use in his current role: Cardinals closer, with a caveat. There have been few save opportunities in recent weeks, so Martinez entered a tie game with the go-ahead run on base in the eighth inning and responded with a season-high four strikeouts in a season-high 2 2/3 innings of work. When Matt Wieters connected for a two-run homer in the 11th inning, Martinez got the win in a 5-3 victory against the Padres. Manager Mike Shildt called Martinez's extended use an "unusual circumstance" in "an unusual game."
Though, the club hopes what he did becomes the usual.
"He knows what the situation calls for," Shildt said. "He knows how to pitch. He's got a high baseball I.Q., and it's growing."
The Cardinals concluded June about where they started – resolutely mediocre. A 13-13 month has left them with a 41-41 record as they make a rare visit this week to Seattle and inch closer to the All-Star break. They gained no ground in the National League Central, and they lost none. The Cardinals' 13-13 record tied with Milwaukee for the division's best. The other three teams, including the 14-15 Cubs, had losing records. The Cardinals scored a meager 92 runs in the month, spoiling some of the better pitching they've received this season, and while Major League Baseball saw a record 1,142 home runs hit in the month, Wieters' winner Sunday was the Cardinals' 26th. No team in the division had fewer.
In the last week of the month, the Cardinals had their most significant losses – as injuries claimed the player leading the club in homers, RBIs, slugging, OPS, and the pitcher leading the club in saves. Cleanup hitter Marcell Ozuna could miss at least three weeks with fractures in his right fingers, and Jordan Hicks will miss the remainder of the year after elbow surgery. The Cardinals leave June with more questions than answers, with the exception of how they'll handle Hicks' absence from the ninth. They're turning to Martinez, the once and future starter.
"I think I can be great," he said.
Martinez had a cameo at closer in September and collected five saves. His hope – and the club's – was that he could return to the rotation this season, but his right shoulder did not respond during rehab to a starter's regimen. This past week, Martinez described how he once would have pressed through the fatigue and soreness, and he thinks that's where the trouble with his shoulder began. At times it got hard to throw, so he tried harder, and did not share that his arm was tired, that his pitches felt soggy, not snappy.
That was a lesson learned, he said, and a lesson applied already this season when he explained his hesitance to unleash in bullpen sessions and his concern about starting.
"Years ago, I didn't listen to my body. I didn't listen to my arm. Now I do," Martinez said. "By being smart. Don't be crazy. When I'm tired I need to let them know because that's when I got hurt. I was a little bit tired and I didn't talk to anybody. I didn't say, 'I'm tired.' I wanted to compete. I wanted to compete and I want to compete. But that happened."
The shift to relief gave the Cardinals a way to utilize Martinez and get some value from his starter-level salary, and now the chance to close gives Martinez the prominent role he's sought. He's one full season removed from a three-year run as one of the best starters in the National League – he was 42-27 with a 3.24 ERA from 2015-2017 – and since 2015 only two Cardinals have been selected twice for an All-Star Game. Martinez went in 2015 and 2017, each time with catcher Yadier Molina.
As Martinez made his way back from injury and into the bullpen this season, Shildt described how the righthander was adjusting how he pitched, learning not to rely on horsepower his arm may no longer have, at least not as consistently.
Asked how that made him a different pitcher, Martinez paused.
"I'm smarter. I'm more mature," he eventually said. "I think I'm better."
A few hours later, on the mound in a tie game Sunday, he showed how, working with a bandwidth of pitches, as he did at his best as a starter. Martinez threw four pitches at 95 mph or faster to the first batter he faced and walked him to load the bases. The inning got hard. Martinez slowed down. He eased back on his next pitch for a 92.9-mph sinker and got a double-play groundout. In the ninth, to force extra innings, Martinez struck out the side, ending the inning with a 98.7-mph fastball.
Unleashed in short bursts, Martinez the reliever has seen his average velocity spike, going from 93.6 mph last season to 95.9 so far this season. His cutter is humming at 94.4 mph, up from 90.8 mph. His slider and changeup also have more giddy-up. His four strikeouts Sunday came on three different pitches, ranging from the 98.7-mph fastball to an 85.9-mph slider and an 88.7-mph changeup.
"That's the art of pitching," Shildt said. "Pitching to the disruption of timing. That's what Carlos has an innate feel to do. He can sink it. He can grab it for a little more velocity. He's got the slider. He's got the changeup. He's got all of the pitches to disrupt talent. He also knows when he's trying to get a groundball, maybe trying to turn it over vs. I need a punchout."
The Padres dinged Martinez for a single in the 10th that put the winning run at first. Martinez tested the next hitter, Ian Kinsler, with two fastballs. Kinsler missed one, fouled off the next one. Martinez took a breath. Slowed the moment down. He ended his outing with a slider that Kinsler took for a called strike. That was Martinez's 41st pitch of the game, and Shildt said the extended outing was possible because of Monday's off day on the eve of an interleague series against the Mariners and his limited use in the previous week. It was not a hint that the Cardinals could ready Martinez for the rotation.
Just an example of how he'll handle the ninth – but not be limited to it.
"It is very important, a very important responsibility," Martinez said. "And I like it. I like being closer. And I like being a starter. I like starting more, but right now, they need me in the bullpen. This is where I can help the team – from the bullpen. This is good for me."
BEST OF THE MULTI-YEAR STANDOUTS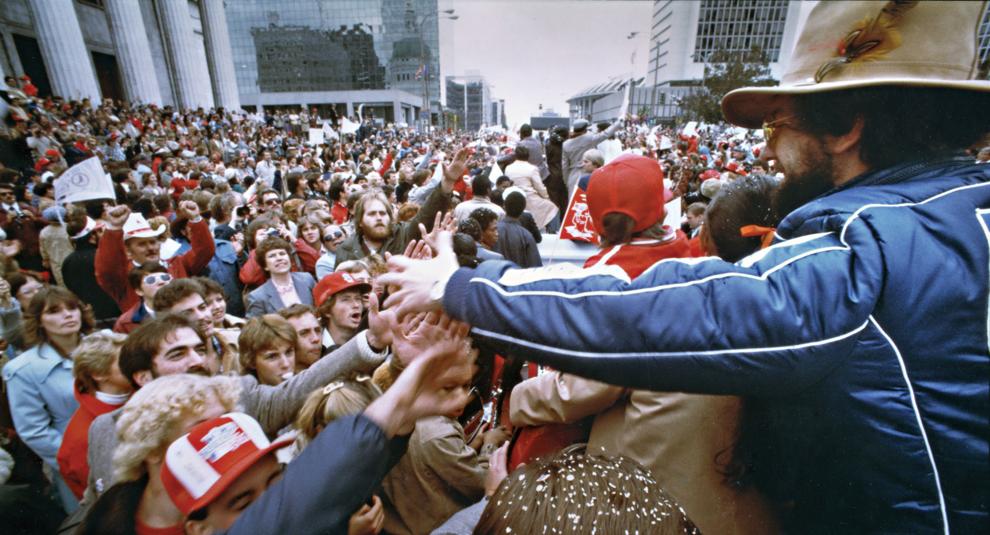 When newly-signed relief pitcher Greg Holland finally makes his way to the ninth inning, the Cardinals will have another in a line of distinguished closers.
In the 40-plus years I've covered the Cardinals, the franchise has had more than its share of top-shelf ninth-inning men.
First, here are the multi-year stars of the ninth inning:
1. JASON ISRINGHAUSEN (2002-08)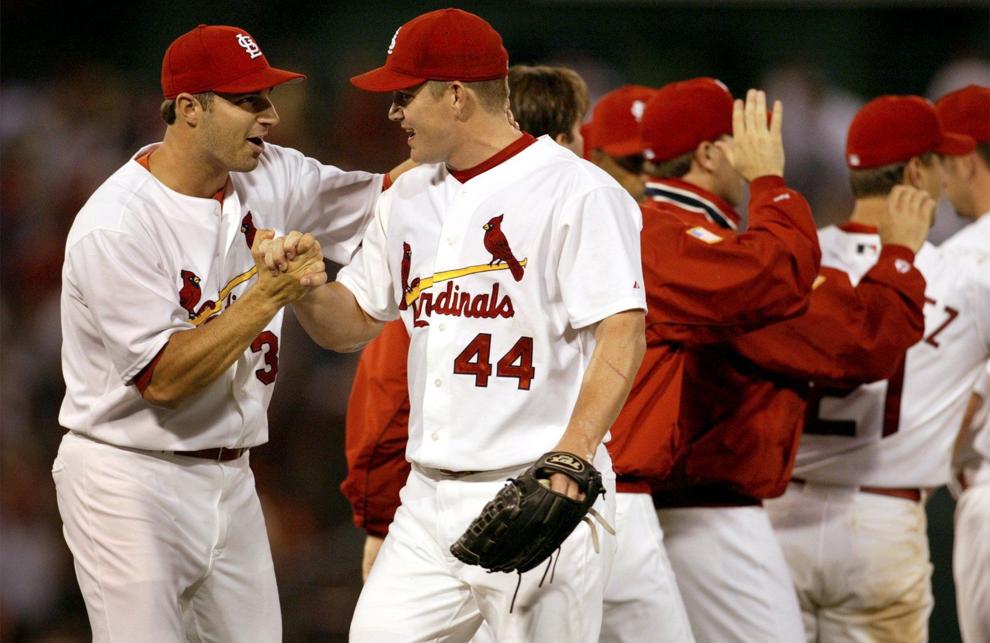 COMMISH'S TAKE: "Izzy" is the club's leader in saves at 217, with his best year 47 in 2004. But he never got to stand on the mound for the final out of the World Series because he was hurt in September 2006. That honor went to rookie Adam Wainwright.
2. LEE SMITH (1990-93)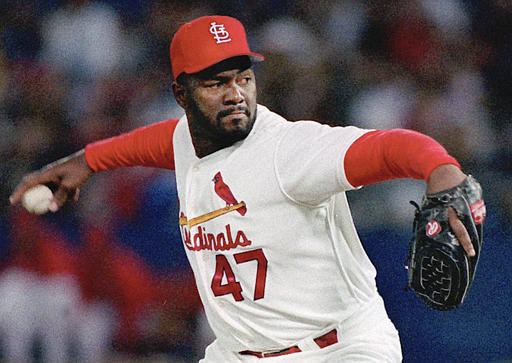 COMMISH'S TAKE: The "Big Man" had a then club-high 47 saves in 1991 and is second in club annals with 160 total saves. But none of those was achieved in the postseason because the Cardinals weren't in the playoffs during his tenure. He will have a chance to be voted a Hall of Famer by a veterans' committee this year.
3. BRUCE SUTTER (1981-84)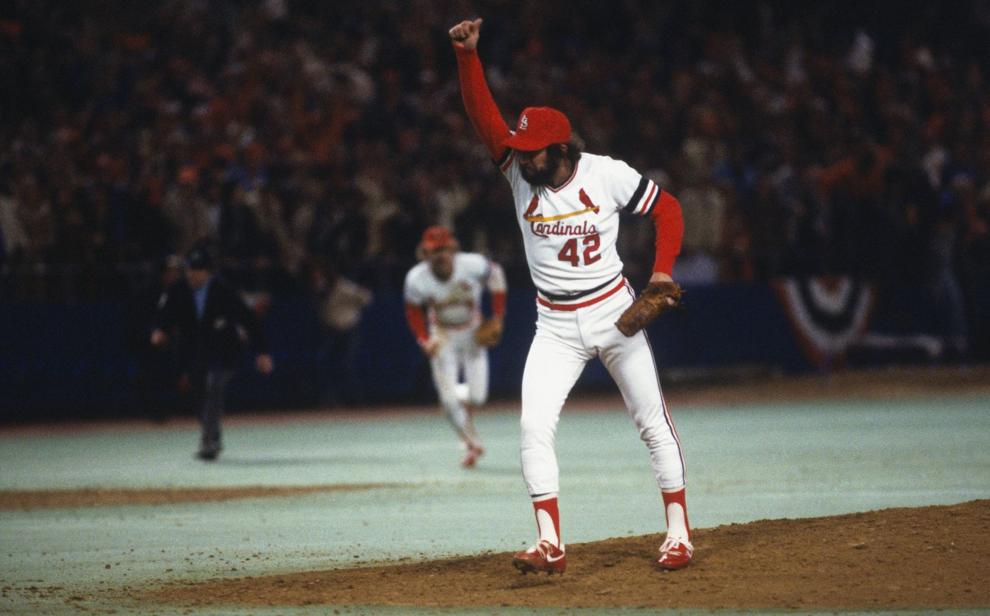 COMMISH'S TAKE: Sutter, another former Cubs relief ace, got the last out of the 1982 World Series when he struck out Milwaukee's Gorman Thomas with an uncharacteristic high fastball. The leading split-fingered practitioner of his time, Sutter often earned saves of four outs or more. A Hall of Famer in 2006.
4. TREVOR ROSENTHAL (2014-17)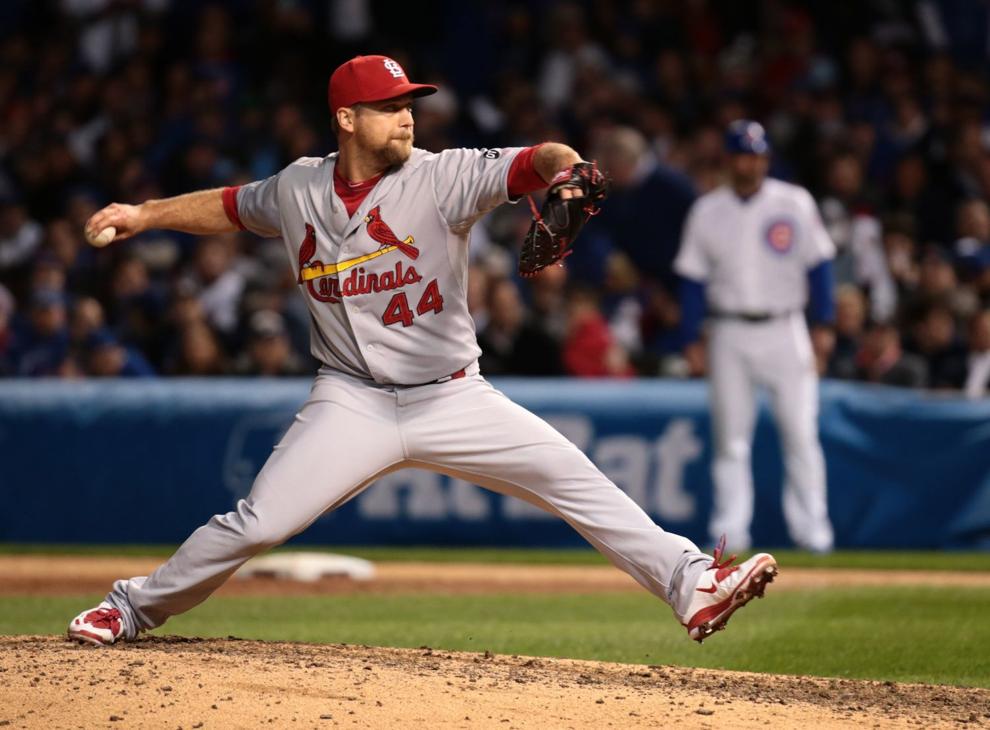 COMMISH'S TAKE: Holds the club single-season record for saves at 48 in 2015 and also had a 45-save season the year before. Could have been the best in Cardinals history but wasn't re-signed after he had Tommy John elbow surgery last year. Often topping out at near 100 miles an hour, Rosenthal still is only 27 years old.
5. TODD WORRELL (1985-92)
COMMISH'S TAKE: Probably would have recorded the last out of the 1985 World Series as a rookie if first-base umpire Don Denkinger had made the proper call after Worrell touched the first-base bag well ahead of Kansas City baserunner Jorge Orta. Arm problems cost Worrell some career numbers here but, after he recovered, he teamed with Smith for a lights-out bullpen in 1992. The only problem that year was the offense.
6. AL HRABOSKY (1974-77)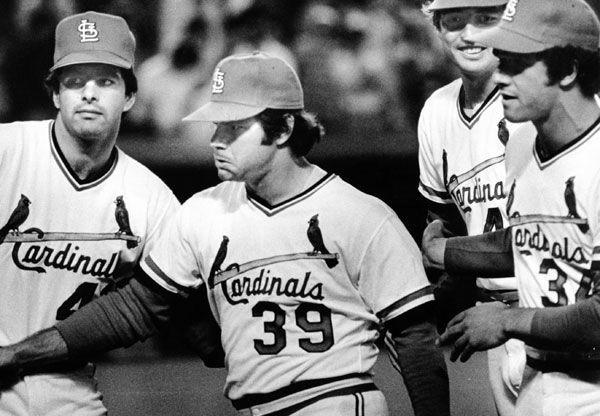 COMMISH'S TAKE: Saves weren't as easy to come by in the 1970s but "The Mad Hungarian" always made them exciting, from the moment he strode off the mound, turned his back on home plate and then came back onto the mound pounding his first into his glove. "Hungo" made his mark in a nationally televised game on May 9, 1977 when he loaded the bases full of Cincinnati Reds in the ninth inning of a tie game and then struck out George Foster, Johnny Bench and Bob Bailey.
7. DENNIS ECKERSLEY (1996-97)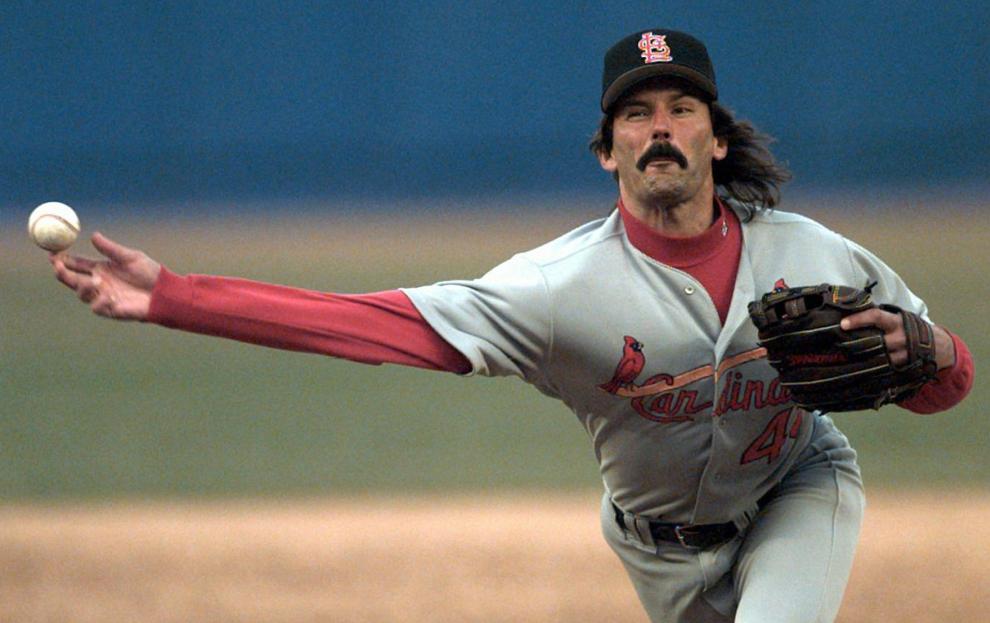 COMMISH'S TAKE: The future Hall of Famer made St. Louis one of his last stops in an estimable career punctuated by several spectacular years in Oakland. "Eck" had 66 saves in two seasons here and, forever will be remembered for coining the phrase "walk-off" homer, meaning he had allowed it and was walking off the mound while everyone else on the other team was going crazy.
8. RYAN FRANKLIN (2008-10)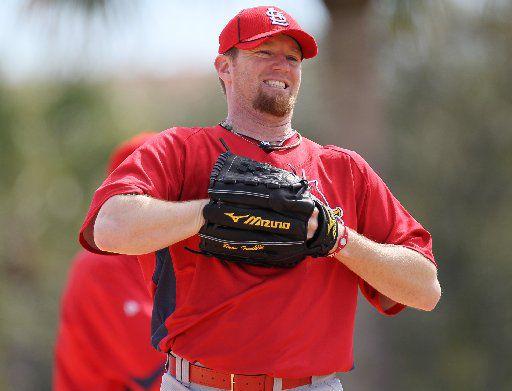 COMMISH'S TAKE: Franklin took over when Isringhausen was hurt in 2008 and compiled 82 saves over the next three seasons. Ironically, he lost his closer's role in 2011 and was released in June but still is considered a member of that year's World Series championship club. He is a special assistant to the general manager. 
AND NOW, THE ONE-YEAR WONDERS
Longtime Cardinals starter Adam Wainwright is among the one-year wonders as a closer that Rick Hummel has covered in 40-plus seasons as a Post-Dispatch baseball writer.
Here's a quick look at Waino and the others:
1. TOM HENKE (1995)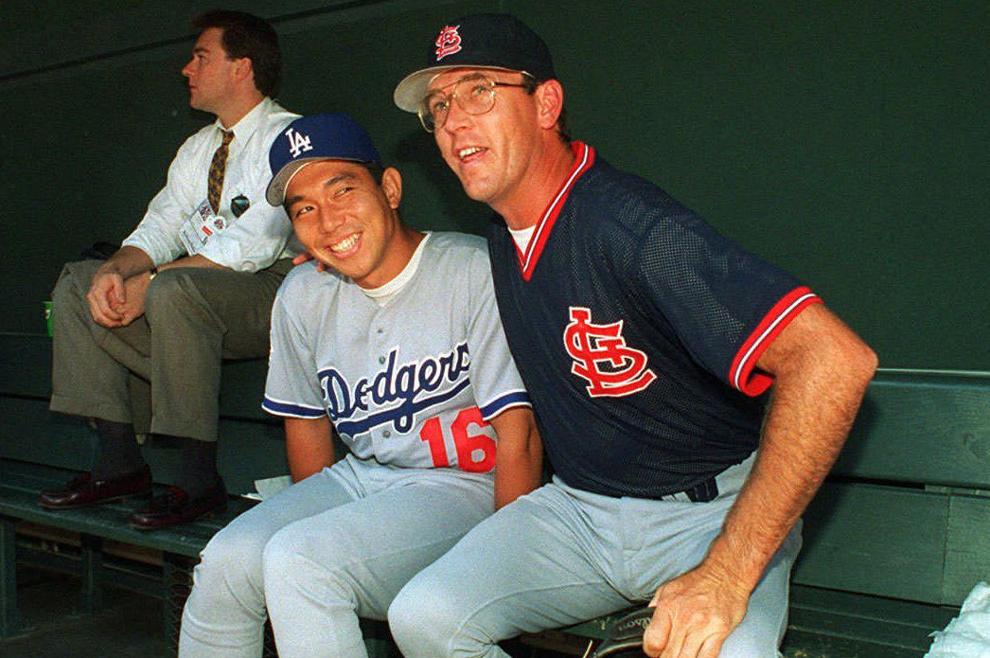 COMMISH'S TAKE: In his only season with the club, he won the Relief Man of the Year award with 36 saves in 38 chances and a 1.82 earned-run average, best of his career. The Missouri native had two tours with Texas and one with Toronto and retired on top at age 37.
2. JASON MOTTE (2012)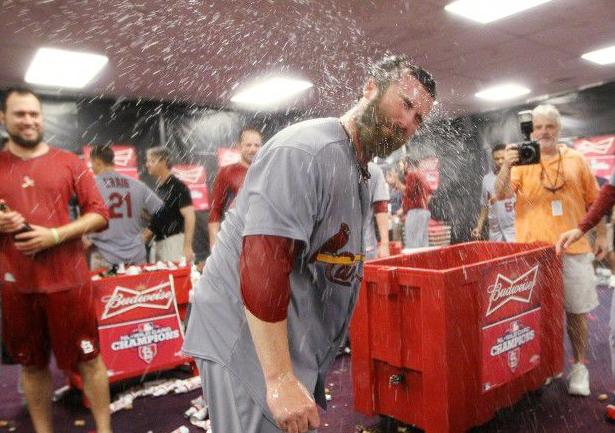 COMMISH'S TAKE: When Franklin and others faltered in 2011, Motte took over as closer late in that magical season before winning the saves title with 42 in 2012. Then he hurt his arm and was done as a closer. He was in camp this spring but was let go.
3. EDWARD MUJICA (2013)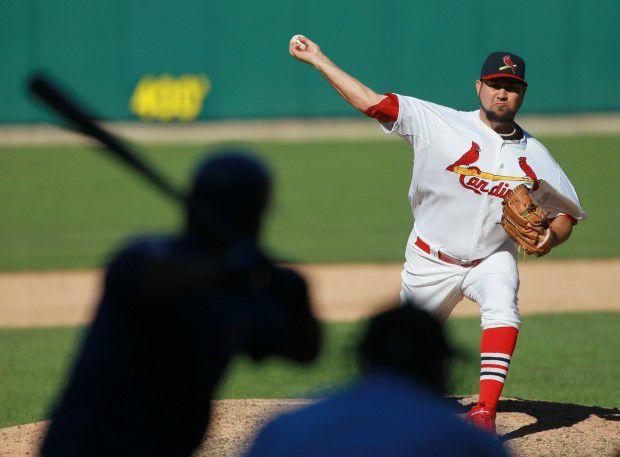 COMMISH'S TAKE: Before he wearied in 2013, the "Chief" knocked off 37 saves as he helped the Cardinals get to the World Series. Rosenthal replaced Mujica as the closer down the stretch and Mujica bounced to Boston and Oakland before turning up at Jupiter, Fla., this spring as a minor-league pitcher. He pitched in a few Grapefruit League games and now is at Memphis.
4. DAVE VERES (2000)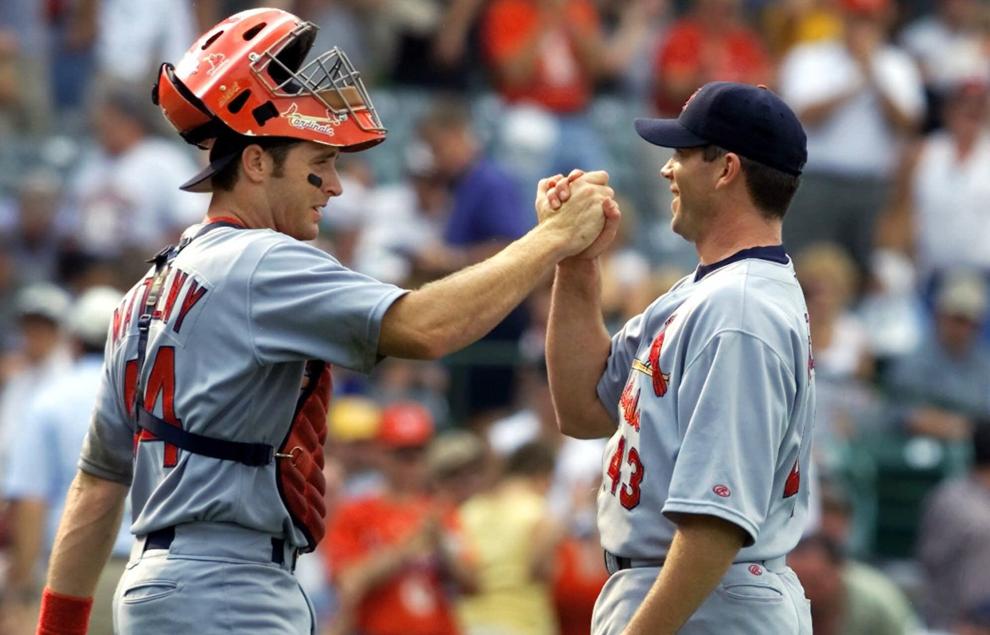 COMMISH'S TAKE: The righthander actually had two years as a Cardinals late-inning man but by far his best was in 2000, when he had 29 saves for the Central Division champions. In 2001, he had 15 saves and was on the mound in the ninth inning, along with Steve Kline, when the Cardinals lost Game 5 of the division series at Arizona.
5. ADAM WAINWRIGHT (2006)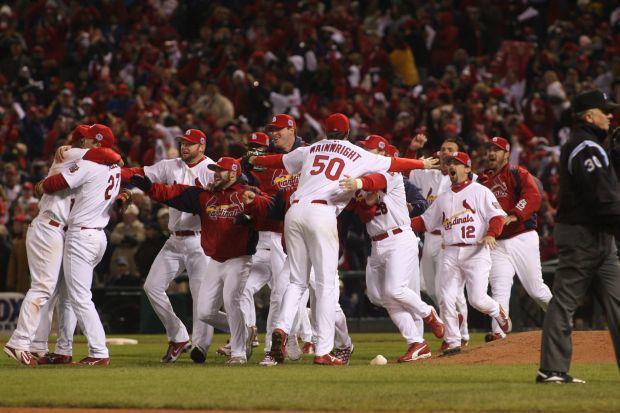 COMMISH'S TAKE: More like one-month wonder. Wainwright, who became a ninth-inning man when Isringhausen went down in September 2006, actually had more saves in that postseason (four) than he had in the season (three). He threw the most famous curveball in Cardinals history past Carlos Beltran with the bases loaded to end Game 7 of the league championship series.
6. SEUNG HWAN OH (2016)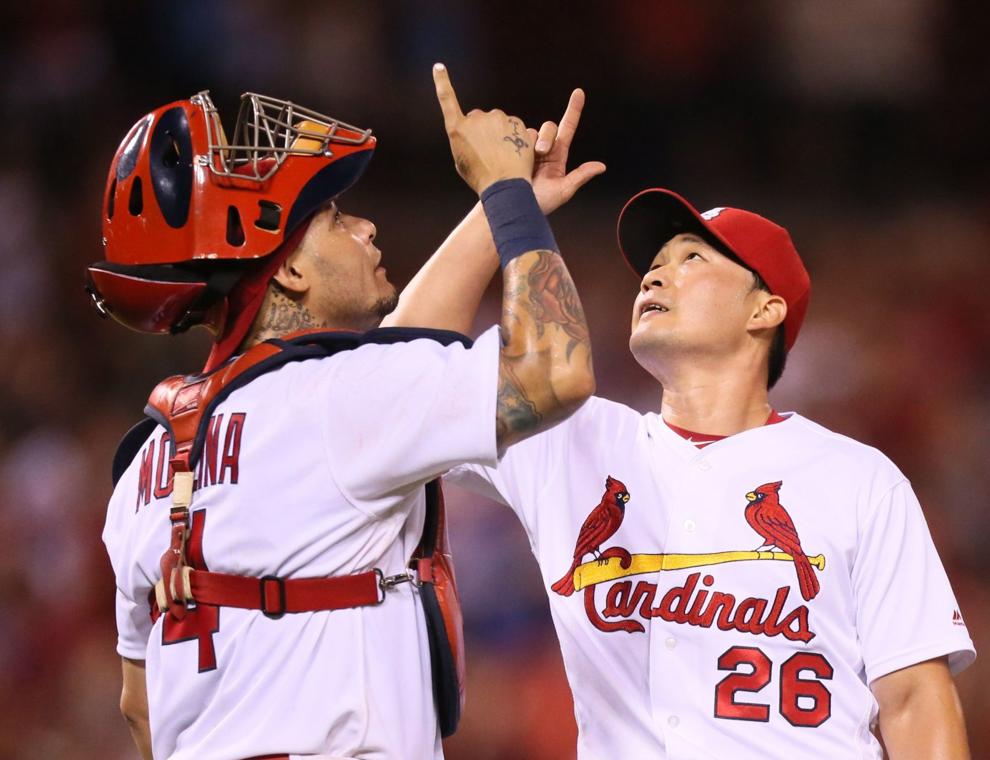 COMMISH'S TAKE: Signed as a setup man, the Korean visitor was a mystery to National League hitters in his first year and assumed the closer's job from an injured Rosenthal in 2016. He didn't let it go, posting 19 saves, a 1.92 ERA and striking out 103 in 79 2/3 innings. Although he had a staff-leading 20 saves, Oh was not quite so mysterious the next year and now is with Toronto.