Bob Costas is about five weeks away from being bestowed with the Ford C. Frick Award, which is presented by the National Baseball Hall of Fame and Museum for excellence in broadcasting the sport.
But he'll be in the spotlight locally before that, as the Cardinals salute him Monday night at Busch Stadium before they play the Cleveland Indians.
Costas got his professional start in town, at KMOX (1120 AM) in 1974 when he was hired to broadcast the Spirits of St. Louis entry in the American Basketball Association. He remained a fixture in the community for decades even as his local airtime decreased while his national career blossomed.
Although he never was a regular Cardinals broadcaster, the team is recognizing him for his Hall call.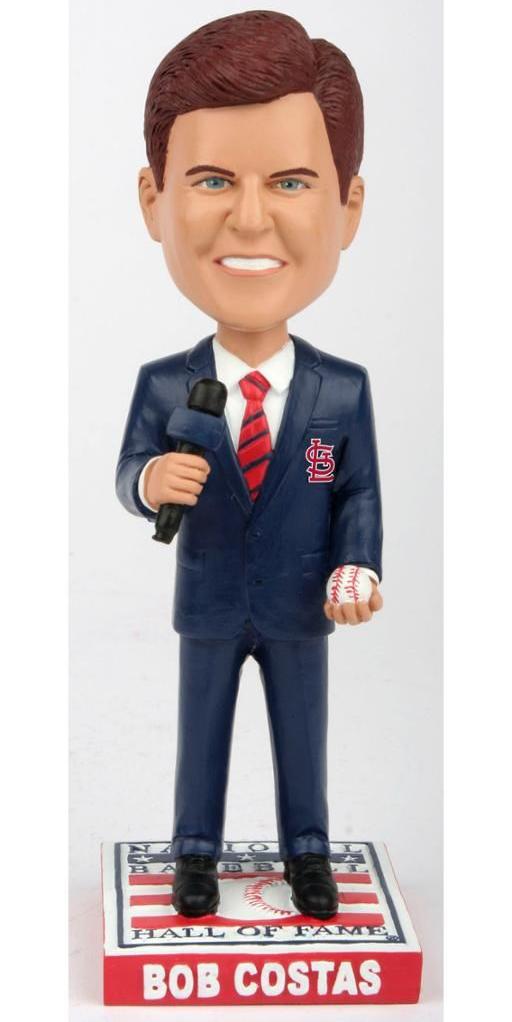 Costas is scheduled to be honored on the field and throw out the ceremonial first pitch before the game, and a bobblehead doll with his name — though not necessarily his likeness — will be presented to fans who buy a special "theme" ticket that costs about $10 more than the standard price. Some of those proceeds are to benefit Cardinal Glennon Hospital, longtime one of Costas' favorite charities. There also is a meet-and-greet package the includes the buyer posing for a photo with Costas. More information is at: https://tinyurl.com/y7bhn3ou
"It came as a complete surprise," Costas recently said of the recognition from the Cards. "It's very nice, very touching."
If Costas was on the lam, the facial appearance of the bobblehead probably would lead to the firing of the police sketch artist who crafted that. It has a fully coiffed canopy of brown hair and a somewhat roundish, youthful look that has been compared to resembling KTVI (Channel 2) newscaster Dan Gray — albeit a very boyish version of Gray.
"Everyone will treasure their Bob Costas bobblehead," Costas, 66, said, tongue in cheek.
BASEBALL BIZ
The Cardinals-Cubs game on Sunday night was a hit for ESPN.
Nationally, it was seen in 1.3 percent of homes with a TV, according to Nielsen, which was 30 percent better than last year's "Sunday Night Baseball" telecast at the same weekend. The telecast drew a 9.7 rating in St. Louis, which is any national cable network's best figure in a local market this season. (But a Fox regional telecast of Cards-Cubs the night before drew a 10.3 rating in St. Louis.) And the Sunday game generated a 6.3 rating in Chicago.
It was much better than the showing the teams had when they met on an ESPN Sunday nigh matchup on May 6, also at Busch Stadium, in a game that did not end until just before 1 a.m. the next day after two rain delays and 14 innings.
Nielsen said it was seen in 0.9 percent of U.S. homes with a TV. In St. Louis, the rating was 10.0 in prime time and tumbled to 5.1 for the last hour. In Chicago, the prime-time rating was 4.5, the last 60 minutes was at 2.2.
The Cards are set to be on "Sunday Night Baseball" on July 29, again in a home game against the Cubs. They also will be making a national appearance on ESPN on July 19, when they are on the road against the Cubs on the Thursday after the All-Star Game.