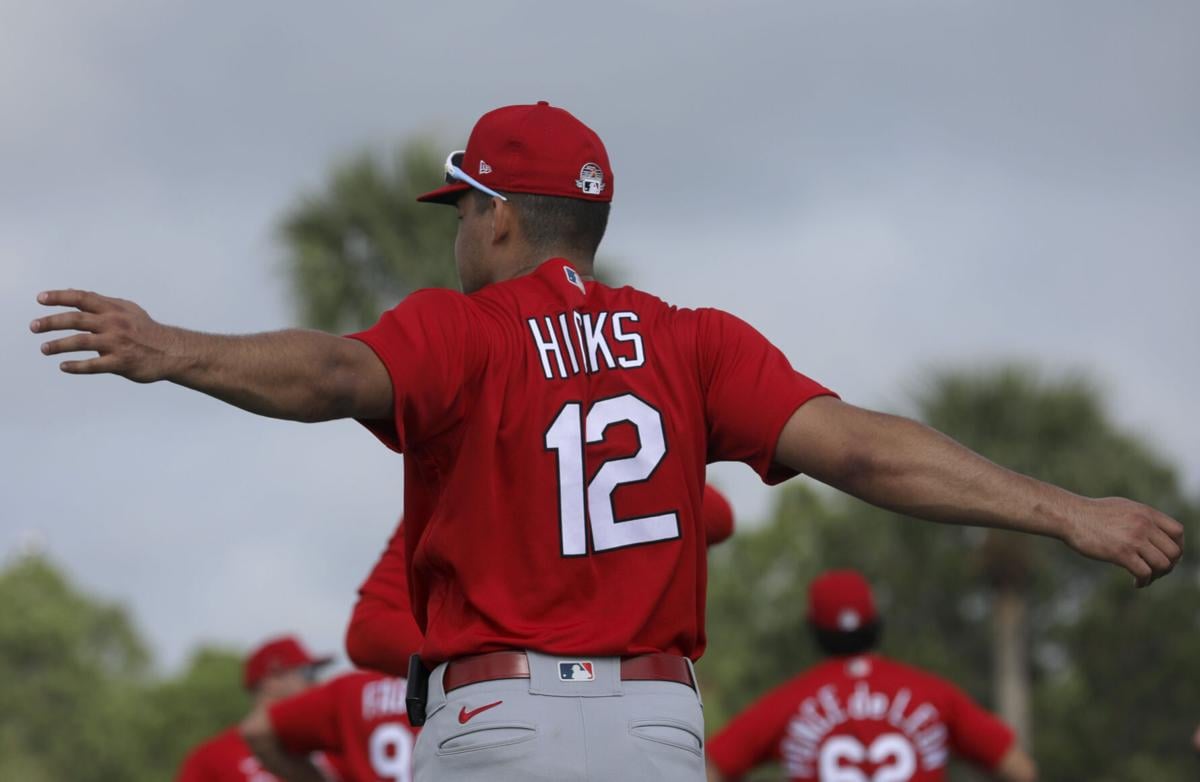 As a letter signed by civic leaders in Arizona urging Major League Baseball to postpone spring training because of an unrelenting pandemic became public Monday, the Cardinals and Miami Marlins illustrated the sport's forward progress into the unknown by announcing limited ticket sales to games at their shared spring training ballpark in Florida.
In a letter dated Friday to commissioner Rob Manfred, the Cactus League's executive director writes how she and nine officials, including six mayors, "believe it is wise to delay the start of spring training to allow for the COVID-19 situation to improve here." Major League Baseball and Major League Baseball Players' Association issued statements in response and affirmed their commitment to local health policies as well as, in the union's words, being "prepared for an on time start to spring training and the regular season."
Even with so many uncertainties related to the virus' spread, the vaccine's distribution, and the unspoken potential of a delay, all teams, like the Cardinals, must prepare for an on-time start. In case it becomes a certainty.
"We are planning and we'll be ready for starting on time," club president Bill DeWitt III said. "Like it is here (in St. Louis), we're planning for changes as they come along. We're trying to be ready and also be flexible."
The Cardinals have authored a plan that will allow for a reduced crowd to attend the home opener at Busch Stadium on April 8, and they continue to revise it based on local regulations and Major League Baseball's guidance. Any plan must yet be approved by local authorities and the league, and that isn't expected to come until much closer to the regular season's scheduled start. Spring training is more pressing, with less than a month before all 30 teams are expected to open camps — 15 in Florida and 15 in Arizona.
The Cardinals pitchers and catchers are scheduled to open spring training Feb. 17 in Jupiter, Florida, and the full squad is set to follow five days later. The Cardinals are currently slated to begin Grapefruit League play Feb. 27 against host Miami at Roger Dean Stadium, and the first of 15 home games will be Feb. 28.
The Cardinals and Marlins revealed their plan Monday to sell tickets in groupings of two, four and six for the exhibition games. The number of total tickets sold will depend on the mix of those small-group "pods," as each will be scattered throughout the ballpark with at least 6 feet between them to meet CDC guidelines. The Cardinals expect capacity to be less than 2,000 for each game to assure physical distance. Season ticket holders for spring training will have first access to individual games on Feb. 1 via the stadium's website. The Cardinals' 2020 season ticket holders will gain access on Feb. 8, and the general public can purchase tickets on Feb. 18, if any remain available.
The two clubs, like others around Major League Baseball, want fans to prepare for the possibility of attending games and the safe practices that will greet them through the turnstiles.
The Cardinals and Marlins are requiring fans to purchase tickets in a way that is easily refunded because it is not yet certain fans will be permitted in the ballpark by the end of next month, and it could be some time in March before even a small crowd attends as the teams and Major League Baseball survey local practices.
Florida has adopted less stringent limits on crowd size for sporting events than other states, and neither NFL team took full advantage of the state's stance. The teams individually reduced the number of fans permitted to attend. The Tampa Bay Buccaneers capped crowds at 25% capacity this past season. The Super Bowl in Tampa, Florida, will have a reported attendance of 22,000, a number that includes 7,500 vaccinated health care workers, the NFL announced.
Palm Beach County had a 5% increase in COVID-19 infections over the past week, according to the county's update Monday, and now has 102,968 reported cases. As of Monday afternoon, a total of 122,550 people had received their first dose of the vaccination in Palm Beach County, according to the same report. A facial covering policy in the county has been extended through Feb. 19, two days after the Cardinals' scheduled start.
The virus' pace in Arizona prompted the request to postpone camps.
The letter, sent by the Cactus League's executive director Bridget Binsbacher and first revealed by a Phoenix television station (Channel 12/KPNX), mentions how Maricopa County has "one of the nation's highest infection rates." The letter is signed by six mayors, two city managers, and a leader of a tribal community — all of whom have spring training facilities in their area. Citing information from the University of Washington's Institute of Health Metrics and Evaluation, the letter suggests "a sharp decline in infections in Arizona by mid-March."
Tourism is a driving factor as the Cactus League brought an estimated $644 million in during 2018, according to the Arizona Republic and a study by Arizona State. The newspaper added that six out of every 10 fans at a Cactus League event come from out of state.
The Cactus League does not have any authority to delay the start of spring training or exhibition games in Arizona, and Major League Baseball cannot act unilaterally to do so. That must be collectively bargained with the union, and MLBPA said as much in its statement.
"While we, of course, share the goals of a safe spring training and regular season, MLB has repeatedly assured us" of an on-time start, the union's statement read. "We continue to devote all our efforts to making sure that that takes place as safely as possible."
Without the amenities and space of major-league ballparks that were used for social distancing and testing and other protocols during the 2020 season, the Cardinals and other clubs are working to repurpose their smaller spring training facilities to fit regulations.  
The owners have discussed a delay to the start of spring training — to allow for greater accessibility of the vaccine and time for the infections to possible subside, according to multiple sources and national reports. That has not been palatable for the players' union, which also reportedly rejected the universal DH and expanded playoffs Monday. Those two items will continue to be negotiated as owners and players seek to maintain leverage with items both sides find appealing. The union has insisted on an on-time start in large part because players want to assure a complete 162-game schedule. While not paid during spring, their salaries are based on games played. The players received a prorated salary for last year's shortened 60-game slate.
Owners, meanwhile, want to avoid holding games in empty ballparks as they did last year without the ability to bring in ticket revenue.
The Cardinals remain in contact with St. Louis and state officials, and they have worked with Dr. Fredrick Echols, the director of the city's department of health, to outline how many fans can attend games as early as April. Their plan is for 28% capacity with between 8,000 and 12,000 fans. They are studying the best mix of two-, four- and six-person "pods" to sell, and will use information from spring training sales to inform the ballpark's layout. Major League Baseball continually updates suggestions for teams, and it even sent a memo recently about front row seating that led the Cardinals to tweak their proposed plan.
That plan, which will be presented to the city closer to the home opener, "will continue to change and evolve until the latest possible moment," DeWitt said. "You have to be ready."