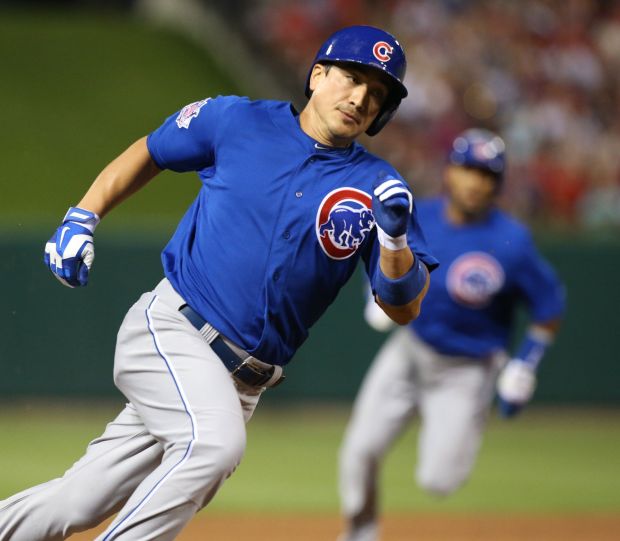 The list of superlatives for the Cubs in their 17-5 manhandling of the Cardinals on Monday night was long. It was the team's first 17-run game since 2009, its first against the Cardinals since 1974. The Cubs scored more runs Monday than they have in all eight of the starts by Jeff Samardzija, who is 0-3 despite a 1.45 ERA. ("I gave Samardzija a hug after the game," said starter Travis Wood, who got the win despite allowing five runs in six innings, "and said, sorry.")
Center fielder Emilio Bonifacio scored five runs, the most in the majors this season and the first Cub to do it since Jody Davis in 1987. Mike Olt hit his eighth home run of the season, the most by a National League rookie. His 19 RBIs are also the most.
And then there's left fielder Junior Lake, the only major-leaguer who shares his name with a body of water in Maine. Lake went three for six, with two doubles and a three-run home run, and drove in six runs, the second-most in the majors this season.
Lake, 24, has made slow and steady progress up through the Cubs' farm system to what is now his eighth professional season. He made his big-league debut last July 19, and his 67 hits were the fourth-most by a rookie after the All-Star break.
But he hadn't had a game like Monday.
"This is what we needed," said Lake, who's from San Pedro de Macoris in the Dominican Republic. "Play hard, something good will happen."
"He's electric for sure," said Wood, who hit two Cardinals with pitches and then got hit himself. "When he's on, he's on. He's got tremendous pop off the bat. It's nice to see it come out."
Lake was also able to advance runners on two of his outs. It was part of something most of the Cubs did well Monday: situational hitting. The Cubs were seven for 16 with runners in scoring position and left just six runners on base.
"I thought our situational hitting today took a step up," manager Rick Renteria said. "It's just one game, but it's one of those things that you have to try to do as consistently as you can over the course of the season. But today, they obviously did a really nice job of capitalizing on situational hitting, advancing runners. ... All those little things that you need to do to give yourself a chance to win, we did today."
Lake has not yet completed one full year in the majors, and Renteria thinks the more accustomed he gets to being in the majors, the better he'll be.
"He has to continue to focus and get pitches up in the zone as opposed to chasing pitches down," Renteria said. "Does it have something to do with his youth? Yes. It's the anxiousness and the desire to want to do well. I think once the maturity factor starts to settle in, hopefully it will give him an opportunity to calm down and get pitches up more in a more hittable area. When he gets the ball up in the hitting zone, he can also do some damage."
"My pitch," Lake said. "I can hit it better."
There was one negative to Lake's game. He charged a single by Mark Ellis in the second and, no doubt thinking he had a chance to get Yadier Molina at the plate, ran right past the ball, allowing two runs to score and Ellis to get all the way to third.
"He charged it as if it was a do-or-die play," Renteria said. "Your initial break to the ball is hard, but if it's not a do-or-die play, you have to break it down and come under control to catch the baseball. The way he continued to run it was as if the run was the game-winning run at the plate. That's how you describe it to them, so next time, they pull back and make the adjustment."
Olt, meanwhile, in his first big-league season, has one of baseball's most interesting stat lines. He has 17 hits this season: eight singles, eight home runs and a double. He homered to left field in the Cubs' four-run first and then even it out with a single to right in the ninth before having the disinction of being the one guy retired by Daniel Descalso.
"I'm not worried about the hits," said Olt, who is hitting .187 but has homered in four of the past six games. "They're going to come. I was happy with my approach on every at-bat today. I had a plan, stuck with it and didn't second guess myself. I'm happy with two hits, yeah, but I'm more happy with all my at-bats."