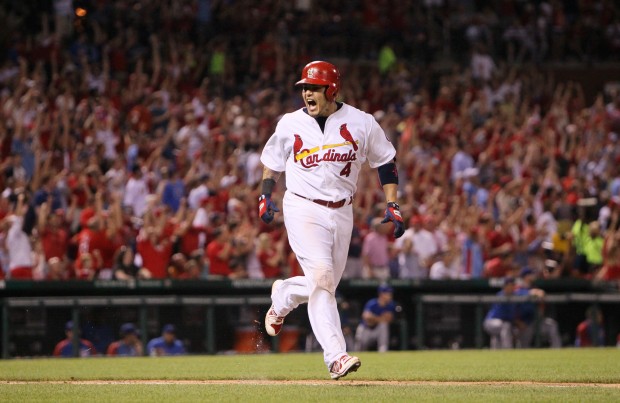 Having been a coach for the Milwaukee Brewers and now the manager of the Chicago Cubs, Dale Sveum has seen first hand Cardinals catcher Yadier Molina be what he called "clutch."
Sveum has a different title in mind now for Molina.
"I had a lot of bad walk-off losses in this park over the years and Molina's right in the middle of every one, it seems," Sveum said to reporters Wednesday before the Cubs game at Busch Stadium. "The adjustments we've seen Molina make – whether it's different stances, different approaches, all that – that's what it takes sometimes.
"That's why Molina's right now probably the MVP of the league."
Molina entered Wednesday's game with the highest batting average in the majors, at .367, as many RBIs (39) as any hitter in Sveum's starting lineup, and the unquestioned reputation as the best defensive catcher in the majors.
The Cubs have encouraged their young catcher, Welington Castillo, to watch video of Molina behind the plate to see how he calls games and handles pitches behind the plate.
Sveum is less sure what to tell his pitchers about Molina at the plate.
"Right now ... we're hoping he hits a ball at somebody," Sveum said of Molina, who went three-for-three Tuesday. "He's that locked in to where you really have to make a great pitch to get him out, to make him have a bad swing or something. ...
"I think he uses his mental ability to hit now, too. To know what goes on with pitchers and how they're going to pitch him. You never see him take a pitch off. He's turned himself into one of the better hitters in the game."
TORRE UPS MOLINA'S AVERAGE
Without taking a swing Tuesday, Molina raised his league-leading average from .363 to .367. Major League Baseball ruled that a two-base error given to Mets outfielder Kirk Nieuwenheis on June 11 should actually have been scored a double for Molina. Former manager Joe Torre, now an executive in the commissioner's office, reviewed the play at the request of the Cardinals and made the scoring change. The added double also moved Molina into the National League lead with 23.
Major League Baseball also overturned a scoring decision at Citi Field that gave David Freese an error on a groundball hit by David Wright. Tony La Russa, also now an executive with MLB, reviewed the play and awarded Wright a base hit and removed the error. The scoring change muddied a milestone for Wright, who celebrated his 1,500th hit with the Mets in the ninth inning Tuesday. Or thought he did. It was actually his 1,501st because of the new scoring decision.
Cardinals manager Mike Matheny considered having the team fly to Houston on Tuesday, the morning of the first game in the two-day visit in order to steal his players an off day at home. Instead, the team will fly late Monday night. The Cardinals have three off days fit around five games next week, and the odd schedule will allow them to change the pitching rotation but not get a break at home. Two of the off days are on the West Coast. Matheny said he's not ready to commit to changing the rotation, but is bothered by the curious schedule.
"It's been a weird schedule – the way we operate with interleague (play) all season long, it's just a different schedule," Matheny said. "Part of that really messed up some of the off days. The first half has been brutal with the guys getting time with their families. We've got guys who have hardly seen their families. For us to be as effective out here (on the field) as we can be we also need to make sure they have a pretty good balance in other areas in their life."
The Cardinals clarified Wednesday morning how the six-man rotation at Class AAA Memphis will work. A team official said Tuesday that Carlos Martinez will remain on a five-day schedule. Mozeliak corrected Wednesday morning that Martinez and Wacha will both pitch every six days, at the most. …
Cardinals third-base coach Jose Oquendo will be inducted into the Hispanic Heritage Baseball Museum Hall of Fame when the club visits Oakland later this month. ...
Chris Carpenter's throwing program has been limited and his scheduled appearance against hitters delayed by back soreness this week. …
Jason Motte (elbow surgery) is six weeks removed from Tommy John surgery and has regained almost a full range of motion from his right elbow. He will be in a brace for at least another week. …
John Gast (lat strain) could be several weeks away from having a true feel for his return from injury. Gast is three weeks removed from an injury that could take six weeks to heal.