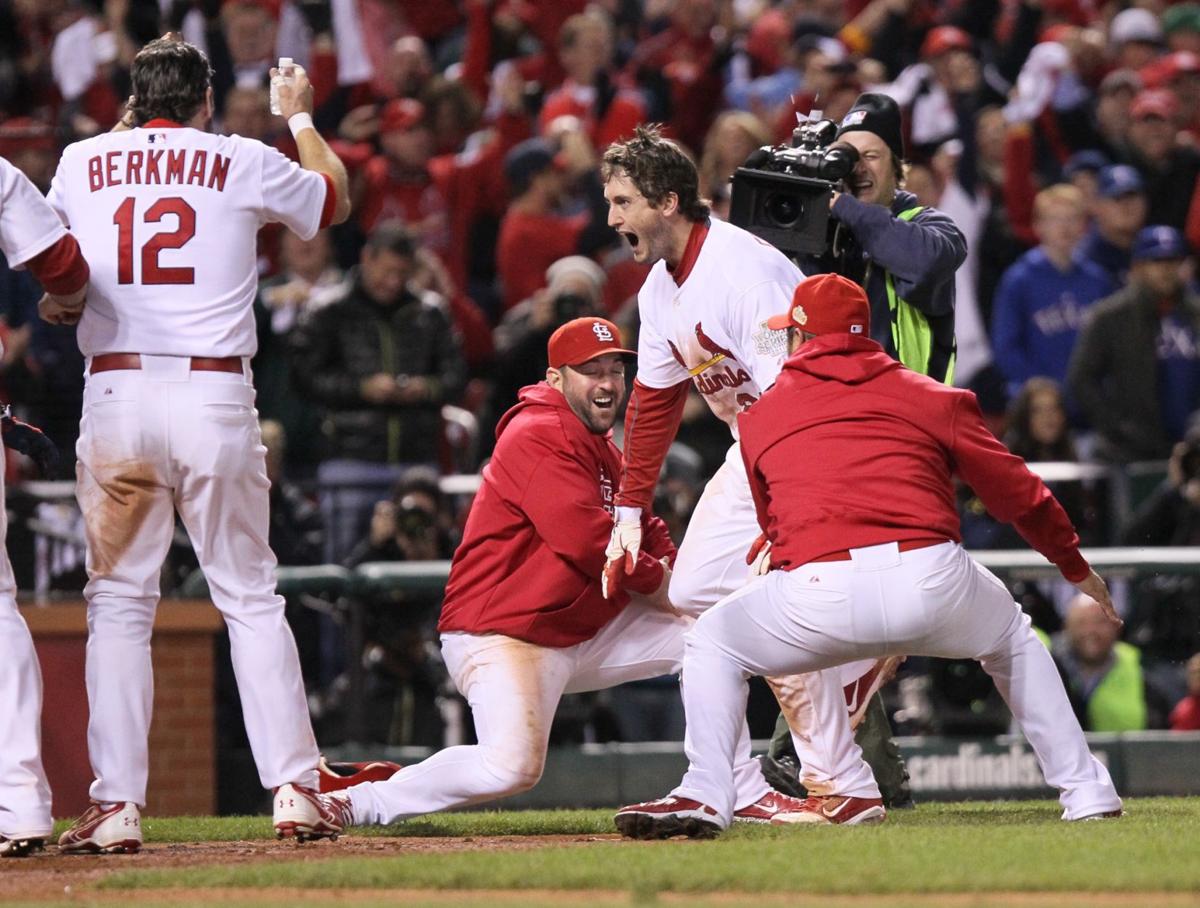 Breaking news: David Freese, one of the Cardinals' all-time postseason heroes, will be back in a St. Louis uniform next year.
Freese, the star of the 2011 World Series win by the Cardinals, ended his career with the Los Angeles Dodgers after last season. But his being in a Cardinals jersey as a "legend" in January, if the coronavirus can be counteracted, will be among several events Freese will be involved in as he returns at least part-time to the city in which he spent the balance of his life.
Freese, who played for the Cardinals from 2009-13, lives in Austin, Texas, with wife Mairin and 2½-year-old son Kai.
"We went to Maui in early March and we haven't been in a store here since February," said Freese, 37, who is largely self-quarantined.
But soon the Freeses will be in a hospital as Mairin Freese is giving birth to another boy, in early June.
"I can't wait to have another boy but I wanted that girl," Freese said. "I don't know if we're going to have three kids."
Then, if and when baseball resumes, Freese will be back for Cardinals-related visits to St. Louis, where he grew up after being born in Corpus Christi, Texas.
"St. Louis is where I'm from," he said. "I played with the Cardinals and had some great moments with them. So it seems fitting that since I've retired, I can run off and do things with those guys at the stadium. I'm a Cardinal. I'm looking forward to getting back and showing my face around. I kind of disappeared for five or six years."
Since he was dealt to the Angels after the 2013 season, Freese has been back at Busch. There were memorable standing ovations every time he hit with Pittsburgh or later with the Dodgers. 
"Besides winning, getting those ovations is a close second," he said. "You know it's going to be cool. But then you get in the middle of it and you want to cry. It's amazing.
"What a city to do some cool things in. They just treat you right."
Whether he will take his talents back onto the field in a teaching capacity is uncertain, Freese said.
"I always think about it, just because baseball is a part of me. Some days, you think you can offer something back and other days, you think, 'Screw it.' Right now, I'm not sure.
"The coaching thing would be more difficult just the way I see what coaches have to do today, even compared to 10 years ago. I mean, it's insane. These coaches don't sleep. For what they make, is it worth it in that sense? These guys get run into the ground.
"If a team wanted me to manage, even if it was (in the minors) that's something I could think about it.
"If I see the future right now, I'd just be a guy that popped in and out. I'd be around or have my phone around if anybody needed some help with anything. Even off the field, I think I can help with stuff.
"I definitely want to be around the Cardinals and around the game. But not having a boss is exciting to me."
Asked if he missed playing, Freese had a ready answer.
"All winter, you're wondering what it's going to be like when you're not playing for the first time in however long," he said. "I'm still wondering."
In his first year out of the game, Freese is hopeful that baseball doesn't rush back too soon and, in fact, said, "It's just crazy that they're trying to play as early as July. I understand, 'Bring sports back. It can help the psyche and give the people something to cheer for.' But, whew! It can take a turn.
"And then MLB will have to be answering some questions if that happens. Are you going to take a 14-game forfeit streak (if a team has to be quarantined)? I just don't understand how plausible it is that nobody will test positive. It's just impossible."
Freese hardly can believe it has been nine years since the Cardinals, in large part because of his exploits, stormed to the World Series title after barely making the playoff field.
"It flew by," he said of his career. "Every time you reflect on the past, it always seems like it flew by."
The common conception is that Freese's career — and life — changed when he tripled over the head of Texas right fielder Nelson Cruz with two on and two out to tie the game in the ninth inning of World Series Game 6 in 2011 and then homered to win the game in the 11th. He also doubled in two runs in the first inning of Game 7 the next night to start the Cardinals on the right path.
But Freese points to Game 4 of the divisional series with Philadelphia as the turning point. Striking out five times in seven at-bats and seven times overall as he had only two hits in his first 13 at-bats in the series, Freese found himself facing tough righthander Roy Oswalt in the fourth inning of Game 4. The Cardinals trailed by a run.
Freese doubled in two to put the Cardinals ahead, and homered the next time up against Oswalt as the Cardinals forced a decisive Game 5, which they won 1-0.
"You can't be defensive in baseball or, I guess, life," Freese said. "But I was so defensive against (the Phillies). Man, I was on my heels.
"But that Oswalt game changed my life. I thought, 'Ooh, mentally, if I don't allow myself to be scared and timid. . . . it's on.' From that double on, something happened. And after I hit that homer to go to Game 5, I was like, 'Let's roll. Let's feed off this.'"
Freese would hit safely in each of the six games in the National League Championship Series, with Milwaukee, and he won the Most Valuable Player award with his .545 average. He was the MVP in the Series, too, and put himself in position to never have to buy a meal or a beer in St. Louis for the rest of his life. Supposedly.
"I pay for stuff," he says, laughing. "But every now and then they say, 'Get out of here. It's on us.' And then the waiter gets a helluva tip."
And, now he's back. Sort of, at least.
"I'm joking with my friends and they're saying, 'When are you going to throw a Cardinal hat on?'" Freese said. "I'll throw one on sooner or later."
Especially next January, if Fantasy Camp goes off as scheduled.
"I'm working out in the garage," Freese said. "I won't pull my hamstring, I promise you. I'll probably just pop up."
Keep up with the latest Cardinals coverage from our award-winning team of reporters and columnists.