The offseason chatter pertaining to the Cardinals' lineup has centered mostly on what effect recently acquired Paul Goldschmidt will have and whether Marcell Ozuna's right shoulder will be healed enough for him to generate more power this season.
Generally pushed to the back burner is shortstop Paul DeJong, who fairly quietly has hit 44 home runs in basically 1½ big-league seasons (223 games).
"Maybe I'm going under the radar again," said DeJong, who hit 19 homers and drove in 68 runs but batted just .241 in 2018 after hitting 25 homers and batting .285 in his rookie year.
"Physically, I have the abilities," DeJong said. "Last year, mentally my approach kind of fell off."
Exhibit A might be his unusual split between hitting with men in scoring position, where he had a creditable .288 average and .876 OPS (slugging, plus on-base percentage). With nobody on, DeJong was more or less a statue, batting just .210 with a .669 OPS.
These two contrasting figures account for the fact that DeJong batted only .228 after the All-Star break, yet was third in the National League behind Christian Yelich and Michael Conforto in runs batted in with 49.
DeJong related recently that Jose Oquendo, a big-league coach in 2018 but a minor league instructor this season, had told him last year "that I was taking too many pitches. When there was nobody on base, I was taking fastballs and that certainly is not me.
"I remember distinctly that when I got guys in scoring position, I was going up there hacking," said DeJong. "I was ready to swing early because when you've got guys in scoring position, pitchers are coming right after you.
"I just have to find that fine line between being aggressive early in the count and making a pitcher work."
To that end, DeJong already has spent time with new hitting coach Jeff Albert at the Cardinals' spring training site in Jupiter, Fla.
"I really love his approach to the game and how he tries to keep it simple," said DeJong. "He doesn't get into the pitch percentages and things like that. He's more about trying to help a guy find his clean-swing mechanics."
DeJong certainly is not a Matt Carpenter, who often wrangles a full count out of his at-bats. The 25-year-old DeJong walked only 36 times this past season and 21 the year before. But he will be a vital part of a Cardinals lineup that is projected to go after pitchers from the jump.
Carpenter and Goldschmidt, who split 69 home runs in 2018, could be the top two batters in the order. Ozuna, who had 23 homers in an off-year, and Yadier Molina, who had 20, are likely to be 4-5.
This leaves DeJong, whose 44 homers in his first two Cardinals seasons is tied for second in franchise history behind Albert Pujols (71), in the vital third spot.
"Front-loading our lineup is going to help us," said DeJong. "Guys are going to put up runs in a hurry."
There should be many runners in scoring position during early-game DeJong at-bats. If DeJong produces, his name will be front and center.
"I don't love the attention, directly," he said. "I'd rather just prove it and earn it, if that makes sense. For us, it's just about hitting for power consistently through the lineup and probably speed (Harrison Bader and Kolten Wong) at the bottom and then cycle it back. I really like how I fit in at either three or five (in the order)."
In 2018, DeJong batted .223 as a No. 3 hitter, but the year before he hit .292 with 11 of his 25 homers and an .855 OPS while third in the lineup.
DeJong missed 45 games in May and June last season with a fractured finger on his right hand, as a result of being hit by a pitch from Philadelphia's Luis Garcia. He had a pin in his finger for the balance of the season and he said he didn't feel normal until the Cardinals' August run, in which they were 22-6.
"We were all playing well as a group and we were winning,"DeJong said. "I realized it wasn't about me."
Before that, "It was more mental, managing expectations (after) coming off the DL. I was wanting to try and catch up for all the time I had missed and, what I had done my rookie year, expecting to do that and more.
"It was a very valuable learning experience for me and I'll definitely remember those times," DeJong said.
While DeJong's offense was erratic, his defense, called into some question in his first season, was much improved in 2018 when he had 12 errors while appearing in 115 games and finished high in many metrics.
"Another year of experience helped," he said. "I always felt that when I transferred to shortstop (from third base) that I was a more natural defender — the way I saw the ball off the bat and my angles."
DeJong said he also found himself playing deeper and more up the middle laterally, with the guidance of Oquendo. The result, DeJong thought, was greater range.
"This year I want to keep expanding that range factor," he said. "There were plays I could have anticipated a little better, with a little quicker timing off the bat.
"Defense has become one of my favorites. When I played third, I never really loved defense. At short, I'm excited to go out there and make plays. You've got Kolten out there making diving plays and, with Harrison in center, that's kind of inspiring. Playing defense can be fun."
Oquendo will be available to DeJong mostly just in spring training now and DeJong said, "I really liked working with Oquendo. I think the results really showed, with all the stuff I learned from him, like the positioning.
"I'm pretty good at working on the mechanics with Ollie (Oliver Marmol, now the bench coach) and now Stubby (first-base coach Stubby Clapp), but Oquendo had that invaluable player experience and he could always relate to what I was doing in the game. He always had an experience to explain.
"Just practicing with him always brings a smile to my face."
The addition of Goldschmidt, who has earned three Gold Gloves, will also help DeJong defensively. "He brings the veteran leadership, the experience, obviously the physical skills. Hopefully, he saves me a couple of errors in the dirt," said DeJong, laughing.
"He's just going to round out our infield. Most (infielders) who win a Gold Glove seem to have a really good first baseman."
Where he once was considered a future third baseman, DeJong says,"I don't want to play third ever again. Shortstop is my position and I want to stay there."
---
PATIENCE, PLEASE: MEET THE BIRD LAND 7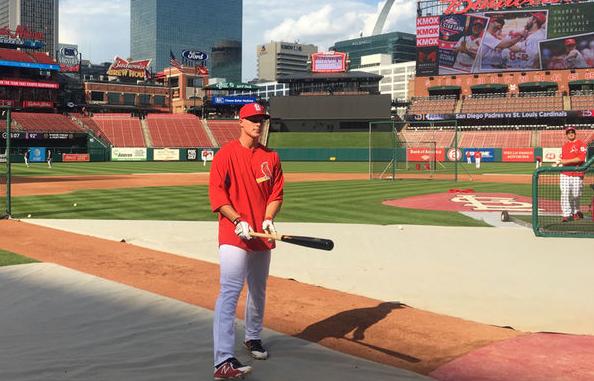 When it comes to ranking the top seven prospects in the Cardinals' organization for the annual Bird Land 7, there is one rule that sets this list apart from others. These players have yet to throw a pitch or field a ball or take an at-bat in the majors. They aren't just rookie-eligible, they are debut-eligible, and a year ago these debuts were imminent.
The first five members of the 2018 Bird Land 7 had an ETA in the majors of 2018. The top four players ranked all did reach the majors, and No. 2 Jordan Hicks spent the entire season there. The sheer number of debuts has forced a significant overhaul of the BL7 for this season. There is only one returning player — and he's one of a few that a debut could happen in the coming season. If last year's BL7 was notable for the number of players on the brink of the majors, this year's has a different feel.
The prospects require patience.
Not one of the top three players ranked are older than 20, and four of the seven are 22 or younger. The top three players all play third base — giving the Cardinals arguably their best stockpile of potential high-end position players since Oscar Taveras and Kolten Wong shared the system together. And this trio has the potential for a few breakout bats.
There are, of course, two pitchers, Ryan Helsley and Genesis Cabrera, who are likely to zoom to the majors this season as minor-league starters repurposed as hard-throwing relievers in the majors.
Helsley is one of three draft choices featured in the BL7. Cabrera is one of two ranked prospects to come to the Cardinals via trade. The other two are international signings.
The list also includes one of the top teen prospects in the majors. And he's not even the youngest member of this year's Bird Land 7, presented here in reverse order, and followed by a roundup of "others on the rise" and a list of the landing spots for the 2018 "BL7": 
7. RYAN HELSLEY, Pitcher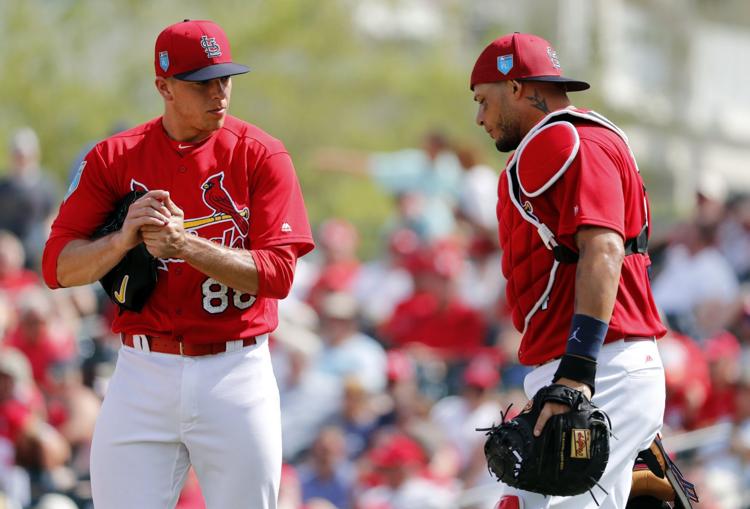 Age: 24
Bats/throws: R/R ... Size: 6-1, 195
Acquired: Drafted in 2015, fifth round
Baseball America rank 2019: NR (in top 10)
MLB.com rank 2018: No. 4
GOOLD'S TAKE: Power righthander was poised to join Jordan Hicks and Dakota Hudson as the Triple-H booster shot for the Cardinals' bullpen before shoulder trouble inhibited his season. Helsley felt persisting soreness after a start on June 9, attempted to pitch Aug. 6 and then called it a season. He finished 5-3, 3.97 in 13 starts and he struck out 82 in 70 1/3 innings.
Helsley spent this winter working on strength around the shoulder and what he called "mobility" throughout his mechanics. The idea is to alleviate the strain that he was putting on the shoulder and have that lead to durability. That and opportunity are all he needs to reach the majors. He has an upper-90s fastball that arrives with some giddy-up deception and can be located high in the zone. He draws comparisons to Trevor Rosenthal with his muscular build and bull-charging approach
6. ANDREW KNIZNER, Catcher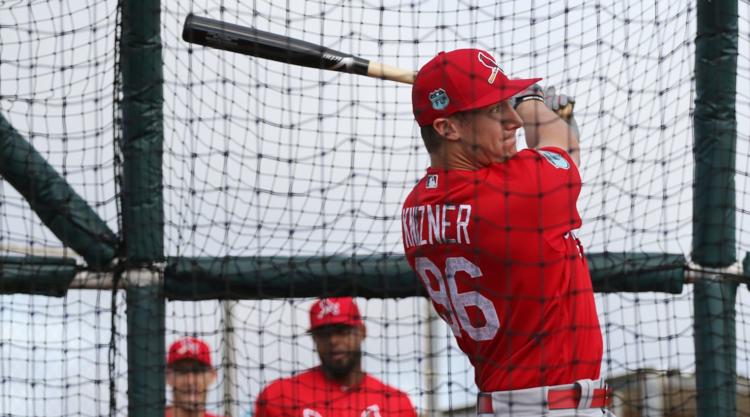 Age: 23
Bats/throws: R/R ... Size: 6-1, 200
Acquired: Drafted in 2016, seventh round
Baseball America rank 2019: No. 8
MLB.com rank 2018: No. 5
GOOLD'S TAKE: The new heir apparent. When the Cardinals traded Carson Kelly to Arizona as part of the package for Paul Goldschmidt, they also made it clear that Andrew Knizner is their future at catcher, developing right there as Kelly did behind Yadier Molina. He might remind you of Carson Kelly. The seventh-round pick from North Carolina State converted from infielder to catcher, like Kelly, and has had to learn the role as he advanced through the majors.
In the past two seasons he has advanced defensively at catcher, and a year ago then-manager Mike Matheny called him the most improved player in big-league camp. He was talking about his defense. Knizner is mobile behind the plate, has improved footwork, and he's got the arm necessary for the position. He has also rapidly gained the trust of his pitchers and followed Kelly's example of being a student of games.
What sets Knizner apart and vaults him so high in the prospect rankings is he also hits. He's yet to have a season without a .300 average. He makes contact. He shows flashes of increased power. In 2018, he hit .313/.368/.430 with a .798 OPS. He had seven homers and 25 extra-base hits. In 355 at-bats he struck out only 48 times and had 27 walks. He'll head to Class AAA Memphis as the priority starter at catcher, and by this time next year he'll be considered to be Molina's backup first and possible replacement as early as 2021.
5. GENESIS CABRERA, Pitcher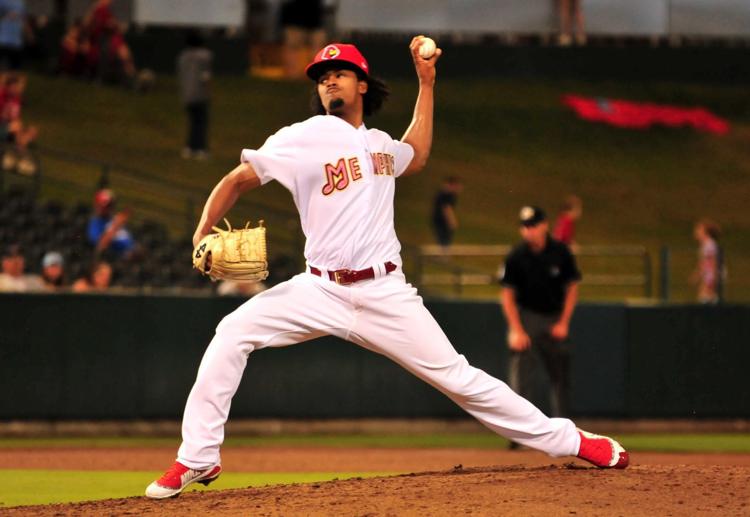 Age: 22
Bats/throws: L/L ... Size: 6-1, 170
Acquired: Via trade (Tampa Bay), 2018
Baseball America rank 2019: No. 6
MLB.com rank 2018: No. 13
GOOLD'S TAKE: Let's start with the comparison so many scouts and executives tend to make and unwind the scouting report from there. Cabrera has been called a "lefthanded Carlos Martinez." The reason starts with so much power coming from such a similar frame. Cabrera is built like Martinez and he slings like Martinez and his sinker has both movement and velocity, like Martinez. He's not touching triple digits like Martinez, but from the left side his fastball is well above average. The Cardinals targeted Cabrera as part of the Tommy Pham trade to Tampa Bay, and that was in part because they saw Cabrera adding to their lefthanded depth on the starter's side. Lightning struck this winter. In search of a few innings and some offseason work, Cabrera went to the Dominican League and appeared as a reliever to control his workload. He blistered the league. Against solid competition, Cabrera pitched 14 1/3 innings and struck out 21 against two walks. He saw a jump in velocity and more aggressive ways to use his breaking pitch. So did the Cardinals.
He'll come to spring training to compete for a spot in the bullpen — if not immediately out of need then eventually out of his performance. The Cardinals will have to weigh during spring whether his future could be as a starter — and if he could get more consistent with his off-speed pitches to make that happen. Already, president of baseball operations John Mozeliak has identified Cabrera as the prospect who could emerge, and fast, like Hicks a year ago. Teammates agree.
"His fire," said outfielder Justin Williams, who came to the Cardinals in the same trade with Tampa Bay. "When you see him on the mound, it's like it's his mound. Coming up with the Rays with him – he was a starter, and seeing him as a reliever for a brief period of time that I did in Memphis it was like mind-blowing. Different player. In a good way."
4. LANE THOMAS, OUTFIELDER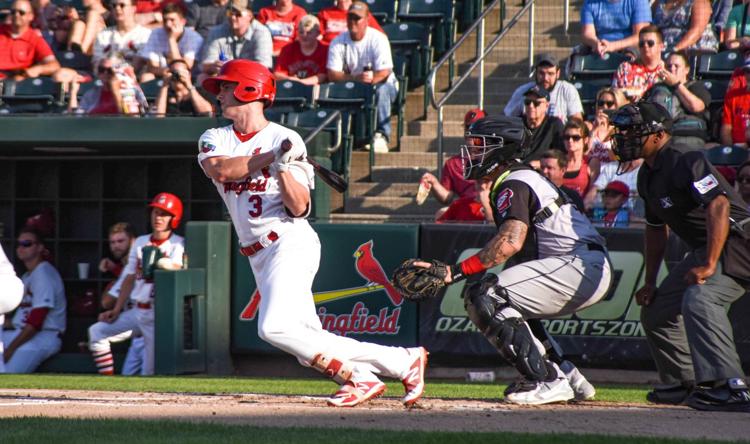 Age: 23
Bats/throws: R/R ... Size: 6-1, 210
Acquired: Via trade (Toronto), 2017
Baseball America rank 2019: No. 7
MLB.com rank 2018: No. 21
GOOLD'S TAKE: The righthanded-hitting center fielder has gotten somewhat lost in the organization's outfield mix for a variety of reasons. First, the Cardinals have a stockpile of righthanded-hitting outfielders, and as they sped through 2018, he was in a bottleneck at the higher levels that also included Tyler O'Neill, Harrison Bader, Adolis Garcia, Oscar Mercado, and Randy Arozarena. Second, he was acquired from Toronto for international cap space. The Cardinals just sent money, so for some reason that worked against him when it came to other prospect rankings.
Everything else worked for him. Thomas had the power breakout long expected from him in the Jays' organization, and he finished the season hitting .264/.333/.489 with an .823 OPS. His 27 homers led the organization (in part because O'Neill did some of his damage in the majors), and Thomas had 56 extra-base hits. He did strike out 134 times in 132 games and walked only 50. He can handle center well, run bases well, and could advance swiftly with greater contact at the plate.
Internally, the Cardinals are eager to see how he shines in spring training and if he takes a run at their fourth-outfielder spot at some point in 2019 or elbows his way into playing time beyond that role. This is an aggressive ranking for Thomas because he could move aggressively up the depth chart this season. Post-Dispatch sports columnist Benjamin Hochman took a deeper look at the Lane Thomas intrigue this past weekend during the Winter Warm-Up.
3. MALCOM NUNEZ, Third baseman
Age: 17
Bats/throws: R/R ... Size: 5-11, 205
Acquired: International amateur signing from Cuba, 2018
Baseball America rank 2019: No. 9
MLB.com rank 2018: NR
GOOLD'S TAKE: The first of the trio of prospects at the hot corner is also one of the youngest leading prospects in the organization — and soon will be in the game. When the Cardinals signed Nunez to a $300,000 bonus — the largest they could offer — he was described by a scout as a "professional hitter." He immediately became a propulsive force. On one of the Cardinals' Dominican Summer League teams, Nunez hit .415/.497/.774 for a 1.272 OPS. In the final nine games of his season, he hit five home runs to give him 13 and win the DSL's Triple Crown. The third jewel was 59 RBIs.
The Cardinals had scouted Nunez as a young teen with Cuba's national team, and he stood out for his size, strength, and thunder-packed ability at the plate for his age group. The showcase circuit in the States has concerned some scouts because it focuses so much on power and home-run derbies and launch angles, and Nunez's workouts stood apart because his power was not lofting over the fences but puncturing gaps and showing carry.
"He's not a one-dimensional player who has the raw power," said Luis Morales, the Cardinals' director of international operations. "He has strength. He'll hit for power. But he always understands the strike zone. Especially for a hitter that young to see that recognition. … Keep in mind that he's 17. What he did in the DSL is unbelievable."
Nunez traveled to the Cardinals' instructional workouts this month and also impressed. They see him as a raw, maturing talent who may have to move positions from third to first as he reaches his 20s. The bat projects to play at either position. He'll get a look with a domestic team this season, and a repeat performance will put him on the list of best hitting talents around.
2. ELEHURIS MONTERO, Third baseman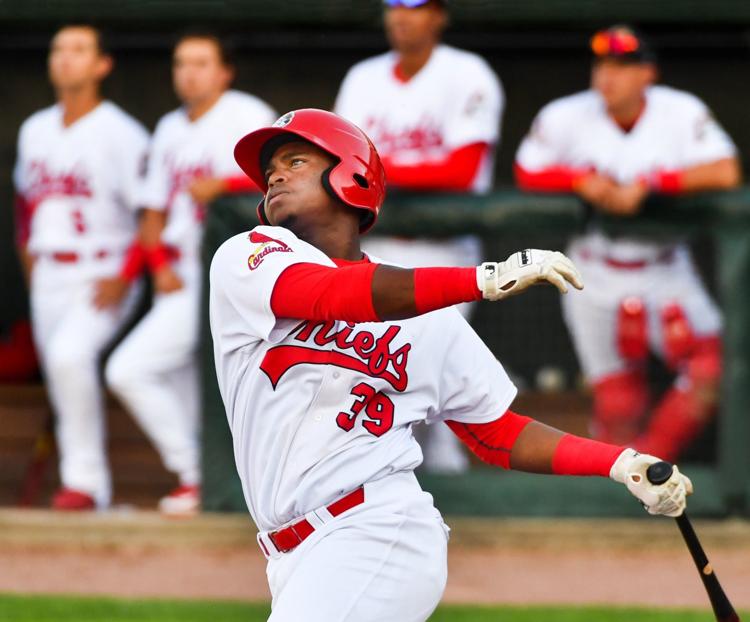 Age: 20
Bats/throws: R/R ... Size: 6-3, 195
Acquired: International amateur signing from Dominican Republic, 2014
Baseball America rank 2019: No. 5
MLB.com rank 2018: No. 7
GOOLD'S TAKE: The most advanced of the trio of prospects at the hot corner, Montero put his name alongside Albert Pujols this past season. As a force in the middle of Low-A Peoria's lineup, he became the first Cardinals' prospect for that affiliate to win the Midwest League's MVP award since Pujols did – the year before he reached the majors. Montero hit .315/.371/.504 for a .875 OPS for the season, and he showed the consistent power that had come in bursts before. In addition to his 16 home runs, Montero hit 37 doubles. He had 28 of those doubles at Low-A, where he also hit .322/.381/.529 before advancing to High-A and the wide-open, pitcher-friendly fields of the Florida State League. He still hit .286/.330/.408 there with 10 extra-base hits in 98 at-bats.
The Cardinals signed Montero for $300,000 out of the Dominican and, like Nunez, he powered through the DSL before debuting in 2017 with the GCL Cardinals. He has a feel for the strike zone that stands out, takes his walks, and generated more power, more consistently throughout this past season. He has the arm for third but his range and reaction at the position could mean a move to first base. So could another prospect. He'll be advancing in the coming years a step ahead or right beside the lefthanded complement to his righthanded upside. And that player is No. 1.
1. NOLAN GORMAN, Third baseman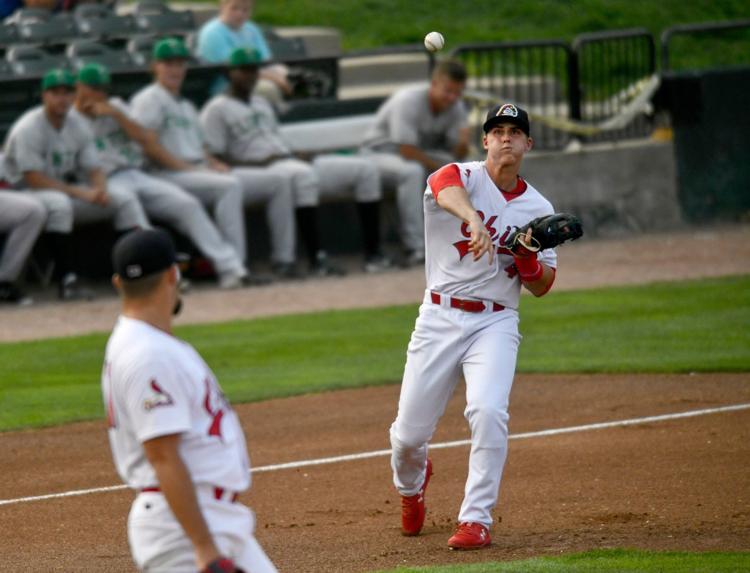 Age: 18
Bats/throws: L/R ... Size: 6-1, 210
Acquired: 2018 draft, first round
Baseball America rank 2019: No. 4
MLB.com rank 2018: No. 2
GOOLD'S TAKE: The highest ceiling, at this point, of the prospect trio at the hot corner belongs to one of the newest additions to the Cardinals' organization, Nolan Gorman. Imagine the scene described by an agent this past summer: The Cardinals' brass, draft director Randy Flores, and their armada of scouts and the analytics department are gathered in the draft room at Busch Stadium, and there, reclined in a chair, hand on his chin is Mozeliak. A grin is slowly sneaking across his face. He's seen the first 16 picks come off the board, and still available is a hitter highly regarded and unlike the Cardinals usually get to take — one who is still available. "I can see the look in Mozeliak's eyes as this is happening, and you know it," said the agent.
At No. 19, the Cardinals took Gorman, a lefthanded hitter who was considered one of the best high school power prospects available in this past year's draft.
Baseball America had him ranked 15th in their pre-draft rankings. MLB Pipeline ranked him 17th, FanGraphs.com had him 11th, and ESPN.com's Keith Law ranked him 15th. Each ranking boasted his power, which was rated as high as 70 on the scout scale (20-80).
"Gorman has 80-grade raw power but might not stay on the dirt," Law said, referring to the position he'd play in the field. "He has raised some questions about his future contact rate with an excessive focus on hitting homers."
When you do something well …
Gorman, who won't turn 20 until May 2020, hit .291/.380/.570 in his first 63 games as a pro. He socked 11 home runs in his first 38 games and that merited a promotion to Low-A Peoria. There he hit .202 and had 39 strikeouts in 94 at-bats. That's the contrast scouts see in Gorman's game. He'll thunder away at one level, have to adjust and find contact at the next, and then surge forward. The Cardinals have him earmarked for a return to Peoria, where he'll be the priority third baseman and replacement for Montero. If he thrives, a midseason promotion is possible – and it would not be a surprise if the Cardinals' Class AA Springfield affiliate heads toward the postseason that Gorman gets a look there by season's end.
The Cardinals think he'll be able to advance at third with a feel for the position and that he'll be the next position player they have scaling the overall prospect rankings in the game. He's arguably the first middle-order hitter prospect they've had since Stephen Piscotty and has the most upside of any middle-order hitter since Oscar Taveras. That's heady company at 18. He could take out a lease on this top spot.
TAKE 5: OTHERS ON THE RISE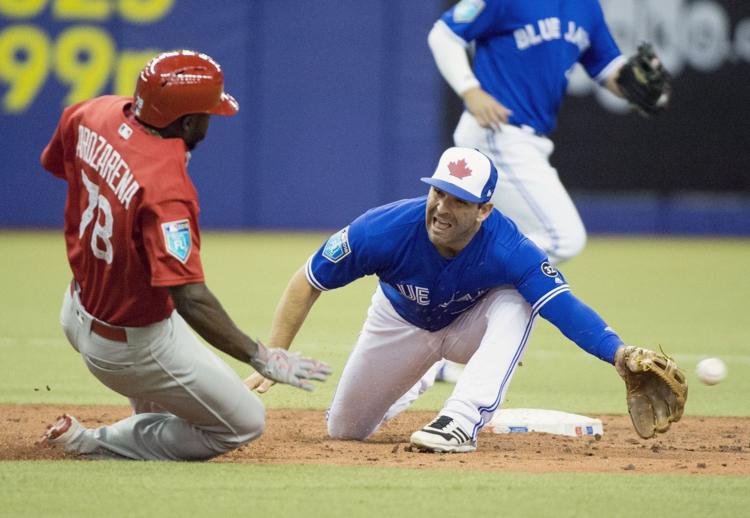 • RAMON URIAS, Infielder
GOOLD: Regardless of where he's played, he's hit. Has yet to have a turn in Mexico's league where he didn't dominate offensively, and the Cardinals are intrigued to see how that bat plays at Class AAA Memphis and where his glove can put him on the field. Urias, 24, could be a plus-offensive player at second. He hit .300/.356/.516 this past season with an .872 OPS and 41 extra-base hits.
• DYLAN CARLSON, Outfielder
GOOLD: There's a case to be made that switch-hitting Carlson, 20, belongs in the Bird Land 7. He will once again be one of the youngest players at his level, regardless of whether he heads back to High-A or starts the year at Class AA. He hit .246/.348/.390 this past season with 88 strikeouts and 62 walks. Has a keen feel for the strike zone and power could come as he matures.
• RANDY AROZARENA, Outfielder
GOOLD: Speedy outfielder has all the makings of a spring training standout. He's likely to get some playing time. He can move all over the outfield late in games. And he'll see time as a pinch-runner. This past season, the 23-year-old outfielder hit .274/.359/.433 with 12 homers. Bound to see a rise toward the majors in the coming year like Adolis Garcia did in 2018.
• CONNER CAPEL, Outfielder
GOOLD: Outfielder acquired from Cleveland moved right to Class A, and overall this past season hit .257/.341/.376 with 34 extra-base hits. The 21-year-old led all Cleveland minor-leaguers with 73 runs in 2018, and the son of former big-leaguer Mike Capel has the speed and savvy to stick at center and be a solid baserunner. He's also sharpened his lefthanded swing and in an organization hungry for depth on that side of the plate this could be the season he pulls a Lane Thomas.
• GRIFFIN ROBERTS, Pitcher
GOOLD: The 43rd overall pick in the most recent draft, Roberts had the hype of being the pitcher in the draft most likely to move swiftly toward the majors. He has a classic fastball-slider mix, and his breaking ball is considered one of the best in the organization, already. He had limited work as a pro with 13 strikeouts and four walks in 9 2/3 innings. Now, he'll be even more limited. A positive drug test netted him a suspension to start the year and will slow the ascent his talent was supposed to accelerate.
WHERE THE 2018 BIRD LAND 7 LANDED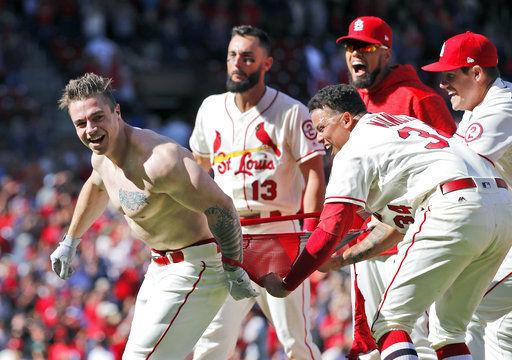 1. TYLER O'NEILL, OF: Reached the major leagues
2. JORDAN HICKS, RHP : Reached the major leagues
3. DAKOTA HUDSON, RHP: Reached the major leagues
4. ADOLIS GARCIA, OF: Reached the major leagues
5. RYAN HELSLEY, RHP: Pitched for Class AAA Memphis
6. OSCAR MERCADO, OF: Traded to Cleveland
7. DELVIN PEREZ, SS: Played at Rookie League level