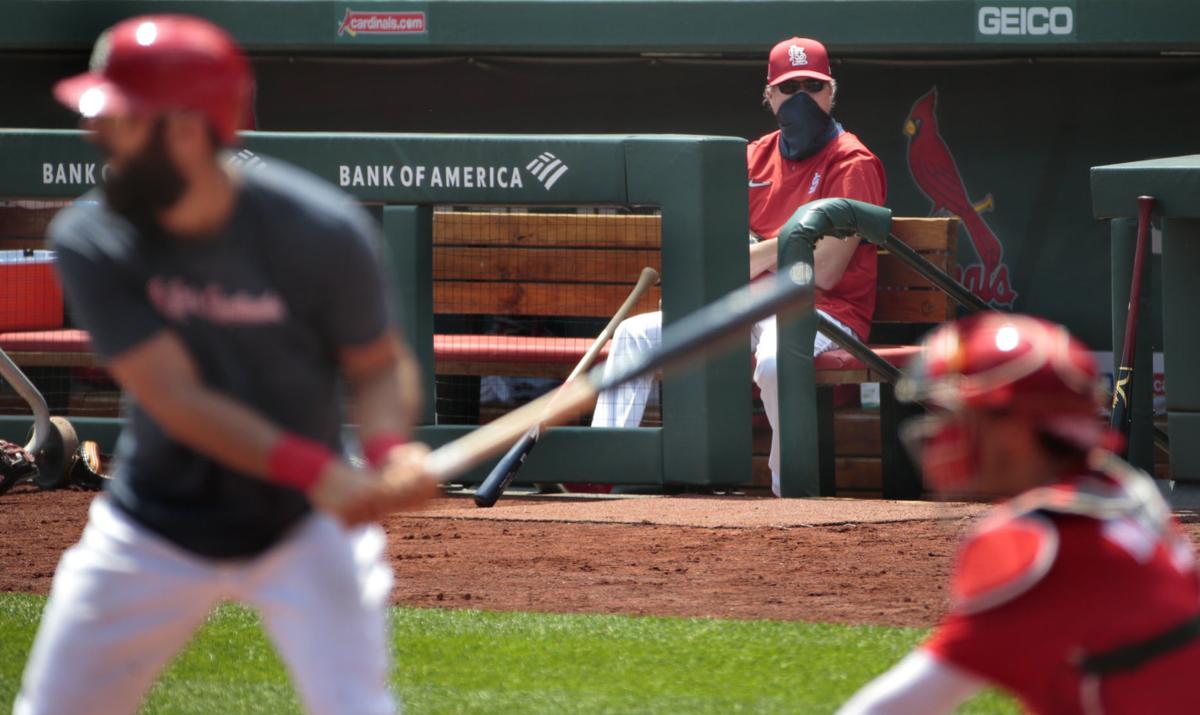 Whether this season was 162 games, 60 games, or 16 games, a strength the Cardinals planned to flex on the NL Central was their pitching depth, and it took only two days of official workouts for them to learn the new and pressing ways it can be tested.
As the second day of official workouts at Busch Stadium neared its end, the club announced pitchers Genesis Cabrera and Ricardo Sanchez had tested positive for COVID-19 and been isolated from the team. Both are asymptomatic, manager Mike Shildt said.
At the same time, a handful of other players, including two more pitchers, have yet to be cleared to join official workouts while they await the results of tests. Including Giovanny Gallegos, who is awaiting clearance to travel from Mexico, there are eight players on the Cardinals' 45-man camp roster yet to appear.
"We start with 30 (players), and the season is still a way's away," Shildt said. "We do have depth. We created depth to start here, at 45. That number had a legitimacy to it for a variety of reasons. One of the things we couldn't plan was how this (testing would be) looking, but we had a contingency plan. We've cut into the depth, especially on the pitching side, as you mentioned. The good news is we have it. The good news is these guys are asymptomatic, so we're hopeful and optimistic that they won't be out very long."
The two positive tests brings the Cardinals' team total to three, with more tests pending. Major League Baseball and the players' union announced Friday that intake screening had produced 38 positive tests, including 31 players. But not all players had completed their intake screenings. Many teams, such as the Cardinals, have yet to fill their 60-man organization roster and those additions will be tested, and several teams were awaiting more results this weekend.
Carlos Martinez and Cabrera shared on social media that they were in St. Louis, and Shildt said Alex Reyes also was in the area. Martinez and Reyes have yet to appear on the field as they go through the intake process. Because of club policies and MLB's policy, Cardinals officials are not cleared to offer details on any specific delays, other than to speak in generalities.
"I can really tell you there are some guys that tests are still pending," Shildt said. "I wouldn't jump to any conclusions. That is the reality of why they're not here."
Cabrera and Sanchez gave the team permission to identify them and their positive tests; the third person on the team to have a positive test has not been identified.
To be cleared to participate in workouts, both players because they don't show symptoms now must have two negative tests for the virus, taken 24 hours apart, and be without a fever for 72 hours. They also must complete at least one antibody test.
The indefinite delay of their availability leads the Cardinals to consider adding a lefty or two to the Busch-based "summer camp." When spring training ended, the leading lefties for those roles were Rob Kaminsky, a high-round pick who has returned to the club, and Zack Thompson, the Cardinals' first-round pick in 2019.
It is unclear if new positive tests have led to other players being isolated because of their contact with each other. Shildt said on Friday that several players — Cabrera, Martinez, catcher Ivan Herrera, and infielder Elehuris Montero — had been delayed in their travel and were tested early Thursday morning. Some of those players were scheduled to travel together, either on a flight to St. Louis or on an MLB charter out of the Dominican Republic. 
The Cardinals are retracing the steps of the players with positive tests to determine if any other player had extended contact with them.
MLB procedures
MLB's operational manual calls for any players who have "come in close contact with a confirmed case of COVID-19" to go through an immediate expedited test for the active virus. The same would be true for any player showing symptoms of the virus. A second, or "confirmatory," test also is required before the player is cleared. The added round of testing would delay any participation in workouts.
According to the guidelines, a player who has been in contact with a teammate who tested positive for the virus can continue workouts as long several criteria are met. They include the expedited test, self-quarantining while awaiting those results, more frequent temperature checks and daily saliva tests for a week.
Players can go on a COVID-19 injured list, though teams may not identify that, leading to some uncertainty of a player's status in regards to testing.
"Our league and our team want to be consistent with the individuals," Shildt said, addressing the medical privacy aspect. "We just need to be mindful that ultimately the gray area is not what anyone wants to have. You guys (the media) want and deserve answers. Cabrera and Sanchez are forthcoming about their positive tests. That's clarity. There are legitimately guys who are waiting to figure out what it looks like for them from a testing standpoint."
The Cardinals have readied Cabrera as a starter with a plan to move the power lefty into a late-inning role if needed, or utilize him for long relief. The Cardinals acquired Sanchez off waivers last winter to add more depth to their lefthanded pitching.
The Cardinals invited 22 pitchers to their preseason camp at Busch. John Brebbia will miss the season while recovering from elbow surgery. Jordan Hicks (elbow) threw a bullpen session Saturday, but he will start the year on the injured list. And lefty Brett Cecil's availability for opening day is not yet certain. With the players who have yet to be cleared, that left the Cardinals on Saturday with more than a third of their planned pitching staff for camp limited in some way. Of the four pitchers who appeared in the Cardinals' NLDS clinching win against Atlanta, all are on the camp roster. But only Jack Flaherty has been cleared for workouts.
The pending test results could improve those numbers.
"We need everybody," pitcher Daniel Ponce de Leon said after facing hitters Saturday. "You could have an outburst of the virus or whatever, and drop two or three guys, so you need them to be ready. And we're all working together."
The clear and present reality of the virus is as much a part of the preseason workouts as its catchy nickname and logo, "Summer Camp," and Pitchers Fielding Practice (PFP). Hicks wore a mask on the field when meeting with teammates. Shortstop Edmundo Sosa wore a mask while running the bases and taking grounders.
Expected results
With expansive testing greeting every player entering 30 camps at 30 different sites, Major League Baseball expected positive tests. The Atlanta Braves announced four positive tests Saturday and told reporters that All-Star Freddie Freeman and former Cardinal Pete Kozma have symptoms. Kansas City manager Mike Matheny revealed to reporters that he had coronavirus, quarantined with his wife, and recovered. He added that he tested for the antibody.
The positive tests are not unexpected, and the real test remains how a team and the players act, and, if and when games begin, whether a roster can respond.
"Disappointed for them, but not surprised — it was something you somewhat expected for this to happen just based on numbers," Shildt said of the two new positive tests. "People come from different places. A lot of players, much like myself, (were) not tested prior to being here. Clearly, with the asymptomatic group. There is an expectation that there's a pretty good chance that we and the industry would have positive tests. . . .