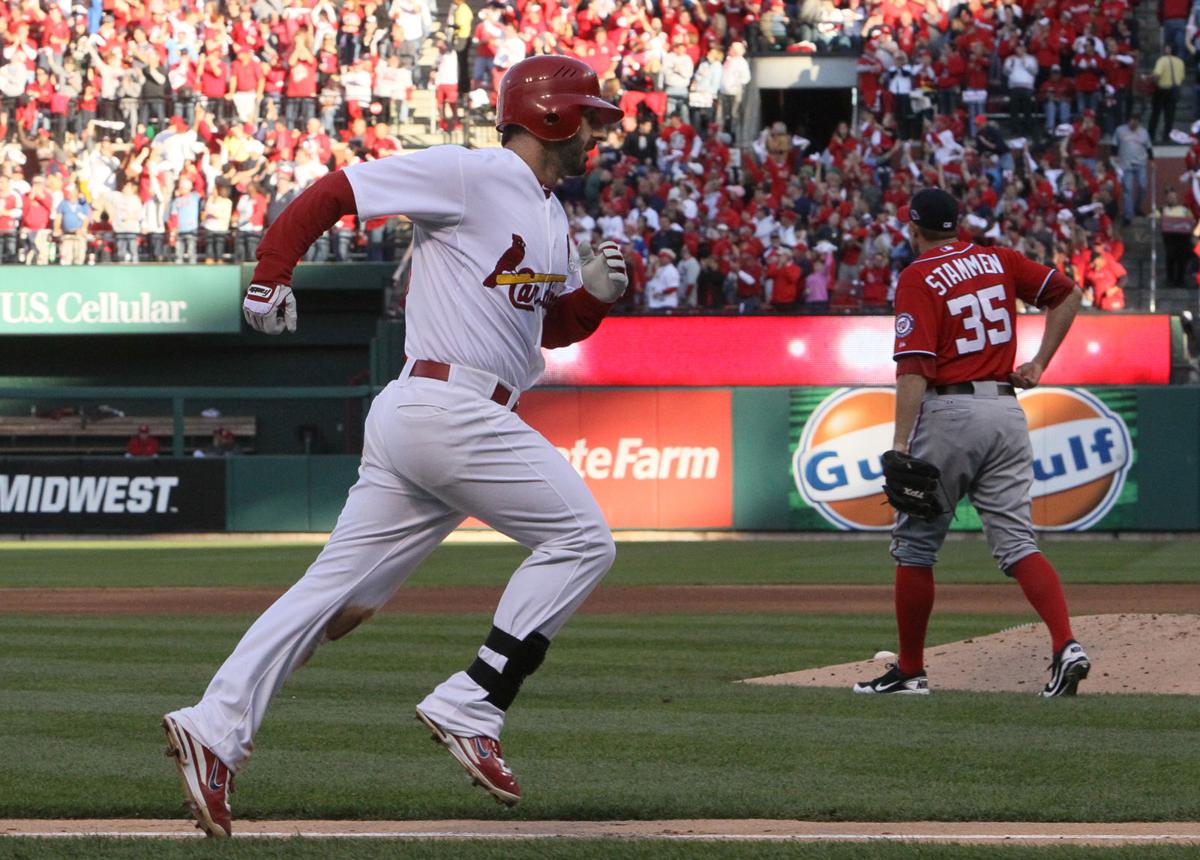 WASHINGTON • Buoyed by Monday's 13-hit performance, there are several Cardinals swinging hot bats in the National League division series. But the hottest might be second baseman Daniel Descalso, who was more tepid than torrid during the regular season.
Descalso, a .227 hitter in the regular campaign, is at .333 for the first two games of the division series, having ripped line drives in his last five at-bats.
After Washington right fielder Jayson Werth snatched a potential home run from Descalso in Game 1, the Cardinals' second baseman singled to right, homered to right, hit a crisp ground ball for a double play and lined to right in Game 2.
Hitting coach Mark McGwire cites the lefthanded-hitting Descalso's extension through his swing and Descalso admitted, "I was cutting myself off.
"That doesn't allow you to drive through the ball or hit the ball the other way with any authority. It was just frustrating."
It was back to the drawing board, in a sense, and McGwire said, "He's put in so much hard work with myself and John (assistant hitting coach John Mabry) for the last 2½ to three months. It's stuff that's really gone unseen. He's made some really, really nice changes and it's paying off. He's been open to it and you've got to give him the credit for doing the hard work.
"But it's so tough for a young hitter (Descalso will be 26 next week) to understand it, to make adjustments during a big-league season. When he doesn't get the results he wants, John and I say, 'Listen, there's a light at the end of the tunnel.'''
McGwire said Descalso was at least taking more "consistent" at-bats at the end of the season, although the average might not have shown it, necessarily.
"And he's had pretty damn good at-bats the three playoff games we've played," said McGwire.
Descalso said that being able to play good defense enabled him to "buy some time" to get his offense in gear. First, Descalso had to get onto the field on a regular basis, with veteran Skip Schumaker and departed Tyler Greene also getting sniffs at second base, with Descalso occasionally playing shortstop.
But, since rookie Pete Kozma has taken over at shortstop, Descalso has started 13 of the last 16 games at second base.
"It was a long process this year," Descalso, a .265 hitter last year, said. "Things weren't just feeling right. I was very inconsistent and I thought there was a lot more in there.
"I worked with 'Big Mac' and 'Mabes' on trying to keep that barrel of the bat in the zone longer and get some extension. It took a while. I took some steps backward before moving forward. August was a pretty rough month for me."
How rough? Descalso hit .169 with a .192 on-base percentage in August before improving, gradually, to .247 in the last month of the season.
"For the better part of September and October, I've been feeling better about it, more comfortable," said Descalso. "I was hitting balls a lot harder. Some of them were getting caught, but I felt my at-bats were a lot better.
"I'm definitely going in the right direction."
Righthander Edwin Jackson, who won a World Series ring as a member of the Cardinals last year, will try to put the Nationals ahead of his former team when he starts against Chris Carpenter this afternoon.
There really is no way to speculate on what Jackson, playing for his seventh team in seven years, will show today. On Aug. 30 here, he fanned 10 in beating the Cardinals 8-1. On Sept. 28 in St. Louis, Jackson allowed nine runs in 1 1/3 innings.
"The first outing, I was aggressive," said Jackson. "I was throwing strikes. I was ahead.
"The second start, I wasn't. It's pretty simple."
Jackson had a typical year. He was 10-11 for the Nationals. Before that, he was 60-60 in the majors and 32-32 in the minors. Though Jackson's stuff is well above average, his picture is next to the definition of a .500 pitcher.
But 19-year-old Nationals outfielder Bryce Harper said after Monday's 12-4 Nationals loss in St. Louis, "He's one of the strongest pitchers in the postseason known to this game. He's unbelievable in the postseason and the Cardinals know that."
Harper apparently wasn't paying rapt attention to all of last year's postseason. Jackson held Philadelphia to two runs in six innings in a division-round win but was KO'd by Milwaukee after two innings in the final game of the league championship series and was out before the end of the fifth in another LCS game. Jackson walked seven hitters in 5 1/3 innings in his only World Series start.