PHILADELPHIA — To rally from one of the five-run deficits it faced this past weekend in Houston, Philadelphia called on everything it could just to split the first two games of the World Series. From aggressive relief to reliable power and even a dash of unexpected but timely defense, the Phillies needed everything they had to outlast the Astros once.
Everything, that is, but the one strength waiting back home.
The 118th Fall Classic shifts venues, to Citizens Bank Park in South Philadelphia for Game 3 on Monday night, and the Phillies will be a greeted by their faithful, a group famously brotherly but loath to losing — and they haven't seen it at all this postseason. The Phillies are 5-0 at home in the playoffs, and they have outscored opponents by 20 runs. The best-of-seven championship series is knotted at a game each, and with five games to play Houston has the pitching edge, the defensive edge, and an offense that has scored 10 runs off Philadelphia's two best starters. What the Phillies have is all they claimed by upending Houston in Game 1. Their advantage: home.
"We're even, 1-1, taking it back to the Bank, where I think we're pretty dangerous," said Noah Syndergaard, the Phillies' Game 3 starter, in a news conference Sunday. "That playing environment is really going to help us out."
Philadelphia started the postseason on the road as the lowest-seed in the National League bracket, assuring the Phillies never start a series with the home-field advantage. They ousted the Cardinals in two games at Busch Stadium, and then in each of the subsequent rounds when they brought October back to Philly, they clinched. That included going 3-0 in the best-of-seven National League Championship Series, against San Diego, to claim their first pennant since 2009 and avoid a 5 -hour flight back to the West Coast.
The Phillies are 21-9 in 30 playoff games since 2007 at Citizens Bank Park, and no team with that many has won that often. When last they won a World Series, in 2009, the Phillies brought a split series back home just like this year and swept Tampa Bay to cinch the title in Game 5. Pedro Feliz delivered a tie-breaking RBI — two years before his career ended as a Cardinal.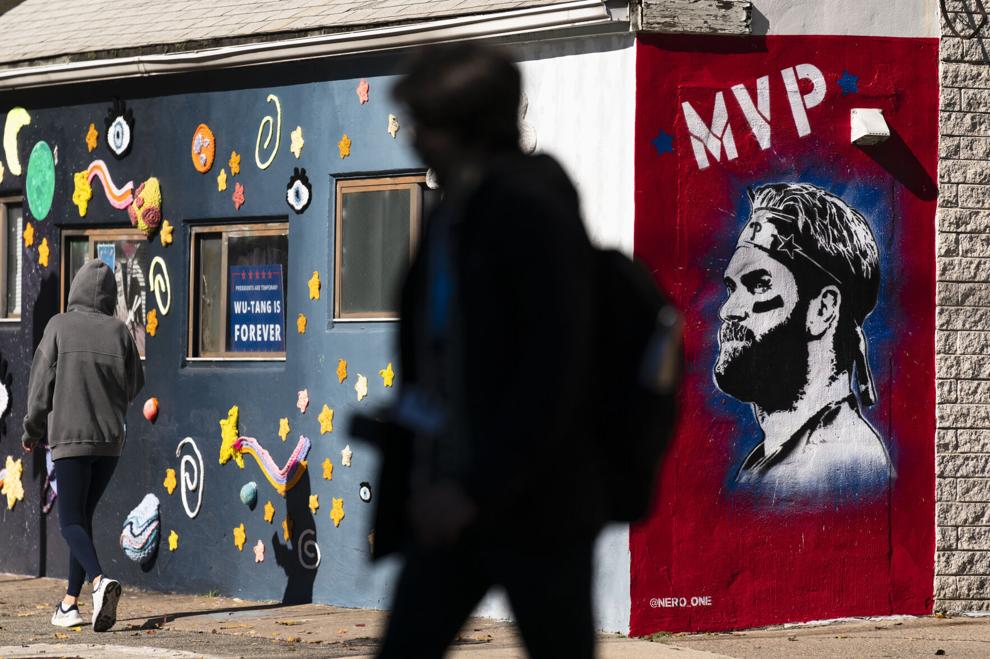 This year, the Phillies were a top-five offense at home in runs scored and homers launched, and it was their 47-34 record at home that buoyed them when success on the road or against division leaders did not.
Astros manager Dusty Baker referred to his team's win in Game 2 to avoid going to Philadelphia down 0-2, as "almost a mathematical must, actually."
Baker announced Lance McCullers Jr. as his Game 3 starter, suggesting that the call was between McCullers for second or third game, not third or fourth. He opted to slide lefty Framber Valdez in Game 2 and got 6⅓ innings in a 5-2 victory Saturday night in Houston. McCullers, limited by injury to eight starts during the regular season, will make his third start of the postseason. His previous two have been on the road. Both have been wins, including a pennant-clincher at Yankee Stadium. His most recent start in a World Series was Game 7 in 2017 — at Dodger Stadium
"Really looking forward to experiencing the crowd," McCullers said in a news conference Saturday in Houston. "I've heard a lot about it. … I think it's really cool to pitch on the road in the postseason — when you get to experience the most raw and real atmospheres in all the game. You get to really test yourself and kind of see what you're made of when you have to go on the road, especially in a big Game 3 like we're going to have."
"Lance (is) our big-game guy," Baker said. "This is a very big game."
Swift work at the home of the Padres allowed Philadelphia to set up its top two starters who dispatched the Cardinals — Aaron Nola and Zack Wheeler — for games 1 and 2 of the World Series. That left Ranger Suarez for Game 3. Until, that is, he was needed to win Game 1. The Phillies fell behind 5-0 in that game before surging against Justin Verlander and winning in the 10th inning on J.T. Realmuto's homer.
Nick Castellanos, famous for his flex as a Red and recast as a right fielder for the Phillies this season, had a sliding catch to keep the Astros from scoring a walk-off run. But before that catch and before that homer, first-year manager Rob Thomson made a decision that had ripple effects yet to be felt in the series.
When the Phillies tied that game 5-5, after their half of the fifth inning, Thomson removed Nola and went immediately and early to late-inning reliever Jose Alvarado.
"It felt like that was such a huge momentum swing that I didn't want to let them breathe at all," Thomson said the next day. "I wanted to try to do everything I could to shut it down right there."
That pressed Suarez into the game for what Thomson called a "super bullpen."
That pushed his start back to Game 4.
Break out the blond wigs, winged helmets, and foam Norse hammers, it's a starter ready-made for Halloween. Syndergaard, nicknamed "Thor" for his hair and super-size, will be making his first World Series start since he was a rookie with the New York Mets and he started their only win in the 2015 series.
Acquired at the trade deadline from the Los Angeles Angels, Syndergaard made nine starts for the Phillies, but he has not been part of their postseason rotation or had a prominent role in the playoff push. Syndergaard last pitched seven innings in August, hasn't thrown more than 90 pitches in a game since Aug. 28, and his last six-inning start was in mid-September. In three playoff appearances, he's thrown 5⅓ innings and allowed one run. The Phillies might only expect one time through the Astros' lineup from him. But, they'll welcome more. With the thunder of a home crowd at his back, maybe lightning can strike.
It may not always be sunny in Philadelphia, but it's where the home team sure has been successful.
"Everybody talks about the blue collar-ness of this city and the fight that they have, and it just rubs off on all of us," outfielder Bryce Harper said after clinching the NL pennant at home. "We have 46,000 people in this stadium. It's 46,026 because we're all in this together. No matter where they're at, who they are, where they come from, if you've got 'PHILLIES' across your chest, and you're a fan, you're part of our team. You're part of our organization. You fight with us each day."
Arenado's return official
The Cardinals announced Sunday that Nolan Arenado notified them of his decision to return to the team and not become a free agent next week.
The team put the official statement in a tweet Sunday, an off day for the World Series. Arenado, 31, had the ability to opt out of his contract or elect to stay with the Cardinals through the 2027 season, at least.
The All-Star third baseman and MVP candidate told the Post-Dispatch on Saturday that he felt the team went "far beyond" to make a trade from Colorado possible and that he wanted to return that level of commitment by staying with the organization. He said, after meeting in person with club leadership, that he was "excited for future."