With a clubhouse now almost as empty as their October schedule, the Cardinals' brass gathered with the coaching staff earlier this week to shift their focus from standings to strategy.
The question presented each fall is similar: "What do we need to do to improve?" Chairman Bill DeWitt Jr. said. And, though their streak of seasons without a playoff berth is one year longer and their last championship one year farther removed, the question was asked in standard typeface, not in italics. In DeWitt's two decades with the ownership group, the Cardinals have never gone four consecutive years without a division title. But while suggesting the Cardinals will "wade in" to a star-studded free-agent class, he insisted another autumn without playoffs does not intensify the urgency, not as pressure shifts from the players' performance to the front office's.
"They've certainly put pressure on themselves to get us where we want to go," DeWitt said Thursday, including himself as part of that "collaborative" group. "It's not like, 'Oh, we better win the division next year or we're going to turn everything upside down.' That's not our view. I think that's a dangerous approach because then you put people in position going all-in as the model. 'Forget about two, three, five years down the road when, oh well — I'm not going to be around. So, I don't care.' I don't think that is the way to operate a team."
Data-driven, disciplined, and deliberate — those have been the guardrails for the Cardinals in the offseason, and will be again.
The destination is what DeWitt expects to change.
"Playoffs are our goal," the chairman said. "My goal is to win enough games to make the playoffs, whatever that number happens to be. Hopefully beyond that so that it's not a one-game wild-card appearance. I do expect change to the roster. We have change every year. We traded young players for (Marcell) Ozuna, and that was a significant change. We're open for business this year on premium players if they become available."
DeWitt returned to his home in Cincinnati on Tuesday night after two days of meetings with the staff in St. Louis, and he spoke Thursday morning for about an hour by phone to offer his views on what did happen in 2018 and what should happen for 2019. He mentioned how the pivot in the season was the team's unprecedented move — during his ownership — of firing the manager, and the jolt "a new voice" brought to the team. He detailed how the team got valuable experience and contribution from young, rising talents like Jack Flaherty and Harrison Bader, and how the length of the season did seem to sap the same young players. He wondered how the record would have looked if All-Star closer Greg Holland was "game ready" and "pitching to his capabilities" — "a couple big ifs," he said.
And he referenced how the closing six games were against Milwaukee and the Cubs, "two teams that had a lot to play for, so these were intense games on both sides," DeWitt said.
They are also the two teams ahead of them in the division.
The meetings this week are used to evaluate players, coaches, and health, and also begin mapping out options for additions. DeWitt said the staff left "with a general direction we'd like to go." The talent available this winter is no secret. The free-agent market features two young, bona fide superstars in Manny Machado and Bryce Harper — either of whom would fill multiple needs the Cardinals have — as well as a strong second-tier group that would augment the Cardinals' roster.
The Cardinals' willingness a year ago to take on a little more than $250 million of Giancarlo Stanton's contract in a trade and past offers to David Price and Jason Heyward reveal the financial oomph they have, if they are interested. 
"There is value in star players. No question about it," DeWitt said, declining to speak specifically about any one player. "I think the question has to be, 'What is the value?' You can't fall in love with some name player at the expense of making a bad decision which is going to hurt you down the road. We'll wade in and determine who would be a good fit to improve our club. We're aggressive and we've got resources to deploy if the right situation emerges."
Recent returns might give them pause.
Since their last playoff appearance, in 2015, the Cardinals have signed five free agents to deals worth at least $14 million. They've ended up paying two of those players, Mike Leake and Greg Holland, to pitch elsewhere. Dexter Fowler had a sturdy debut with the team in 2017 before struggling throughout 2018, and he never had a long run as the center fielder and leadoff hitter the Cardinals spent $82.5 million to secure. Brett Cecil has not been the surefire lefty reliever the Cardinals imagined when they rushed to sign him to a four-year, $30.5 million deal. Miles Mikolas has been the find of the group, while the other four have contributed to a minus-7.0 Wins Above Average — that is, seven wins less than an average player — in exchange for $207 million, guaranteed.
The "erosion" of performance from such additions was offered by the front office as a reason behind the firing of Mike Matheny and his hitting coaches in July. Asked if these struggles gave the Cardinals any reluctance with free agents or forced a review of how they pursue free agents, DeWitt said the experiences offered affirmation.
"I think it points out, first of all, it's a high-risk game — free agency," DeWitt said. "And it's one of the reasons we've probably not been in it so strong over the years. It's just high risk. You make a commitment that can hurt what you're able to down the road if you're wrong. We've been disciplined on that over the years (and) you better be darn sure who you sign and what they're all about in addition to their numbers and what's going to fit with our club."
What's driven the Cardinals into the free-agent market for those deals has been trying to close the gap on their prescribed goal.
DeWitt explained the model he wants is a team that, over multiple years, can average 90 wins. That, he said, assures a playoff berth, and "frankly, we felt that incremental benefit (of free agents) could get us those last few wins." The 88 wins the Cardinals had this season would have been good enough to get a playoff berth in four of the past seven years. Since the advent of the second wild card berth, the lowest win total to reach the postseason has been 89.7. In the past 19 years, the lowest win total in the playoffs has averaged 89.9 wins.
The Cardinals' 83-win championship team of 2006 is the outlier, while the two 100-win teams from 2004 and 2005 are far closer to a new norm.
Avoiding the wild-card game the Cubs lost this week means winning the division, and in the past 19 years, 90 wins or fewer has won the division four times. The combination of robust Cardinals and Cubs teams in recent years and tanking teams throughout baseball has nudged the average up even higher. The NL Central winner has averaged 94.5 wins the past 19 years, and in the past seven, 96.4. The Cubs have averaged 96.8 wins the past four years.
It is, as DeWitt said, "a high bar."
To meet their stated goals, the Cardinals have to reach.
"I'm aware of the frustration of our fans," DeWitt said. "I think we've got great fans. They're extremely knowledgeable, they understand the game, and I believe they understand what we're trying to accomplish. While we haven't actually made it to the playoffs the past three years, we've been extremely close. It's not like we've done a teardown and rebuild and we'll see you in four years.
"We were right there," the chairman said, "and couldn't close it out."
---
Infield: Matt Carpenter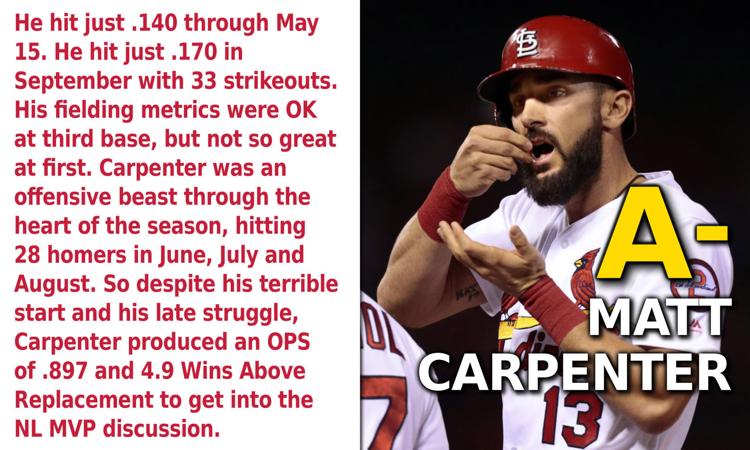 Infield: Patrick Wisdom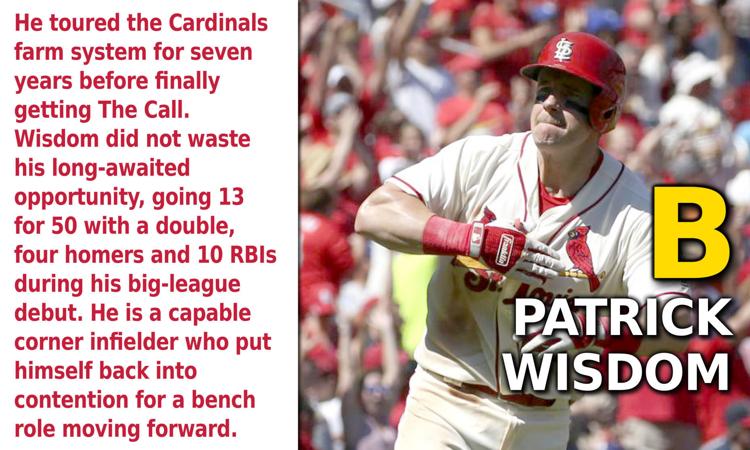 Infield: Paul DeJong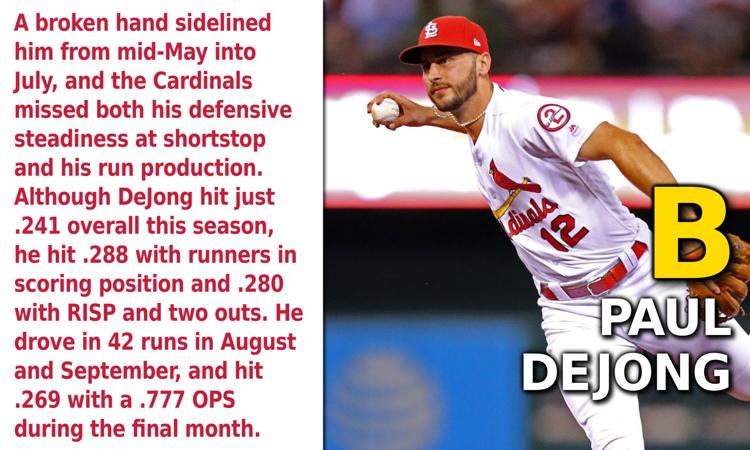 Infield: Yairo Munoz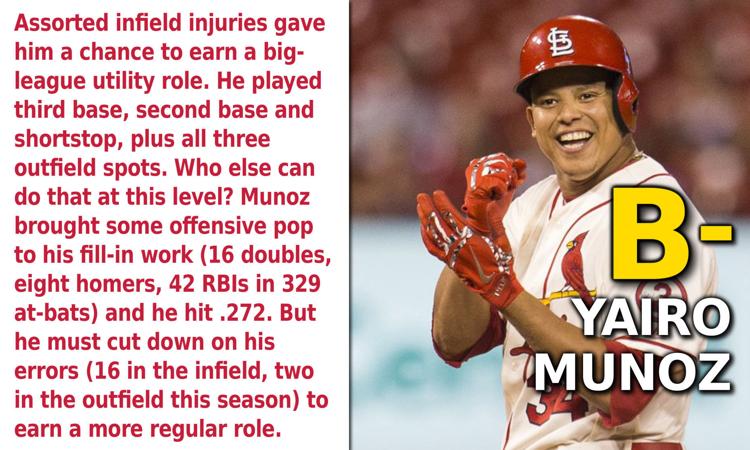 Infield: Kolten Wong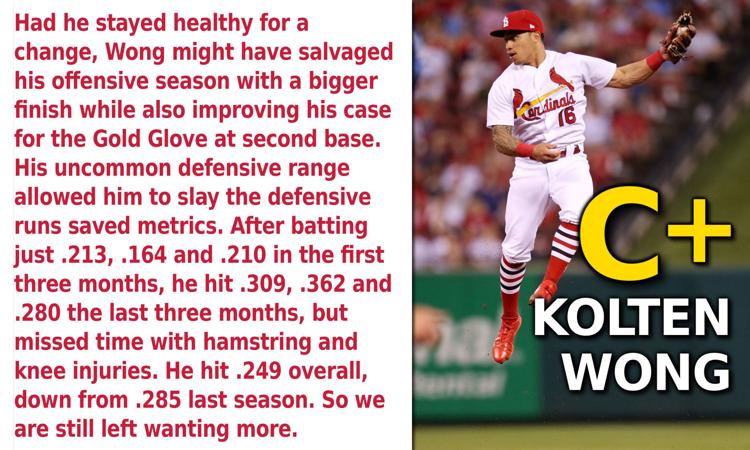 Infield: Jedd Gyorko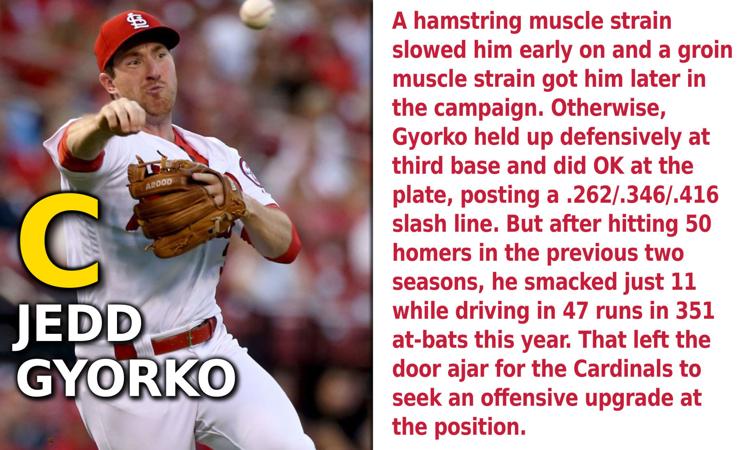 Infield: Matt Adams
Infield: Greg Garcia
Catcher: Yadier Molina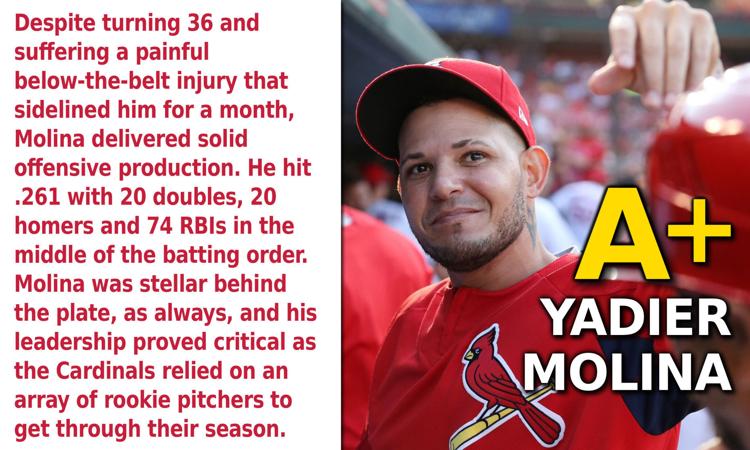 Catcher: Francisco Pena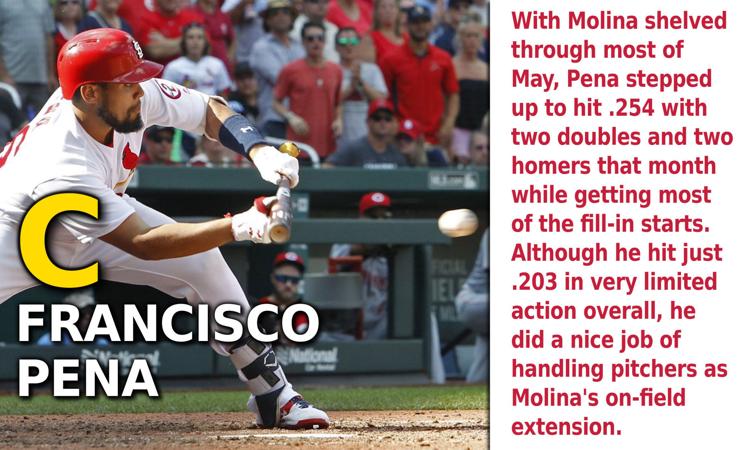 Catcher: Carson Kelly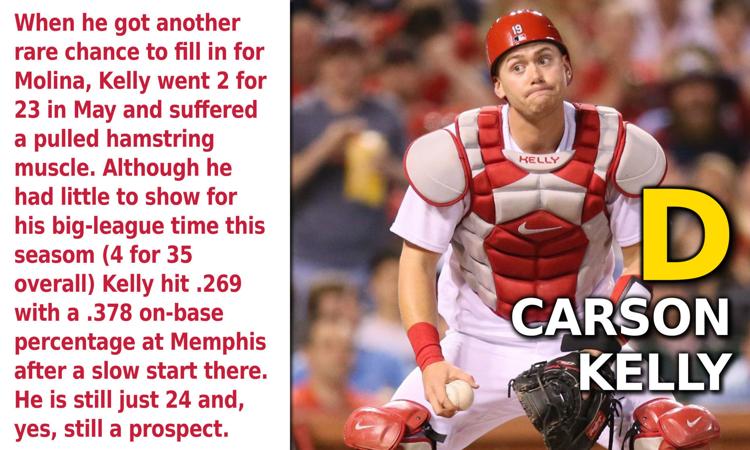 Outfield: Jose Martinez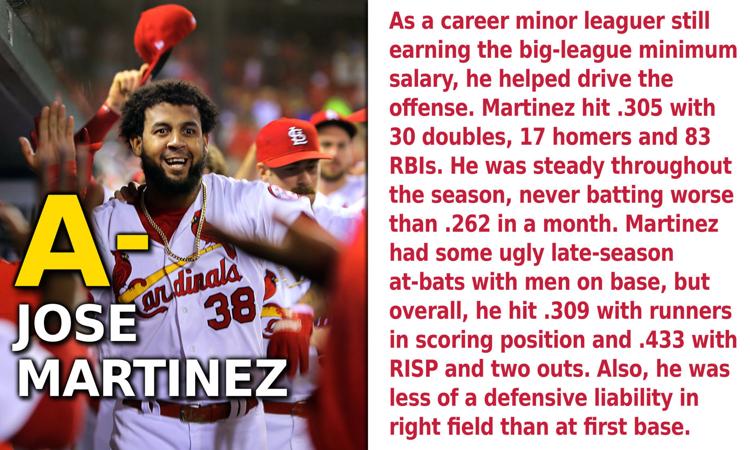 Outfield: Harrison Bader
Outfield: Tyler O'Neill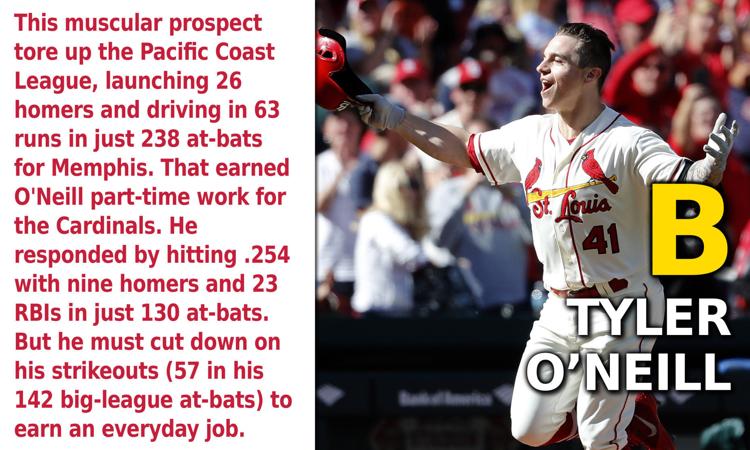 Outfield: Marcell Ozuna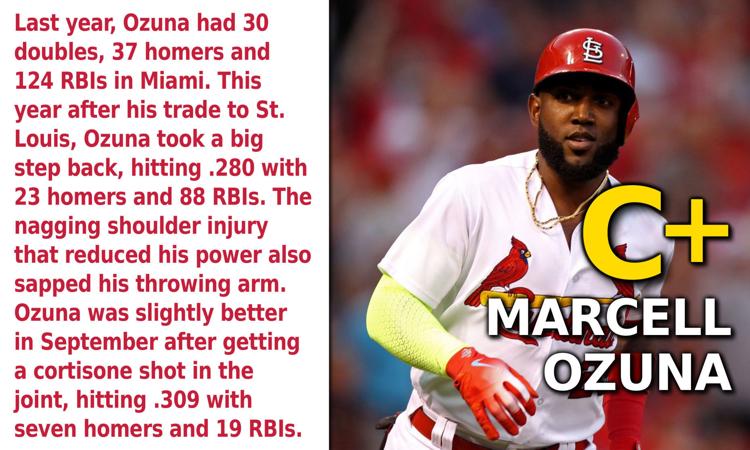 Outfield: Dexter Fowler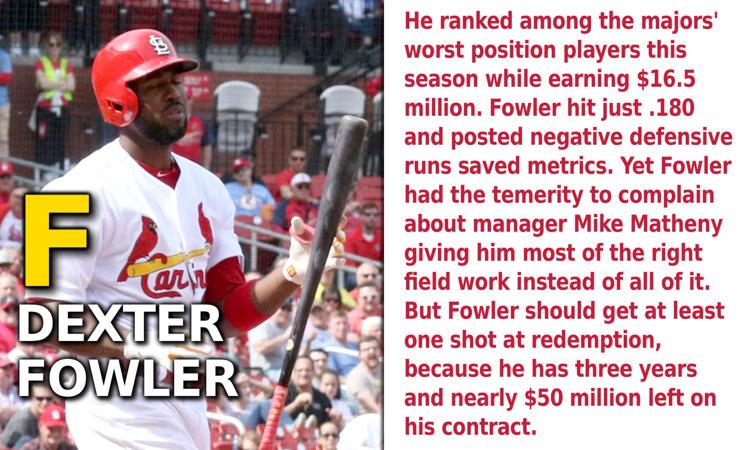 Outfield: Adolis Garcia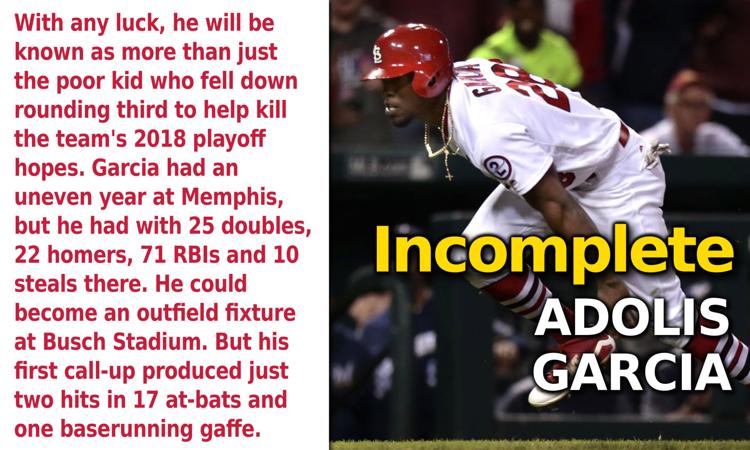 Field staff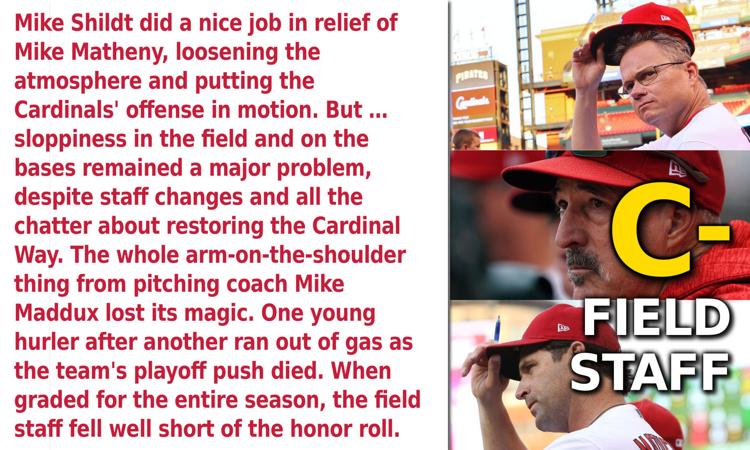 Front office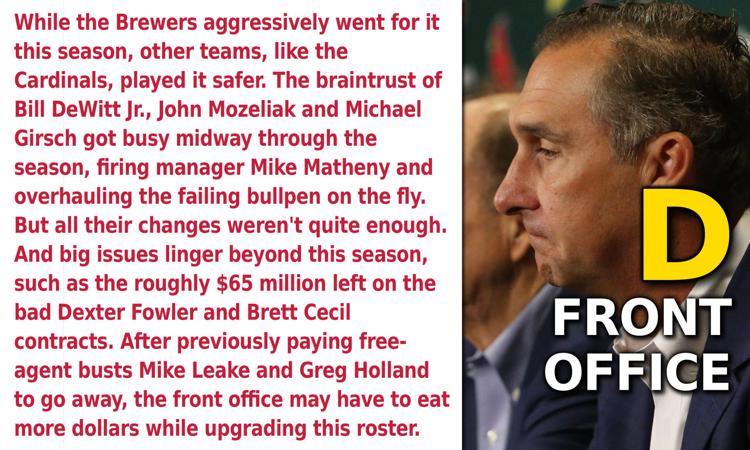 Get Gordo's grades for the pitching staff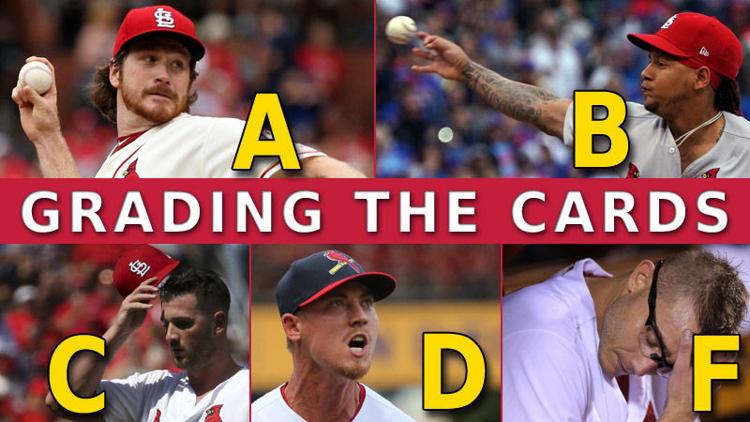 Quiz: How much do you know about the last Cardinals team with a 3-year playoff drought?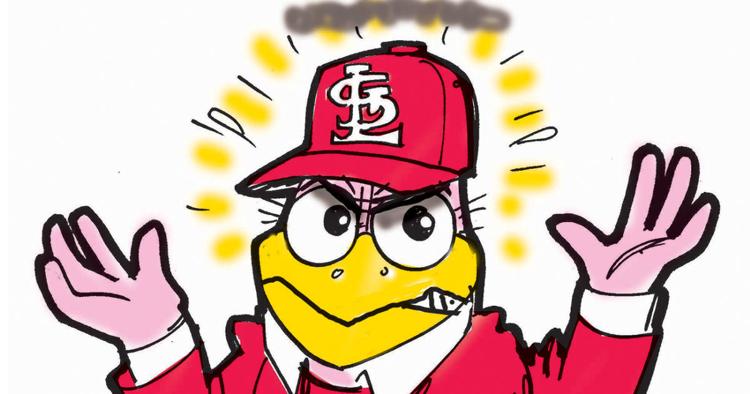 Miles Mikolas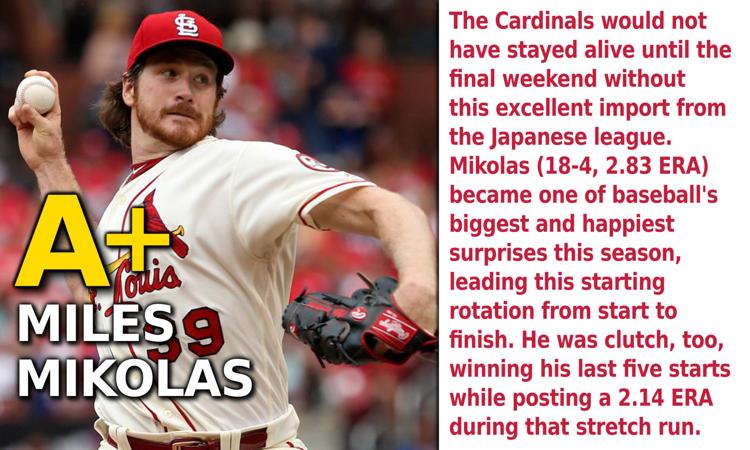 John Brebbia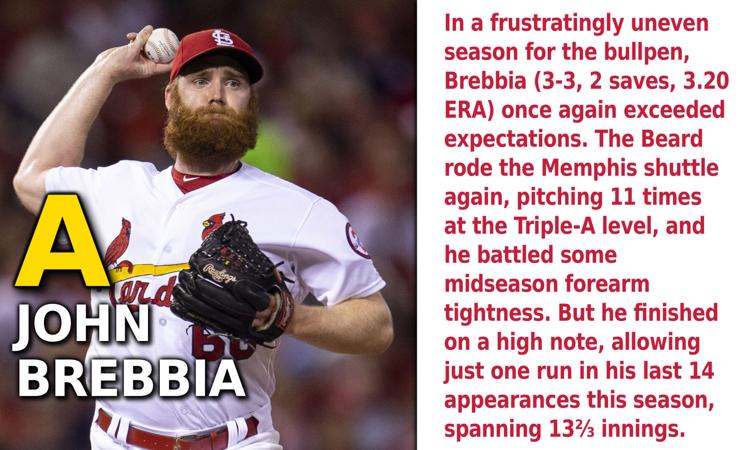 Daniel Poncedeleon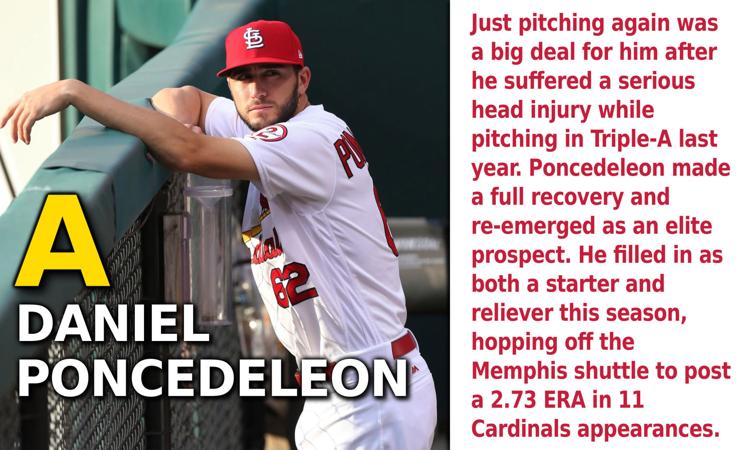 Jack Flaherty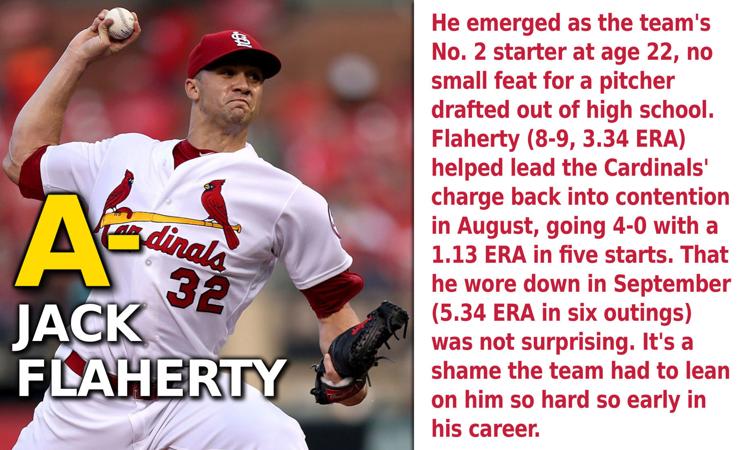 Jordan Hicks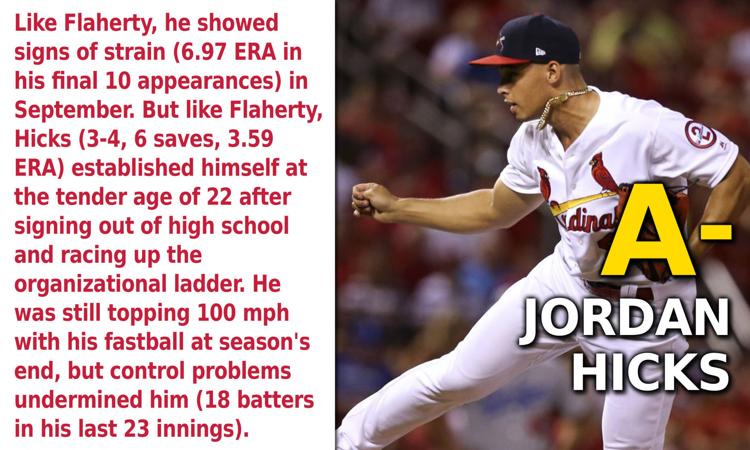 Michael Wacha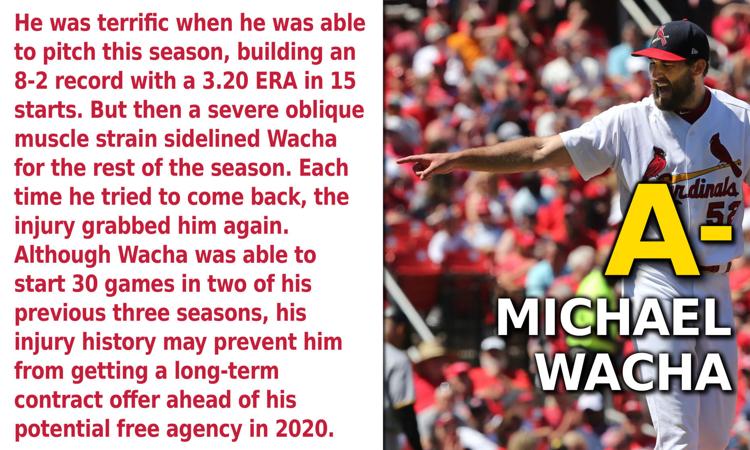 Tyler Webb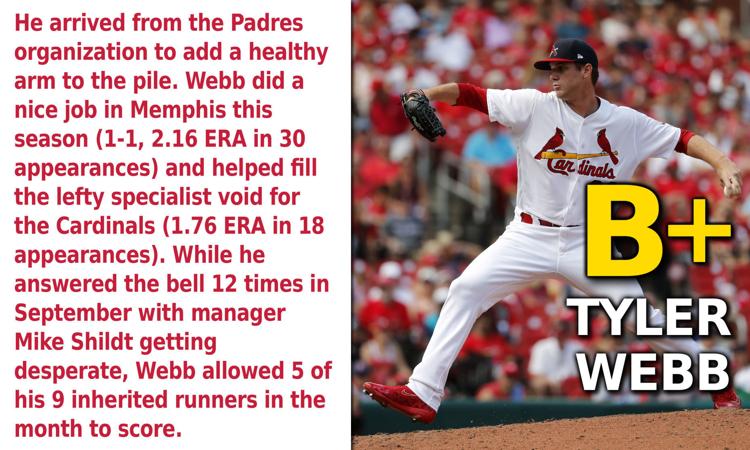 John Gant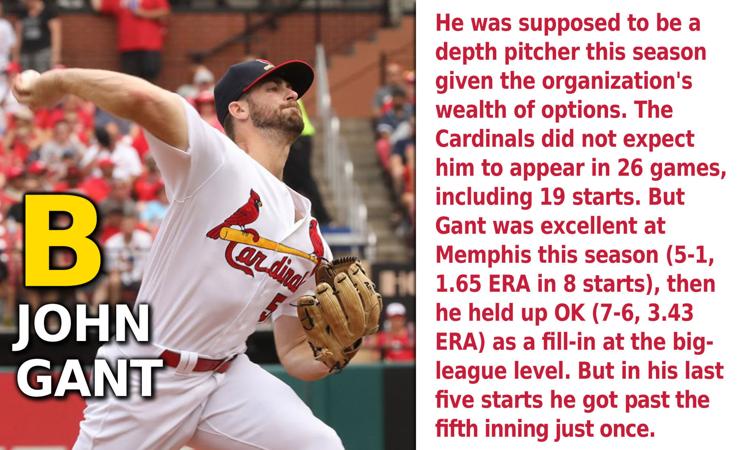 Dakota Hudson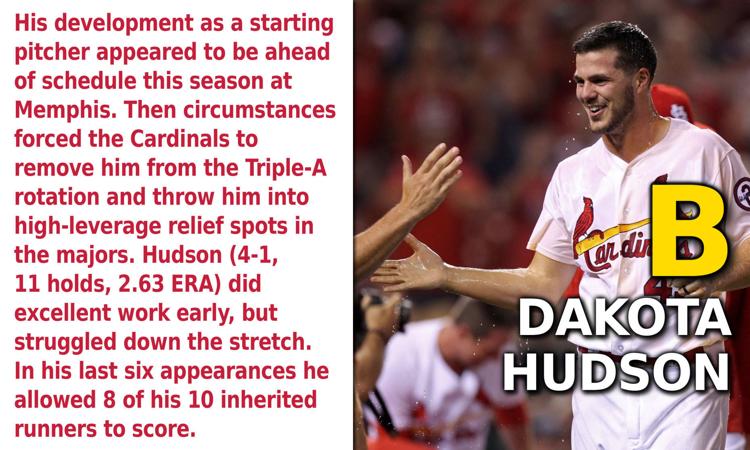 Carlos Martinez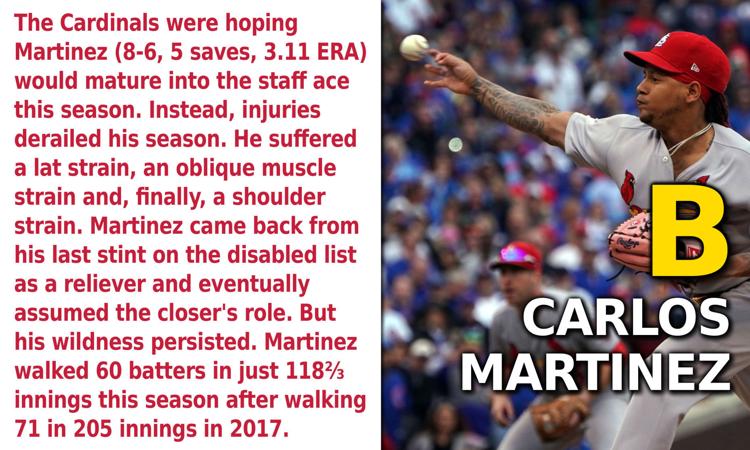 Bud Norris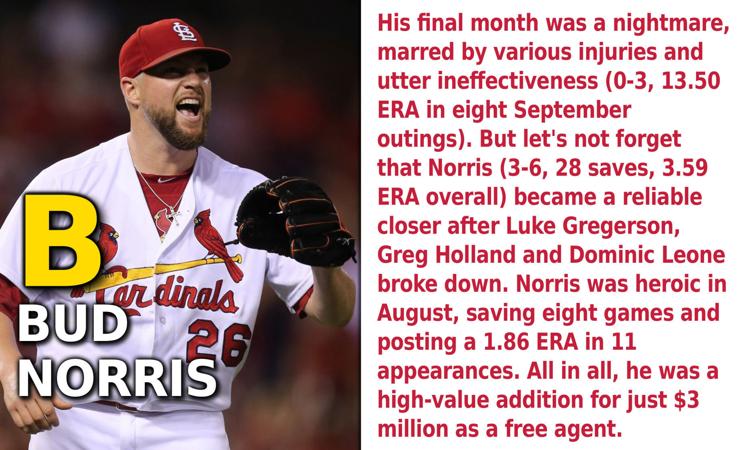 Tyson Ross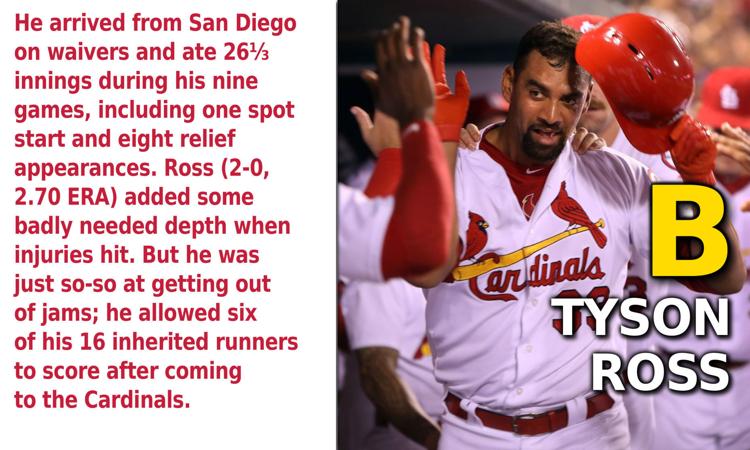 Chasen Shreve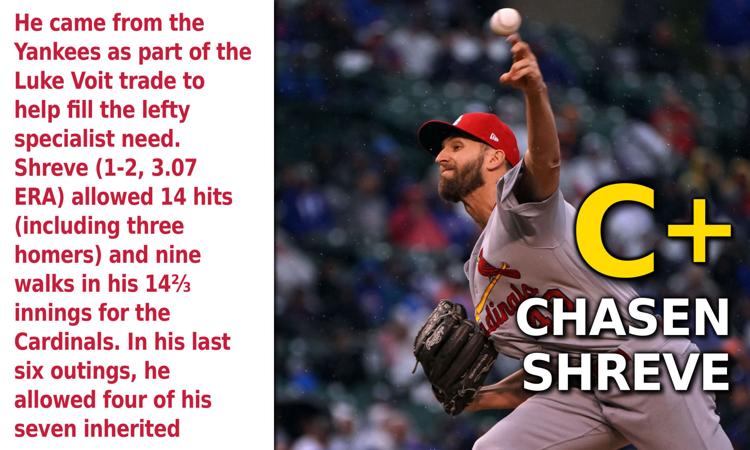 Mike Mayers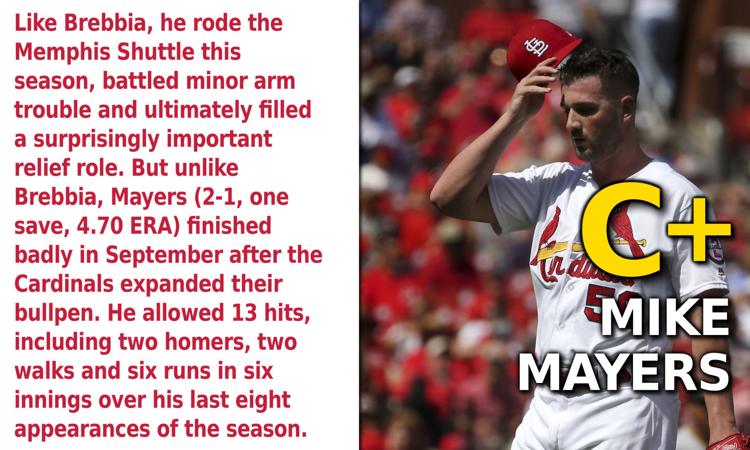 Austin Gomber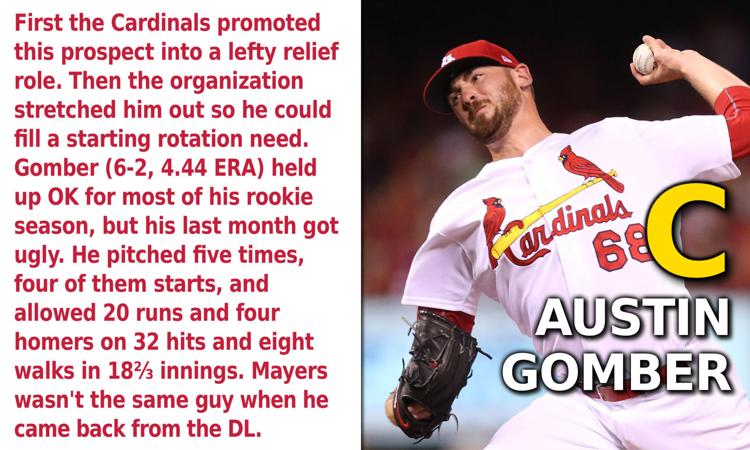 Dominic Leone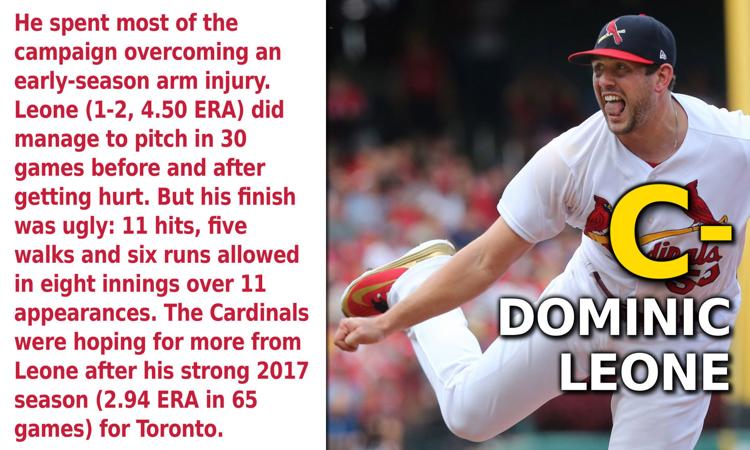 Adam Wainwright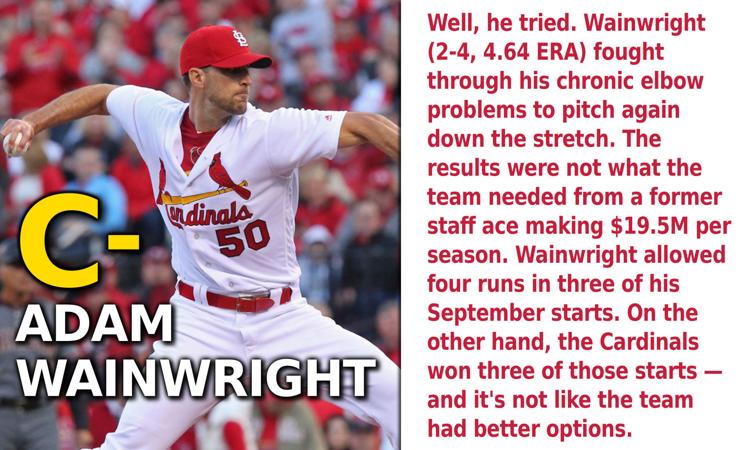 Luke Weaver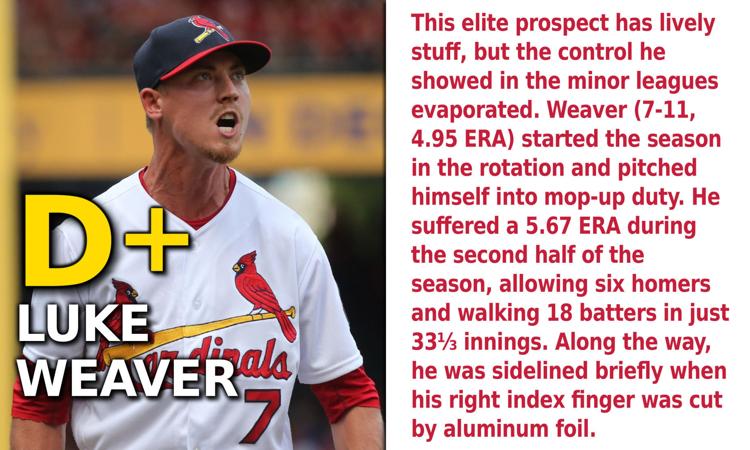 Matt Bowman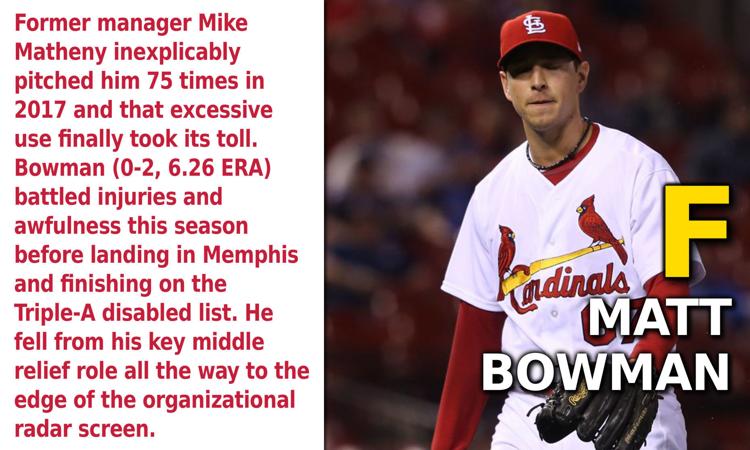 Brett Cecil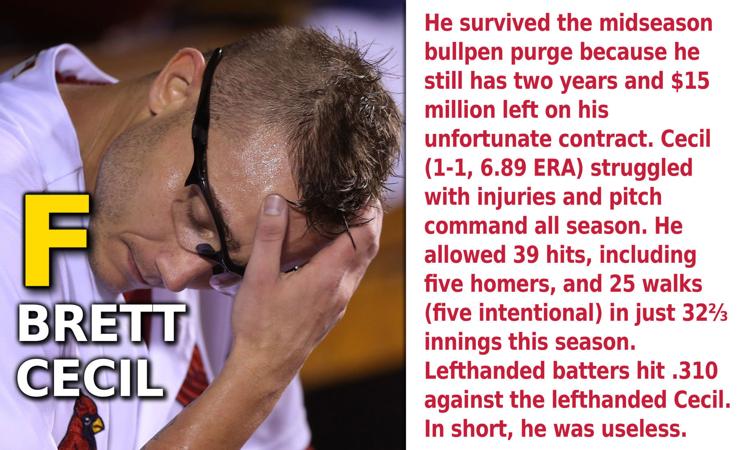 Luke Gregerson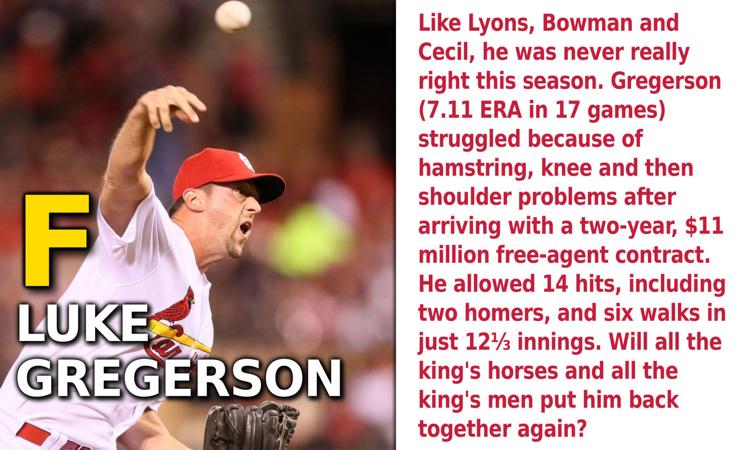 Tyler Lyons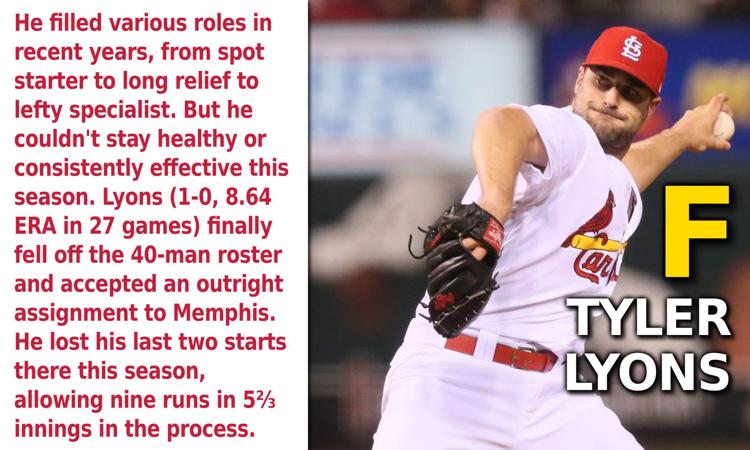 Get Gordo's grades for position players and management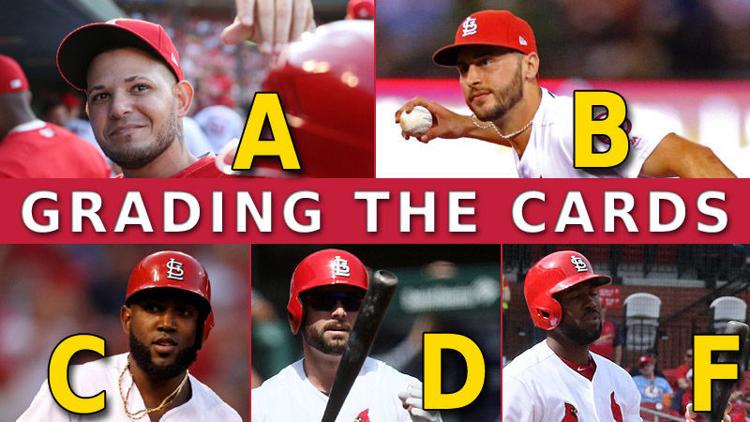 Quiz: How much do you know about the last Cardinals team with a 3-year playoff drought?