From his office at Busch Stadium, Cardinals chairman Bill DeWitt Jr. has a view of the rising construction at Ballpark Village and what's become an ascending team on the field. It's a vantage point fitting for a team that often finds itself in the middle, straddling that line between their plans for the future and the impatience of the present.
Poised to celebrate their recent past with Cardinals Hall of Fame honors for Scott Rolen and Jason Isringhausen, the current team reached induction weekend in first place. And yet an inability to bolster the roster at the trade deadline and an inconsistent offense adds to an unease around the team — one heightened by the longest stretch without a playoff berth in more than 20 years.
To return to October, the Cardinals have had high-expectation additions in Paul Goldschmidt and Marcell Ozuna and some high-profile misses. The payroll spending has returned to baseball's top third in part because of Goldschmidt's club record extension and the Cardinals spending more than $20 million on lefty relief with only one high-salaried lefty, Andrew Miller, is in the majors.
The Cardinals want to bet big on their internal options, now and later, and to do so they need a modern upgrade to how they develop players and a restock of a system thinned by recent trades. The front office has acknowledged ownership's urgency to return to the postseason.
Seated on a sofa in his office, DeWitt joined Post-Dispatch baseball writer Derrick Goold for an hour conversation about the current team, the current game, future improvements, and whether he sees, from his perch, pressure mounting for a postseason run.
GOOLD: With Isringhausen and Rolen going into the team's Hall of Fame, they're joining Chris Carpenter and Jim Edmonds and eventually Albert Pujols, Adam Wainwright, and Yadier Molina — all of whom shared a roster that will be well-represented for all-time. How do you look back at that era?
DEWITT: It's an incredible group of players. That was a great era for Cardinal baseball, which we've been fortunate to be able to continue, in some ways. They all played on championship teams, and that's our goal — to have championship teams. It's interesting to look at how they all were acquired, all in sort of different ways.
GOOLD: Isringhausen was really your last high-dollar, multi-year closer — a market you've mostly avoided — whereas Rolen became an example, really the blueprint for you, right?
DEWITT: Right. I think in that era it was a little easier to acquire premium players from clubs who either felt they couldn't re-sign them or didn't feel they were going to be competitive or wanted to go young. The world has changed. And that's much harder to do now. We made the bet that we could (re-sign them) because we had a good atmosphere here and they would be a part of a great winning culture. I think it was Edmonds who said once, 'The Cardinals acquire a player. The fans keep him here.' That is a good line.
The Cardinals acquired Edmonds during spring training in 2000, but before completing the deal with the Angels, then-general manager Walt Jocketty told DeWitt, "Well, one last-minute hitch." The Angels wanted to see pitcher Kent Bottenfield pitch.
DEWITT: I was nervous going to that game. The course of Cardinals history would have been different if we hadn't gotten Jim Edmonds.
GOOLD: If the acquisition of premium talent has changed, have you done enough to change with it?
DEWITT: If you look back at those deals, we gave up talent, but we weren't giving up our top, elite prospects at that time. Now, if you were to acquire Jim Edmonds at the age he was, the ask would be so astronomical of your young players. And it's not just give me three or four pretty good young players. It's, oh, I'm going to take your No. 1, 2, 3 and throw in the 6, 7, or 8. That's kind of what you're looking at to get a premium player. Look what (Arizona) got for Zack Greinke. Top prospects. (Houston's) system is so strong they can afford to give up what they gave up for what they believe to be a difference-maker in postseason. I think that's a difference from back when we were doing the other deals. We gave up good players, but it wasn't stripping out our system.
At the deadline this year we could have gotten maybe a pitcher who was going to give us 10 starts for two top prospects. How much of your future do you want to give up for who knows what you're going to get out of 10 starts?
GOOLD: But, how does not being in the playoffs the past three seasons play into that decision? Doesn't it nudge you over the line?
DEWITT: We certainly have a goal of being in the playoffs. And we've said that every year, and we've come darn close when we haven't made it. There are no guarantees. We all feel like we have a playoff-caliber team, as is. The ask for names that people thought were going to be traded and weren't traded – well, there were reasons they weren't traded. If you were in the situation of some of those teams that had pitchers under control that were top pitchers, you'd want a lot back. Whether you're playing for this year or next year it's hard to acquire talent.
GOOLD: Do you empathize with any frustrations or understand the criticism about there not being a move?
DEWITT: I would hope that we would have improved, but I wasn't disappointed that we didn't go crazy, stripping out our farm system to try and get a short-term fix. I don't ever (want that). I don't believe in that. I don't think that's a prudent way to run a baseball team.
GOOLD: After a few seasons of ragged or uncharacteristic play, do you enjoy the style of play from this year's team, at its best?
DEWITT: I do. I like to see clean baseball, and I think Mike Shildt has done a good job in getting players to execute a lot of the fundamentals that in today's game are maybe as not quite as important. The hit and run the other night that Molina put on was great to see and led to runs. You don't see that much anymore. You see everybody sitting back waiting to hit a home run. There are other ways to score runs.
GOOLD: As a fan and an owner with influence, do you have concerns about the current game's style?
DEWITT: I do have concerns. I think the game needs some change. I personally am anti-shift. I think that's hurt the game. I think the emphasis on home runs — which generates strikeouts and a lack of the action baseball has historically always had — is now creating longer games. Many more pitches have been thrown. I think it can change without changing the fabric of the game. When I say change I mean move it back closer to what it was – which I think is more appealing. I'm not talking about dramatic change. I know the commissioner is interested in that. There are a lot of ideas out there. The Atlantic League is experimenting with certain things, and I think it's all good to experiment and see what works, see what's appealing and what's not appealing.
GOOLD: The players are probably as athletic as they've ever been, and yet the game can be stilted, sluggish, dull even. It doesn't compute.
DEWITT: The athletes today are so incredibly good. They're fast. They're strong. They're acrobatic in the field. I mean, look at the two catches (Harrison) Bader made (this past week). Those were spectacular. And you want to see those plays. You want to see athletes and you want to see triples. He had a triple on top of it. You want to see speed. You want to see these players today who are so good, and I think with some tweaking to the game you can appreciate more how talented they are.
GOOLD: The analytics revolution was first about player-evaluation, but has it evolved from helping us better understand the game to now dictating the actual games?
DEWITT: It has changed the game. You're exactly right. The analytics were initially player-evaluation analytics — the value of a walk, the value of a defensive play, a lot of things like that. I think that's where we had an advantage. We got on the case early, especially in the draft and how we evaluated players, particularly college players. Of course, everybody is doing that now, and analytics are now being used to evaluate players but also to maximize their ability. You can determine a spin rate and you know that a pitcher can go out there and throw 97 mph with a high spin rate, four seam fastball, and even though he might have a great repertoire he's now going to go to that more often. Or, he's going to become a specialist. And the same with a breaking ball's spin rate. Use your strength.
GOOLD: All these formulas can lead to a formulaic game.
DEWITT: It's limited the outcomes. It's good that you can maximize somebody's ability and you have all that information. And there are ways to modify the game — not talking about dramatic change. I love the game. I love it the way it's played today. But I would prefer change that would enable more balls in play and if you hit a line drive that historically would be a base hit or a double that it actually turns into that.
GOOLD: You invested aggressively in the analytics approach, especially with the draft, so where do you think you are now? Teams have certainly caught you. Have you slipped behind?
DEWITT: I think there are some teams that have built greatly expanded staffs to do all of the things that we talked about — maximize a player's ability, and it's embedded throughout the organization. And that's how they operate. That's their game plan. And I think from an evaluation standpoint, we're very strong. We don't have the biggest staff in baseball compared to some. But we will be re-engaging our staff. We're doing some things to make sure that we access data quicker, as an example. It's a priority for us to be at the top or cutting-edge on analytics. We're good. But I think we have an opportunity to push the envelope a little bit more.
GOOLD: Correct me if I'm wrong, but you don't see tanking in your plans, right? "Tank" is a four-letter word around here.
DEWITT: I just don't see us trading top players in their prime to go younger or anything like that. We've never done that. We've never been a team looking to do that. We feel like we have a lot of talent, and every year the past number of years we've tried to supplement it. And we have traded young players for Ozuna, Goldschmidt.
GOOLD: There seemed to be a level of urgency coming into this season, one fueled by an absence from October. Is there pressure on the front office to produce?
DEWITT: Well, you know we've been so close. That's what has been a little bit disappointing. I don't like to use the word frustrating because it's sort of a baseball term everybody uses when things don't turn out. If you get that close, chances are you're going to get in your share of times. But if you don't you can't just throw everything upside down and expect a different outcome the subsequent year and future years. We've made significant changes the last two years. The Ozuna trade. The Goldschmidt deal. Signing (Andrew) Miller. We've made some significant moves.
GOOLD: Removed a manager.
DEWITT: Changed the manager. Changed the coaches. We've done a lot of things to get where we want to go, and we'll continue to do whatever we feel is necessary and appropriate to make the playoffs and once we get there do as well as we can. If it happens this year, which we certainly hope, it will be exciting, but we're still going to try our best in subsequent years to make the playoffs as well.
GOOLD: As you moved up the ladder, it's those changes that invite the question when, if this team doesn't get into the playoffs and you've made these changes to make that happen, does the accountability arrive at the doorstep of the front office?
DEWITT: There is always accountability. But keep in mind, we've had a pretty nice run of success under the current regime with 11 consecutive winning seasons, and when we have missed the playoffs it has been by a very small number of games. Also, there has been significant change and improvement in our baseball operations group (that) critics can't really see. At the end of the season, first thing we do is we have a meeting with our staff, our on-field staff. Regardless of the outcome, we have a meeting. What have we done well? What have we not done as well? What do we think we need to do better? We do it upstairs as well. What do we need to do to get where want to be, which is to have a playoff-caliber team and once we get in there it has a chance to do a lot of damage deep into October. That's the goal. That never changes.
GOOLD: Are you aware of the agitation in the fan base? Do you think it's fair?
DEWITT: We're drawing extremely well. The fans are engaged. There is an element (of agitation out there). I don't know how big it is. We're in a little streak now where we've not made the playoffs for three years, and it gets talked about a lot. What I would say is we want to make the playoffs every year, but that's a high bar, and I think our fans appreciate that it's a high bar. It's just the nature of today's communication world of smartphones and quick comments and things like that where it's easy criticize or compliment, one way or the other. There is more access to commentary.
GOOLD: The bar and fans expectations are, yes, getting into the playoffs, but also that you're an elite team in the National League, not just a playoff contender but a title contender, a twist of the knob from 10 to 11.
DEWITT: Right. We're very respectful of the Cardinal brand, which has been built up over 100 years or more. Winning which started in the early part of the 20th century, and it is our goal – and has been since Day 1 – to maintain that brand and enhance it. We make an effort every year – short-term, long-term – to make sure that we have an opportunity to be successful.
GOOLD: What about the perception that you'll use the cost-effective move over the big move when, for example, one fair interpretation of the trade deadline is that you cut payroll?
DEWITT: The reality is this year we're seventh in payroll. And (we're) 11th in local revenue. The commentary that this is a wildly profitable business is misguided and wrong. Its value has clearly gone up — of franchises — since we bought the team. We've pushed the envelope hard to try and have a winning team, year in and year out, and have a shot at the playoffs and October baseball.
GOOLD: Fans can see the buildings going up at Ballpark Village, like a rising ATM, and wonder when that revenue will spill over into the ballpark, onto the team.
DEWITT: That is a venture that is great for the city, and what is great for the city is great for us. The economic benefits of that, whatever they turn out to be, they're so long-term that others will be able to evaluate them, not me.
GOOLD: That brings us back to the Hall, to Rolen and Isringhausen joining Carpenter and Edmonds. All are players from the outside who won championships here. The way you envision this organization today and in the future would it be validation if the next cluster of Hall of Fame Cardinals are all homegrown?
DEWITT: I think that would be great. I think that's everybody's goal — to build a system that can be self-sustaining and you develop great players who win championships for you. We've done a good job in keeping our homegrown players. It's unrealistic to say that you're not going to have any players from the outside to fill in holes, either through free agency or trading surplus. Homegrown players that we draft or internationally sign, who develop through our system, and bring championships — that's the goal.
---
Quick Hits from Ben Frederickson on STL sports
WHO STAYS, WHO GOES ON THE 2020 ROSTER?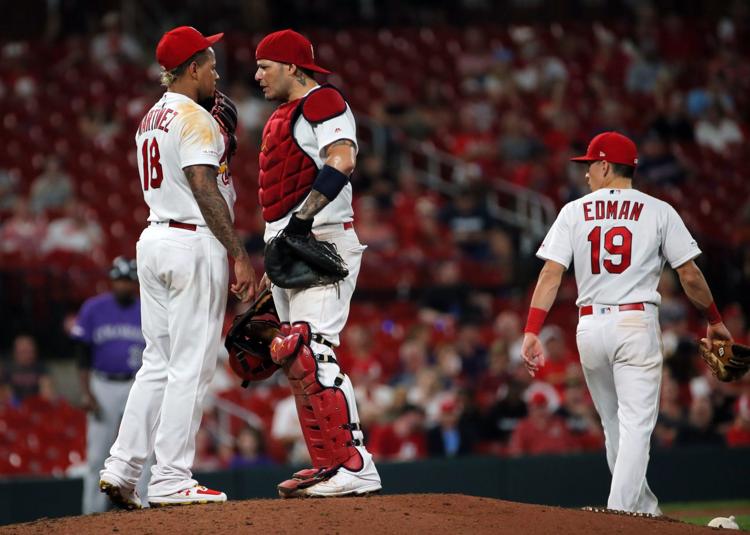 QUESTION: Ozuna, Fowler, J-Mart, C-Mart, Wainwright and Wacha … look into your crystal ball and tell me who from this list of names is NOT wearing a Cards uniform next year.
BENFRED: The Cardinals have been pretty standoff-ish despite multiple chances to show some signs of public interest in pursuing Ozuna beyond this season. I'll still bet on the qualifying offer and see you later until I see reason to believe something different there. That would mean he goes, and the Cardinals collect the draft pick.
Don't see Fowler being moved after he's played better. The contract and no-trade clause are still there.
I don't expect Wacha to be back, and think the Cards would have moved on an extension by now if he was going to be.
Carlos, while operating like a trapeze artist who is not good until the net is removed, has been quite effective at closer in terms of results, which is all that matters at closer. Considering Hicks could miss a season-plus, I wouldn't rush to trade Carlos. But the Cards have shopped him before, and at this point nothing would surprise me. I'll call it a coin flip.
There you go. Now, let's see how many predictions blow up in my face.
CAN OZUNA BE REPLACED?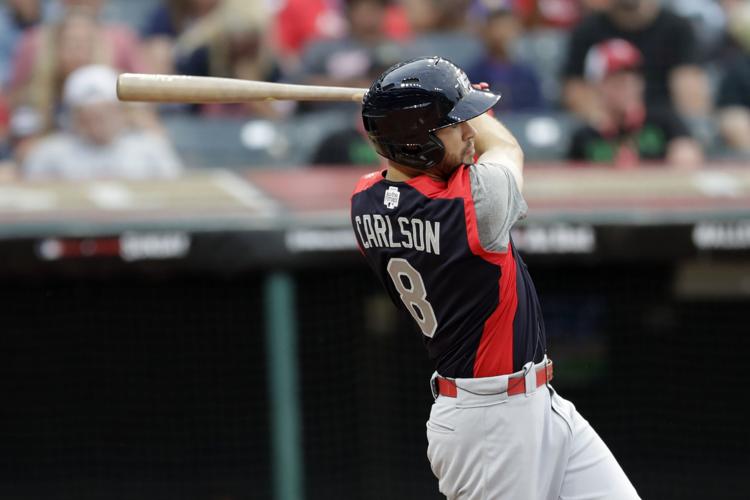 COMMENT: If any of outfielders Edman/O'Neill/Thomas/Bader/Arozarena/Carlson would finally emerge and take over the third outfielder position, the Cardinals could afford to let Ozuna walk. But that's probably not going to happen in the next six weeks. Are there any good one-year rentals of OFs for 2020 who could bridge the gap/add security? Giving Ozuna a longterm deal would seem like "Mo not learning his lesson."
BENFRED: There will be short-term outfielders available via trade and even free agency, considering the current state of free agency. What the Cardinals will have to decide -- if they let Ozuna go -- is whether any of those short-term solutions have higher ceilings than, say, Dylan Carlson (above, in MLB's Futures Game). He's emerging. He's now slashing .529/.579/.941 through 30-plus at-bats at Class AAA.
You named him, and other reasons that the Cardinals could lean toward youth in the outfield over experience on a short-term deal. Your response would be that youth means uncertainty. And I'd agree.
I can see the case for extending Ozuna. Just not sure the Cardinals want to at his price, and there's usually a sense of the direction by now. Ozuna's situation -- expressing his desire to stay and hearing crickets publicly -- reminds us of Lance Lynn. Compare that to Paul Goldschmidt, who was recruited hard from day one.
---
To a follow-up question about the potential for an Ozuna extension to become a bad deal, BenFred replied:
The risk-reward for Ozuna is clear by now. He has middle-order power and production that, when healthy, is desirable.
He has also during a two-season period with the Cardinals given the organization headaches about his treatment, rehab, offseason workouts, etc. He overslept for a game last season. He had the video incident of him and Carlos in the strip club fight -- though that incident happened before he joined the team. It has not always been smooth sailing with Ozuna. It has been much more smooth as of late, and that could impact the direction of the team. So could the finish of the season, and the role Ozuna plays in it.
The unknown of the contract season is real. Guys play up when they're about to get paid. You don't always know what comes next, and Ozuna at 28 should be trying to capitalize on his one big bite of the free-agent apple.
WHAT MAKES CARPENTER SO HARD TO WATCH . . .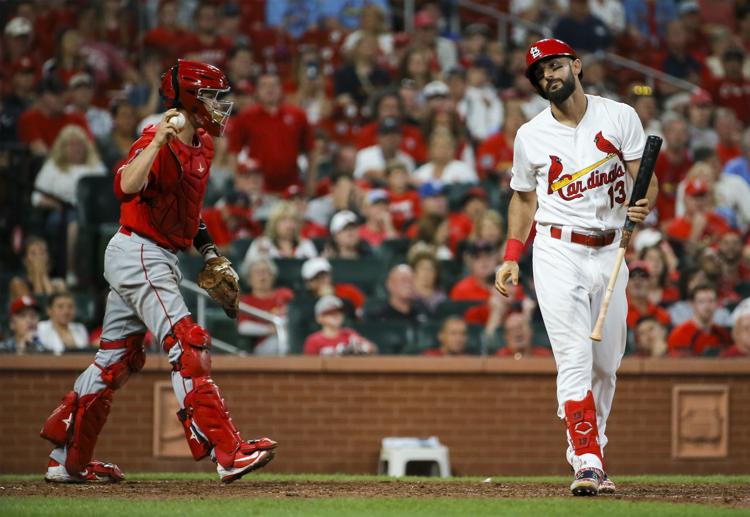 COMMENT: After a long season of watching a lot of terrible at-bats, the Edman-Carp conversations confuse me simply because of the eye check. Watching Edman's at-bats for the most part is enjoyable, and includes optimism of what might happen, whereas Carp's at-bats are harder and harder to watch. Even when Carp works the count to his advantage (2-0, 3-1), he never takes advantage of it.
BENFRED: I had this conversation with P-D teammate Derrick Goold in the press box Thursday night. We were talking about what makes Carpenter such a volatile topic among fans.
I argued that one of the reasons is that Carpenter, when he's bad, is brutal to watch. He argues balls and strikes. It's strikeout or home run or walk, without much in between. Edman can have the same hit-less day, but it looks different. It's balls in play and him busting it to first base.
You mention that Carpenter works counts but doesn't take advantage. He does when he walks, but that's often excluded from this conversation. Walks are not that fun to watch.
Carpenter, when he is right, is fun to watch.
Carpenter, when he is not right, is probably one of the league's toughest players to watch, even if the numbers he's putting up -- like the OBP conversion -- are in his favor at times.
. . . AND WHAT CAN BE DONE ABOUT HIM?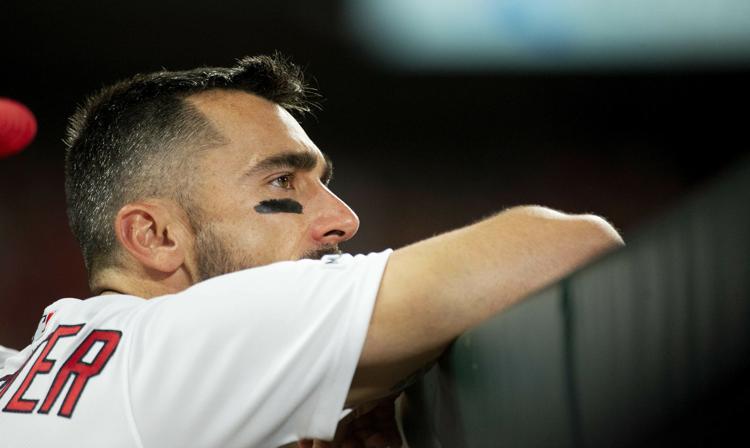 QUESTION: What will Cards do with Matt Carpenter, who looks like Allen Craig 2.0?
BENFRED: It's the million-dollar question. Well, 37-plus million, actually. If the Cardinals had not given him a rushed extension, then this would not be that big of a problem. Carpenter was supposed to be entering an option year. The Cardinals could simply let him go. Instead the Cardinals gave him the multi-year extension in April.
We know how the Cardinals tend to handle veteran players who are tied to contracts that are hard to move. Craig was a rare example of the opposite. Carpenter is more likely to get the Fowler treatment, where the Cardinals hope be bounces back. Fowler did, to his credit.
---
Follow-up: You had an interesting article on Carpenter, but I would have been more impressed if you had access to scouts (they would be unnamed, of course) who would comment on his declining abilities.
BENFRED: I didn't see the need to quote anonymous scouts for observations anyone can make. Carpenter is getting hammered inside, has not adjusted well, and continues to be suffocated by the shift.
The Cardinals say he's healthy physically, which would include his eyes. Are they telling the truth? Fair question. But they are all telling the same story. Is he healthy mentally? I'm not sure he could be, considering the past six months he's had.
Giving $30 million plus guaranteed to a player on the wrong side of 30 when you don't have to -- and the Cardinals didn't have to because Carpenter wasn't going anywhere until (at the earliest) the end of this season (and that's only if the Cards decided against picking up his extension) -- is something that can and should be questioned.
OVERUSING YADI?
QUESTION: Molina's started nine out 10 games since returning. Would it be better for the lineup, the team and Molina if there was a better split with Wieters, say 70/30 or 60/40?
BENFRED: Not if Molina hits.
He's got a .267 average and .421 on-base percentage in his last five games. Super small sample size, I know, but that's a .754 OPS.
Wieters on the season has a .716 OPS. Wieters has had more pop this season, but .222 average and .271 OBP are not better than Molina when Molina is right, and he's looking right as he gets settled back in.
WAINO ON THE BRINK OF RETIRING?
QUESTION: If Adam Wainwright has a few more starts like the one he had Wednesday night, do you think he'll consider retiring? It's sad to watch ballplayers who were once so talented try to hang on at the end.
BENFRED: Adam Wainwright is 37 and pitching on a one-year deal that suggested he could wind up in the bullpen. He has considered retirement in the past, and I'm not sure why this offseason would be any different. If you're asking if he's going to retire in the midst of the season, no, I don't expect that.
And he's actually pitched better than most expected this season. He's gone five-plus innings in each of his last six starts. He's allowed three or fewer earned runs in four of those. He has just two fewer quality starts this season than Jack Flaherty's 12. For a guy who was a big question mark entering the season, he's pitched pretty well.
HOPING FOR MORE FROM MIKOLAS?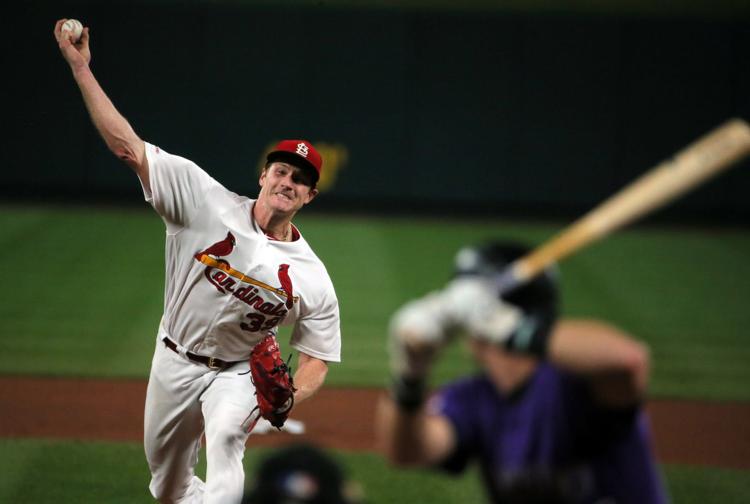 QUESTION: What would the Cardinals gladly take/hope for with Mikolas' starts from here on out?
BENFRED: They hope he pitches like the guy they gave four years and $68 million to this spring. That hope has not changed. The results have.
Mikolas is the kind of pitcher who can go a complete game if he's on, and get touched up if he's not. He doesn't have a lot of room for error between excellent and in trouble. Last season he was excellent. This season some regression was expected, but he's had more average (or worse) than excellent.
SHAKE-UP IN THE WORKS?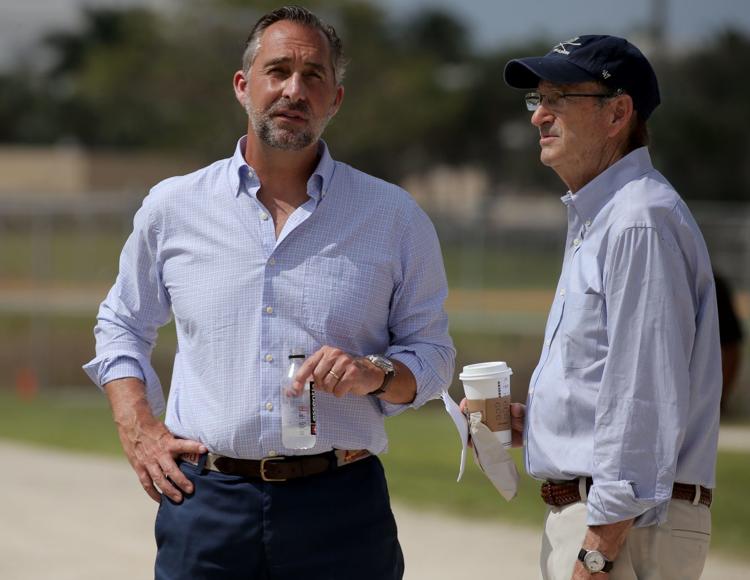 QUESTION: I worked at my job 38 years. If I had made as many mistakes as Cardinals management has in the past 4 or 5 years, I wouldn't be a retiree from that job -- I would have been fired. What's it going to take for Bill DeWitt to shake things up?
BENFRED: He has shaken things up. Coaches have been fired at various levels. A manager has been replaced. Rosters have been refreshed.
If you're asking when the makeup of baseball operations is going to change, there have been no real signs to expect anything there.
WHICH COACH IS THE MOST SECURE?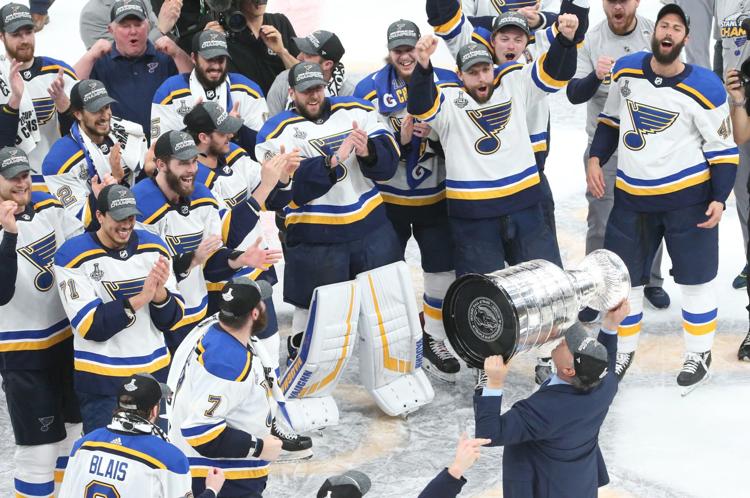 QUESTION: Among Shildt, Odom and Berube ... which one do you see staying in their current job the longest? 
BENFRED: Smart money is on the guy who won the team's lone championship, right? Even in the what-have-you-done-for-me-lately world of pro hockey. Berube's seat is ice cold. Blues should fear losing him more than anything.
The Cardinals have shown they are willing to dismiss anyone outside of the front office if the postseason-less slide continues, but Shildt is still new and has plenty of support.
Odom was squarely on the hot seat until last season's run. He has the contract that shows his security now, and the recruiting that was a weak spot has strengthened in the state.
I think all of these guys are relatively safe at the moment, but Berube more than anyone.
WHAT CAN CARDS DO TO GET GOLDY GOING?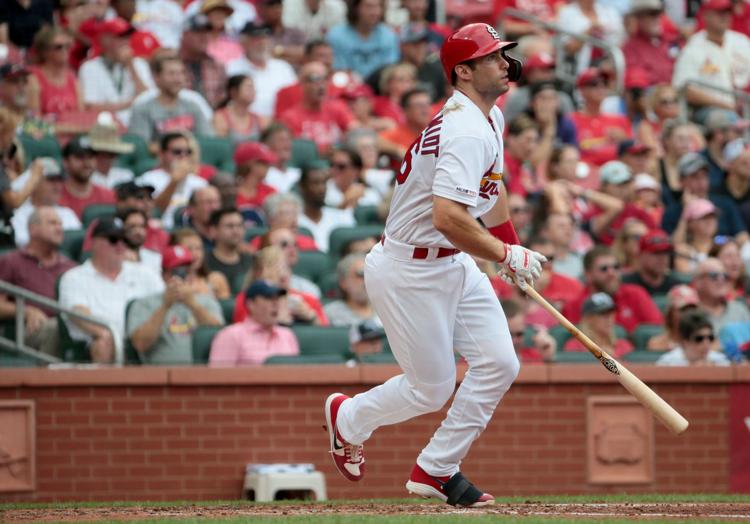 QUESTION: What else could the Cardinals possibly try to get Goldschmidt really going?
BENFRED: Change all the calendars in the building back to July?
In all seriousness, I don't know. He's not a guy who makes big, sweeping changes based off of peaks and valleys. He sticks with what he believes and what his career has told him will work.
He's also not fond of talking about the nitty, gritty details of his swings, so most of it is a mystery to me.
Nice guy, but you're not going to get a lot from him when quizzing him about what he's feeling, seeing, working on, etc.
---
Follow-up: If the regular season ended now, who would get your vote for team MVP?
BENFRED: Man, in terms of overall production, it's probably still Paul Goldschmidt, right? Combine the defense and the power. He's played the most games.
Wins Above Replacement says it's Kolten Wong, and I'm OK with that, too. But the Cardinals having a chance to go from worst-to-first in terms of errors has a lot to do with a Gold Glove at first base.
Gallegos deserves love on the pitching side, too.
RECAPPING THE SO-CALLED 'BAD MOVES'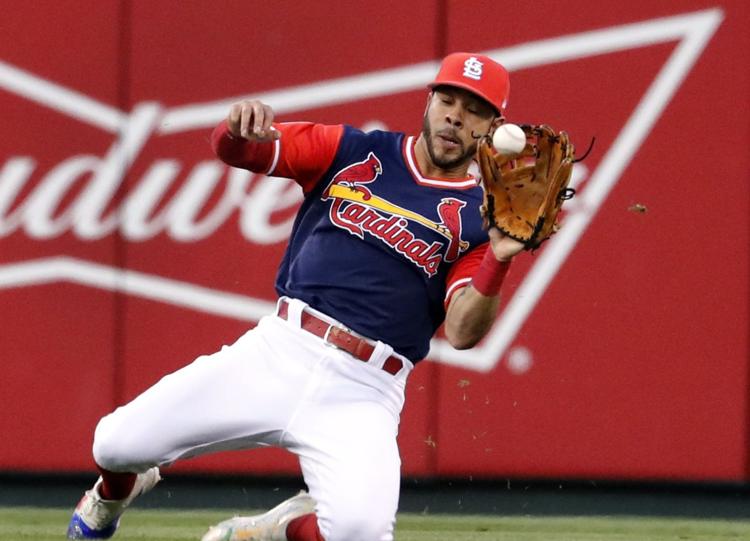 QUESTION: Are there really any players that have recently been moved that you regret? I am critical of moves, too, but the only player I have any regrets with is Carson Kelly. The others I understand. Mercado, they have 2 or 3 of him.
BENFRED: I miss Tommy Pham (above). I think the Cardinals underestimated him and got too little in return. I think he would have helped this team if he was playing center field during the time he's been gone.
I wonder how Marco Gonzales would have rebounded here and who will have the better career when all is said and done, him or Tyler O'Neill.
The Gallegos trade neutralized the Voit trade.
Carson Kelly is having a great season, but he was blocked. The Cardinals made the commitment to Molina. Knizner had started to emerge, and still looks like a good player.
The Kelly-Weaver trade for Goldschmidt was one I thought was a great deal at the time. Not ready to give up on that yet, even though Goldschmidt has not performed up to expectations offensively in year one. I know they only traded those guys for one season of Goldschmidt, but the extension was a byproduct of the trade.
HINDSIGHT ON THE LANCE LYNN DECISION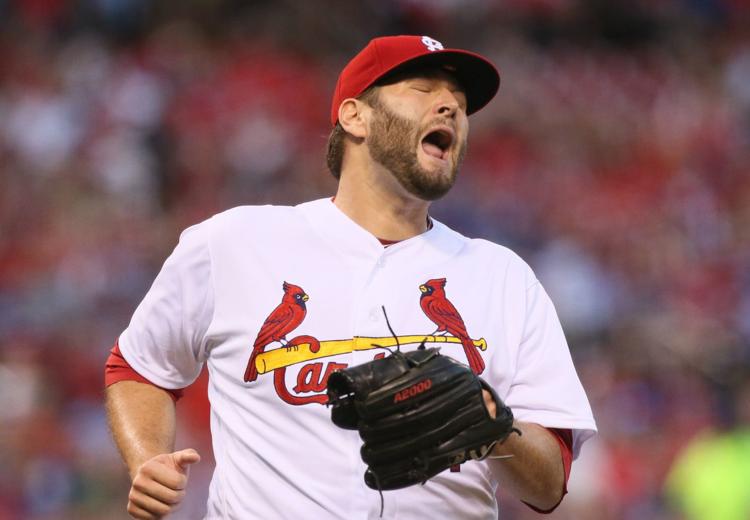 QUESTION: Given the state of the rotation, as well as his performance this year, isn't it fair to wonder if letting Lance Lynn walk was one of the worst decisions the Cardinals have made in recent years?
BENFRED: Not signing Max Scherzer wins this debate.
Lance has been outstanding this season. No doubt about that. 3.60 ERA. 14-8 record. Adjusted ERA of 141 (with league average being 100). But he was also bad last season. Adjusted ERA of 89 between the stops in Minnesota and New York.
Clearly, the Rangers have been a good fit and have figured out how to help him. I'm not sure it's safe to assume that would have been the case here.
If he got a two-year deal from the Cardinals and had one below-average season and one above-average season, I'm not sure that qualifies as massive miss.
Would the current version of LL look good in this rotation, though? Gosh, yes.
BOTTOM LINE ON FAN FRUSTRATION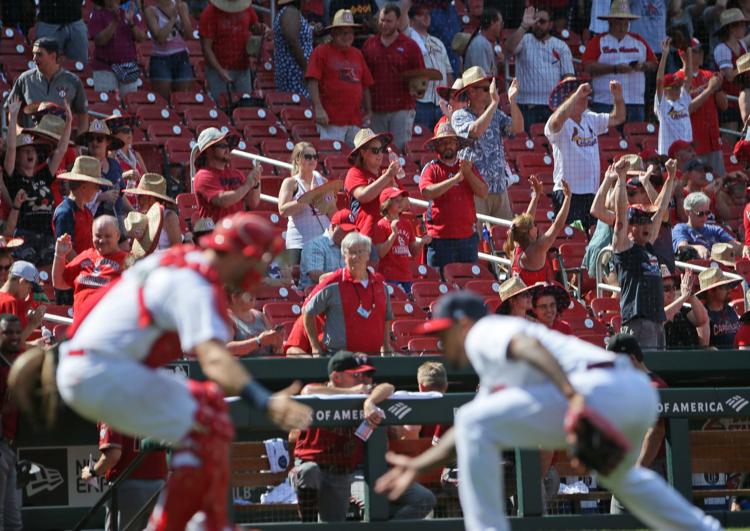 QUESTION: Do you sense the frustration from fans over the effort from the Cards front office is more pronounced this season? A lot of longtime fans seem to be saying: Nothing changes, so why go to the games?
BENFRED: As the years without a postseason appearance grow, frustration rises. But I also weigh what I see, and it's not like attendance is falling off a cliff at Busch. Lots of people talk about not going, but either do go or there are plenty who go in their place.
Even when the Cardinals have wound up missing the postseason, it's not by much, so fans want to continue to be a part of it. Take right now for example. The Cards have won 10 of their last 13. They're beating up bad teams, a half-game out of first. People will go to see that.
---
Follow-up: The announced attendance of paid tickets is still high, but the number in the seats looks really bad on TV for a STL team in a position to win the division.
BENFRED: This seems to come up every season, right about the time crowds dip due to schools starting. We'll have some good litmus tests as the season nears the finale, especially when the Cubs come to town for the final series with what could be the division on the line.
If Busch sounds like Wrigley in that setting, that's a message.
FAN INTERACTION THAT'S NOT ENCOURAGED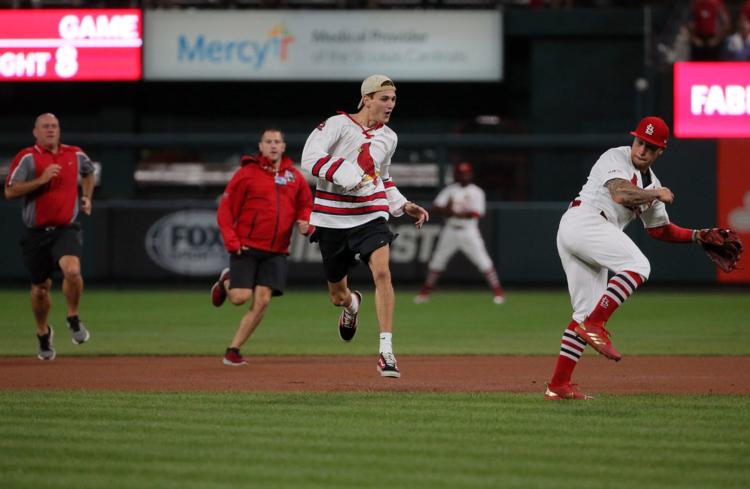 QUESTION: About the fan running on the field last night: I really just find the whole thing annoying. Wondering if you got any reaction from the players or know how they feel about people who run on the field?
BENFRED: They're not fans. You can tell that by Kolten Wong preparing to spike the guy if he got any closer.
Hard to blame the players for (a) fear and (b) wanting to protect themselves.
You never know what that person's intent is.
Photo: Cardinals second baseman Kolten Wong threatens to kick a spectator who ran on the Busch Stadium playing field during Thursday's game. Photo by David Carson, dcarson@post-dispatch.com
POINT-COUNTERPOINT ON MLS
QUESTION: Thoughts on the article that the P-D ran the other day about how the MLS deal is pretty bad economically for the city? He seemed convinced that we are letting the emotions of introducing a new sport to the city cloud over all of the negative (or at least, not beneficial) impact it will have economically on the city. Is it worth it?
BENFRED: I have two thoughts on it, yes. Thanks for asking. One: It was strong writing. Persuasive in tone and authoritative stance. Well done there.
Two: For such a passionate takedown agreement, it included zero mention of any of the specific parts he disagreed with. He compared it to the 2017 effort, which makes no sense to me, considering that effort asked for $60 million in public money, and this effort does not. If it's a "bad deal" as he claims, shouldn't he have highlighted why?
There isn't much to pick at here:
• It's a piece of land that is not being used.
• It's a small tax on people who go to games.
• It's privately financed stadium, maintenance, repairs.
• It's an ownership group led by a family that has done more for this community than most.
But, some will reach to find flaws just so they can say they were opposed.
POTENTIAL FOR MIZZOU FOOTBALL TO JOIN NATION'S ELITE?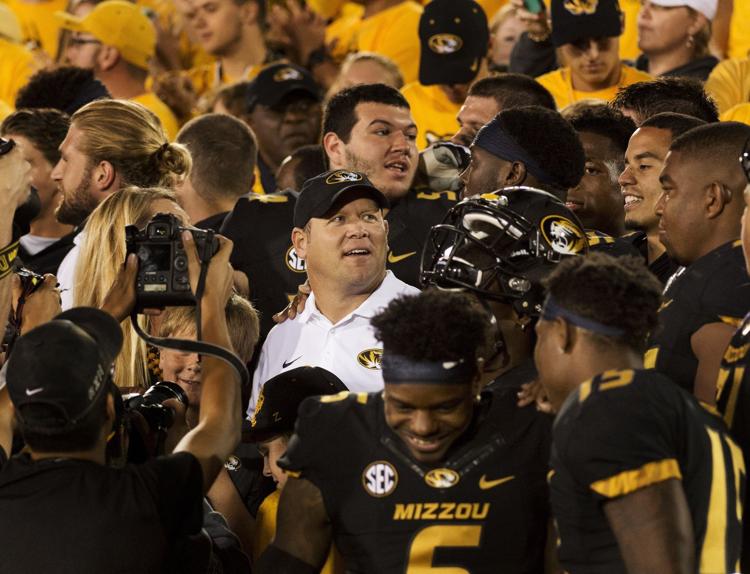 QUESTION: Will Mizzou ever be a perennial Top 25 football power?
BENFRED: Mizzou should be in and or around the Top 25 every year. That's Jim Sterk's goal, and that's a real possibility.
What defines a power? Top 10? Mizzou can get there, has in the past and might even this season if the Tigers head to Georgia 8-0, but expecting them to be top 10 every year seems unrealistic based on recent history.
BEWARE THE BLACKHAWKS! ER, BATTLEHAWKS!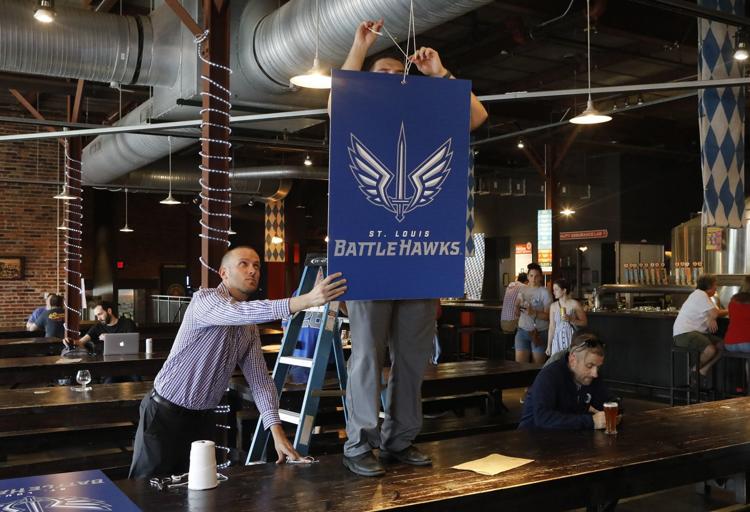 QUESTION: Doesn't BattleHawks sound more like characters from an '80s animated TV show aimed at selling kids high-sugar cereal?
BENFRED: Ha! Good one. The XFL clearly wanted to give its team edgy, tough-sounding games. Here's the full list, for those who missed it: DC Defenders, Dallas Renegades, Houston Roughnecks, Los Angeles Wildcats, New York Guardians, St. Louis BattleHawks, Seattle Dragons and Tampa Bay Vipers.
My problem with BattleHawks is that it sounds way too close to Blackhawks. I'm not sure the national XFL folks thought much about that or did much research, though. Clearly, they weren't paying attention to STL-related timing, or they would not have announced the names one day after MLS announced its St. Louis expansion team.
Photo: Ticket director Ed Kaczynski (left) holds the XFL St. Louis BattleHawks team logo as sales manager Andrew Myer secures the sign to hang at Urban Chestnut, where a fan rally was held Wednesday. Photo by J.B. Forbes, jforbes@post-dispatch.com