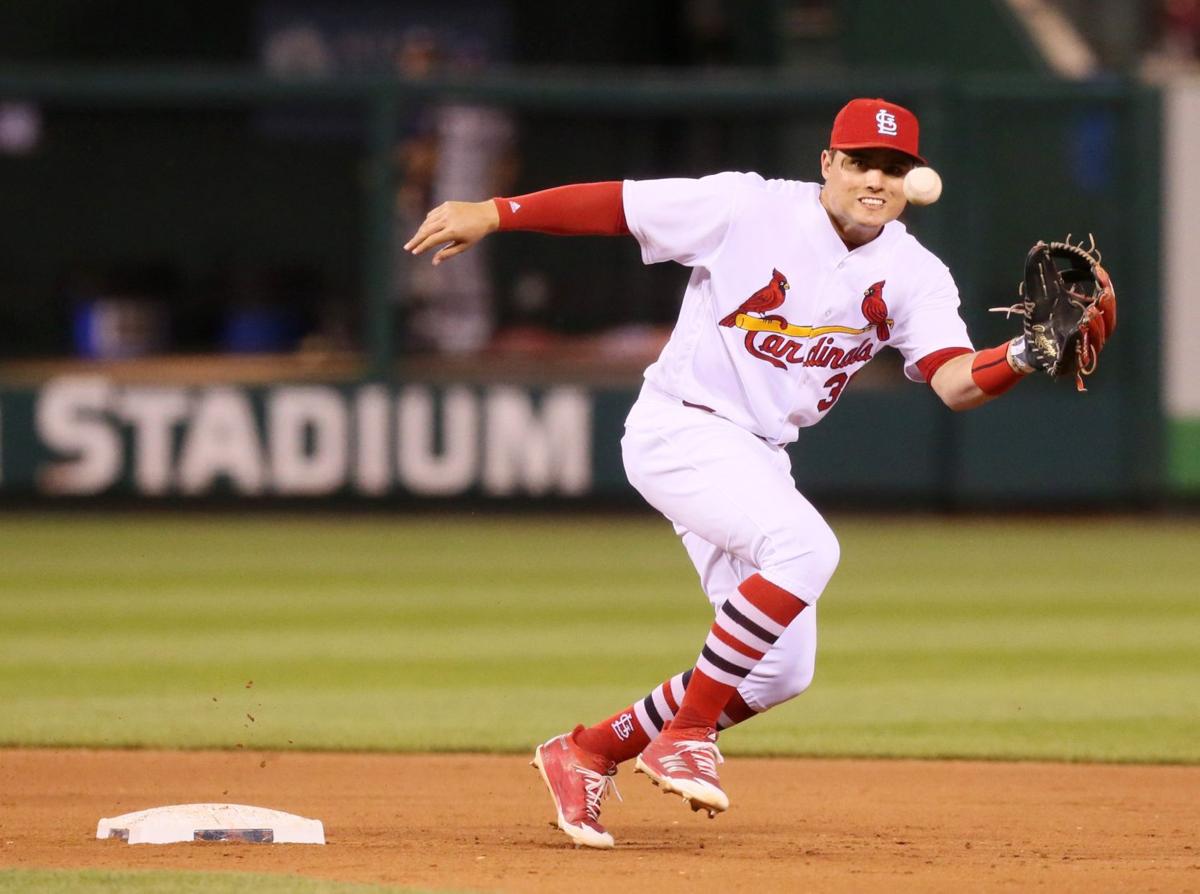 CINCINNATI • With the demotion to Class AAA Memphis finally in his past, former All-Star shortstop Aledmys Diaz and the Cardinals can begin figuring out his future.
Diaz and reliever Josh Lucas rejoined the Cardinals' active roster Wednesday in Cincinnati, a day after the Redbirds played and lost in the Triple-A National Championship game. While Lucas will add depth to the bullpen and the Cardinals will add switch-hitter Breyvic Valera to the bench Thursday, Diaz's role is less certain, but perhaps more telling. A year removed from being the Cardinals' incumbent and ascendant shortstop, Diaz has used time at Triple-A to repurpose himself as a utility player.
"I don't know if that's going to happen here, if I'm going to get that chance, but I will enjoy this stretch and help this team in whatever way I can," Diaz said. "I love to play shortstop. I always have. But at the same time, you never know the future. I don't think about the offseason. I have to think about what I can control."
Diaz, 27, had one of the best seasons ever for a Cardinals rookie shortstop a year ago. The Cuban infielder's .879 OPS ranks fifth all-time for Cardinals rookies, and his 3.5 Wins Above Replacement, a catch-all stat, was the ninth-best for a Cardinals rookie. (The best came in 2001 when Albert Pujols had a 6.6 WAR.) Diaz represented the Cardinals in the All-Star Game and set a rookie shortstop record with 17 homers, which has since been broken by Paul DeJong.
DeJong hit his 24th of the season Wednesday night, and he has supplanted Diaz at shortstop — and in the Cardinals' plans .
Reading the roster, Diaz asked for a chance to play other positions at Memphis, and once the 97-win Redbirds clinched, he did. He saw time at second and started at third in the postseason, handling the corner position well. When Diaz was demoted he led the Cardinals in hits and doubles, but the Cardinals saw troublesome signs in his strikeout rates and sinking on-base percentage (.293). The versatility put a new sheen on his season, which also included a .693 OPS and a .253 average in 46 games with Memphis.
"Like a lot of guys on our roster that deserve to be big-league players, we have to piece it together, and he's a part of that," general manager Michael Girsch said. "We don't think that this is the new Aledmys. We know there's more there."
At the end of this season, the four-year deal Diaz signed as a free agent from Cuba will expire, but the Cardinals control his rights for at least another five years. He isn't arbitration eligible, meaning the Cardinals can even renew his contract, and at a slightly smaller salary. Diaz said that's a conversation for the offseason and whatever his role is with the team can be sorted out come spring training. He knows one way to answer the question this summer has caused — hit.
"Kind of watching how it's going this year, and what's the spot he's going to be in for us?" said manager Mike Matheny, who went to rookie Alex Mejia as his first sub off the bench at third base Wednesday. "Where can he go and help us? What position is it going to be? Is it going to be the outfield? Is it going to be third base? Is it going to be second? The way he's been able to hit the ball in the past you do find a spot when a bat like his gets going."