They make dazzling plays together in the infield, talk hitting together all the time, bat back to back in the lineup and often dine together on the road. They sit beside each other on the team plane and will play together for Team USA in March. Their families have become closer together as they've played together as Cardinals, and at Sunday night's 63rd St. Louis Baseball Writers' Dinner, they shared the same table, together.
Nolan Arenado said they've formed a "brotherhood" together and they even argue, though Paul Goldschmidt said he could not recall what or when.
"He is one of my best friends," Arenado said Sunday morning.
"One of my best friends, if not my best friend," Goldschmidt said Sunday afternoon.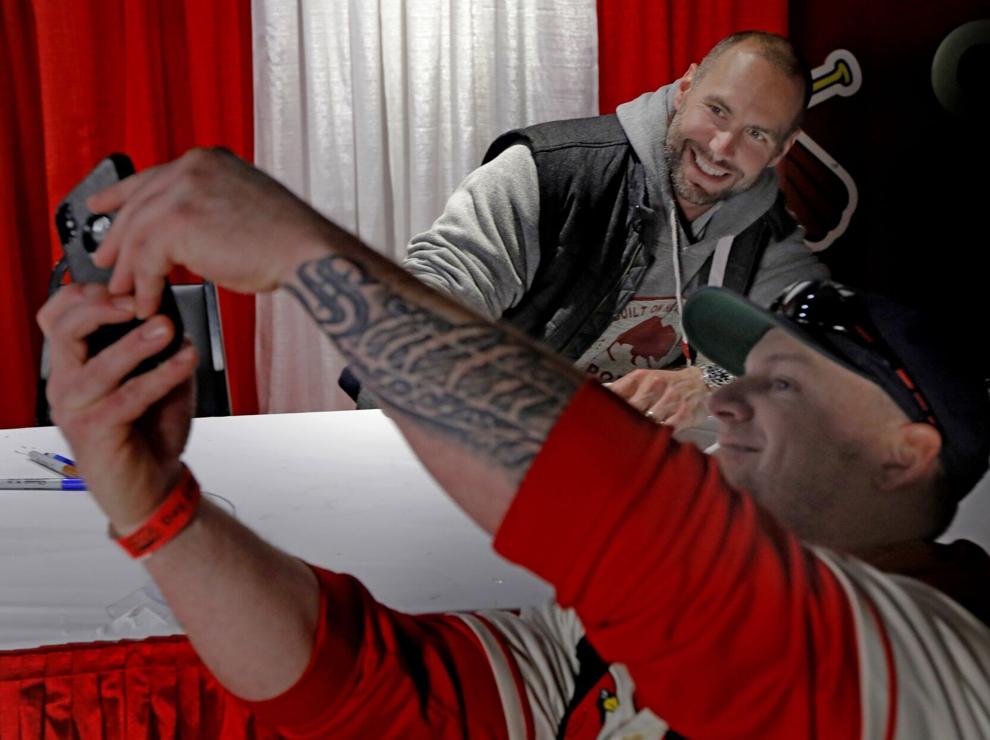 As the Cardinals launch the 2023 season with this weekend's 26th Winter Warm-up they begin a year with a significant change to the clubhouse. Two of the most prominent personalities in club history, two position players who defined the past two decades, have retired. They've left empty lockers at Busch Stadium situated together. Drafted a year apart by the Cardinals, Yadier Molina and Albert Pujols became close as champions, close friends and called each other brothers. Reunited as teammates in 2022 they retired together, too. It is, as Brendan Donovan said Sunday, "the start of a new chapter."
The departures mean the senior position players in the Cardinals clubhouse are transplants plucked from other teams but following a familiar script. Arenado and Goldschmidt, who shared Sunday at the Warm-up, have become friends, been All-Stars, been repeatedly to the playoffs, and now are expected by teammates to continue leading as they have done all those things ...
"I feel like Goldy might have started somewhere else, but I don't know how — he seems like he was always a Cardinal," said Adam Wainwright, the defining pitcher of this era. "He just seems like the perfect Cardinal in every way, shape, or form. Then I think when you look at what Nolan did this offseason in coming back here. He turned down his opt-outs and ended up being here. That was a great moment for me as a Cardinal. A couple of years ago, people were leaving here and going other places that had the bright futures, that had the young players. Now we have players staying.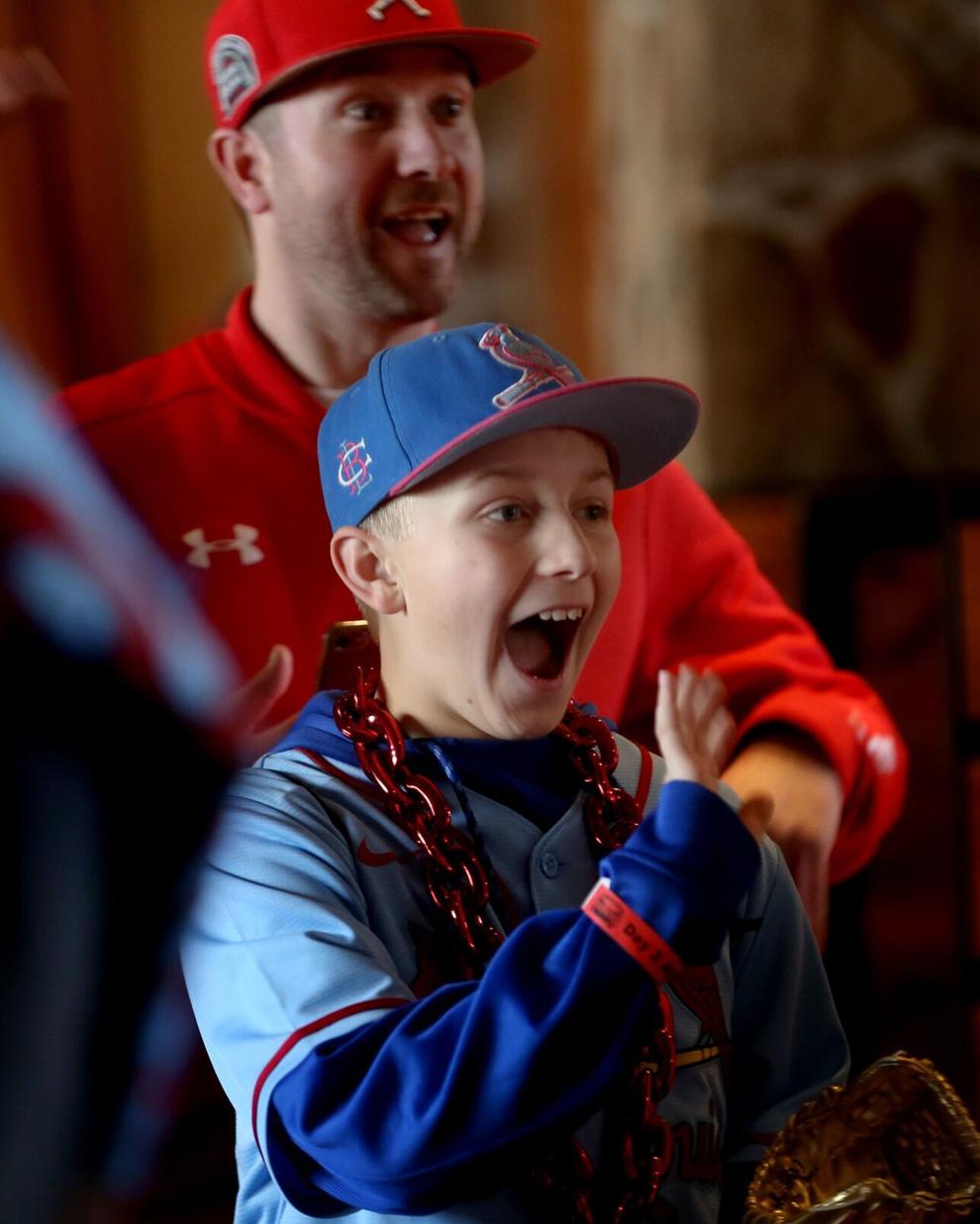 "When you get players like that, especially when players like that are here," Wainwright continued, "other players want to come be a part of that."
The first decade or so of his time with the Cardinals, players on other teams or free agents would whisper their wishes to Wainwright about coming to St. Louis. About the time the Cardinals stopped reaching the playoffs, those comments stopped too. Wainwright acknowledged that there were things the players, the leaders like him "weren't doing right" in the clubhouse. The culture wobbled; the standings sunk. Jason Heyward questioned the "aging core" and signed with the Cubs. Giancarlo Stanton declined a trade to the Cardinals that had been agreed upon by the Marlins.
The trade that landed Goldschmidt ahead of the 2019 season was one of the harbingers of change. The Cardinals returned to the playoffs that fall. And sure enough Wainwright heard familiar chatter.
There was even word that reached Wainwright and other Cardinals of an All-Star out west in Colorado who wondered if St. Louis might be a desirable, long-term home: Arenado.
He was drawn, and now is part of the draw.
Teammates mentioned the attraction of playing with two MVP finalists.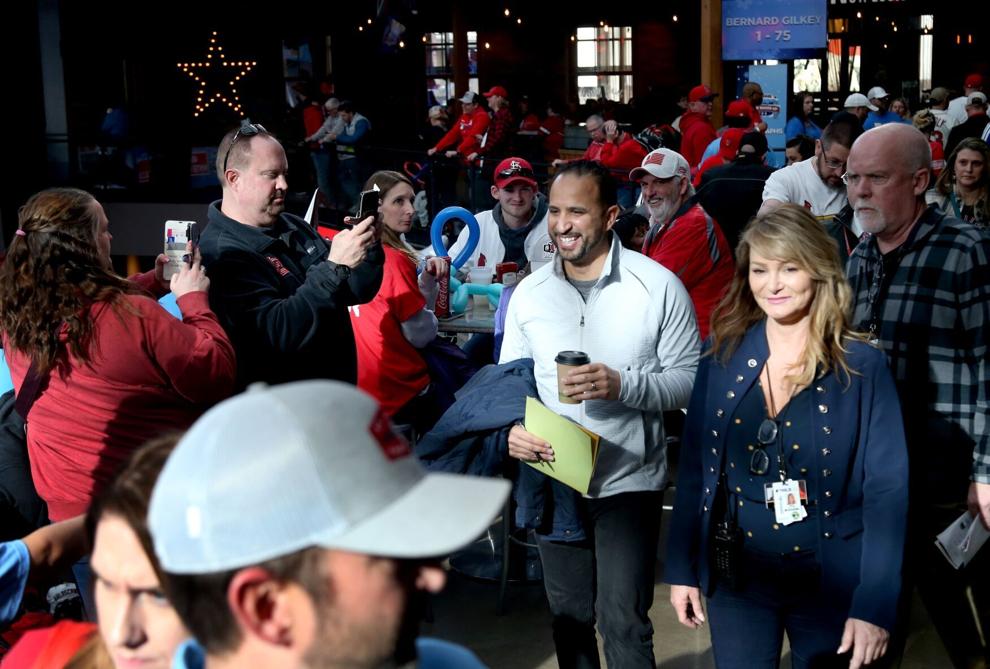 Goldschmidt and Arenado finished in the National League MVP voting at the same positions they play — first and third. With a league-leading .578 slugging percentage and a NL-best .981 OPS, Goldschmidt won the first MVP of his career, and Arenado finished higher than he ever had in the voting. Both found ways to credit the other for their finish. This past week, at a facility near his home in Orange County, California, Arenado, 31, detailed how Goldschmidt showed him the potential of producing deep into his 30s — defying age by improving, thriving, and chasing his own MVP.
Goldschmidt even got Arenado to take fewer groundballs during the season to reduce mileage because, as Arenado said, "I'm not going to forget."
Without Arenado, Goldschmidt said he's not MVP.
"The way we think about baseball, hopefully we can help each other," Goldschmidt said. "We talk about the MVP award. I don't win that if he's not here — from what I've learned from him the past two years playing with him on a daily basis last year. He makes everyone around him better. When he's on defense, he makes a great play, you're just like, 'I better not mess this up.'"
As the Cardinals' abrupt exit from the playoffs started the offseason earlier than they imagined, Arenado returned to California to make a decision that would shape more than the next few months for the Cardinals. An opt-out gave him the right to become a free agent. He said many teammates, including Wainwright and Goldschmidt, urged him to stay.
"I got some threats," he laughed.
"Those threats didn't come from me," Goldschmidt insisted. "If he said they did, there is something I don't remember."
They talked about achieving what they just watched.
In their one season as teammates with both Pujols and Molina, they and the other Cardinals experienced a division title (Arenado's first) and playoff-like packed houses as Pujols chased and eclipsed 700 career home runs. They had the best view of the feats and a better feel for the work that went into them and the presence of two of the greats in the same clubhouse.
"The thing they had in common was they were going to do everything they could to win every single day, to make themselves better, to make their teammates better," Goldschmidt said. "That is something I'll never forget and try to do myself as well. We're going to need everyone. It's not just about us. As close as we are, we have different personalities, different strengths, different weaknesses. That's why it's a team game."
And what players over the past week have described about a leading player's role in that game is how they elevate a team by example, how they shape team and teammate expectations by pushing to exceed their own. Arenado mentioned a goal of his this season to "become a better leader (and) for that I need to communicate better."
Though, it's not always what is said.
"Being around Nolan and Goldy, it really means something to me to live up to what they expect from me, what I see them expect from themselves," outfielder Lars Nootbaar said. "That is something I've think about during this offseason. In terms of them, I cannot let Goldy down. I cannot let Nolan down. I need to raise my game because that's what I see them do."
It may be a new chapter, but it's the same verse.
Manager Oliver Marmol mentioned that Sunday as a component of a clubhouse that has had unusual continuity for the past 20 years. After the run of winning seasons and the four pennants since 2002, a final proof of the impact Molina and Pujols left is the readiness, all together, of others to lead after they've left.
"So when you ask what's the culture going to look like without those two guys here? No different," Marmol said Sunday. "As those guys were on their way out, these guys were taking just a bigger role in what that clubhouse looks like. And we're talking about two guys who from the outside have always wanted to play here and they wanted to be here for a reason. And they understand what we're about. The culture in that clubhouse — those guys will lead.
"We're not going to skip a beat."