JUPITER, Fla. • Already, Trevor Rosenthal has put together the best back-to-back seasons by a Cardinals closer in more than 20 years. He is only 25 years old. So, where does he go from here?
"I don't think there is a next level," said Jason Isringhausen, a Cardinals minor league pitching instructor and holder of the Cardinals' career saves record. "He's in the elite company right now.
"He's very dominant. His strikeouts per nine innings are up there. His batting average against is low and that's what really matters as a closer."
For the record, Rosenthal has averaged 11.5 strikeouts per nine innings and opponents have batted just .223 against him. With one more 40-save season, he will tie Lee Smith with three straight 40-or-more seasons with the club from 1991-93.
Of the top five closers in Cardinals history, Rosenthal has a save conversion percentage rate of 87, to 86 for Smith and 85 for Isringhausen. Bruce Sutter and Todd Worrell are at 79 and 77 percent, respectively.
"I never really thought I'd be in that position, closing games, on a team like this," said Rosenthal. "Every year, 90 to 100 wins. To be in a bullpen that has a lot of opportunities to pitch in those close games is a lot of fun."
Unlike many young players, Rosenthal rarely shows that he is stressed, even though he may be.
"That kind of comes naturally," he said. "I'm pretty laid back, especially in tough situations. There's not a lot that really gets to me. I'm pretty optimistic and I look toward the positive things of certain situations. Whether it's completely bad or not, I try to find some positives with it and work off that."
Rosenthal has missed on just 14 of 110 save opportunities in his career. On those rare occasions when he does misfire, he said, "It doesn't really stick with me but I don't necessarily forget it. I always look forward to the next opportunity I'm going to have to play. In the moments when it seems like everything's going great and you can't do anything wrong, I like to remember the times I've failed. It kind of keeps me humble.
"And when things are going really bad, I try to remember the times where things were going great and I try to keep a balance."
Isringhausen has been there before, of course, and he said the ability for a closer to rid oneself of a failure does take some practice. "When you blow a save, you feel like you let all of your teammates down," Isringhausen said.
Rather than X's and O's of pitching, Isringhausen and Rosenthal, when they meet up during the spring, talk more about the mental side of the game and about family and how those two might interact.
Besides his pitching coaches and veteran relievers like Jonathan Broxton, who has talked to him at length about getting quicker outs to conserve pitches, Rosenthal said he doesn't really pick the brains of closers with other clubs. But he has had a bond for several years with somebody who never closed, Hall of Fame righthander Bob Gibson, who long has come to Cardinals spring training although he didn't this year.
With Gibson, Rosenthal said he liked to talk mechanics and pitch location. "We have similar styles," said Rosenthal.
Gibson, contacted at his home in Omaha, said on the occasions when the two talked, "he asked a lot of questions. He's probably the only one on the staff who wanted to talk pitching with me other than (Adam) Wainwright."
Gibson said he doubted he threw as hard as Rosenthal on a consistent basis. "As far as style is concerned, I don't think our styles would be the same," said Gibson, laughing. "He hasn't learned how to pitch yet. It has nothing to do with style for him yet other than throwing strikes whenever he can."
As Rosenthal matures, Gibson said he had little doubt that the Kansas City native would emerge as one of the top closers in the sport.
"I do think he probably needs to start thinking about doing something with the ball as he gets a little older and loses a little of that velocity," Gibson said. "Right now, when he gets behind, which he does often, he can come in with that 99 mile an hour fastball and throw it by guys."
That Rosenthal sliced his walks from 42 to 25 while keeping his strikeouts roughly the same (87 to 83) last year, appears to confirm a change. It is not a stretch to say that it was because of the stretch.
"He was having trouble getting strike one out of the windup," Isringhausen said. "Once he got into the stretch, he settled down. There were some high-wire acts but he was getting out of them because of his stuff.
"This past year, getting ahead of hitters was the most important thing."
The stretch position as a windup was suggested by pitching coach Derek Lilliquist and Isringhausen said, "It simplified things. Less movement. Simple mechanics."
All is good for Rosenthal. But he still wonders if it could be even better.
"I think I would like to start," he said. "I would definitely like to have that type of opportunity. When that happens, I'm not sure. Hopefully, sooner rather than later."
But, Rosenthal hastened to add, "I can't complain too much about the role I'm in. I really do enjoy it. As far as starting, I'm still keeping that door open and hopefully continue to have conversations with the organization. The timing would have to be right. I'm not going to give it a whole lot of thought during the season."
From one Hall of Fame starter to one would-be starter, however, Gibson says Rosenthal is better off where he is.
When the topic of starting was broached, Gibson said, "I asked him did he think he was doing a good job with the Cardinals and he said 'Yes.' To me, he's more important to the team in the bullpen. They have plenty of starters."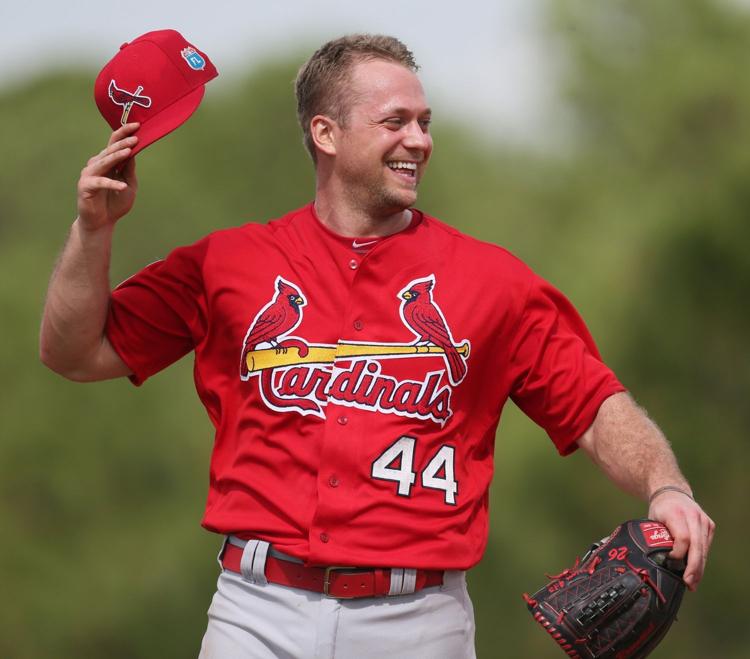 Furthermore, Gibson said, "the importance of a starting pitcher then is different than it is today. Starters made more money and they had more recognition than relievers. That's not the same today, especially, with the closer (Rosenthal's salary increased 10-fold this year). They're probably more important to a team than the starters.
"He's got it in his brain that he wants to do this and there's nothing you can do about it. I guess he's not really satisfied, which is too bad. He really does a good job.
"He's still got that in his craw. I don't know how to get it out."
Like Isringhausen, Rosenthal has a power fastball, but his next best pitch may be his changeup rather than the curveball or the slider he is developing as an 'out pitch.' Isringhausen didn't mess around with a changeup much as he was a fastball/curveball pitcher. Gibson was strictly fastball/slider.
Gibson wore No. 45, which no Cardinal ever will wear again. Isringhausen wore 44, which is Rosenthal's number and Izzy said he was happy about that. Rosenthal said it was by accident.
"I always wanted 22 and, obviously, (manager Mike) Matheny had it. I couldn't take that one," Rosenthal said.
"Twenty-six became available when (Kyle) Lohse left, so I took that. And then Matheny wanted 26 last year, so I had to pick a number. Twenty-two times two is 44. I thought it was a good number, so I went with that," Rosenthal said.
The number to beat for the club career save record is 217. Rosenthal has 96, so he could have that in three years.
"Records," said Isringhausen, "are meant to be broken."
That is, if Rosenthal still is a closer three years from now.
Keep up with the latest Cardinals coverage from our award-winning team of reporters and columnists.