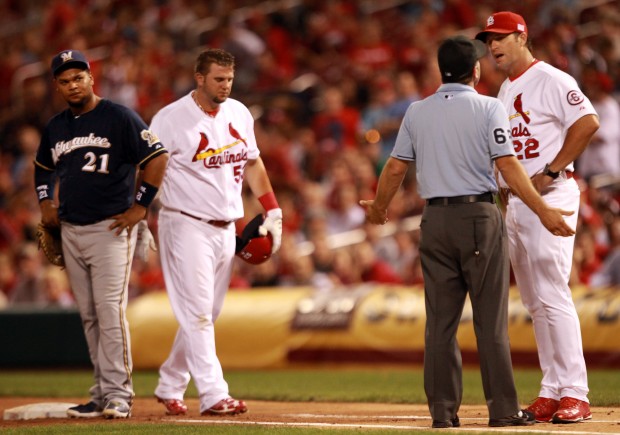 Placed on notice by general manager John Mozeliak last week after a fifth straight ugly loss, Cardinals righthander Lance Lynn surely maintained his place in the rotation for the rest of the season Wednesday night with a commanding, 10-strikeout performance over six innings in which he did not allow an earned run to the Milwaukee Brewers.
He still hasn't won since Aug. 4, but the Cardinals finally won a game he started when they exploded for four runs in the eighth inning at Busch Stadium to snap a 1-1 tie and put down the Brewers, 5-1, for their fifth straight victory on this home stand.
The Cardinals, who were no-hit for 5 2/3 innings for the second night in a row, maintained status quo in the National League Central Division race, staying one game ahead of Pittsburgh and three ahead of Cincinnati.
Lynn said he hadn't realized his spot was in any jeopardy although Mozeliak had said, pointedly, that "the definition of insanity is repeating the same thing over and over and hoping for a different outcome."
After the game, Lynn said, "I haven't talked to John, haven't heard anything he said. I'm just trying to help the team win. I'm not worried about anything else."
The key blow in the eighth was a two-run homer by Matt Adams off lefthander Michael Gonzalez. Adams, hitting just .195 against lefthanders, had been deprived of an extra-base hit in the second when an umpiring call went against the Cardinals.
Matt Carpenter, who got the Cardinals' first hit off Marco Estrada, a sixth-inning liner off the pitcher's right ankle, singled to right with one out in the eighth against loser Brandon Kintzler (3-2). Jon Jay walked on a full-count pitch and Matt Holiday, who had started a seventh-inning rally with a single, grounded a single off the glove of shortstop Jean Segura, who did well to get to the ball.
Carlos Beltran's sacrifice fly to left against Gonzalez broke the tie. Jay then stole third. Brewers catcher Jonathan Lucroy started to throw there but then changed his mind and fired to first where Holliday had returned after breaking for second and also changing his mind. The throw sailed into right field and Jay scored.
Adams followed with his 12th homer, a drive to right center.
Lynn allowed five hits and walked two in six innings as he extended the Cardinals' streak of consecutive innings without their starters allowing an earned run to 33 2/3, including the last four games and Joe Kelly's final inning in the fifth start.
Lynn, when asked the difference between this start and the preceding ones, said, "I got a lot of people out.
"After the third inning, I knew I had really good stuff.
"The first couple of innings, you're kind of mixing in some pitches to get set up for later on. After that, I was ready to go."
The only run the Brewers scored off Lynn, who had one of his best fastballs of the season, came in the second via a double steal and a throwing error.
Carlos Gomez singled to center and Scooter Gennett walked with one out. Juan Francisco, who strikes out at a furious clip of once every 2.5 at-bats, fanned for the 129th time.
The Brewers, who lead the NL in stolen bases, tried a double steal. Catcher Tony Cruz, replacing Yadier Molina, who was away from the park for a family emergency, tried to get the trail runner, Gennett. But shortstop Daniel Descalso, trying to catch the ball and apply the tag, could not handle a low throw that sailed into center field, with Gomez scoring.
"I probably should have tried to smother it instead of picking it and putting the tag on him," said Descalso.
Injured righthander Chris Carpenter had spoken recently of talking to Lynn to help him through his troubles. Before Wednesday's game, with the coaching staff also involved, Carpenter and reigning ace Adam Wainwright conducted a 15-minute seminar for second-year starter Lynn and even less experienced starters in Kelly, Shelby Miller and Michael Wacha.
Lynn said the conversation revolved around "being mentally prepared to go down this stretch. We've got a group of three guys who have never been down this stretch and/or never started a game in the playoffs that might need a bit of assurance how to go about this.
"Carp may be one of the best playoff pitchers of all time. He's a good one to listen to."
For manager Mike Matheny, Lynn "was much more like what we expect Lance to be like."
Matheny thought Lynn was good at "not letting things get out of hand when they started going in a bad direction. That could have happened in the second with the unearned run that comes across. Those in the past have turned into bigger innings."
At the time, Lynn seemed irritated by the breakdown in the play but, said Matheny, "he refocused, got back on the mound and made good pitches."
The Cardinals tied the score at 1-1 in the seventh.
Holliday singled to left center for the Cardinals' second hit but Beltran flied to deep left and Adams flied to deeper center.
David Freese walked, compelling Milwaukee manager Ron Roenicke to pull Estrada for righthander Kintzler.
Descalso, who already had hit two balls well, inside-outed a sinker ball and smacked an opposite-field single to score Holliday.
Lynn had just 93 pitches for his six innings but Shane Robinson pinch hit for him in the sixth.
"We didn't have a hit," said Lynn. "And I hadn't had one in a while (Lynn is four for 47 with 26 strikeouts)."
Trevor Rosenthal, who gained his second win, raised his strikeout total to 97 (against 18 walks) as he worked a scoreless eighth. Former Brewers closer John Axford finished up with an impressive ninth, striking out two.
The win was the Cardinals' 12th in 15 games against the Brewers.
"They just have our number, man. It's definitely frustrating," said Gonzalez, who called his performance "embarrassing and discouraging." He also reminded reporters that he was part of the 2011 Texas Rangers team that lost to the Cardinals in the World Series and the 2012 Washington Nationals team that lost to the Cardinals in last year's National League division series.
"For me, it's personal," Gonzalez said.