KANSAS CITY — Cardinals backup catcher Matt Wieters had a front-row seat for most of Jack Flaherty's recent estimable work. Flaherty had allowed just 19 hits in 38 1/3 innings, giving up just four runs in his previous six starts, with Wieters catching five of those.
But Yadier Molina returned for the first six time in six weeks Tuesday night. The results were roughly the same.
Flaherty knocked off his ninth game of at least six innings pitched while allowing three or fewer hits. Extended to 110 pitches, he held the Kansas City Royals to just three hits and an unintentional walk while fanning seven over seven innings in a 2-0 Cardinals victory that moved them one game behind first-place Chicago in the National League Central Division race.
The outing marked the third time in succession Flaherty had pitched seven innings. It marked the third time in succession that he hadn't allowed a run, extending his string of scoreless innings to 23.
"I've got to get used to it again," said Wieters, who saw the performance from the bench. "But it's still fun to watch."
Manager Mike Shildt said, "That was Jack. He's been a front-line, elite guy. Conviction with his fastball. Location with his fastball. Nice, short slider. Sprinkled in a couple of really dirty changeups, and a curveball as well.
"He was in control the whole way. He's a tough look."
Flaherty retired 13 men consecutively after he allowed a two-out double to the Royals' Hunter Dozier and an intentional walk to Jorge Soler in the first inning. That streak ended in the sixth, when Nicky Lopez and Whit Merrifield singled. But Flaherty took matters into his own hands by fielding Alex Gordon's comebacker and starting a double play via shortstop Paul DeJong at second base.
"Paulie did a really nice job of staying on the base," Flaherty said. "I didn't give him the best throw."
Then, on the eighth pitch of a duel with Dozier — all fastballs — Flaherty finally struck him out after Flaherty had taken an 0-2 lead in the count.
Flaherty nicked Soler with a pitch to open the seventh but notched two more strikeouts and an infield grounder to finish his night.
Besides his nine games of three hits or fewer, Flaherty has had four more in which he gave up only four hits while pitching at least six innings. He has allowed just 22 hits in his last 45 1/3 innings, a stunning statistic.
Or, how about this one? Flaherty has an 0.79 earned-run average in his last seven starts, in which opponents are hitting .142. His scoreless streak is the longest active in the majors.
"Hopefully, we can ride him all the way into October," teammate Matt Carpenter said.
Molina was happy to be back and Flaherty seconded that.
"Wieters and 'Kiz' (Andrew Knizner) have done a really good job and it was fun to throw to both of them," Flaherty said. "But it was nice to have (Molina) back. He just has a presence and energy about him."
Molina said, "Today, (Flaherty) was amazing. I was just happy to be there for him. He's our ace so far. Hopefully, he continues doing that."
In his first game since early July, Molina was cheered loudly by a huge contingent of Cardinals fans in the paid house of 23,563. But he went nothing for four.
"It would be better to be cheered going four for four in a win than go 'oh' for four," he said. "It's coming."
But, as Shildt pointed out, "He caught a shutout."
And Molina said, "I'll take that any day."
In theory, Flaherty could conserve energy because he didn't have to bat in an interleague game. Instead, he said, smiling, "It was boring, sitting there and not getting in the game."
Rookie Tommy Edman showed twice in the first three innings why he is valued by the Cardinals. He is a fundamentally strong player.
The Cardinals took a 1-0 lead in the first on an unearned run. Dexter Fowler was safe on an error by third baseman Cheslor Cuthbert, who was shifted to behind the second-base bag but who bobbled Fowler's grounder. Glenn Sparkman balked Fowler to second and then Edman made George Kissell smile somewhere by hitting a right-side grounder to advance Fowler to third. Fowler scored on Paul Goldschmidt's sacrifice fly.
In the third, Kolten Wong opened with a double to right. He stayed at second as Lane Thomas grounded into the shortstop hole, where Humberto Arteaga made a diving stop but had no play. Wong and Thomas took off on a Sparkman pitch in the dirt but catcher Meibrys Viloria threw out Wong at third as Thomas made second.
Fowler flied out but Edman singled to right with two out. As the throw from Dozier came toward the plate, Edman rounded first and headed to second, hoping first baseman Ryan O'Hearn would cut the ball off. O'Hearn did cut the throw, which probably wasn't going to get Thomas anyway, but Edman caused the Royals to make the play. Edman was out but not until Thomas had scored.
Shildt said that third-base coach Pop Warner had flashed a sign to first-base coach Stubby Clapp to send Edman toward second on a hard-hit ball and Edman had that in his mind anyway.
"Just good baseball," Shildt said.
Lefthander Andrew Miller relieved for the Cardinals in the eighth. After striking out Viloria, he walked Lopez. Merrifield then hit a hard grounder at DeJong, who started a double play, pivoted neatly by Wong.
Carlos Martinez, saving his 13th, finished the Cardinals' sixth shutout of the season and first on the road. It was their fourth consecutive win overall.
The Cardinals' victory also was their 38th in 57 games in Kansas City, a .667 winning percentage, tying them for the best by a road team with at least 50 games played in major-league history, according to Elias Sports Bureau. The Houston Astros are 44-22 in Seattle and the 1892-99 Boston Braves were 34-17 in Washington against the Senators.
On Wednesday night, a Cardinals win could forge the all-time lead.
"Keep it rolling," Shildt said. "Let's do this. That's an interesting tidbit. Let's take care of business."
---
Photos: Cardinals blank Royals
Cardinals Royals Baseball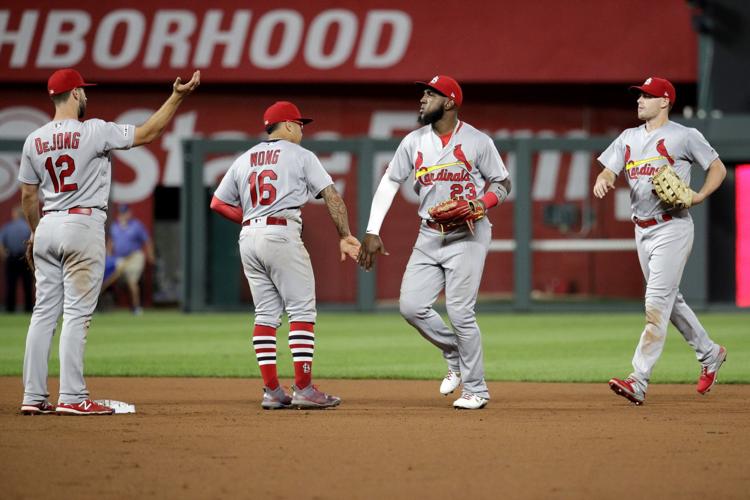 Cardinals Royals Baseball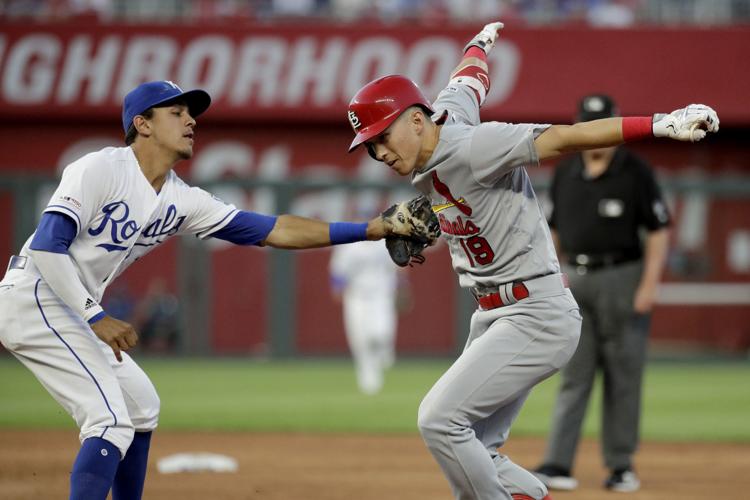 Cardinals Royals Baseball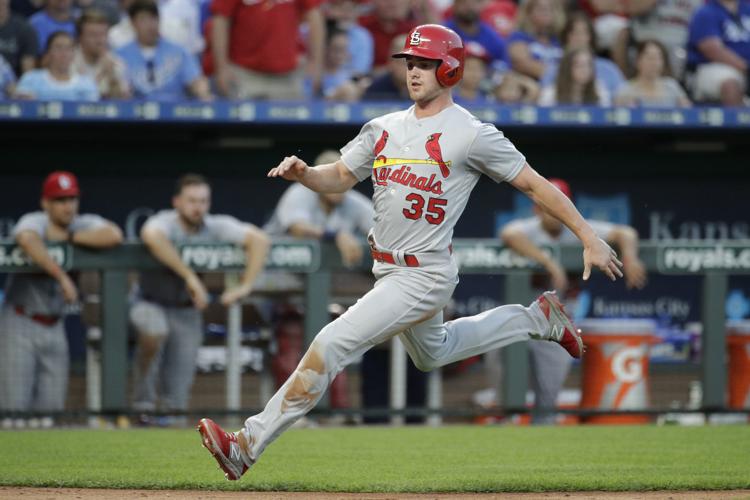 Cardinals Royals Baseball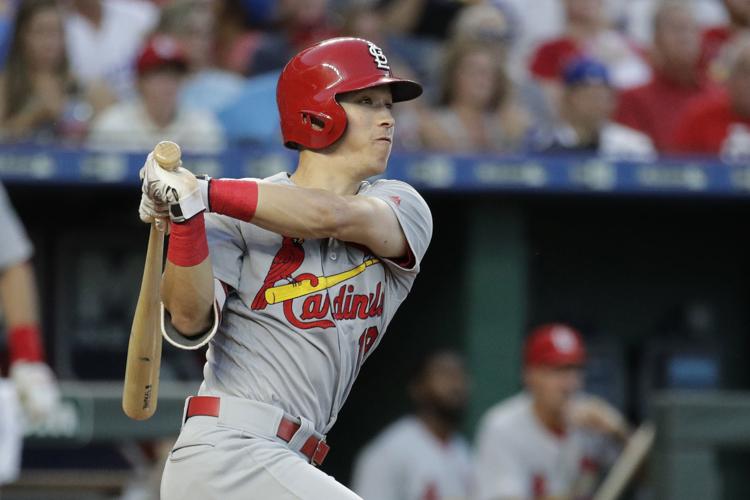 Cardinals Royals Baseball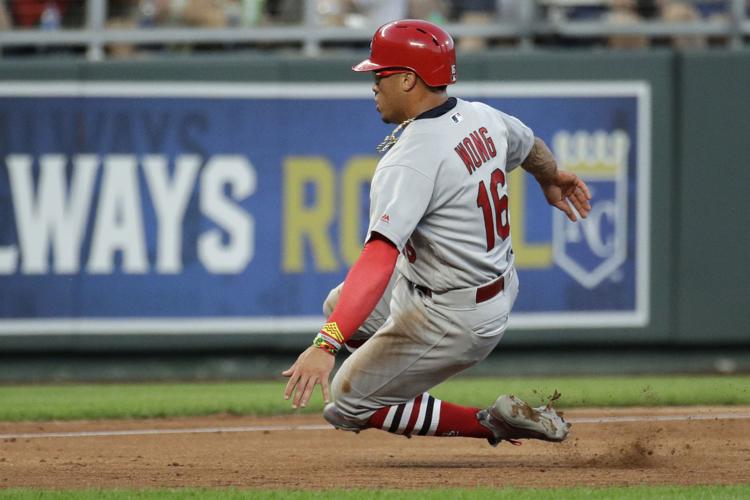 Cardinals Royals Baseball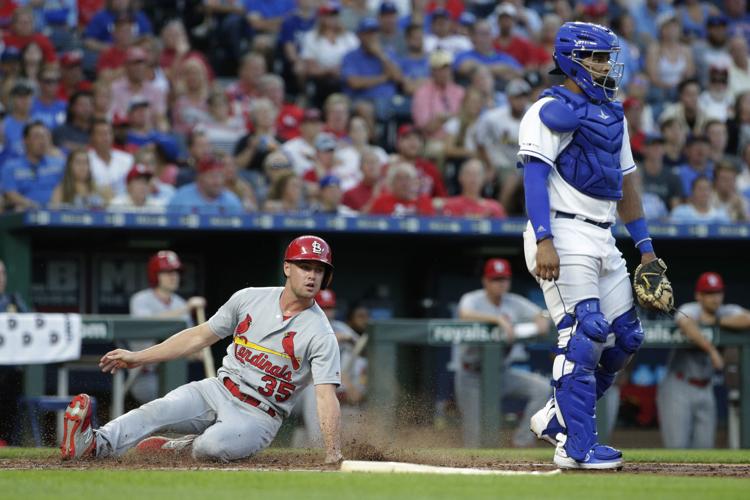 Cardinals Royals Baseball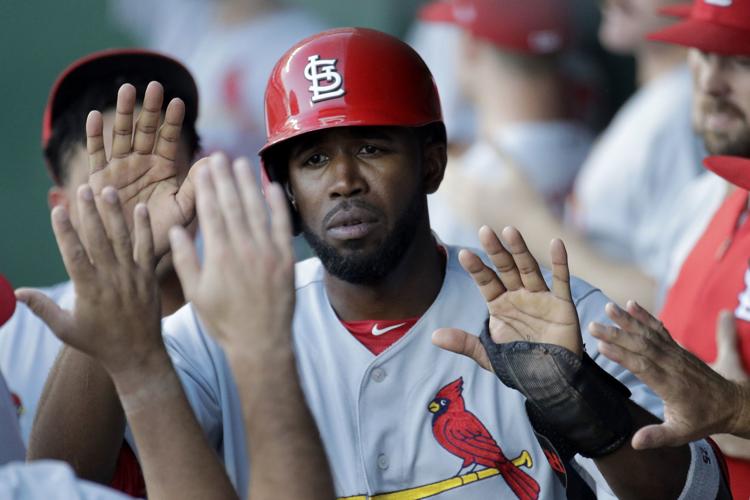 Cardinals Royals Baseball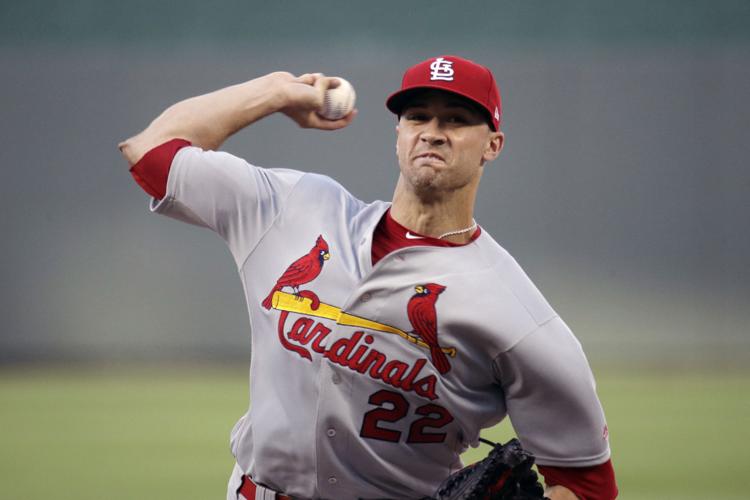 Cardinals Royals Baseball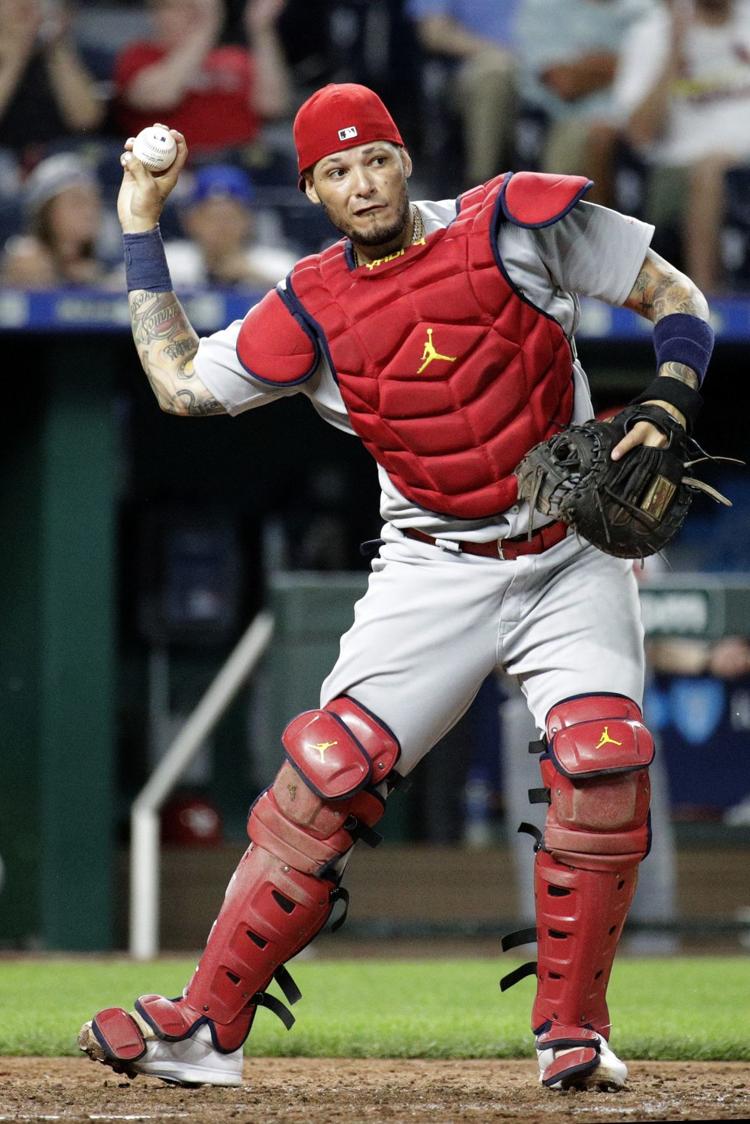 Cardinals Royals Baseball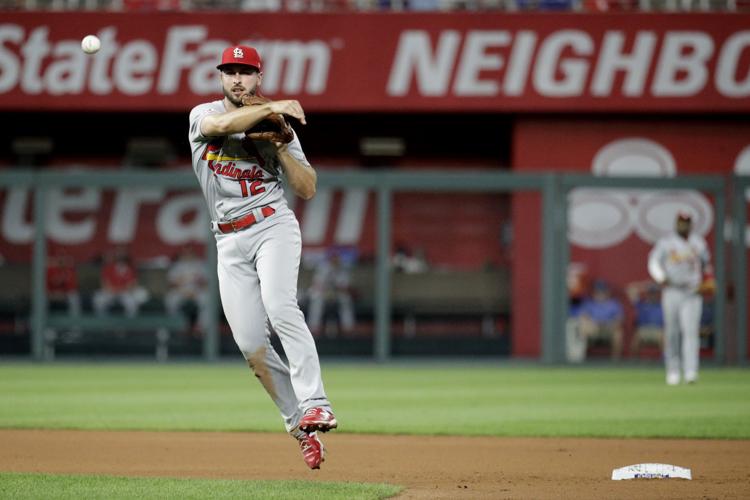 Cardinals Royals Baseball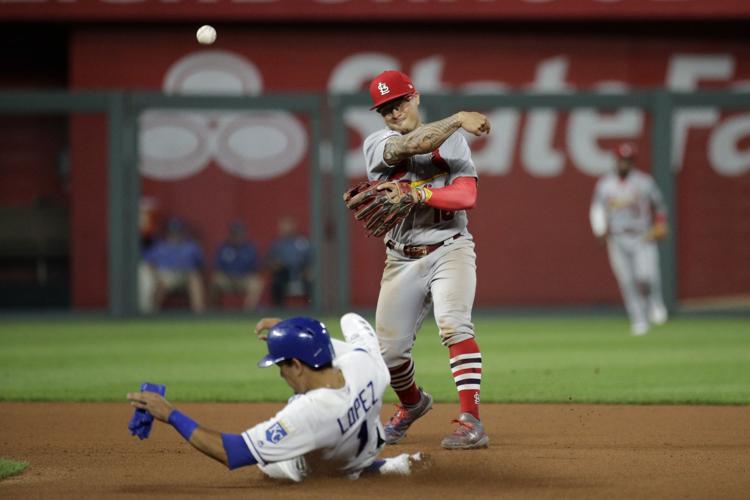 Cardinals Royals Baseball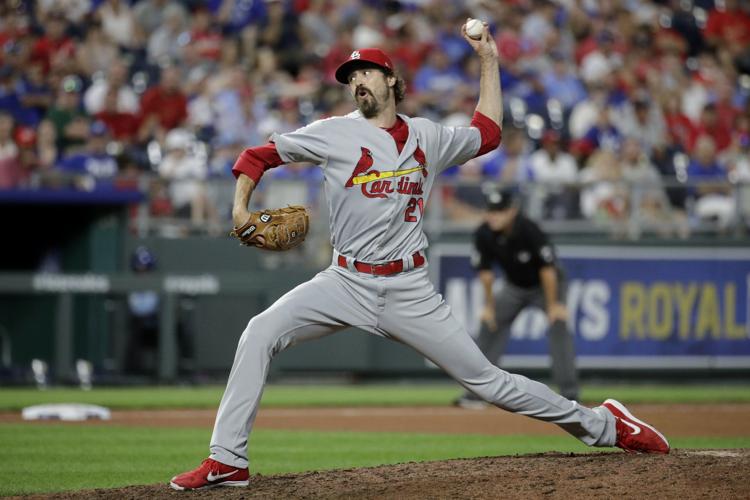 NO headline in galleries