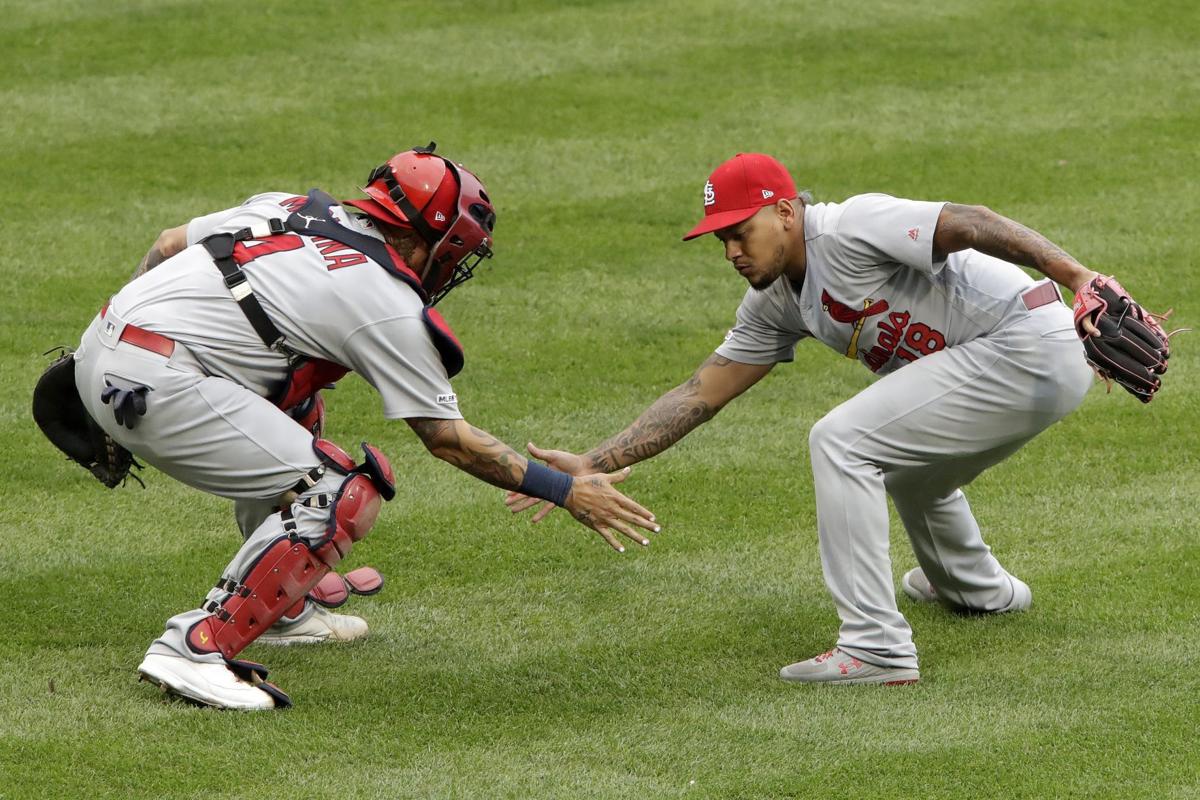 PITTSBURGH — On July 7, the day before the All-Star break, Cardinals righthander Jack Flaherty suffered his third consecutive loss in a 4-6 first half of the season. But he had offered a Kodak moment of what the second half of the season might look like. 
Flaherty took a no-hitter into the seventh inning that day and wound up losing 1-0 at San Francisco despite allowing just two hits over seven innings. Since that date, Flaherty has pitched just like that in virtually every game. Such as Sunday's game, for example.
Flaherty struck out 10 for the third time this season and and permitted only five hits in eight innings in a 2-0 win over the Pittsburgh Pirates. He is 10-7 now and, over his past 71 1/3 innings since the break he has permitted 37 hits and six earned runs (ERA of 0.76) while striking out 89 and walking just 17.
"I started executing better that game," said Flaherty, pointing to that July start. "I made small adjustments, not (with) my mechanics, but mentally. I tried to carry it from one start to the next."
Already having been named Pitcher of the Month in the National League for August, he has a leg up on September — in which he hasn't been scored on in 16 innings. He has given up only six hits while striking out 18 and walking two. Flaherty didn't win a game last September after not losing one in August, but he is 2-0 in this month with three or four starts left.
"That's what pitching looks like," Cardinals manager Mike Shildt said. "Phenomenal job."
Flaherty won't be 24 until next month but Shildt said, "Age doesn't have to disqualify you from having consistent success in this league."
Pitching coach Mike Maddux has had thoroughbreds such as this before — Max Scherzer and Stephen Strasburg in Washington, Cole Hamels in Texas, Ben Sheets in Milwaukee. All were older than Flaherty at the time.
"Regardless of age, what (Flaherty) is doing right now is pretty damn special," Maddux said. "There have been only a handful of guys I've seen do it. It's real good company being in with those (aforementioned) guys.
"It sounds like a broken record. But Jack is so motivated, he's not satisfied. You'd like him to stay right where is, but he gets better."
On July 2, in Seattle, Flaherty started one day after he had learned of the death of good friend Tyler Skaggs of the Los Angeles Angels. Flaherty, with that on his mind, allowed seven hits and four runs in 4 2/3 innings.
"I don't think I was fully there," Flaherty said.
That game capped a stretch of six starts in which gave up 24 earned runs and 35 hits in 30 1/3 innings. He won only one of those starts.
"He had a little mourning period," Maddux said, "and he's kind of come out of that."
"It's still going on," Flaherty said. "Every time out since then is for (Skaggs) and doing it for him. He's there with each and every one of us."
Flaherty said his success "just comes (down) to not making any situation bigger than it needs to be."
The shutout was the seventh caught by Yadier Molina since he returned from the injured list on Aug. 13. Molina has handled long runs by Chris Carpenter and current teammate Adam Wainwright in their primes and he said Flaherty's rivals those.
"He's doing what we expect him to be doing," Molina said. "We knew that he was capable of it. He's our horse."
Matt Carpenter, who had two hits in a rare start, scored the first run of the game, on Harrison Bader's single in the fifth. The Cardinals finally broke through against Pittsburgh sinkerballer James Marvel, who was making his first major-league start. Paul Goldschmidt doubled for the Cardinals' other run, in the sixth, as he extended his streak of 80 RBI seasons to five as the Cardinals won for the 37th time in 55 games (.672) since that loss before the break.
Following Carlos Martinez's brisk, eight-pitch outing for his 19th save, the Cardinals' lead rose to a season-high 4½ games over the second-place Chicago Cubs in the National League Central Division as the injury-riddled Cubs lost to Milwaukee for the third consecutive day.
For your magic number freaks, that figure is 16 — a topic that brought a look of horror to Shildt's face.
"Have a nice evening," he said.
"There's no reason for us to watch what other people are doing as long as we go out and take care of our business," Flaherty said.
Flaherty allowed two hits in the first four innings. But the Pirates began their fifth with a double to right by Jose Osuna, and Melky Cabrera singled to center where Bader missed on a diving attempt but kept the ball close enough to him that Osuna couldn't advance. That proved pivotal.
"I thought that ball was, for sure, going to drop, and he made an unbelievable play," Flaherty said. "I know he really thought he should have caught it but it was amazing to me that he was even there."
Bader said he "was a little beside myself when that ball popped out."
Flaherty got Adam Frazier to hit into a forceout, with Osuna going to third. But then Flaherty induced Jacob Stallings to ground into a double play started by third baseman Carpenter. Osuna was stranded and the Pirates, who lost eight of nine to the Cardinals at PNC Park this year, had missed on their best scoring chance.
However, Flaherty didn't help himself much on offense.
With runners at first and second and nobody out in the seventh, he bunted into a forceout at third. Moments later, he was picked off first base and the Cardinals didn't score.
"I didn't get the bunt down and I was probably a little frustrated about it,"  Flaherty said. "I kind of let it carry over. Yeah, there's little things to learn from."
"School of hard knocks," Maddux added, smiling.
But, said Shildt, "I think Jack needs to enjoy the day."
The Cardinals all can enjoy it until Tuesday, when they play next — at Colorado.
Keep up with the latest Cardinals coverage from our award-winning team of reporters and columnists.