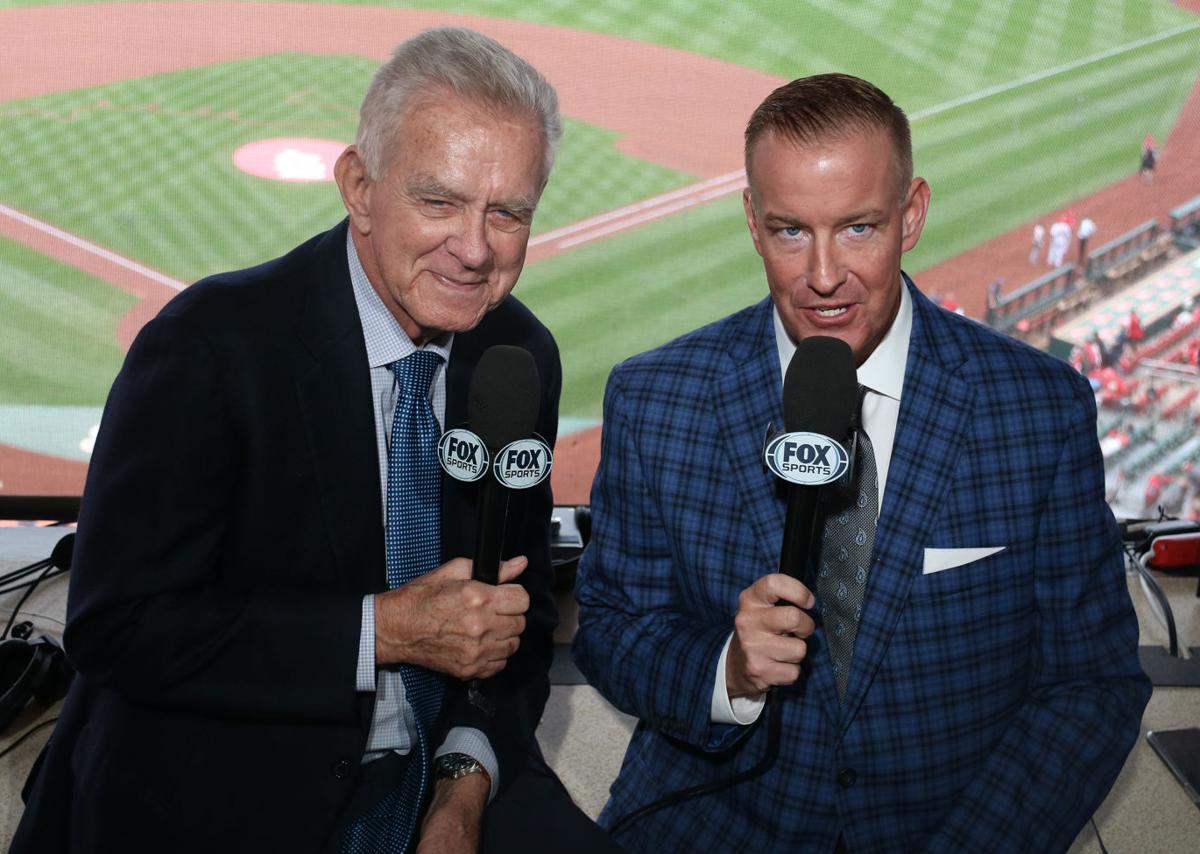 For decades, Fox Sports Midwest has wanted you to watch its telecasts of St. Louis pro and college sports teams. Now it wants to be your bookie, too.
FSM parent company Sinclair Broadcasting has struck a deal with casino operator Bally's Corporation in which Fox Sports Midwest and most of the 20 other regional sports networks it owns nationwide will be renamed, expected to be called "Bally Sports" or something similar. The switch is likely to take place early next year but it is not clear if the outlets would continue to be sub-branded locally, such as "Bally Sports Midwest" in this region.
But what is clear is that there will be much more than a name change, that gambling will be emphasized on the telecasts. And it won't be just guys giving their picks on games. The plan is to have interactive betting on the TV screen or mobile devices on which the games are being seen, with Bally's — through Sinclair — serving as the bookie.
"The overall vision is . . . to 'gamify' sports" and "to make watching sports like playing a video game," Sinclair president and CEO Chris Ripley said on a conference call Thursday to discuss the moves. "We think this will dramatically increase the attractiveness of (watching), especially for a younger generation."
He said that 60% of those ages 18-34 are interested in sports betting.
"A lot of that is driven by their connection to video games," he said.
That means while you are watching FSM, you eventually might be able to bet on whether Paul Goldschmidt gets a hit or makes an out while he is at-bat on a Cards telecast, or how many goals will be scored in the second period of a Blues contest.
But you would have to be in a state that allows sports betting. Illinois now does, Missouri does not.
The New York Post reported that Bally's will pay Sinclair $85 million as part of a 10-year agreement in which Sinclair also gets a small cut of Bally's operation. Bally's also has bought sports wagering tech developer Bet.Works to produce software that will enable those watching the telecasts to seamlessly wager on those contests directly through their television or mobile device.
The gold rush
Sports betting is exploding across the U.S., after the Supreme Court in 2018 struck down a federal prohibition on it in locations, primarily Nevada, that had not been grandfathered in when that kind of wagering was outlawed. States now decide if they want to legalize it and 25 have done so, including Illinois — but not Missouri.
Sinclair and Bally's say the telecasts will be customized to what is legal in each location the games are being seen. More states are expected to approve sports wagering in the next couple years, with Missouri seen as a good possibility, and this pushes Bally's and Sinclair to the front of what some view as the start of a gold rush.
Sinclair and Bally's expect revenue in the U.S. from online betting sources to increase from $1 billion in 2019 to $12 billion by 2025, eventually reaching $50 billion. The alliance will help those companies "capture a significant share" of that market, Bally's president and CEO George Papanier said Thursday.
That is a key reason for the Sinclair-Bally's marriage.
"This arrangement represents an opportunity to revolutionize the U.S. sports betting, gaming and media industries," Bally's chairman Soo Kim said in a statement. This will be ". . . positioning Bally's to become one of the top U.S. sports betting and IGaming operators."
IGaming includes forms of online wagering in addition to sports betting, such as casino games.
Ripley, Sinclair's president and CEO said, in a statement, that the company has been pointing toward cashing in the growing sports-betting market for some time, and that was accentuated with the addition of the regional sports networks last year when they were purchased from Disney.
"We have been working on developing an innovative experience that changes the way people think about and view live sports across all our platforms," he said. "Bally's, with its strong brand name, premier sportsbook technology platform and expansive market access, is the perfect partner to help us change the paradigm of sports viewing across all our assets. . . . Consumers of live sports in the future can look forward to a more dynamic and engaging sports viewing experience. . . . This partnership perfectly positions our sports portfolio to fully capitalize on changing audience behavior."
It was not clear if betting-centric telecasts would be sent to all viewers in locations where wagering is legal, or if they would have the option of choosing a version on a secondary channel (such as Fox Sports Midwest Plus) that does not have a gambling emphasis. 
Captive audience
A likely big advantage for Sinclair and Bally's is that they would have a captive audience to promote their bookmaking venture. Viewers already would be engaged with the device on which they are watching, and for simplicity might not go to a competing bookie's website or app to place a bet.
And some St. Louisans are becoming accustomed to sports betting, as wagers began being accepted legally in Illinois this year.
Argosy Casino in Alton was the first local venue to come aboard, in March, followed by Casino Queen in East St. Louis.
Legalization also has led to key partnerships being formed between two local wagering facilities and major sports-gambling operators, the Queen with DraftKings and more recently Fairmount Park with FanDuel. Fairmount plans to add a sportsbook to its longstanding horse racing schedule.