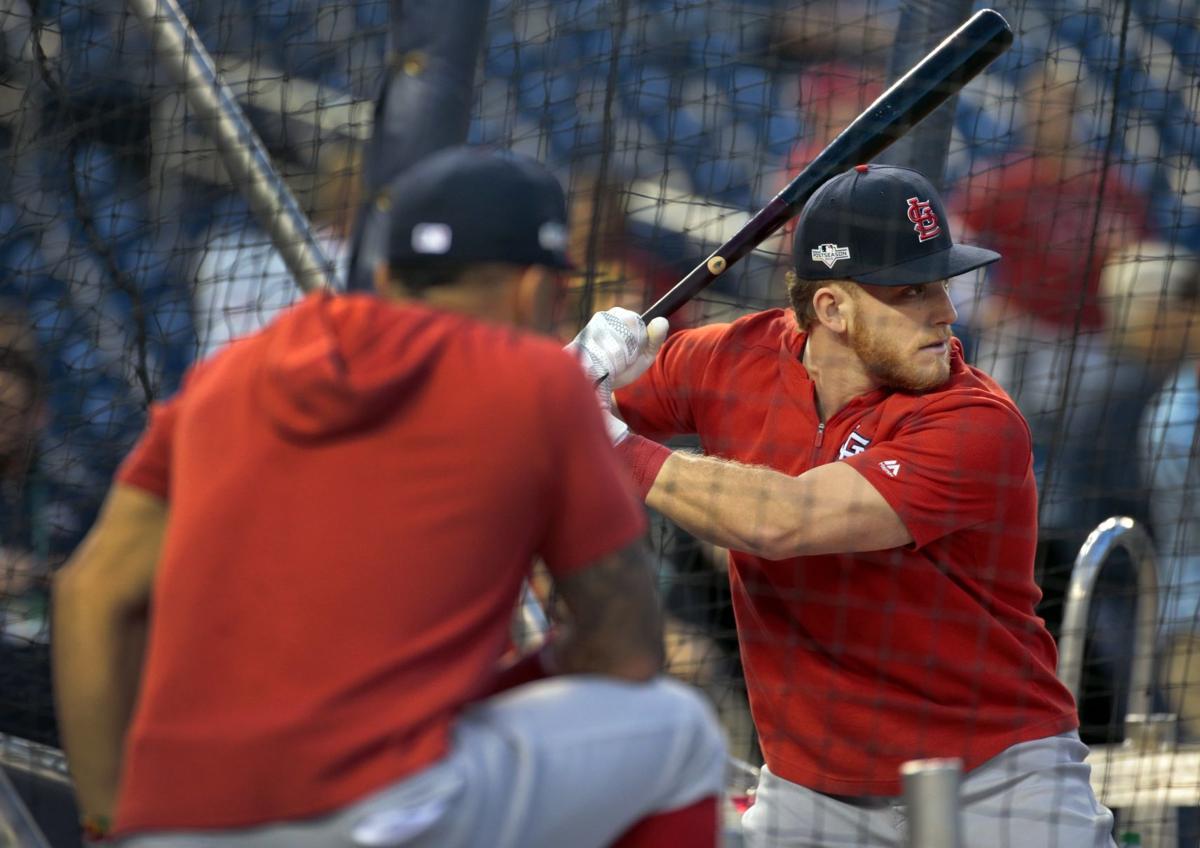 SAN DIEGO — From the hothouse batting cages of Miami to the weights of a workout room in Texas, the Cardinals' individualized offseason plans have started revealing themselves as players around the roster begin ramping up baseball activities.
Center fielder Harrison Bader spent some time Monday with hitting coach Jeff Albert at the team's facility in Jupiter, Fla., the Cardinals said. Matt Carpenter is already a month into his program to add strength and weight, and he has been in regular contact with the Cardinals' trainers and performance department officials.
Both players are following plans that were authored by the coaching staff and training group, and some of which were delivered this past week as part of a detailed, analytics-laced report to players.
"I really took a step back strength-wise this season," Carpenter said Tuesday, "and that's more than enough of a reason to focus on it this offseason."
While Carpenter has centered his workouts at his ranch in Texas, Bader elected to relocate this winter to Miami. He and the team have been in touch with a training facility there where he can hit regularly and get feedback on his swing, and the proximity to the Cardinals' spring training facility means Bader will make regular visits there to work with Albert. The Cardinals' hitting coach lives in Jupiter and has his own facility there.
A year after receiving votes for the Gold Glove Award and Rookie of the Year Award, Bader, 25, saw his offensive production shrivel to a .205 average and a .314 on-base percentage. He struck out 117 times in 347 at-bats, was reassigned to Class AAA Memphis for a tuneup, and then struck out in 39 of his final 94 at-bats for a .191 average in September. Bader's assignment this winter is to adjust his swing — and rethink his approach.
"Good dialogue with Harrison, good discussion," manager Mike Shildt said. "He's in a good place. He's got some real clarity. He knows, 'Hey, I've got to have a better plate-zone discipline. I've got to put the ball in play more. I've got to use the whole field. And I've got to use my skill set.' He's being really intentional with what that looks like. I like his plan."
Carpenter said that in recent winters he moved away from his usual weightlifting because he focused on agility and shoulder strength to play third base and avoided any workouts that might aggravate lower back pain. He and the team felt that a sag in his production this season could be traced to weight loss and a drift in strength — something his workouts this winter are designed to rebuild before spring training and then maintain during the season.
He has started hitting recently to ready for February.
"One of the reasons I'm optimistic, to be honest, is it couldn't be worse," said Carpenter, who had career lows in average and OPS. "Considering what I did, how that season went … I'm an extremely motivated player. Always have been. We have a plan, and I'm motivated as much as ever to right the ship."
WIETERS REUNION?
The Cardinals have maintained interest in switch-hitting catcher Matt Wieters as part of their ongoing plan to add a veteran backup for Yadier Molina. The team would prefer a reunion with Wieters, who signed a one-year deal in spring training, and they'll likely wait to see if he can find a greater offer or more playing time elsewhere.
"We would like to have Wieters back, yeah," general manager Michael Girsch said. "I think we are definitely exploring a veteran backup catcher, and if we can't find one we're perfectly happy having (Andrew) Knizner do it."
Knizner, 24, hit .276 with an .821 OPS at Class AAA Memphis this past summer, and he appeared in 18 games with the Cardinals while Molina recovered from injury. The Cardinals would prefer Knizner, a former third baseman, continue to get consistent innings behind the plate at Triple-A rather than possibly gather rust as Molina's backup in the majors.
Knizner could be the starter at Memphis and still the Cardinals' choice to handle a majority of games if Molina is injured. Wieters, a former Gold Glove winner, proved a welcome fit for the Cardinals with his ability behind the plate, credibility with the pitchers, and switch-hitting complement. Wieters, 33, hit 11 homers and batted .214 in 67 games for the Cardinals.
SIGN-STEALING? LIPS SEALED
While the Houston Astros remain the talk of baseball because of the ruckus they allegedly made illegally stealing signs during their 2017 championship season, few of the officials connected to the team have much to say, publicly. Before fielding questions Tuesday in his session with the media, Astros manager A.J. Hinch explained how he wouldn't comment at all on baseball's ongoing investigation about the Astros' actions.
He did confirm that he's spent many hours working with Major League Baseball's investigators, and that he has met with them at least a "couple of times."
"What I can say is that I've committed my time and energy to cooperate with MLB," Hinch explained. "We continue to work with them as they navigate the investigation, and now we're waiting with everything in their hands. I hope there's a day (when) I'm able to answer more questions, but I know today's not that day. …
"I hope there's going to be a day when we get past this."
As a result of video evidence, a report by The Athletic, and on-the-record revelations by former Astros pitcher Mike Fiers, the Astros face allegations they used technology as advanced as a video camera in center fielder and as rustic as a trashcan to illegally peep signs and pass them along to hitters during the 2017 season. If the Astros are found guilty, Hinch, general manager Jeff Luhnow and others could face suspensions and the organization could face steep fines and penalties, akin to what the Cardinals received during the hacking scandal. A Cardinals executive who admitted guilt to violating federal law was banned from baseball after not cooperating with that investigation.
Two members of the 2017 Astros, coach Alex Cora and designated hitter Carlos Beltran, are now managers in the game with Boston and the Mets, respectively. Major League Baseball has sought time with them as part of the investigation.
"On Houston's situation, I don't have any comment," he said. "For the respect of the process that has been happening."
SIMMONS' NO. 23, ETC.
The Cardinals will take a look at past precedent, an executive with the team said, and hold internal discussions on whether they will retire No. 23 as a way to honor Ted Simmons, who was elected to the National Baseball Hall of Fame on Sunday. The Cardinals have used induction into the Hall of Fame as a guidepost for retiring numbers, but not a guarantee for the honor. … Jack Flaherty was selected as a starter for the second team of baseball's inaugural All-MLB Team, which was announced Tuesday. … Longtime Cardinals trainer Gene Gieselmann was inducted this past weekend in San Diego into the Professional Baseball Athletic Trainers Society's Hall of Fame.