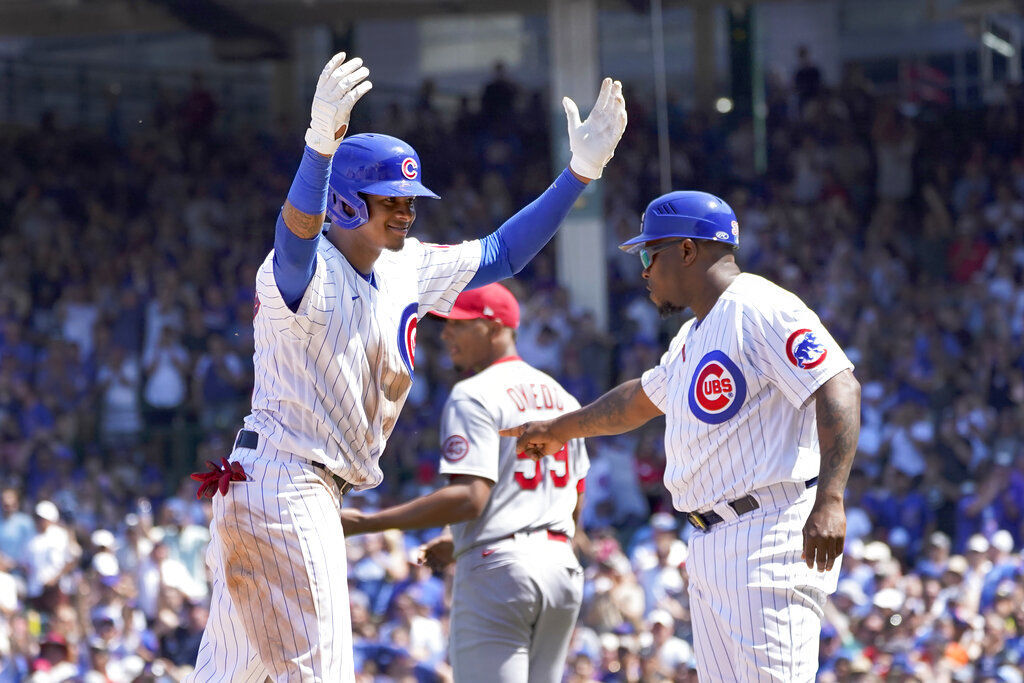 CHICAGO — All it took to dunk the Cardinals back into a vat of questions and extinguish any comfy, confident vibes from quieting a crowded house at the Friendly Confines was a handful of misplays by some of the steadiest hands.
Actor Bill Murray had seen it all before, so maybe he knew what was coming.
With Wrigley Field open to full capacity Friday for the first time since 2019, Chicago throwing open its city after more than a year of COVID-19 restrictions, Wrigleyville was in a celebratory mood, so the "Groundhog Day" star handled the song for the Seventh Inning Stretch. He then exhorted the Cubs to go get some runs.
The Cardinals did their part to give them the pivotal few.
A passed ball and an error aided the Cubs' rally, and moments after Murray's serenade a mishandled grounder and a mangled inning became the tiebreaking double. They got him, babe. A game that pivoted on Anthony Rizzo's relentless, 14-pitch at-bat for a game-tying homer then carried the Cubs to an 8-5 victory against the archrival Cardinals. It was all too familiar for the visitors, who have lost nine of 11 and sunk out of first place to the brink of .500, at 32-31.
"Little things added up that we couldn't overcome," manager Mike Shildt said.
In front of 35,112 — the largest crowd the Cardinals have played in front of this season — they botched a 5-1 lead and undermined rookie Johan Oviedo's finest start.
Nolan Arenado said he had this series circled since his trade to the Cardinals because he wanted to be surrounded by the cacophony of the rivalry at Wrigley. The country's health trends timed up for a near sellout to welcome him to baseball's oldest rivalry between two teams that haven't moved cities. The Chicago Tribune proclaimed it "Reopening Day," and the Cubs played along. A huge U.S. flag was unfurled in center for the national anthem. Hall of Famers gathered before the game, and Lee Smith handled the ceremonial first pitch. The Bears' 2021 NFL draft picks were present for a well-timed applause sign for the crowd.
Arenado became the third Cardinal with at least three RBIs in his first game as a Cardinal at Wrigley, and the first vsince pitcher Omar Olivares in 1990. His two-run single extended the lead and rewarded Oviedo with a four-run gap by the middle of the fifth. The erosion started quickly, a few ragged plays, Rizzo's epic at-bat, and some recurring failings of a thinned roster.
"They obviously had a lot to cheer for," Arenado said of the crowd. "I'm happy to be a part of this group here, and hopefully we can come on the better end (this weekend). We're banged up, and I'm not trying to make excuses. It hurts when guys get hurt. You see it throughout the whole league. We have some injuries that have been critical for our team. But we still have guys who are stepping up and we have guys who starting to get going."
The Cubs' answered the Cardinals' three-run fifth with three runs in the bottom of the inning. A leadoff walk by Oviedo — the only walk allowed by the Cardinals — became a run that scored on Yadier Molina's passed ball. Sergio Alcantara tripled home a second run, and that put him at third, ripe for a pickoff play Molina, who had three hits Friday, and Arenado have tried several times this season.
It's a timing throw, made trickier by the distance Arenado must cover when shifted over to the shortstop position. The Cardinals felt they had Alcantara tricked, Arenado raced to the base, Molina zipped a throw to third, and it sailed past a running, leaping Arenado into left.
Alcantara scored easy on the error.
"I feel comfortable doing it. I've done it in the past," Arenado said. "I've got to catch the ball, period. That was my fault."
That was prelude to Rizzo.
The Cubs' first baseman and clubhouse's soul started his day by revealing during a radio interview that he declined the COVID-19 vaccination. He explained to Chicago reporters later how it was a difficult, personal decision now suddenly public. The Cubs have been unable to reach the 85% threshold to alleviate protocols, while other teams like the Cardinals have had limitations, road trip restrictions, and masks all lowered. The Cubs' chief baseball executive, Jed Hoyer, has called reaching that percentage a "competitive advantage" for opponents.
Daniel Ponce de Leon had a one-run lead to hold through the sixth inning when Rizzo came to the plate. It wasn't until the 10th pitch of the at-bat that Rizzo saw the second ball. He fouled off Ponce de Leon's elevated fastball and chipped aside two curveballs that Ponce de Leon threw to alter his eyesight. Geared up for Ponce de Leon's top-shelf fastball, Rizzo worked the at-bat to 13 pitches by fouling one straight back and another to the left and into the crowd. He peppered souvenirs to the returning fans before turning on the 14th pitch for a 393-foot lightning strike into the right-field seats.
The comeback was complete, the score knotted, 5-5.
Shildt called it a "100-pitch at-bat." Close. Rizzo is the first to cap an at-bat of at least 14 pitches with a homer since Ryan Braun in August 2012, and a Cub hasn't done it since at least 1988, according to the team's research.
When Paul Goldschmidt couldn't convert Jason Heyward's hopper into an out to lead off the seventh, the inning found Joc Pederson for a two-run double. Pederson finished with three RBIs and the first run off Oviedo. Willson Contreras extended the lead with a solo homer in the eighth.
Rizzo's swing wiped away Oviedo's strong 4 1/3 innings and kept the rookie questing for his first win. Those subsequent swings by Pederson and Contreras that extended the lead underscored what the rookie had done in a warm, hitter-friendly Wrigley.
After the misplaced lead, that's where the Cardinals found themselves again as they've been for most of the past week — panning the rapids for flecks of gold.
Hoping it's not tomorrow's pyrite.
"It hinges on a few things most nights and some days it doesn't go your way," Shildt said. "I don't want to look in the rearview mirror too much. We've played a lot of clean baseball. Walks one. We punched out 10. We did a lot of great things. I'd be honest — I'd tell you if we weren't playing clean or weren't playing with effort or focus, but we are. I can't say anything more than that. There are some positives taking place.
"But I recognize it's an end-result game."
'Our Team: The Epic Story of Four Men and the World Series that Changed Baseball', by author Luke Epplin, is a captivating read that weaves th…