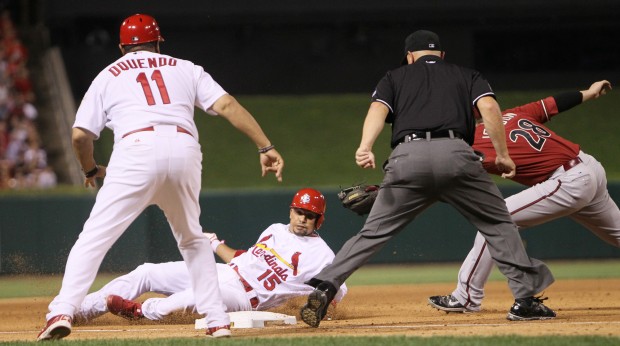 Reassigning shortstop Rafael Furcal to the lower reaches of the lineup to buy him and his achy back a break from the grind of batting leadoff might not be as relaxing as the Cardinals initially had in mind.
Credit the needle a doctor plunged into his back.
Clearly refreshed and unencumbered as a result of the treatment he received last week, Furcal has been racing, not resting, the past two nights, helping to lift his team to two victories just days after he was unsure if he could pick up his bat.
Furcal concluded the Cardinals' scoring with a two-run triple Wednesday in their 5-2 victory against Arizona at Busch Stadium. Furcal's triple was his second in as many nights and it gave him three extra-base hits in his past seven at-bats — as many as he had in his previous 51 games combined.
"Needed to take the edge off. It was something he was fighting nonstop," manager Mike Matheny said of the back pain that hindered Furcal for several weeks. "It seems like the shot kicked in, then he gets some confidence going. He's got a nice approach going at the plate and had some big hits for us."
As Furcal's back seized with discomfort and his offensive production continued dropping, Matheny adopted what was a Save Raffy campaign. He spotted the switch-hitting shortstop days off when possible. He attempted to alleviate some offensive pressure from the career leadoff hitter, and he eventually removed him from the leadoff spot, citing the grind of the position in the lineup. Furcal had hit eighth once this season before this current run when he's started in the seventh or eighth spot in eight consecutive games.
Those moves coincided with a search for treatment that led Furcal to receive an epidural (an anti-inflammatory medicine) a week ago directly into the lower back. Furcal said it was the fifth such direct shot he's received in his career, and the first since last season. The veteran described how since back surgery he's come to live with playing through back pain.
It was the numbness in his leg and pain radiating from the back that concerned him.
Furcal "is a guy who knows he's either got a year and some change left or play a couple more years," said third baseman David Freese when asked about what Furcal has been playing through. "He's seen the light at the end of the tunnel as far as his career. And he's busting his tail. I know he's not happy where he's at offensively, but the guy can change games on defense."
A starter in the All-Star Game this season for the first time in his career, Furcal has repeated that sentiment often during the slow bleed on his batting average. As he fought through shin pain and then back pain, he pressed to play because of what he could do defensively to make up for his struggles offensively.
Pain that was clear on offense was hidden on defense.
In Wednesday's game, he twice ended innings for starter Adam Wainwright by flashing the spring-loaded arm that's been his hallmark since his early 20s with Atlanta. In previous games, he has ranged to help groundball-getters like Kyle Lohse and Jake Westbrook get free of potential damage.
"We knew he was hurting, but the great thing about Raffy is even when he's not hitting well or feeling great physically, he's still busting his tail to try and take away hits from the other team," said Wainwright, Wednesday's winner. "I think he really digs that. I think I've heard him say it before: 'If I'm not getting hits they're not getting hits either.'"
But, he has started getting hits again.
After an initial zero-for-nine stretch after his return from the shot, Furcal has hits in three consecutive games. For the first time since the first two games of this season, he has had extra base hits in consecutive games. On Tuesday, Furcal raced for a triple and later scored when he reached on an error in the seventh inning. On Wednesday, he doubled to the right-field corner off lefty Joe Saunders in the third inning and tripled to the same part of the field with an opposite-field liner. That triple scored two teammates and expanded upon what was a one-run lead for the Cardinals.
Matheny traced the run of offense pack to the pain-alleviating shot Furcal received — "Those things help out, help loosen up," he said — and knows that it doesn't end the Save Raffy plan. Shots can wear off. And to keep Furcal the needed, vibrant presence in the offense that he was late in 2011 and early in 2012, the Cardinals still plan to be proactive with the rest so that this jolt of production doesn't fade.