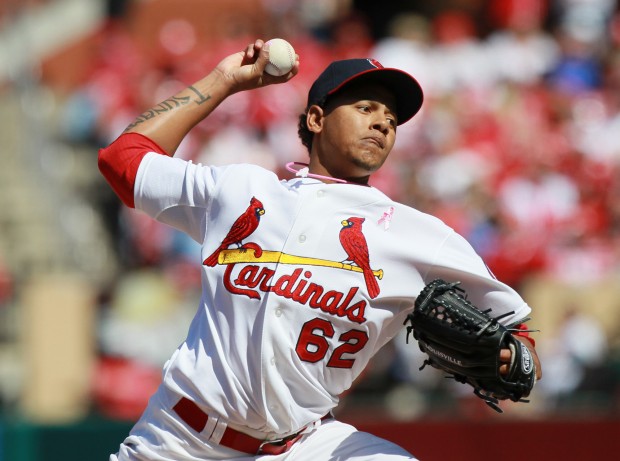 The Cardinals promoted reliever Victor Marte from Memphis this morning and optioned righthander Carlos Martinez to the Triple-A club.
Martinez, 21, made seven relief appearances for the Cardinals after his call-up from Double-A Springfield on May 3. He was 0-0 with a 4.50 earned-run average and nine strikeouts in eight innings.
Marte, 32, was 1-0 with a 2.78 ERA, 10 saves and 23 strikeouts in 22 1/3 innings for Memphis.  He pitched in 48 games for the Cardinals in 2012.
Marte will be in uniform (No. 66) for today's 1:10 p.m. game in Kansas City, where he pitched in 2009 and '10.
GAST, WESTBROOK TO SEE DOCTORS
Injured pitchers John Gast and Jake Westbrook will fly today from Kansas City, where the Cardinals headed Sunday night, to Pensacola, Fla., and St. Louis, respectively, for doctors' appointments Tuesday.
Westbrook, who already has had three elbow operations, will have his sore right elbow checked by Dr. James Andrews in Pensacola. Gast will see Dr. Lyndon Gross in St. Louis.
Westbrook said, "It's a 'not getting better' sort of thing," but he hoped not to be returning with his arm in a sling.
"I'm structurally sound," he added.
Westbrook said he hadn't felt anything while playing catch but throwing from the mound, as he did in San Diego on Wednesday, was quite a different story.
"It's a weird deal," Westbrook said.
Gast said he was "pretty sore" Sunday. Apparently, he had been troubled by a tight shoulder at several other points since he had come up, and perhaps before, but it always had worked itself out.
"Since he got here, every day it's been, 'It takes me a while to get going,''' manager Mike Matheny said. "(Saturday), I thought, was just an extension of that but he just didn't have anything. You could see something was wrong. Finally, we got him to speak right before his at-bat (in the second) that he wasn't feeling right."
Matheny said he would like to see more players be honest with the manager and the medical staff when they're hurt, but he admitted he didn't do it himself when he played.
"I knew by the kind of player I was that I didn't have that option," said Matheny. "I just went ahead and played.
"But, sitting in this seat, I'd rather have more information."