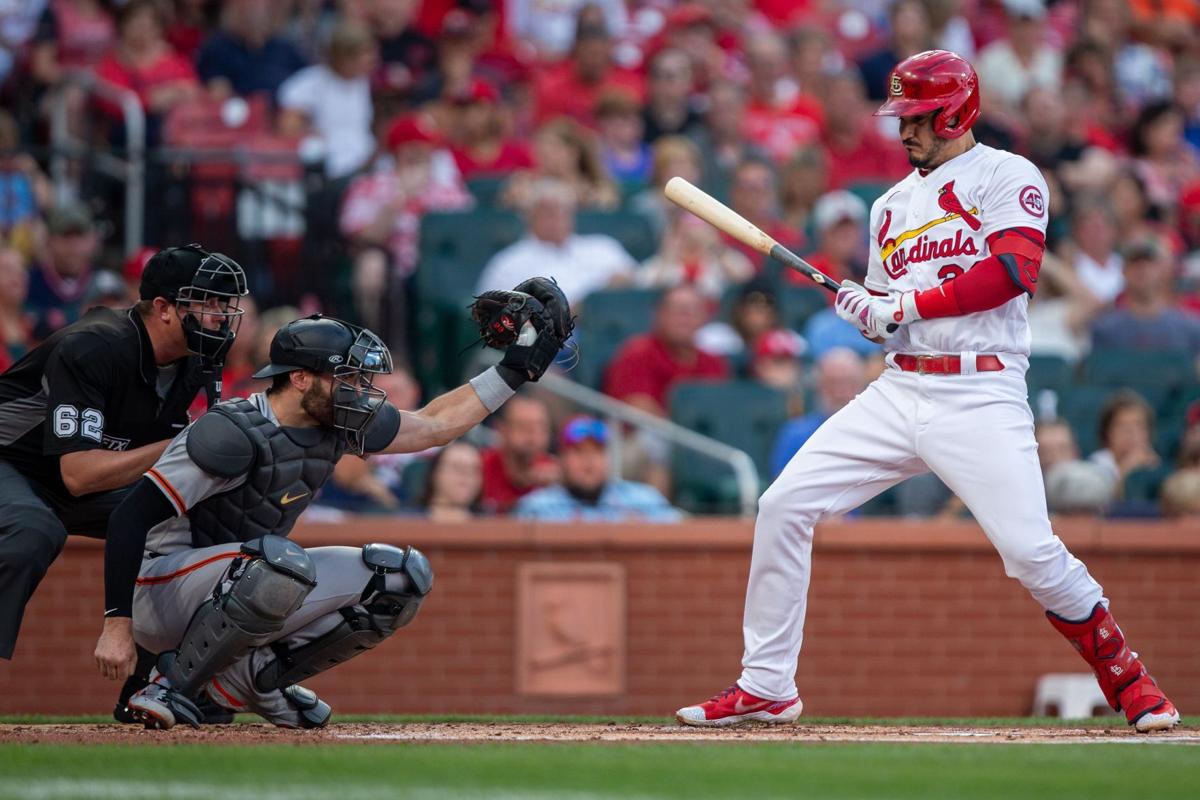 One team had a pair of three-run homers. The other had 10 singles among its 11 hits and was two for 11 with men in scoring position. Which would you choose?
The San Francisco Giants, the party of the first part, scored all seven of their runs on homers, including a solo shot, to push their winning streak to five games as baseball's best team at 58-32 extended their major league home run lead to 135. The Cardinals continued to be one of baseball's most confounding teams as they dropped a 7-2 decision before a paid house of 33,743 at Busch Stadium Friday night.
Boston Hall of Famer Carl Yastrzemski hit three homers against the Cardinals in the 1967 World Series although the Red Sox came up short. Grandson Mike connected twice on Friday, including one of the three-run shots, breaking the game open in the seventh.
Cardinals manager Mike Shildt, asked what he would have given for one three-run homer, let alone two, said, "I'd have paid handsomely, for sure. That was the difference in the game."
The Cardinals' Adam Wainwright (7-6) and San Francisco's Logan Webb, a replacement for All-Star righthander Kevin Gausman, who went on the family medical emergency list to be with his pregnant wife, sailed through the first three innings in scoreless fashion.
The Cardinals went a total of nothing for four with a runner in scoring position in those innings although Tommy Edman lined to second baseman Donovan Solano in the second and Paul Goldschmidt was thrown out from behind second by Solano to end the third.
Yastrzemski poled a Wainwright cutter just fair to right for a leadoff homer, his 13th of home run of the season, to open the Giants' fourth. "Terrible pitch," said Wainwright.
The Cardinals tied the game in their fourth as Edman blooped a run-scoring single to left. Paul DeJong singled to right, sending Edman to third, and Harrison Bader walked to fill the bases for Wainwright, who had been one for 30 with 15 strikeouts for the season. He fanned against a breaking ball and the game remained deadlocked.
Wainwright cited this as one of the defining moments of the game.
"I've got to start getting a hit," said the former Silver Slugger winner. "I'm killing this team with my offense. I know people are going to laugh when I say that but it's pathetic. And I'm sick of it and I'm going to work really hard ... because my offense wins two, maybe three ball games a year when I'm pitching.
"And I've done absolutely nothing to help this team offensively. I put a lot of the blame on me. They got out of that bases-loaded jam the inning before I gave up the three-run homer. If I make a big swing right there, who knows what happens?"
Wainwright got into trouble in the fifth when Solano singled up the middle and Steven Dugger walked, the only walk the 39-year-old issued. "You just can't walk people in the big leagues," Wainwright said.
But then Wainwright got out of trouble, almost. He fanned Curt Casali for his seventh and final strikeout and induced pinch hitter Darin Ruf to pop up.
But LaMonte Wade Jr., one of the Giants' valuable injury fill-ins, lined a three-run homer, his eighth, and the Cardinals suddenly were down three.
"That was not a bad pitch," Wainwright. "It's not a pitch that I throw that I expect to get hit out or even hit hard, honestly. I threw a curveball right in the bottom of the zone that he got underneath of.
"As soon as I gave that one up, I knew we were going to have our work cut out for us. It only takes a couple of moments like that to swing a ball game. Tonight, they got those moments and we didn't."
Wainwright's seven strikeouts vs. one walk was impressive but he said, "Everything was just kind of OK. Nothing was great. Everything was kind of OK. Control was OK. Stuff was OK. Nothing was terrible," he said.
"I can't give up three-run homers. That's what it came down to."
One of the Cardinals' shortcomings was that leadoff man Dylan Carlson struck out four times in five at-bats. There were several balls hit hard with men in scoring position.
DeJong, who had three singles, said, "We had guys on base. I thought we did a good job of getting to that point. But we just didn't get the big hit like we needed.
"When things go down early in the game, we all think we've got to do something big. Putting little things together is our best chance. That's when we explode."
DeJong raised his average to .196, his highest since April 21. "I've been through the wringer of emotions this year as far as my play on the field," he said. "Just being able to scar-tissue that over and start fresh has been good for me."
Newcomer Luis Garcia allowed one-out singles by Curt Casali and pinch hitter Mike Tauchman in the seventh. Lefthander T. J. McFarland, just brought up for his ability as a ground-ball pitcher, got one on pinch hitter Thairo Estrada.
Third baseman Nolan Arenado fielded a chopper and ran to the bag for a forceout but his throw to first was too late to catch Estrada. McFarland then served up lefthanded-batting Yastrzemski's second homer of the night, a three-run drive into the Cardinals' bullpen in right, just over the desperate lunge of Carlson.
Dominic Leone, another former Cardinals pitcher, relieved in the Cardinals' seventh and Goldschmidt walloped his 14th homer, a 440-foot drive to center, extending his hitting streak to 11 games. With two out, Leone allowed a single by Yadier Molina and walked Edman to load the bases. The hit by Molina moved him into fifth place ahead of Hall of Famer Enos Slaughter at 2,065 for most career hits by a Cardinal.
Righthander Jay Jackson entered to face Bader, who had had two hits and a walk but took strike three as the Cardinals stranded three more runners. They would leave 13 for the night to five for the Giants.
Giants manager Gabe Kapler, with his ace not here, employed seven pitchers and he also had to play the final two innings without All-Star shortstop Brandon Crawford, who appeared to have sustained a foot injury while he was in the process of singling in the eighth.
Wainwright said he wasn't surprised by the Giants' success. "They've got a line change—righties and lefties," he said. "There's a line shift and then all nine, or eight new guys come in whether it's a righty or a lefty. It's pretty interesting to see but it's working.
"They've got the best record in baseball and I don't think anybody can second-guess their moves."
As for his own team, Wainwright said he was certain there were plenty of "winners" in the Cardinals' clubhouse. "There's enough talk about it," he said. "We've got to just go out and do it."