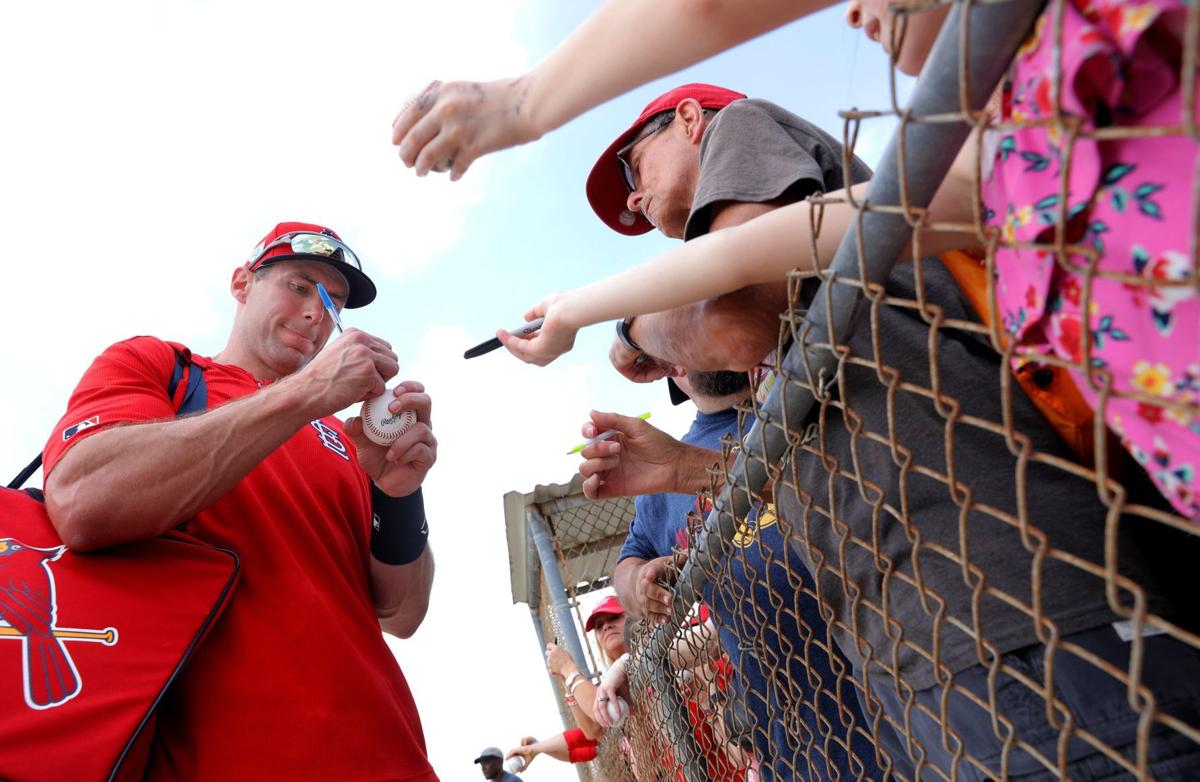 PORT ST. LUCIE, Fla. • One of the first long conversations Paul Goldschmidt had about St. Louis and the Cardinals happened over the course of several hours and several plates of Italian food at Dominic's on the Hill. He and his wife, Amy, met Cardinals manager Mike Shildt for the meal in January, and it didn't take long to realize they had the same taste in conversation.
The seams that tie also bind, quickly.
"If my wife wasn't there, it probably would have been all baseball," Goldschmidt said. "But it was really our first time even meeting, besides a hello on the phone. He and I held off talking about baseball for a good bit. But of course you get going on that. I mean, that's what we're passionate about — trying to find ways to get better."
That early connection for Goldschmidt strengthened and expanded from the manager to the clubhouse to the organization through spring training. It will climax Saturday with the announcement of his club-record extension, details of which the Post-Dispatch first reported Thursday. Goldschmidt had his physical Friday, and sources confirmed the team and player were finalizing a five-year, $130 million extension.
The contract is expected to be officially announced at a news conference at the team's spring training facility in Jupiter, Fla. Goldschmidt declined to discuss specifics, adding: "Something is pretty close. Hopefully will happen soon."
His first comments since agreeing to terms with the Cardinals came after he had three extra-base hits in a 15-5 victory over the Mets at their spring ballpark. Goldschmidt doubled to left field in his first at-bat, homered to deep right-center in his second at-bat and hit a triple off a glove near the right-field wall in his fourth at-bat. He then talked to Shildt about getting two at-bats Saturday because he wants to maintain his timing as Thursday's opening day approaches. What is true for his swing is true for his career.
He finds the right feel and wants to stay there.
"It's been great here — the whole organization, from top to bottom," said Goldschmidt, whom the Cardinals acquired from Arizona in December. "It's kind of what I expected coming in. Heard from other players who played here and know how the organization runs. They welcomed me pretty quickly, whether it was Shildt or the other players."
Several players admitted that recruiting Goldschmidt to stick around past the 2019 season began shortly after the trade happened. Matt Carpenter and Adam Wainwright were among the first to text him notes of welcome. Andrew Miller, who signed shortly after Goldschmidt's trade, and the first baseman talked about where to live in St. Louis. Goldschmidt said he received a text message from former Cardinals first baseman Albert Pujols asking if he wanted to buy his house. (The Goldschmidts had already chosen one.) Through former Cardinals coach Dave McKay, Goldschmidt and Pujols met and they once had a lunch that allowed Goldschmidt to do what he enjoys doing — talk baseball.
Goldschmidt heard from Pujols and from former Cardinals outfielder Matt Holliday about the organization, about playing at Busch Stadium. Current players were just as eager to reach out and chat up Goldschmidt, who said he didn't think they were recruiting him.
"I thought that people were really nice," he said, smiling.
Paul DeJong said on the day Goldschmidt arrived in Cardinals camp more than a month ago that the best way to entice Goldschmidt to want to stay was "to just be ourselves."
And that included being young and talented and around for a few years.
"I think it confirmed what I saw from the outside," Goldschmidt said Friday. "I remember last year playing the Cardinals and kind of being like, man, there's a little bit of a turnover where it went from a little older team to a lot of really young guys. This team has the opportunity to be good for the next five or six years."
His new contract will cover those years, till 2024.
"The organization has potential to set itself up to be successful," he continued. "I step in to see those guys on a daily basis, like Kolten Wong and Paul DeJong or Dakota Hudson or a lot of these guys in the bullpen. I thought they had a lot of talent, were really great players, and now to see it confirms that. Now being part of the team, we have to go out there and definitely earn that. It's good for the guys or an outsider to have those thoughts, but you have to go out there and earn it and play and win."
Goldschmidt suggested the regular playing time in the past week has helped synch his swing. Headed into Friday's game vs. the Mets, he had two hits in his previous 19 at-bats and he had struck out eight times. Friday was his fifth consecutive game played, and he powered the Cardinals' 21-hit jamboree. He hit four balls squarely to four different parts of the field. All that kept him from adding a single was a running catch on a sinking liner in shallow center by Mets outfielder Keon Broxton.
After four at-bats, Goldschmidt did not lobby for a crack at a single.
"A spring training cycle is not as cool as a real one," he said.
A Diamondback his entire career until the four-player trade that sent him to the Cardinals, Goldschmidt said one of the things that intrigued him most about a new organization was the chance to get "a lot more sets of eyes, new sets of eyes" on his game. He has said throughout spring training that he feels his career — six-time All-Star, two-time NL MVP runner-up, three-time Gold Glove winner — is the sum of his coaches and teammates, and thus he's the sum of those conversations. Teammates have described how Goldschmidt hasn't encountered a baseball talk that he won't join.
Shildt said he doesn't put a stopwatch on his talks about baseball but figures he's had a handful of 15- to 20-minute talks with Goldschmidt about anything from bunt defense to baserunning. Some of those talks, Shildt said, have shifted his thinking on a play.
The contract extension comes before Goldschmidt and his family have spent a day calling St. Louis home for the summer. He acknowledged, however, that in addition to the news conference in December for the trade and Winter Warm-up in January, he and his wife made at least one other visit to St. Louis. They looked for a house.
Looking for a home came later.
Looking for a place to play, for a place to stay, and for a team to stick around with was all a part of that, as was finding people he could talk to.
"There are a lot of gym rats in here — baseball rats — and it's definitely attractive," Goldschmidt said. "They've got such a great core here, so I think it's easy to come in as an outsider. Just kind of fit in there. They have a lot of success — guys who have won World Series as players and coaches. Just fall in line and follow their lead."