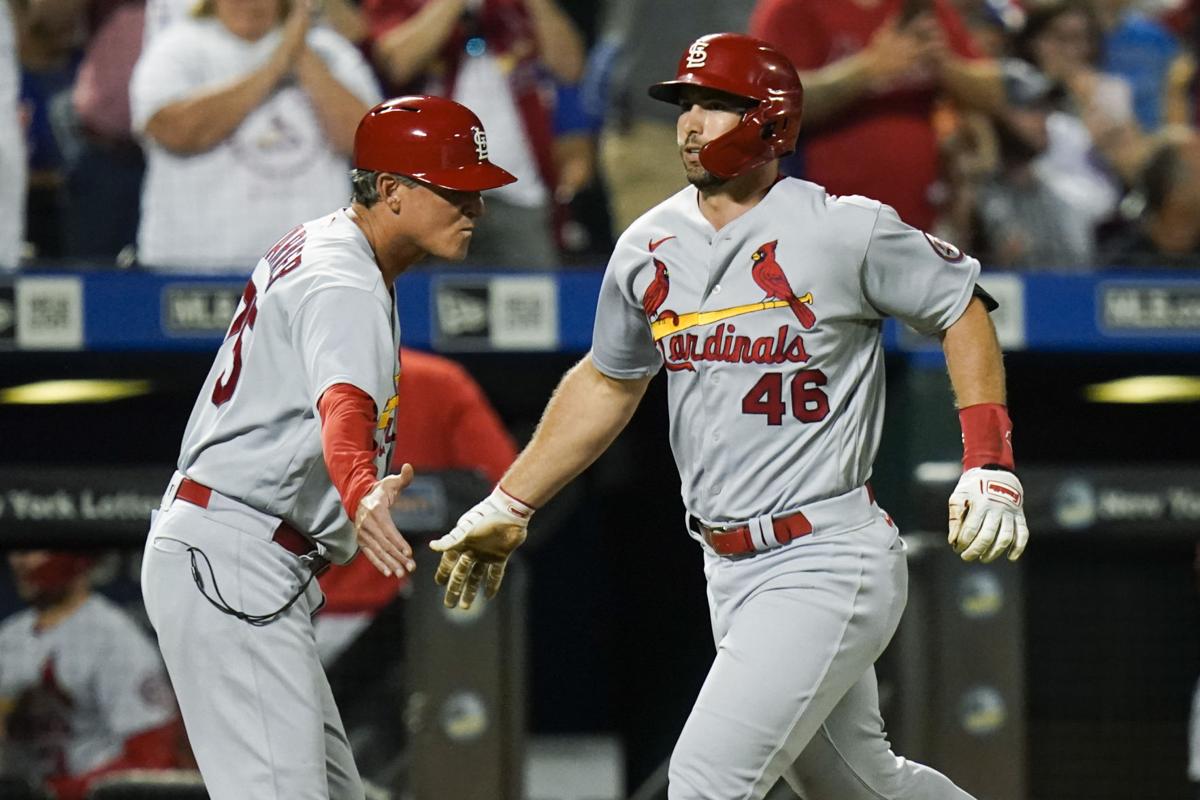 NEW YORK — From his seat in the Mets' broadcast booth and vantage point as an 11-time Gold Glove winner at the position that was about to change Tuesday's game, Keith Hernandez knew the thought process first baseman Paul Goldschmidt had before a grounder came his way.
"He knows that with one out the runner at third is going to be going on contact," Hernandez said Wednesday. "The thing that was tricky was it was down the line, so he could tag the bag and he had the presence of mind to throw home. He had that presence, knowing just about every ball that is hit to me this is what I'm going to do with it."
Hernandez was part of the call, exhaling through his teeth, as Goldschmidt gloved that groundball with one out in the 10th inning and the winning run at third. Goldschmidt tapped first base with his foot for the second out, pirouetted, and threw a strike home to start the rundown that kept the Mets from scoring a walk-off run. The double play, which involved Yadier Molina and Nolan Arenado for a total of 20 Gold Glove awards, was the first 3-2-5 DP turned by the Cardinals since 2007, and it kept the Mets from winning.
The Cardinals pulled ahead in the next inning for a 7-6 victory.
"He knows what he's doing out there," said Hernandez, who was inducted this past month into the Cardinals' Hall of Fame.
And it's likely to be rewarded.
That play, pivotal in the win and suitable for highlights, could have clinched Goldschmidt his fourth Gold Glove Award. Advanced metrics already suggest he's the favorite.
Goldschmidt's leads all first basemen with 10 Defensive Runs Saved, per the Fielding Bible. Those 10 rank 23rd overall, according to FanGraphs.com, and he's one of only two first baseman in the top 49 for DRS.
The Cardinals are the only National League team with three players in the top 25 in DRS, with Harrison Bader (18) and Tyler O'Neill (11) joining Goldschmidt. Eight-time Gold Glove-winner Arenado ranks 43rd with seven. As a team, the Cardinals lead the majors with 73 DRS, according to Fielding Bible's calculations.
The good-hands club has molded the series against the Mets, suffocating the Mets' offense, from the small plays — like O'Neill turning doubles into singles by how he covered the line at Citi Field — to game-saving plays like Goldschmidt's. That double play was the second turned by Goldschmidt in the game. In the seventh Wednesday, rookie Lars Nootbaar robbed a homer at the right-field wall. Tommy Edman's diving snag of a grounder in the first Tuesday halted the Mets' scoring at two runs before the inning unwound from rookie Jake Woodford. On Wednesday, shortstop Edmundo Sosa had a sprinting, back-to-home-plate catch in shallow left to steal a hit.
Quizzed about his team's fundamentals Wednesday and a contrast with the Mets, manager Mike Shildt described how the readiness Hernandez detailed began not moments before the play but months — in spring training. Shildt said the term introduced, explained, and then drilled each spring is "collective team defense." Shildt agreed that helped the defense be prepared, but he chose another adjective to describe what defense like Goldschmidt's has done.
"It's allowed us to be relevant," he said.
Hudson, Flaherty plans will crystallize
Jack Flaherty remains scheduled to throw his first bullpen session Thursday since straining his right shoulder last month, and how he recovers from around 25 pitches will determine the next step for the righthander. Dakota Hudson, now being prepped as a starter in his rehab appearances, will aim for around 75 pitches in his rehab appearance for Class AAA Memphis on Friday. The Cardinals believe that will be his final rehab appearance but are not committing to Hudson's role 12 months after Tommy John surgery. The schedule hints at what's possible. Hudson would be available to start part of the doubleheader at Wrigley Field on Sept. 24.
The runway is too short for Flaherty to take off as a starter, so the Cardinals have tailored his schedule and return to action as a reliever.
"He's willing to do whatever it takes," Shildt said. "He wants to pitch. You want to honor his desire to compete."
Tacky: Cards check out prototype baseballs
A box of baseballs resting on the Cardinals' dugout bench drew attention from almost every pitcher Wednesday as they stopped by, fished one of the balls out, fiddled with it, palmed it, tested their grips on it, and then – of course – had an opinion about it.
Officials with Major League Baseball brought two prototypes for possible new Rawlings baseballs to show the Cardinals and hear their initial impressions. A third baseball in the box was a "pearl" – a brand new ball – to compare the prototypes against.
Rawlings, the St. Louis-based manufacturer of the official game ball, and Major League Baseball are exploring ways to make the ball tackier out of the box. The goal is to find an agreeable baseball that doesn't need the mud-rub and could eliminate foreign substances. One Cardinal described the feel of one prototype as the chalk weightlifters or gymnasts use for grip.
Honoring Clemente
Yadier Molina was one of several players to wear No. 21 with no name on the back of the jersey Wednesday as part of Major League Baseball's Roberto Clemente Day. The tribute to the Hall of Famer, Puerto Rico legend, and humanitarian who was killed flying on a relief mission the offseason after his 3,000th hit has become an annual event for MLB, and it coincides with each team's announcement of their nominee for the Clemente Award.
Molina and two Mets also from Puerto Rico — Javier Baez and Francisco Lindor — wore No. 21. Lindor and Molina hugged as the Mets shortstop came to the plate for his first at-bat. Former Clemente Award winner Adam Wainwright wore No. 21. Mets first baseman Pete Alonso, his team's nominee for the Clemente Award, wore No. 21. Goldschmidt, the Cardinals' nominee, used black-and-gold batting gloves, true to Clemente's colors with Pittsburgh.
Oviedo ejected & etc.
Johan Oviedo, who spent some of the season in the Cardinals' rotation, was ejected and his glove confiscated for potential foreign substance Wednesday during his start for Class AAA Memphis. The glove was taken during Oviedo's second inspection of the game. The Cardinals are awaiting more information on what awaits their prized righthander. … Daniel Ponce de Leon, whose heated dugout argument with Molina was caught on camera during Tuesday's game, said temps cooled later, after they had been separated. There was nothing lingering, Ponce de Leon said, other than part of what sparked it: "I can't walk three batters," the righthander said. "That's really on me and what matters." … Juan Yepez, Memphis' leading hitter with 21 homers and a .596 slugging percentage, has missed two games while dealing with an illness. The first baseman is likely to be added to the 40-man roster in the near future, and a club official said Yepez has tested negative for COVID-19. … Goldschmidt's homer and stolen base Monday gave him 25 and 12 for the season, respectively. He's had at least 25 homers and 10 steals four times in his career, and that's tied for second all-time among first baseman behind Jeff Bagwell's seven. Also with four? Albert Pujols. … The last Cardinal in an official capacity to visit New York could have been Shildt to receive the 2019 NL Manager of the Year award, which he accepted at the national Baseball Writers' Association of America dinner in January 2020. He then didn't see the trophy for another year – as it was housed at the Cardinals' Hall of Fame during quarantine and the shortened 2020 season. The hefty trophy arrived at his home this year.