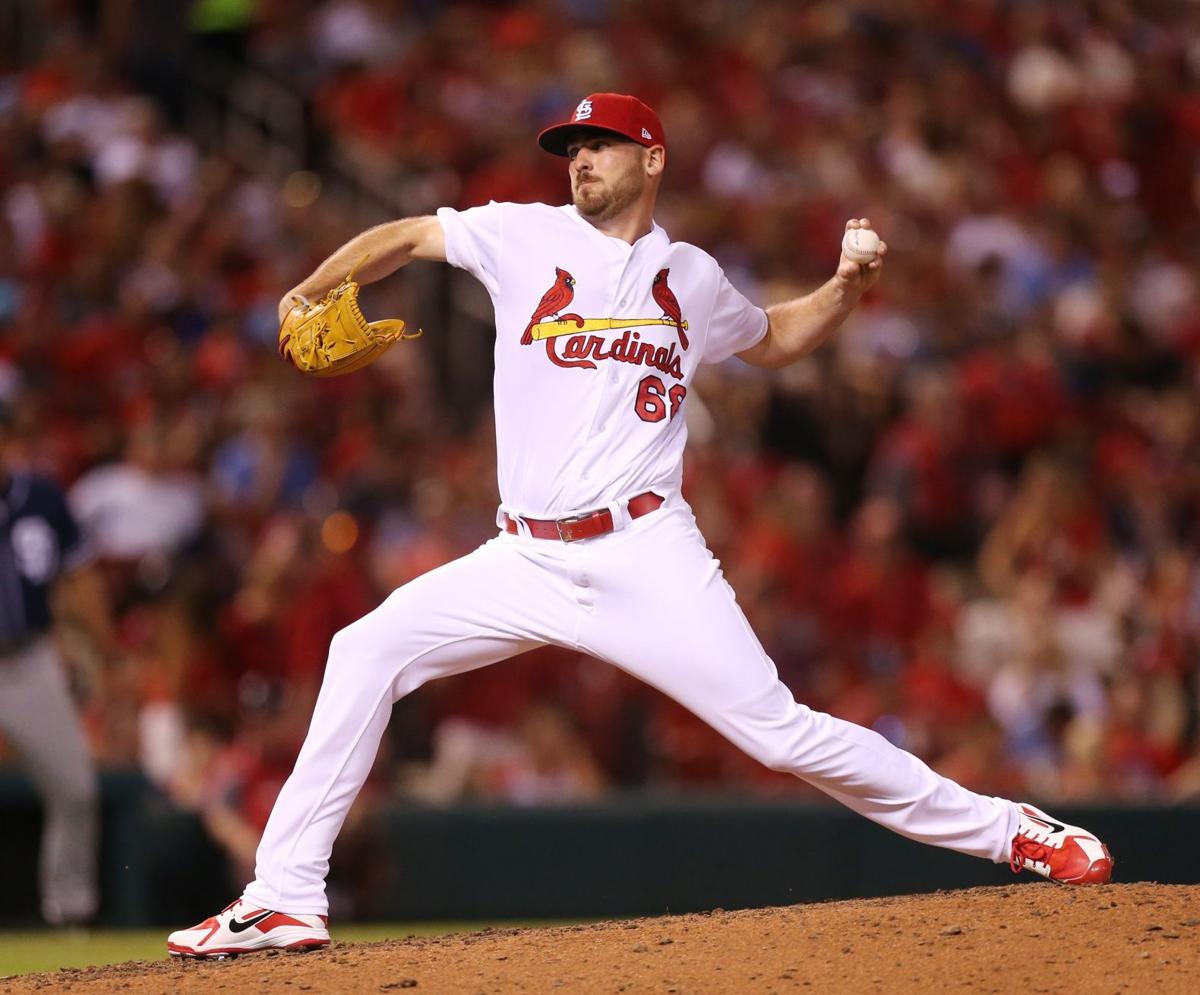 SAN FRANCISCO • When the Cardinals made the move Friday to return lefty Austin Gomber to Class AAA Memphis and reduce their bullpen by one, they put a future concern ahead of a current one.
To clear a spot on the active roster for Paul DeJong after he spent seven weeks on the disabled list with a fractured hand, the Cardinals optioned Gomber with the intent of starting him in the minors and positioning him to be the first available for when the Cardinals have the inevitable opening in the rotation. Due to injuries and a jam-packed 40-man roster, the Cardinals have been easing through the past few weeks without an obvious understudy at starter.
"That's an organizational need right now," pitching coach Mike Maddux said. "At the end of the day, we see him as a starter. Or, we think he could be."
Although manager Mike Matheny has long preferred to carry eight relievers in the bullpen — seven plus a long-reliever, for insurance — the recent play of Yairo Munoz and Harrison Bader swayed the roster decision Friday.
Bader had three hits, including a home run, in his start Thursday night, and at AT&T Park the Cardinals have wanted his defense covering the nooks, crannies and vast expanses of right field. Munoz, a rookie, took over for DeJong as he recovered, and in his 40 games as DeJong's replacement Munoz hit .302 with a .429 slugging percentage and 18 RBIs.
The Cardinals felt they could get through the coming week with an interleague series and two off days without the eighth reliever or a second lefty. They weighed that against having Gomber available as a starter.
Gomber, 24, began the season in Class AAA Memphis' rotation and went 4-3 with a 3.60 ERA in nine starts. Injuries to Tyler Lyons (elbow) and Ryan Sherriff (elbow) opened a spot in the bullpen and Gomber quickly carved out a role for himself as a late-game lefty. Matheny toyed at times with Gomber as a setup man or his seventh-inning solution. Overall, Gomber had a 3.77 ERA in that role and 10 strikeouts in 14 1/3 innings. He hit a rut during the previous home stand, but felt he found his traction this past week in Arizona.
"It was big," Gomber said of wiggling free of a bases-loaded jam. "I don't think it has anything to do with lefthanded hitters or righthanded hitters. I just haven't been ahead in the count. Which was something of a focal point when I'm out there. I had a stretch of pitching really well, and then seven to 10 days where it's gone the other way. I really felt like I put the pressure on myself to do the job I know I can do."
The Cardinals have another job in mind, and another way for him to do it.
During his time in the majors, as he started to see time as a lefty specialist, Gomber was encouraged to work on a slider. He has a waterfall curveball that he's comfortable throwing at different levels.
What the Cardinals wanted him to develop was a slider — the classic wipeout pitch for him to show lefties. Maddux said Gomber went around the room and got suggestions about how to hold the slider, found one that worked and has been workshopping it on the go. It worked in Arizona.
"It's a little something that goes side-to-side," Maddux said. "He's got that big curveball. We need to try and get something that goes East to West. He had an immediate result, good result. He's got more of a chance to build that pitch."
By shifting back to the rotation, Gomber will not only stretch out for a greater workload, he will also get the innings where he can throw that slider over and over and over. The benefit becomes twofold.
Gomber could start as early as Sunday for the Triple-A Redbirds, and on the horizon the Cardinals will have need of a starter. When the team returns from the All-Star break, they have five games in four days at Wrigley Field. They will have the choice of adding a starter to that series or needing one when they head to Cincinnati immediately after going five rounds with the Cubs. That gives Gomber a fortnight in Memphis to lengthen his stamina and be available for the call.
"When he does get an opportunity to face a lefty, he's working on that other breaking and he's toying with that," Matheny said.
"That is something he's focusing on, and he feels very comfortable against righties. Part of that is just experience."
NORRIS SENT FOR SCAN OF FINGER
Before the Cardinals trimmed the bullpen by a pitcher, they did send their closer to determine the cause of soreness and swelling in his right index finger. Bud Norris had a magnetic resonance imaging scan taken of his right hand Friday morning to determine if there was any structural damage or possible reason behind the pain and "zinger" he felt Wednesday.
Norris said the results of the MRI were encouraging and he was given clearance to test his finger by throwing Friday night, which he did without issue. Norris was not available for Friday's game, targeting instead a return Saturday.
"At this point in this season we're going to get every look at every guy we can," Matheny said. "Whenever they get a runny nose I think we'll have two different doctors check it out. It's that kind of year. Be cautious when we can."
The pain and swelling Norris experienced came during his second appearance of the three-game visit to Arizona and his sixth consecutive day of getting ready for an inning. He pitched in three of four games in that stretch. Twice before this season, Norris has had some part of his arm yip with soreness after a similar workload. He assured that he did not have any elbow issue Wednesday.
two prospects SET FOR FUTURES
One of the most successful pitchers in the minors this season, Dakota Hudson, will represent the Cardinals at the annual Futures Game, and he's taking a teammate with him.
Hudson and outfielder Randy Arozarena were selected Friday for the All-Star week game that showcases some of the game's top prospects. Hudson, 23, has gone 12-2 with a 2.33 ERA in 16 games for the Triple-A Redbirds, and he's one of the top pitchers in the game (at any level) when it comes to getting groundballs.
Arozarena, 23, has raced his way to Triple-A this season after hitting .385/.418/.654 in 13 games at Class AA Springfield. The Cuban outfielder has hit .232/.322/341 in 61 games for Memphis. He, Adolis Garcia, Oscar Mercado, and Harrison Bader stood out during spring training because of their proficiency at all three outfield positions and athleticism.
"Probably best-suited for center field," Matheny said of Arozarena. "Can really run and making good strides offensively."
Hudson was also selected for the Triple-A All-Star Game, where he will join teammate Patrick Wisdom. A leading slugger for the Redbirds the past two seasons, Wisdom will be the first Memphis player ever to participate in that level's Home run Derby. Wisdom has 12 home runs this season, and he led the Redbirds with 31 in 2017.
EXTRA BASES


Ron Watermon, the Cardinals' vice president of communications, resigned from his position during the previous home stand and announced Friday, formally, that he was leaving to pursue outside ventures that included teaching and founding a communications company, Brand Journalism Strategies, LLC. Watermon spent nearly 17 years with the organization, and in the past decade he had piloted the organization's media growth as it expanded a presence online, developed a multi-media department, and started providing broadcast programming. … While not the 105-mph sizzler he threw back in May, Jordan Hicks' sinker Wednesday night that got a swing and a miss from A.J. Pollock left his hand at 104.4 mph. That is the fastest swinging strike since the advent of pitch tracking in 2008. The next pitch, also a fastball, hit Pollock. … Actor Hugh Jackman, who starred for two decades as the clawed superhero Wolverine, attended Thursday's game at AT&T Park and during the fifth inning Carlos Martinez got his attention by taping wood splints to his hands like the character's signature claws. Jackman snapped a picture of the pitcher and him for social media.